IND vs NZ Live: Cheteshwar Pujara's century drought continues – 1067 days, 24 matches and 42 innings later, Cheteshwar Pujara's career stats have nosedived. He doesn't have a century to so for and his average has dwindled to below 30. In the two Test matches at home, he had two opportunities to break the century drought. Yet, he returned empty-handed, continuing a run, which may soon see him drop out in the race. Follow IND vs NZ Live on InsideSports.IN. 
The veteran of 92 Test matches so far, has not hit an international hundred since January 3, 2019. Almost three years without a ton from a batsman who bats at number three! To be precise, 1067 days have gone by since the Saurashtra star was last seen taking off his helmet to acknowledge the applause from the fans and his teammates.
IND vs NZ Live: Cheteshwar Pujara faces heat ahead of South Africa tour after going 1067 days without Test century
Also Read: India Tour of South Africa: Indian squad to be announced right after Mumbai test, Rahane likely to lose his place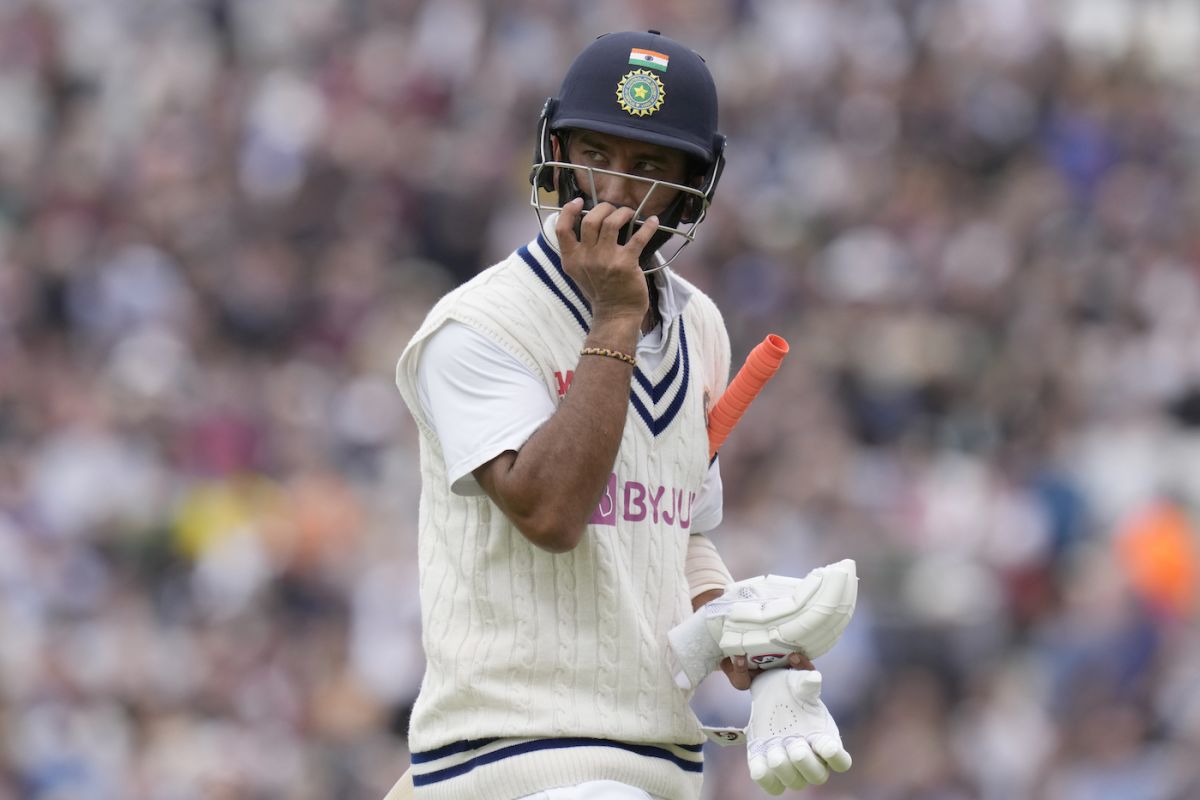 On Saturday, during India's second innings in the ongoing second Test against New Zealand at Mumbai's Wankhede Stadium – Pujara scored handy 47 runs but failed to reach the much-talked-about three-figure mark by 53 runs.
It would not be wrong to say that India did not make New Zealand to follow on despite bundling the visitors out for 62 because they wanted two of their best batsmen to spend some time in the middle and end all the talks around their form and inability to convert after starts.
However, Cheteshwar Pujara failed to break the jinx once again. Ajaz Patel took note of Pujara's familiar fashion of dismissal in the recent past, dropped a delivery on the off-stump which spun away, again forcing the right-hander to hand a catch to the slip fielder.
IND vs NZ Live: Cheteshwar Pujara since last Test century
Pujara has averaged just 28.36 since his last Test century.
It has been 42 innings since his last ton.
His highest score remains 91 against England during this period.
His ultra-defensive approach in the fear of getting castled quickly has hit his strike rate as well.
Also Read: India Tour of South Africa: Selection committee meeting after Mumbai test, 20-member squad to be picked for SA series: Follow LIVE Updates
IND vs NZ Live: Cheteshwar Pujara faces heat ahead of South Africa tour after going 1067 days without Test century
Former India batsman and soon-to-be NCA head VVS Laxman didn't hold back his words. He said Pujara's century drought is definitely a concern ahead of the South Africa tour.
"Yes, it's definitely a worry. Because the batting position Pujara usually bats is No 3. You usually get a lot more opportunities than when you're batting at No 5 or No 6," VVS Laxman told host broadcaster Star Sports.
Furthermore, it's the way he has been dismissed that has raised questions too. At 34, it is too late to correct a technique and Team India do not have enough rest days to work on that either. Training during IPL didn't help Pujara either.
"This is the type of dismissal that we saw quite consistently when India played England. Jack Leach got Pujara out two or three times in this fashion. The way he approached his defensive shot, the angle of the bat, he was not able to cover the turn. On this wicket, it's important to cover the turn and be behind the line and the angle of the bat was not straight. That's why the ball was carried to Ross Taylor," VVS Laxman added.
IND vs NZ Live: Cheteshwar Pujara faces heat ahead of South Africa tour after going 1067 days without Test century
Also Read: IND vs NZ Day 3 Stumps: India 5 wicket away from victory after Ashwin, Axar rattle New Zealand
Cheteshwar Pujara was one of the three batters whose place was in questing heading into the second Test. The rope which Pujara is getting is just getting longer and longer now.
Since his hundred in 2019, Pujara has played 24 matches and scored 1163 runs at an average of 28.36. He has got out on a duck on four occasions, and have managed to cross the 50-run mark on 11 occasions.
With the likes Shreyas Iyer, Suryakumar Yadav and Hanuma Vihari waiting on the sidelines, it will be interesting to see how the Indian cricket team management deals with Pujara's case during the South Africa tour. Considering Pujara's experience and Rahul Dravid's belief in the batsman, he is sure to travel with the team but what happens there will be something to watch out for.
IND vs NZ Live: Cheteshwar Pujara faces heat ahead of South Africa tour after going 1067 days without Test century