The long, valuable learning curve that is Emma Raducanu's 2022 season continued on Wednesday as another mid-match drop of intensity was enough for the 19-year-old to lose momentum and the match as she was eventually blown off court in Paris.
In the face of some inspired, clean shot-making, Raducanu had no response to Aliaksandra Sasnovich as she fell 3-6, 6-1, 6-1 in the second round at Roland Garros. The defeat against the world No 47 means that after five months of the season, Raducanu moves on to the grass court swing with just two wins against top-50 players this year, an indication that higher-ranked opponents are slowly beginning to target the weaknesses in her game. It is something she will hope to address as the tour moves to faster courts.
Raducanu cut a positive figure as she explained in her press conference how she has come to terms with losing: "I think before I would let the losses kind of affect me more so than I am right now," she said. "Now I just look at everything as a lesson, and I know exactly where I went wrong, where I can improve, where other people are better than me."
The pair arrived on Court Suzanne Lenglen to clear blue skies and a dry heat, allowing the ball to fly through the air and reward those with the nerve to attack. In the early exchanges, Sasnovich fed Raducanu's backhand too frequently and she paid a significant price. Raducanu broke serve first with a spectacular return game at 2-2, which included a series of angled backhand cross-court winners, before serving well under pressure to take the set.
In four of her losses this year, Raducanu won the first set and she has dropped the second set in another three of her wins. Throughout the year, she has continually lost intensity after a struggle with her serve, and a similar scenario played out on Wednesday. As Raducanu dipped, Sasnovich, a former top-30 player enjoying a positive year, took control of the baseline. By the end of the second set, she was teeing off on all returns and burying winners at will.
As Sasnovich struck an absurd 19 winners to just four unforced errors in the second set, the remaining question was whether Raducanu could push her out of her comfort zone. Raducanu had one chance at 1-1 as she generated five break points but as they evaded her, the window closed. Raducanu's forehand haemorrhaged errors throughout the set while often resorting to loopy, weak topspin that Sasnovich ate up. In the end, Raducanu's positive clay-court season ended abruptly with two feeble sets.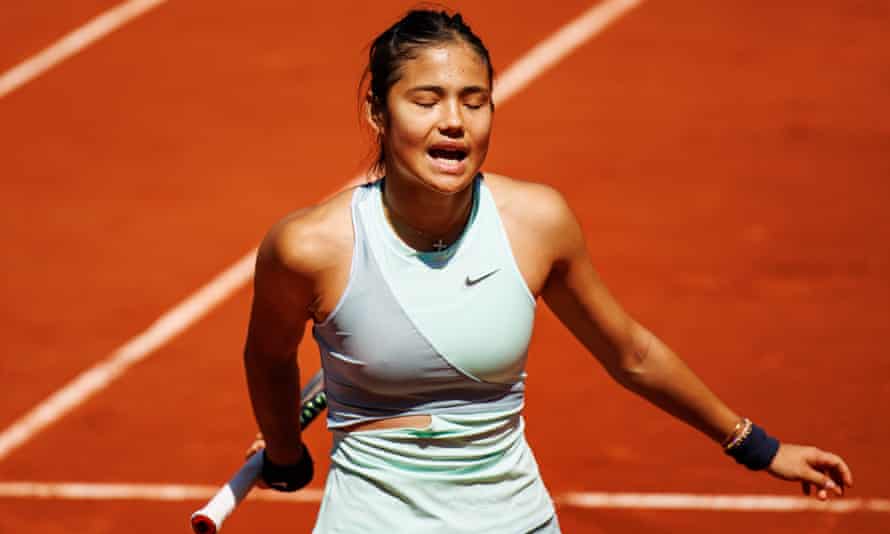 Raducanu's obvious disappointment was lined with positivity later on. After a year filled with injury niggles, including a back injury at the Italian Open two weeks ago that left her not entirely sure of her presence in Paris, perhaps the most positive outcome is that Raducanu felt physically good after two three set matches.
"I'm quite happy with the progress that I'm making. I do feel like I'm playing some pretty good tennis and on the practice court I'm definitely working," she said. "Certain things I'm working on on the practice court that are paying off, they don't show immediately. There is a little time lag between when they will actually produce results on a live situation. I'm definitely getting there."
Raducanu said at the beginning of the tournament that, as she had not played a professional match on clay before this season, her expectations about how her game would adapt to the surface were low. After reaching a quarter-final in Stuttgart and winning a couple of matches in Madrid, she finishes her first clay season confident that she can be a good player on the surface in the future.
"I think that I definitely got stronger as the clay season went on," Raducanu said. "It just takes a lot more to win the point on this surface, and you hit a ball flat, [it] doesn't really do that much. I definitely learnt when to use the shape [top spin]. I still got quite a long way to go on this surface, but overall, I would say I definitely had a good first experience on the clay."
Shortly after Raducanu's defeat, she was joined by last year's semi-finalist Maria Sakkari, the fourth seed, who was defeated 7-6 (5), 7-6 (4) by the unseeded Karolina Muchova.
Although it is an upset by ranking, Muchova is returning from injury after reaching the 2021 Australian Open semi-final and she was ranked in the top 20 last year. What it does mean is that five top-10 seeds have already crumbled and the bottom half is wide open for whoever steps up to take it.