Key events
Here's a look at Daly's second of the afternoon and what proved to be the match winner:
Daly had the dream debut for Villa with a brace and great game management from the England international. When Villa signed her this summer everyone knew it was a great bit of business and she didn't waste any time in providing evidence as to why.
The season has started awfully for Man City, being booted out of the Champions League by Real Madrid and now losing their WSL opener. Criticism will come for Gareth Taylor with a substitution call in the match against Villa being questionable. After City went ahead he took off Chloe Kelly, who had been a key part of their comeback. City didn't score again and there was a shift in their dominance in Kelly's absence. Let me know your thoughts via Twitter and email.
The only way to sum up the match is the caption on this Villa tweet:
Oh my! The BBC have just said that is the first time City have lost their WSL opener since 2014. That has got to hurt for City, especially after getting into the lead.
Full time: Aston Villa 4-3 Manchester City
Aston Villa have beaten Manchester City for the first time in the Women's Super League! They went into half-time 2-1 up but City came out the blocks firing with Gareth Taylor's side coming back 3-2. But Villa did not let it affect them and they scored two more to make sure they came away with three points. A cracking win for Villa and a stunning game.
90 + 8 min: Daly has been subbed to a standing ovation with McLoughlin on in her place.
90 + 6 min: Daly was on the floor with an injury but she will remain on the pitch. Villa have a free kick as Daly is fouled, the game management here is so good. They want this piece of WSL history, they are so close.
90 + 4 min: Hemp, who has been stellar for City today, gets in another great position but it doesn't connect in the box. They do win a corner though, Castellanos puts it in but it is headed away. Villa go on the counter but Raso wins it back. City are desperate to get a point here but they run it out of play.
90 + 2 min: Fans in Villa Park booed that announcement for seven minutes added but it does feel justified given the breaks for medical treatment in this second 45. Nearly 7,000 in Villa Park today.
90 min: City win a free kick but they will have to build from deep here. In their build-up they win a throw but it is stolen by Villa and Gielnik comes through. Her attempt is soft an City are on the attack once more. There will be seven minutes added.
88 min: Daly has been named Player of the Match with Fara Williams on comms saying Corsie almost got the award. But Daly has scored two goals on her debut. Villa are so close to winning this but you can never count City out …
86 min: Villa wins another free kick, this is good game management from the hosts. Roebuck was off her line and Daly quickly triggers a shot but it needed more control to be on target.
84 min: Jeez that was close! Morgan puts in a powerful shot which just grazes over the bar. Daly is fouled and wins a free kick, just six minutes for Villa to make WSL history as they have never taken a point off of City in the league. Gielnik almost has Villa's fifth but Roebuck manages to collect.
82 min: For neutrals this is an absolute thriller, for Villa and City fans it will be exciting but nervous! This game could still go either way. Villa are on the press after sloppy work from City but Gielnik's shot is caught by Roebuck.
80 min: Fowler puts in a shot, Hampton comes out to collect and she collides with Hemp. Villa win a free kick from that and Hemp comes over to apologise to Hampton. Villa are making changes with Lehmann and Blindkilde are off for Gielnik and Gregory.
78 min: Roebuck blocks a shot and it rebounded off her legs, Daly was there to tap it home. Can City get back into this again? A cracking match! There is a lot of time to get back into it and City are coming through! Hemp put in a great cross but again no one can connect.
GOAL! Aston Villa 4-3 Manchester City (Daly, 76)
A howler for Roebuck! She saves a shot but doesn't control and Daly pounces on it! What a debut for the star.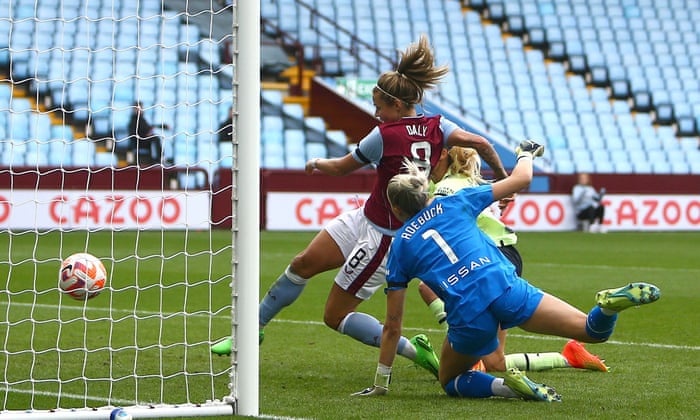 74 min: Pacheco is staying on the pitch, Raso receives a yellow card for the challenge. City are coming forward but a miscommunication between Raso and Castellanos means an opportunity is missed. City came through once more but Turner puts in a great atckle on Raso to close down the chance.
72 min: Pacheco is down and that looks painful. AS she receives treatment the crowd applaud Queen Elizabeth II in the 70th minute to honour her 70 years on the throne. Pacheco is still not back to her feet, it looks as though she hit her head on the floor.
70 min: Both sides are vying to find the winner at Villa Park, City on the prowl. Hemp puts in a pinpoint cross for Shaw, who again can't get it in the net. She was inches away there with Hampton nowhere near being able to save it. That was the last action for Shaw as she is subbed off for Castellanos.
68 min: Hemp again gets the ball in a great position, Shaw gets a head to it but again she can't put it in target. Morgan fouls Hanson and so there's a Villa free kick. So much action in this one, it is sizzling! The set piece is awful for Villa and City get an opportunity but Taylor's side can't capitalise.
66 min: Villa steam forward, Dali takes a shot but it's blocked. Villa are patient on the ball and are taking their time in building attack, they don't want to settle for a draw.
64 min: Raso makes a good run into the box but Villa defend well. City wrestle it back, Hemp takes a shot but Corsie blocks and concedes a corner. Greenwood belts the ball in but Shaw's header goes over the bar.
62 min: Shaw is limping slightly but she isn't being taken off. Villa are doing well to press City, they have ran them back to their keeper but the visitors are still in possession.
60 min: This is a tasty match! Dali will be awarded that goal as it was on target but, frustratingly for City, if Greenwood hadn't got in the way Roebuck could have saved it. There's a slight break in play as Daly and Shaw receive some treatment but they will both remain on the pitch.
GOAL! Aston Villa 3-3 Manchester City (Dali, 58)
Wow!! That came from a goal kick and Dali reads it well whose strike from outside the box goes in! It deflects off of Greenwood but I think it will be awarded to Dali. What a match!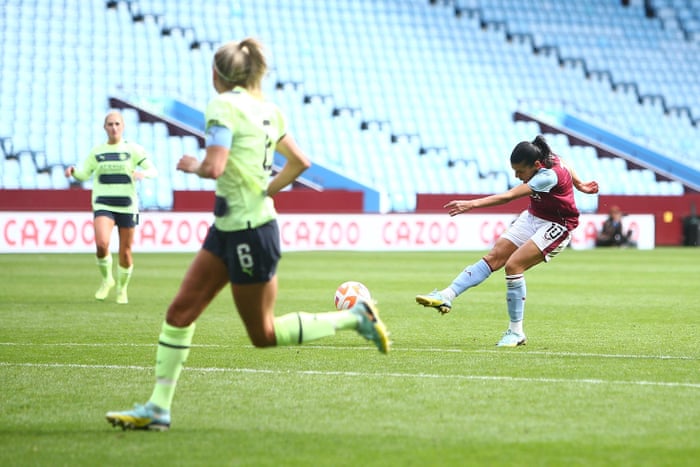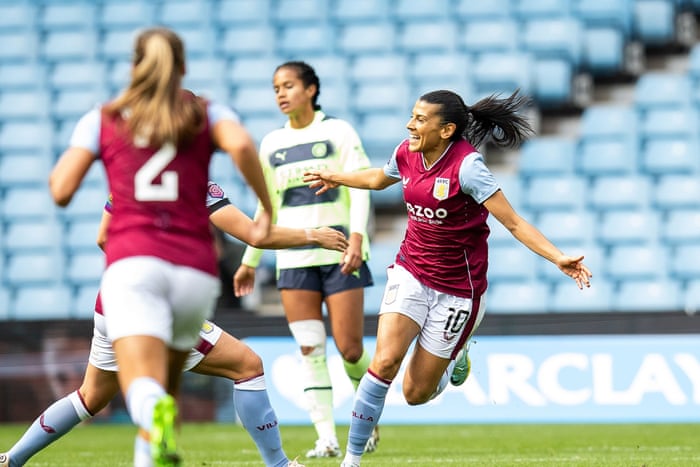 56 min: Kelly put a great cross in and Coombs took a touch and hits home. Hampton should have done better there. Taylor is almost laughing in disbelief at how quickly his team have gone ahead here. Villa are in trouble.
GOAL! Aston Villa 2-3 Manchester City (Coombs, 55)
Oh my! Two minutes later and City are ahead, a great finish from Coombs. Wow.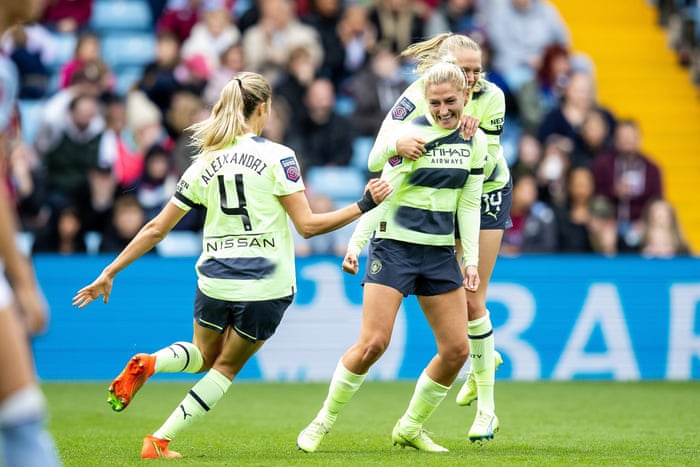 GOAL! Aston Villa 2-2 Manchester City (Shaw, 53)
Whatever Taylor said at half-time has worked with City coming to life! Turner concedes a corner to give the visitors another opportunity to level the game. Kelly takes the kick and it's a soft one for Villa to conceded. Houghton heads it to Shaw, whose header slots into the bottom corner.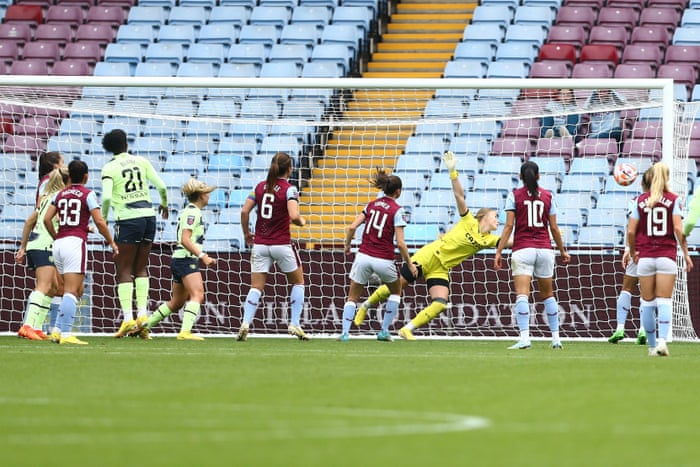 51 min: Kelly puts in a cross but it's headed away by Turner, who is down after clearing that ball. She collided with Shaw but it is the power of the ball that has the player down, play has been paused as she receives treatment. She is remaining on the pitch as play gets back underway.
49 min: That defence from Daly saw a corner, it bundled round the box and came to Shaw for a header. Somehow her close range effort sails over the bar. It's all City so far in this second 45.
47 min: City are building slowly but the cross in from Kelly has way too much on it it and sails out of play. City have another free kick as Dali fouls Kelly, Greenwood took the kick but Daly covers well.
Back underway! Aston Villa 2-1 Manchester City
Villa Park is back in full voice for this second half! Can Villa get their first WSL win over City or will Gareth Taylor's side pull off a comeback? City have made a change with Fowler on for Angeldal.
The best goal of the game so far has to be by Villa debutant Rachel Daly. The celebration was great too, have a look:
Half-time: Aston Villa 2-1 Manchester City
Well City will be happy to pull a goal back there after being completely dominated by Villa. Lehmann and Daly saw the game 2-0 up but Coombs got City back into the match. An interesting second 45 to come.
GOAL! Aston Villa 2-1 Manchester City (Coombs, 45)
Hampton got a hand to that but she can't control the strike and it goes in!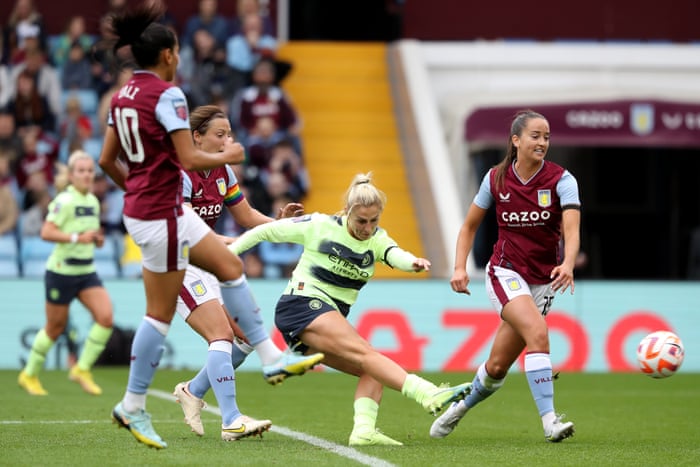 44 min: City are yet to get a real foothold in this match, Villa have been great in defence and attack so far. Lehmann fouls though and City have a free kick. They are using it to play out from the back.
42 min: Villa come forward again, this is an impressive performance by the hosts. City win it back though and they look to play out from their own half. Villa wrestle it back int he midfield but Daly's pass has too much on it.