16:05
Morrison says he's made it "very clear the rules are rules".



For our government, ensuring the integrity of our borders has always been an extremely high priority…and it's not our first rodeo…we've got experienced ministers and a government that is very experienced in dealing with these issues…the government is able to ensure we can put protections at the border and they can't be overturned by someone seeking to run it.
Asked whether there is a double standard over concerns Djokovic's anti-vax stance would whip up anti-vax sentiment in Australia, despite coalition MPs spreading anti-vax messages at their leisure, Morrison says two different issues are being conflated.



In Australia, you're an Australian, you're a citizen, you're a resident, you can be here and you can express your views. If you're someone coming from overseas and there are conditions for you to enter this country, well, you have to comply with them.
So if you're an Australian and you're anti-vax it's no threat to the nation's morals, but if you're anti-vax and foreign you're a threat to public health.
16:00
Prime minister Scott Morrison has appeared on 2GB this morning, confirming Djokovic didn't comply with entry requirements … but that is not why his visa was cancelled.



Australia has very clear rules and Australians have been following those rules … we apply our rules equally in this country and there was a very clear message sent – he wanted to come, he wasn't vaccinated, well you've got to have a valid medical exemption and neither of those were in place. People make their own choices, and those choices meant you couldn't come here and play tennis.
Asked whether he should have been granted an exemption in the first place, Morrison said "no".



The idea someone could come and not follow those rules just was not on … he was wrong, simple as that … we didn't give him an exemption, the federal government gave him no such exemption.
To be clear, Djokovic did enter with an exemption.
Updated

15:53
Deputy prime minister Barnaby Joyce has appeared on Sunrise this morning alongside member for Hunter Joel Fitzgibbon, chatting, you guessed it, Novak Djokovic.
Joyce says he's "happy we came to a conclusion".



And that is that Mr Djokovic would be asked to leave, it is in the remit of the minister to do that, the judges reviewed the process and found the process the minister followed was legal. But to be quite frank, I am on the same page as Mr Djokovic. We'll move on. And the things I will move on to are making sure to keep food on the shelves of supermarkets as … people have been interested in the story, it's been a … soap opera. But now people are going to focus on the tennis, watch the tennis and also focus on looking after them and one of the big issues right now is making sure we keep food on the shelves at the grocery store.
Friendly reminder of a jubilant Joyce in 2015:
Updated

15:49
Asked how soon rapid antigen tests will become more widely available, Hunt says 5.6 million rapid antigen tests have been delivered to aged care, and 70 million will come in over the "coming weeks and months".
Updated

15:47
Hunt says "you always keep adapting" to new variants, and hopes NSW and the ACT's peaks are plateauing:



The frequent but not inevitable course of a virus is they become more infectious but less severe, and that's clearly what's happened with the Omicron variant … but it's not a given, it's a general course with many major viruses and this is how pandemics burn themselves out over time … but we'll move on all the advice we have on having a pandemic to an endemic, where it becomes less severe … like the flu has.
Updated

15:44
Health minister Greg Hunt has told ABC Radio National on "multiple occasions" the government has said they disagree with anybody anywhere with an anti-vaxxer sentiment – including, one would presume, members of cabinet.
Updated

15:42
Home affairs minister Karen Andrews has appeared on Sunrise this morning, discussing all things Djokovic.
She said "at all times, the government has acted in the best interests of Australians".



I understand that there is a level of confusion out there in relation to issues that go towards visa application processes, but let me be clear, applying for a visa and being granted a visa does not automatically give you the right to enter Australia. You also have to meet the entry requirements that apply at that time, so I don't have any concerns with the process that was undertaken in terms of assessing the application for a visa, but we also have in place a number of entry requirements, so anyone who is coming into Australia firstly has to have a valid visa but they also have to meet the entry requirements and that was the issue in the first instance.
Asked whether Djokovic may be let back in within three years (currently, a ban is in place preventing him from returning to Australia within that timeframe), Andrews said:



The three-year band does apply and will be in place but it can be dealt with at some stage in the future but that is very hypothetical and a long way off.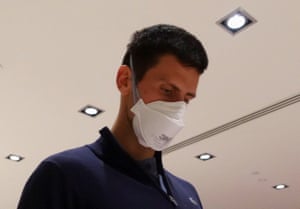 Updated

15:36
In Tonga, it is hoped there haven't been mass casualties as a result of the volcano and tsunami, with a surveillance flight from Australia due to leave ASAP.
15:34
On to economics, and Frydenberg is asked about a Business NSW survey that says 40% of 2,000 businesses don't have enough cash flow to get through the next three months. He says the Omicron variant is "another challenge".



It's a new phase of the virus and it's a reminder that the pandemic is far from over. So it is affecting consumer spending. It is affecting consumer and business confidence. And we've seen a large number of workers who are absent from the workforce and that's put real pressure on our supply chains. Now, the government has in place a number of measures at both federal and state level to assist businesses and to ensure that the supply chains keep going.
On the emergency unions meeting to be held today, Frydenberg says the government has been working with health professionals, the AHPPC and the chief health officer on the changed rules to isolation requirements for close contacts in a range of sectors.



We need to keep food on the shelves. We need the trucks to continue to ensure the deliveries. We need the abattoirs to keep working. Indeed, we need water and energy and telecommunications and other essential services to keep going. We need our schools to open at term one and to stay open … so the economy is a complex ecosystem and every bit is connected to the other. And we're trying to balance here a series of objectives – not just the health objective, but also the economic objective. And what is absolutely clear from the health advice is that while Omicron is highly transmissible, it is less severe and people such as myself can have the virus but not be hospitalised and can get through it after those days required in isolation.
Updated

15:30
Treasurer Josh Frydenberg is back in action after being diagnosed with Covid-19. He is appearing on ABC News Breakfast now, "on the mend" though acknowledging it "wasn't a walk in the park":



It's no teddy bear picnic. I had the common symptoms, cold sweats and headaches and various aches and pains. But it did pass and you know, it lingers a little bit – the fatigue. But fortunately, Omicron is 75% less severe compared to Delta. And fortunately, you know, I had the vaccinations and the booster shot as well.
Asked about the Serbian president's accusations of "torture" of Novak Djokovic, Frydenberg says it was a "legal process" and "rules are rules":



It doesn't matter whether you're Novak Djokovic and the number one tennis player in the world or Betty from Utah. If you're unvaccinated and you come to Australia, you need to adhere to what are the Atagi guidelines, and the other conditions that are set. Now, Greg Hunt in a very clear letter explicitly set out what the conditions were to Tennis Australia back in late November for tennis players to come to Australia who were unvaccinated.

Now, Novak Djokovic did not meet those conditions. The ultimate decision was left to the immigration minister, Alex Hawke. He made that decision and that was upheld unanimously by a full court of the federal court. And that's where it stands. But no one is bigger than the Australian Open. Certainly no one is bigger than the pandemic or no one is above the rules that we have in place at our borders that are helped to keep us safe through this pandemic.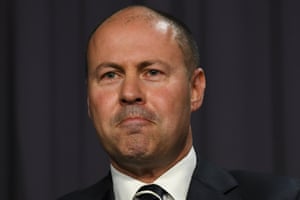 Updated

15:23
Good morning,
After 11 tumultuous days, world tennis No 1 Novak Djokovic has been deported after the full bench of the federal court upheld the Morrison government's decision to cancel his visa on the grounds of health and good order.
Djokovic was due to play his first match this evening but instead he flew out of the country late last night, bound for Dubai.
Caitlin Cassidy here to take you through today's news, and while Djokovic may no longer be with us, the fallout continues. Serbian president Aleksandar Vučić has lashed out at Australia, arguing the tennis star was treated like a "mass murderer" while in the country and was "tortured and tormented" for his refusal to be vaccinated.
Djokovic said he was "extremely disappointed" by the decision and felt "uncomfortable" the focus had been on him in the past few weeks instead of tennis.
Meanwhile, more than 30 union groups have called an emergency meeting today to discuss ongoing workforce and supply chain shortages hitting the nation.
They are calling on the government to make rapid antigen tests free and accessible in the wake of eased close contact definitions for a range of sectors. ACTU president Sally McManus says the current system has forced businesses to compete for the tests.
And mask mandates have been reintroduced in Perth and Peel from today as Western Australian authorities warn they may not be able to contain an Omicron cluster in the state. Five new Covid-19 cases were announced yesterday, with a number of exposure sites listed throughout the city.
There's much to get through, so let's dive in.