ISL 2022 Awards: Hyderabad FC vs Kerala Blasters – After a span of almost four months, we have arrived at the last stage of the Hero Indian Super League (ISL) Season 8. The finals will see two first-timers Hyderabad FC and Kerala Blasters scheduled to take place on Sunday, 20th March 2022. Bartholomew Ogbeche is the current highest scorer of the tournament with 17 goals while Hyderabad FC is the highest goal scoring team of the group stages with 43 goals. Follow ISL Season 8 Live Updates on InsideSport.IN
ISL 2022 Awards: Bartholomew Ogbeche of Hyderabad FC rides high on the goal scorer's list while Adrian Luna of Kerala Blasters aims to bring the maiden title home
Also Read: ISL 2022 final Tickets: 100% crowd allowed for final on March 20, How to book tickets and all you need to know
Hyderabad FC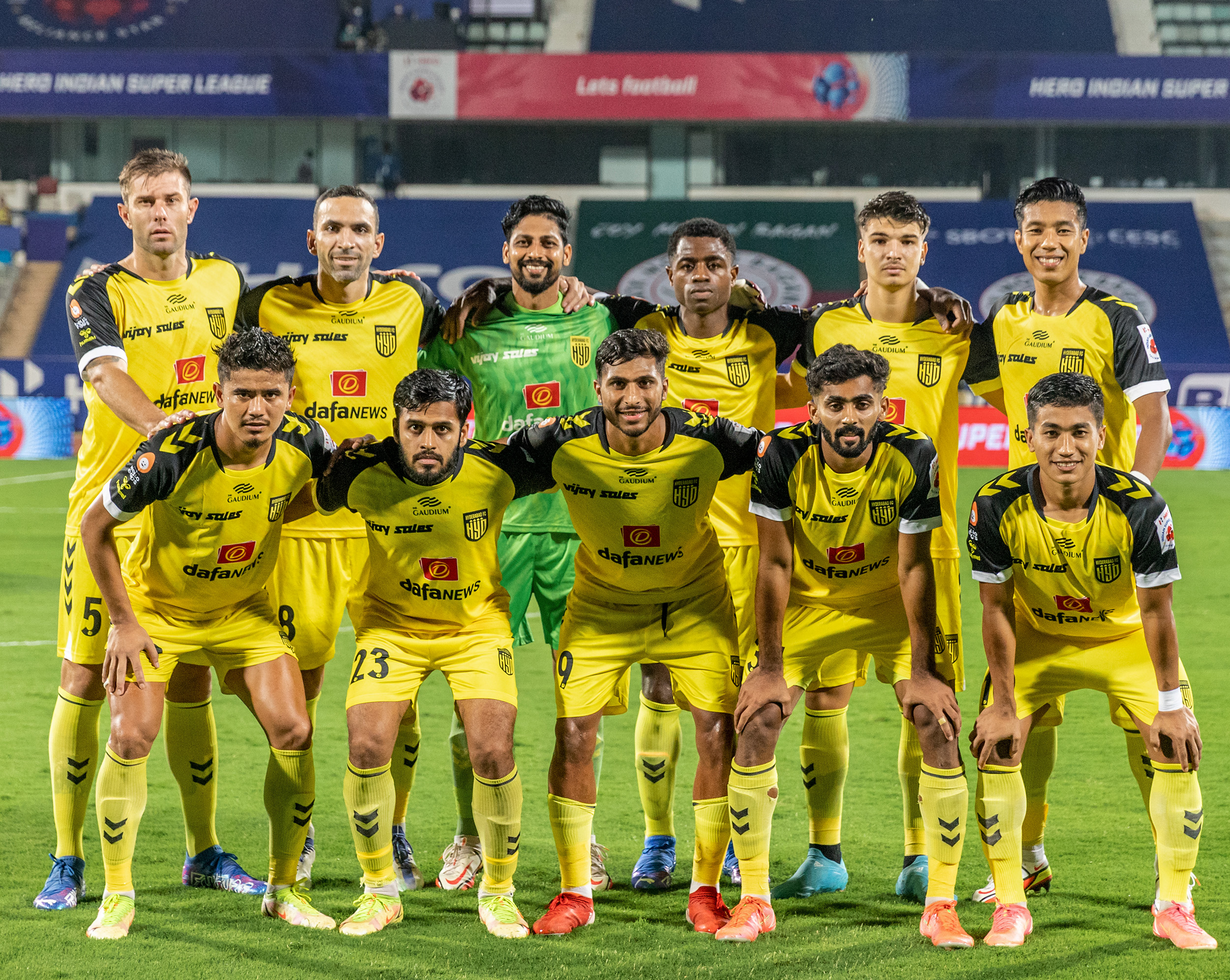 Hyderabad FC has been one of the standout performers of the ISL this season. Finishing the group stage at the second spot, followed by defeating the mightly ATK Mohun Bagan in the knockouts has been a remarkable achievement by the team from Hyderabad. Overall performance from the team in all the departments of the game is well reflected in their stats.
Hyderabad FC has won the second highest games in the group stage, alongside scoring the most goals in the league and conceding the second-least goals over a period of 20 group stage games.
🎶 𝗔𝗻𝗱 𝗶𝘁 𝘄𝗮𝘀 𝗮𝗹𝗹 𝘆𝗲𝗹𝗹𝗼𝘄 🎶

Just one step away now. @IndSuperLeague final, here we come… 💪#ATKMBHFC #ForTheCup 🏆 #ThisIsOurGame #మనహైదరాబాద్ #HyderabadFC pic.twitter.com/DXuspRjHdA

— Hyderabad FC (@HydFCOfficial) March 16, 2022
Hyderabad FC has won 11, drew 5, and lost 4 games. They have scored 43 goals and conceded 23 goals.
Hyderabad Fc's chief striker Bartholomew Ogbeche is the highest goal scorer of the tournament with 17 goals and is also the highest goal scorer in the history of the ISL tournament.
ISL 2022 Awards: Bartholomew Ogbeche of Hyderabad FC rides high on the goal scorer's list while Adrian Luna of Kerala Blasters aims to bring the maiden title home
Also Read: ISL 2022 Final LIVE Streaming: How to watch ISL 2021 Final, Hyderabad FC vs Kerala Blasters LIVE Streaming in your Mobile, Laptop
Kerala Blasters
The Kerala Blasters is one of the most improved teams that has caught the attention of every spectator in this season. After a disappointing season last year, the Kerala outfits finished fourth in the group standing and played exceptionally well in the knockout semi-finals game where they ousted the Shield winners Jamshedpur FC.
Kerala Blasters won 9, drew 7, and lost 4 games in their group stage. They scored 32 goals and conceded 24 in return.
On the road to greatness. 🏆#KBFCJFC #YennumYellow #KBFC #കേരളബ്ലാസ്റ്റേഴ്സ് pic.twitter.com/B6yFeuojph

— K e r a l a B l a s t e r s F C (@KeralaBlasters) March 15, 2022
 Jorge Pereyra Diaz and Alvaro Vazquez are the highest goal scorers of the side with 8 goals each. However, the star of the Blasters side has been the midfielder Adrian Luna, who score 5 and assisted 7, thereby bringing his goal+assist tally to 12.
ISL 2022 Awards: Bartholomew Ogbeche of Hyderabad FC rides high on the goal scorer's list while Adrian Luna of Kerala Blasters aims to bring the maiden title home
– Advertisement –