Key events
Canada's record: Poor
They've only qualified once before, losing all three games in 1986.
In CONCACAF qualifying, they're typically thrashed by Central American opponents, rarely even making it to the final round.
This time around?
They won the final round.
And that's after losing two of their last three, having taken their feet off the gas pedals after a torrid run in which they drew away to the mighty Mexico and USA and beat those teams, along with almost everyone else, on home tundra.
Canada 2, Japan 1
Did that get your attention? Hope so.
That was the result last week when Canada faced Japan last week without two of its best players, Alphonso Davies and Stephen Eustáquio.
Yes, that's the same Japanese team that beat Germany 2-1 today.
It's not a fluke. Time to explain why …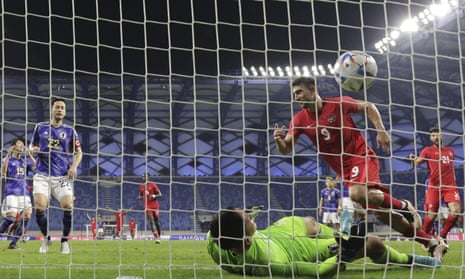 The USA drew Wales 1-1 and has shaky chances to advance.
Mexico needed a penalty save to hold Poland to a draw in a group torn asunder by Saudi Arabia's win over Argentina.
Costa Rica just gave up five goals to Spain. No, wait, six. Oops, seven. Is it over? Finally? OK, moving on.
So the hopes of North America rest with … Canada? Against Belgium?
Indeed they do. And a result here would not be the biggest shock of the Cup. And a Canadian presence in the round of 16 is certainly a strong possibility, especially after seeing Croatia and Morocco launch damp squibs in a scoreless draw today.
This could be fun. Follow along with me, won't you?