Key events:
36 min: Belgium have slowed the tempo down as they put some passes together through the defenders but Iceland intercept.
Jonsdottir kicks but it smacks Philtjens who concedes a corner. They take it short and there's panic in the box as De Neve looks to clear but Brynjarsdottir blocks it. The ball is hoovered up by the keeper but that was panic stations!
PENALTY MISS! Belgium 0-0 Iceland
Oh my word that is a shocker. Torvalsdottir's attempt hasn't got enough power on it and Evrard saves easily.
A turning point in this match?
31 min: There's a VAR check for a possible penalty for handball, it takes a few minutes and the ref is being told to go and look at the screen.
The ball does seem to hit Philtjens' forearm, I think they will give this!
There we go, penalty!
29 min: It's more of the same in Manchester, Jonsdottir the bright spark with the teams not finding their feet so far.
Victor has got in touch and said: "It's evident from the tv that there are a significant number of empty seats (something that the BBC has picked up on ).
"Unless I'm missing something, this seems to challenge Will's stance that a bigger stadium should have been used. I'd be interested on his perspective. I think you need to at least acknowledge that the stadium is clearly not full, in light of the ongoing criticism."
This is true, some seats do look empty. I don't know if it's a case of people haven't turned up as I had heard this stadium had sold out the available seats?
Will is on the report for this one so he is a little occupied but I'll send him a message and see if he can reply.
26 min: There's a foul by Vanhaevermaet which gifts Iceland their latest attacking platform but it doesn't last long as the ball is wrestled back.
But again they lose possession quickly. It's just a bit sloppy in the midfield from both teams. They need to retain the ball, get some passes in, steady the game and build.
Jonsdottir has the latest chance, the Iceland player has been the best on the pitch so far. She pounces as Belgium make a defensive blunder but the ball goes under her feet.
23 min: A great ball to Jonsdottir gets behind the Belgium defence but Vangheluwe sticks to her like glue and concedes a throw in.
Jonsdottir takes the set piece but it's immediately headed away. It's popped back into the box and Brynjarsdottir's header goes over the bar.
Belgium have a shot up the other end but it's gone straight to the keeper.
20 min: It is slow going and there hasn't been any shots to trouble either keeper so far with the two saves by the Icelandic keeper easily done.
It doesn't feel either side have settled yet.
17 min: Torvalsdottir does really well to cut out a counter for Belgium to keep it in their half.
A loose pass once again sees a chance go awry and now Belgium have a throw in. Atladottir defends the attack well and then is chopped down as she's caught in a challenge between two other players.
Iceland are building from deep now, who will break the deadlock here?
14 min: Wullaert has her first chance in front of goal but it lacks power and Sigurdardottir deals with it easily.
The Iceland fans have started the thunderclap at the stadium ending in a celebratory roar. That must sound amazing at the ground.
11 min: That was close! Cayman slipped in the box but got an attempt away, however, the keeper read it well to save.
Iceland have a throw in but it is well covered by Belgium, a slow start to a scrappy game so far. They have another throw in closer to the box and Jonsdottir takes it and earns a corner – slightly controversial as it looked as though that should have been a goal kick.
The corner pinballs in the box but it ends in a goal kick.
Fans are using paper to cover their hands in Manchester, I don't blame them they must be so hot.
8 min: Possession has exchanged hands quickly with both giving the ball away cheaply at times. A few rough headers in the midfield being sent out of play for throw in.
Iceland looked to have set up a great chance but a loose pass gives it to Belgium on the edge of the box and they launch a counter.
Vilhjalmsdottir cuts the ball out top stop it being sent into the box and now Iceland are on. But again they are ruled offside, they are their own worst enemy at the moment.
5 min: Iceland have started the brighter as they come forward again, S Jonsdottir has been a particular star who crossed into the box but the pass goes out of play.
Belgium are on the counter attack but Iceland defend well. Both sets of defenders are holding well in the early stages of this one, both trying to impose momentum.
2 min: Iceland have had the early possession but they were ruled offside in a build-up to an attempt so Belgium have their first attack.
They work it back to their keeper as they slow the tempo down and settle into this one.
Kari has got in touch via email, saying: "Since the subject of Icelandic names has come up, I should mention that in Iceland, people are always referred to by their given name, so in Icelandic commentary on the match, or in tomorrow's newspapers, the players will be called Sveindís, Sara, Berglind and so on.
"The patronymic part of the name, the part ending in -dóttir, is never used on its own."
Kick-off! Belgium 0-0 Iceland
Here we go!
Who will claim the win here? We will soon see.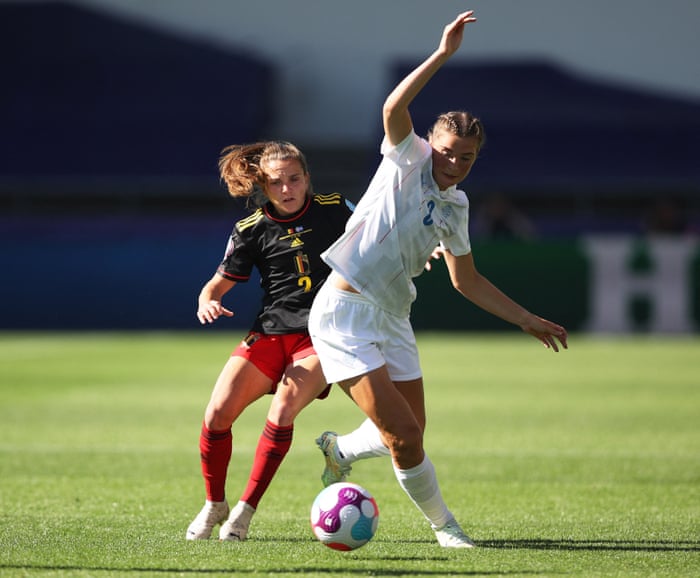 The teams are out and the anthems will soon be in full flow!
This may be the smallest ground being used at the Euros but the fans have definitely made themselves known. What a roar!
VIP watch alert!
Will says: "Lord Mayor of Manchester is here in her Civic regalia. Must be very annoying to wear, especially on a hot day."
The Guardian have compiled some in depth team analysis and, though I'm bias, they are incredible!
For today's game you can have a read of Belgium's here:
And Iceland's analysis is here:
Peter has got in touch via email and I had to re-read it a few times to understand the joke but I am there now.
He said: "Looking at the Iceland team sheet I wonder if the substitute Elin Jensen listens to Pearl Jam. And if so, is her favourite song the one that goes 'Don't call me -dottir'?"
Jensen is the only Iceland player who doesn't have dottir in her name.
Our man on the ground Will Unwin has added extra to the ground criticism.
He has said: "The two terraces behind the goals are closed because Uefa do not allow them in the tournament.
"It means the capacity is reduced by a third. Whoever decided this was a good idea needs to have a word with themselves."
There has been some controversy with the stadium Belgium and Iceland are playing at today.
They are competing at the Manchester City Academy Stadium, the place City women compete.
Iceland's Gunnarsdottir told Their Pitch podcast: "I'm a little bit disappointed. It's shocking. Playing in England there are so many stadiums and we have a training ground from City taking what, 4,000 spectators.
"It's embarrassing. It's not the respect [we deserve]. Watch women's football today, they are filling out the stadiums. You see Barcelona and Madrid, 95,000 watching the game [at Camp Nou]. They [Euros organisers] are not prepared that we will sell more tickets than 4,000.
"It's disrespectful towards women's football because it's so much bigger than people think. You think women's football is getting two steps ahead but then something comes up like that it's just a step back."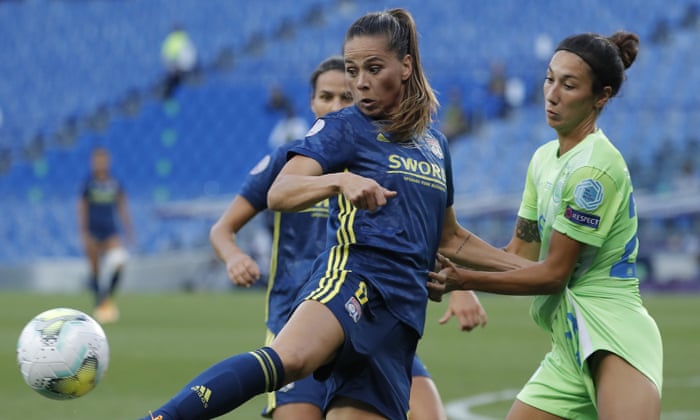 A Euro 2022 spokesperson said at the time: "Manchester City Academy is not a training ground. It is the official home stadium of Manchester City Women's Football Club.
"It has been used previously for UEFA Women's Champions League fixtures and will generate a great atmosphere worthy of a Women's Euro.
"We believe that with two of the biggest football stadiums in England [Old Trafford and Wembley], four venues with a capacity of 30,000 or more, two venues over 10,000 and two stadiums under 10,000, the right mix of stadiums has been chosen to provide the tournament with a platform to fulfil its potential."
Our reporter Will Unwin is at the Manchester stadium and has shared some insight.
I shall be calling it VIP watch as he has spotted a familiar face already. He's just let me know the Belgium men's boss Roberto Martinez is in a 'snazzy light blue suit'.
I'm excited to see who else he spots.
I don't know about you but I have a fan on me and all the windows open, it is so hot!
Get in touch and let me know what you are up to on this sunny Sunday!
You can reach me on Twitter, @rendellx, and via email.
The weather is blazing today so it will be a hot day out there for the players!
I have tracked the Iceland team news down!
Iceland starting XI: Sigurdardóttir; Atladóttir, Viggósdóttir, Arnardóttir, Gísladóttir; Jónsdóttir, Brynjarsdóttir, Gunnarsdóttir; Vilhjálmsdóttir, Thorvaldsdóttir, Jónsdóttir
Subs: Vidarsdóttir, Sigurdardóttir, Ívarsdóttir, Sveinbjornsdóttir, Magnúsdóttir, Jóhannsdóttir, Jensen, Albertsdóttir, Gunnlaugsdóttir, Árnadóttir, Gudmundsdóttir, Andradóttir
The Belgium team news is in!
The team have uploaded theirs to social media and I am tracing down Iceland's as we speak!
Belgium starting XI: Evrard; Vangheluwe, Kees, De Neve; Philtjens, Vanhaevermaet, De Caigny, Biesmans; Dhont, Cayman, Wulleart (C).
Subs: Van Kerkhoven, Tysiak, Wijnants, Eurlings, Delacauw, Lemey, Vanmechelen, Minnaert, Tison, Lichtfus, Deloose, Missipo.
The Euros is in full swing and there have been some cracking games so far.
Not all the nations have got their campaign underway and today it is the turn of Belgium and Iceland with the latter the favourites in this match.
Both Belgium and Iceland haven't been spoken about a lot in the build-up and early stages of the competition. There are some reasons behind that with their track records in the Euros not too impressive.
Belgium qualified for the Euros for the first time in years in 2017 but bowed out of the competition in 2017. In the build-up to the tournament Belgium played three friendlies, losing to England and Austria but defeating Northern Ireland.
Meanwhile Iceland have qualified for the last three competitions, their best record in recent history was in 2013. They reached the quarter-finals but were beat 4-0 by Sweden.
So what could turn their fortunes this year? Well for Belgium Tessa Wullaert has come into her own in recent years. She is a deadly threat and teams should cover her well.
And Iceland have Sara Björk Gunnarsdóttir, who has built even more experience into her game since the last tournament.
We shall see who comes out the better with kick-off coming at 5pm BST.