Key events
Half-time joy: this thing of ours, what a thing it is.
Half-time: Brentford 0-2 Arsenal
The biggest compliment I can give Arsenal is that they've been competent. Brentford have been weak.
45 min There'll be two added minutes; I've not a clue how you deduce that when there've been two goals and one period of extended treatment.
44 min Brentford are going to get a proper going-over off Thomas Frank at half-time. I can only imagine how hard it must be not to crease in that circumstance.
43 min Arsenal knock it about some more – this is far too easy for them – and when Tierney is giving time on the ball, he has a look then hammer a shot over the bar.
41 min Saka, who's been quiet so far, burrows infield off the right and creates a shooting lane, then drills into Mee.
40 min I say inexplicably, not because Arsenal aren't a factor in that, they are, but because the lack of intensity and conviction, from the off, is entirely on the home side.
39 min There's not much going on here, and the home crowd are becoming irate. Rightly so, too – their team have been inexplicably abject.
37 min Mbuemo wins a corner off a disgruntled Gabriel … and again, Brentford waste it. But they do maintain some pressure, aided by Jesus who tries a chapeau and loses possession to Jensen down the right. But again, the cross is poor.
36 min I wonder if Frank might consider a change of system. I still think the 5-3-2 is a decent way of playing against Arsenal, but he needs to do something to get his team going.
34 min Mbuemo finds space down the right, only for Martinelli to crunch him. This is not at all close, but for as long as Brentford have before Arsenal score again, there's the potential for it to become so.
32 min Brentford have been so disappointing thus far, and instead of sticking it in the mixah, they go short, only to see Jesus win the ball before they can change the angle. Silly behaviour.
32 min Brentford win a couple of throws deep inside the Arsenal half, converting the second of them into a corner…
30 min This has been a really controlled performance from Arsenal so far which, in a way, has been more telling than a vintage one. A team with as many good players as they have will sometimes play well, but the ability to turn what looks like a tricky match into a cruise evidences a side that knows exactly what it's doing.
GOAL! Brentford 0-2 Arsenal (Jesus 27)
And there is it! Arsenal move it from right to left, Tierney clips back to Xhaka, and his ball in is a fine one, dinked over the top for Jesus, alone in the centre. He's still got work to do – there's not much action on the delivery, to he needs to really flex his neck to punish a header into the top corner, but he does it with all the ease you'd expect of a quality player on a buzz. Brentford, though, defended that situation very poorly indeed.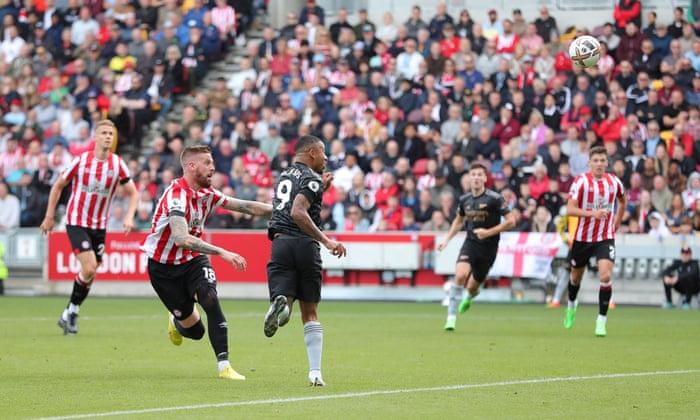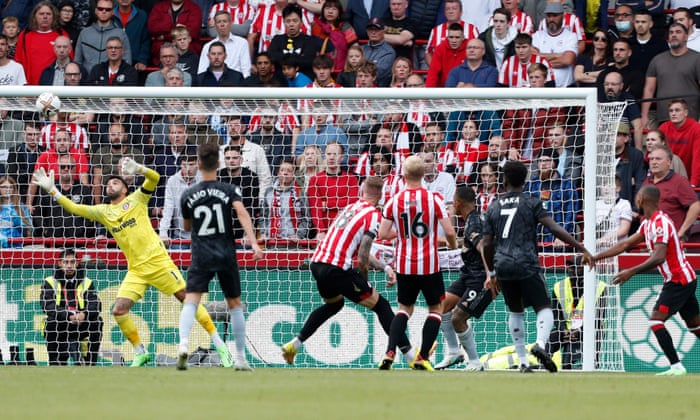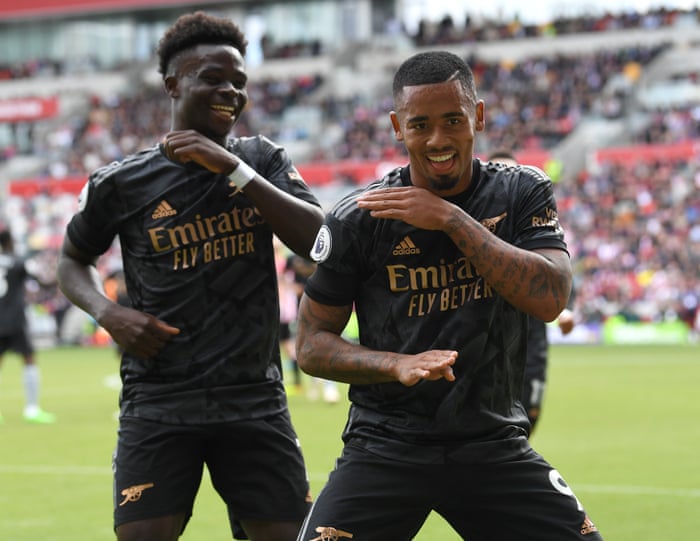 27 min Arsenal knock it about some more, and this match has that decent side v serious side look; Brentford aren't able to threaten, and I'd expect another goal for the visitors before half-time.
25 min "It's really confusing you talking about Wenger tactics with Henry and Vieira on the pitch," emails Mark Hooper. "I thought I'd tuned into the 1990s."
If only. I wish it was the 90s, I wish we could be happy, I wish, I wish, I wish that nothing would happen, as Thom Yorke didn't sing.
24 min The Brentford fans are booing Thomas Partey every time he gets the ball.
23 min Mbeumo makes a decent run in the inside-right channel, but his square pass to Toney is underhit. That's a waste, because the pair of them had plenty space in which to work.
21 min Gabriel is down having a knee-rub, and he looks in a bit of pain. He did, we're shown, pull up in the warm-up, and though I think he'll continue for the time being, I'm not certain he'll play the 90 today.
20 min Brenford, meanwhile, will be disappointed to have conceded that goal – stick with me for further insight – the fourth header they've let in this season. They too are are a big side, and they didn't make Arsenal work hard enough to score.
19 min Arsenal are a pretty physical side these days – one of the reasons things petered out under Wenger is that he deviated from his idea that football teams need big lads who run fast – and free goals like that one are a fringe benefit of Arteta reintroducing that policy.
GOAL! Brentford 0-1 Arsenal (Saliba 17)
Are you watching Steve Bould? Saka's delivery is excellent, Saliba wins the flick-on at the near post, ahead of Toney who's not playing proper attention, and the ball flies in, Raya's desperate claw unable to drag it away from the line. A quick check, and ref signals the goal.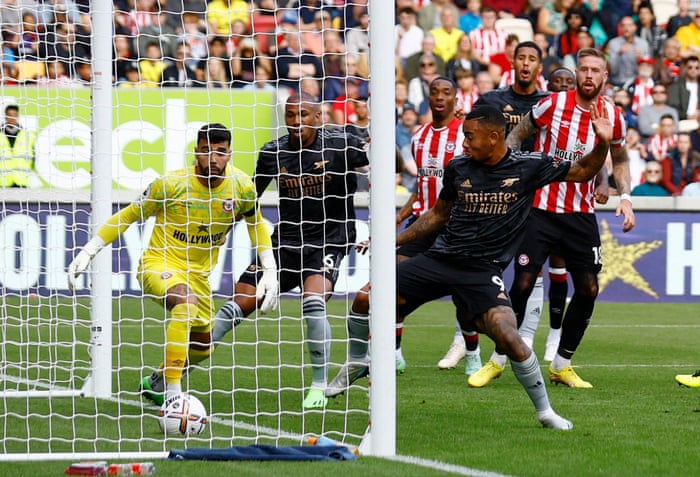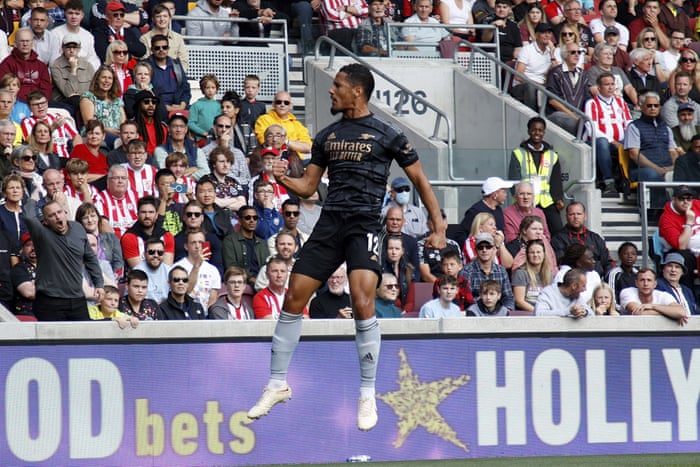 16 min Arsenal win a corner…
15 min Bites Yer Neck carries the ball forward and finds Dasilva, but his cross is headed clear and when Arsenal counter, Toney charges back and puts it into touch.That's great work.
13 min Big cheers as the ball goes right to Vieira and Mee hammers through ball and man in a classic vignette of "this league" action – to the former's consternation. I'm choking up here.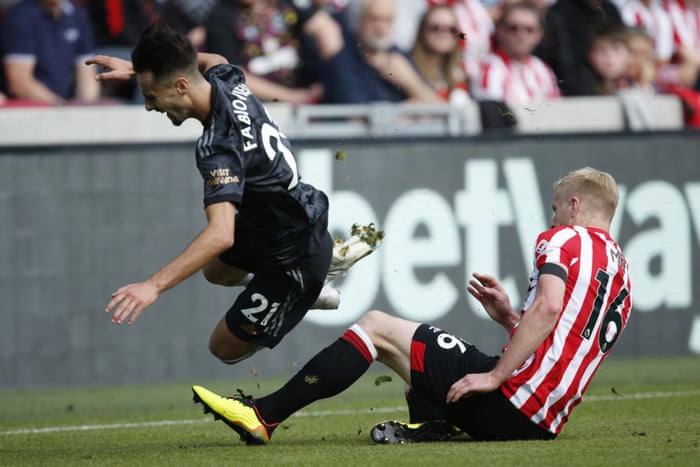 12 min …which Brentford clear easily enough.
11 min Jesus pulling left has been a feature of Arsenal's play so far this season, and the triangle he forms with Zinchenko and Martinelli is reminiscent, in a small way, of that made by Cole, Pires and Henry. But when it happens, they sometimes lack a presence in the middle, so Vieira will need to compensate. In the meantime, though, Mee fouls Jesus on the right, so here comes the resultant free-kick…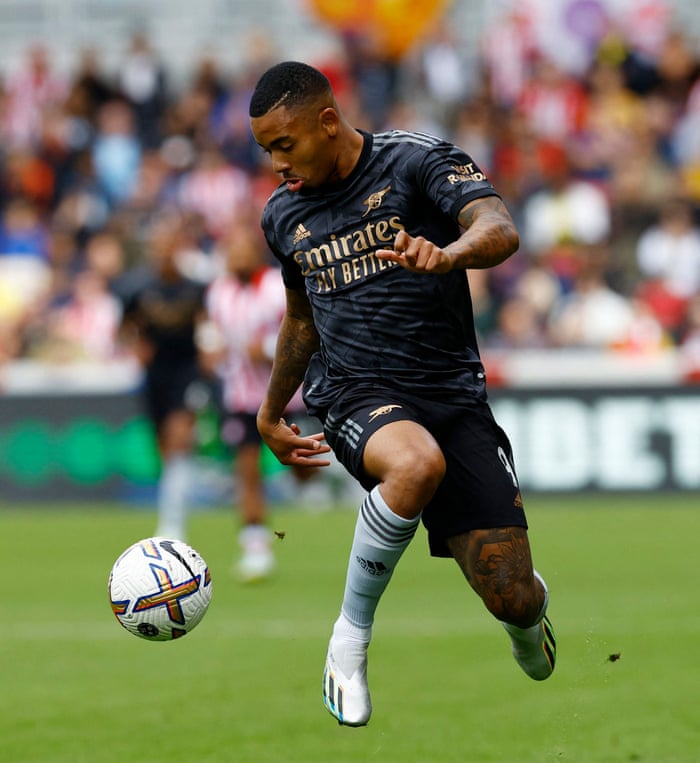 9 min More Arsenal possession, Jesus pulling left to make an angle down the line. But Tierney's pass can't find him, Brentford's blanket defence making it hard for them to find space.
7 min Arsenal knock it about but Brentford have everyone back – which, ironically, reminds me of an Arsenal tactic under Arsene Wenger, when they'd defend corners with all 11 men so that when they countered, no one was marked and opposing defences had to contend with moving targets.
6 min Jesus roves left and collects a simple ball over the top. But he can't cross to himself, so when the ball comes in, Brentford get it away. Already, there's a really good tempo to this game.
5 min And again! Henry leaves White trailing and this time, Mbuemo meets his loopy cross, but can't get much on it and again Ramsdale collects.
5 min There we go, Henry attacking the space in behind White and getting clear, but his cross, seeking Mbuemo, is overhit.
4 min …which Jansson spreads left to Henry. His cross is a decent one too, but no one gambles and attacks the front post, so Ramsdale gathers easily.
3 min Brentford win a free-kick 30 yards out, just left of centre…
2 min Superb from Arsenal, Saliba driving a low pass into Martinelli, whose first touch is brilliant, glancing a pass off to Xhaka, down the left side of the box. It looks a lot like 0-1, but instead of shooting, he cuts back a return, and just as he's about to shoot, Martinelli slips, allowing Raya to save easily. Still, that's a warning for the home side.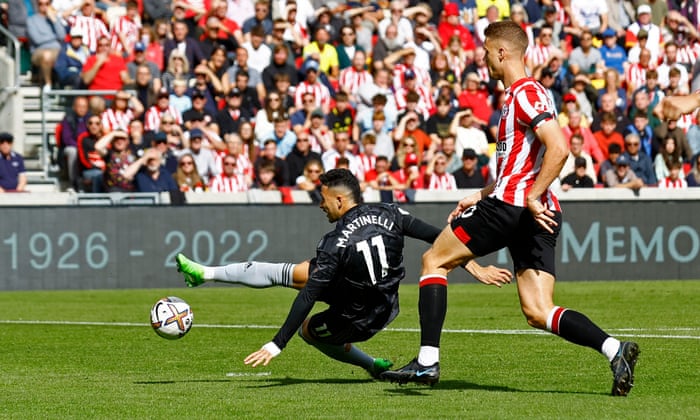 1 min Arsenal go back to Ramsdale, who drills forward and sets them on the attack. His range of passing is excellent, but I do still have doubts about his actual goalkeeping – though at 24, he's got plenty of time to improve it.
1 min Peeeeep! Away we go!
A minute's silence for the Queen, followed by the national anthem.
Here come the teams, led out by managers carrying wreaths.
And how great it is to see the away fans standing, officially.
If Brentford win this, they go ninth; if Arsenal win this, they go top.
Email! "One of the many doubts, worries and general angsty preoccupations of the Arsenal fan is the state of Thomas Partey's legs," says Charles Antaki. "Are they fully functional, and if so for how long? What happens when he can't play, and you don't have somebody who can boss the ball, receive and turn, drive on and threaten? Lokonga looks a fine prospect for the middling future, but it's all about the present, ins't it? And specifically not getting done by the Brentford midfield."
Yes, agree. When Arsenal were getting grief last season, the impact of his absence wasn't, in my opinion, fully factored in. I can't wait to see him blaze over a succession of shot from 18-25 yards.
Arsenal are warming up in their Jamaican-flag tops. They really are an exceptional leisurewear brand – 10 minutes at Carnival told me that whoever came up with this one knew exactly what they were doing.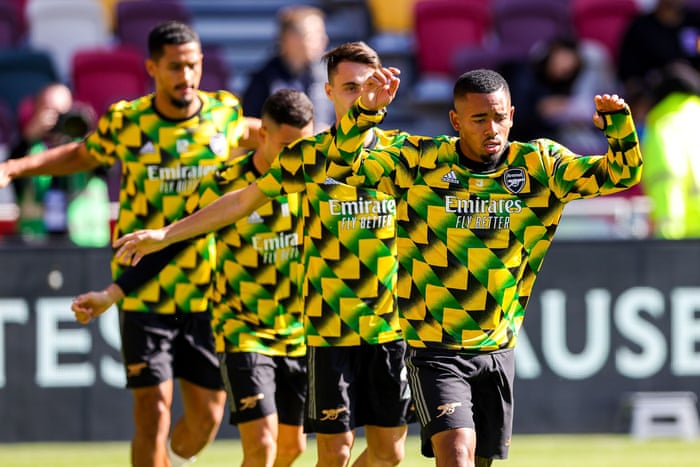 Arteta, wearing a v-neck school jumper with tie underneath, Rangers-style, tells us that Zinchenko and Odegaard are injured, and that Nwanieri is playing because '"We are pretty short". Sometimes, the hilarious gags write themselves.
Frank, meanwhile, confirms that he wants his team to be brave and aggressive, and that they want to turn the Community Stadium in "a fortress". He knows Arsenal are good, and laughs that even before his England call-up, Ivan Toney was not lacking confidence.
Back to Ethan Nwaneri, I didn't realise that he's 15. 15! Oof madone! What happened to two-litre bottles of Strongbow in parks and on buses?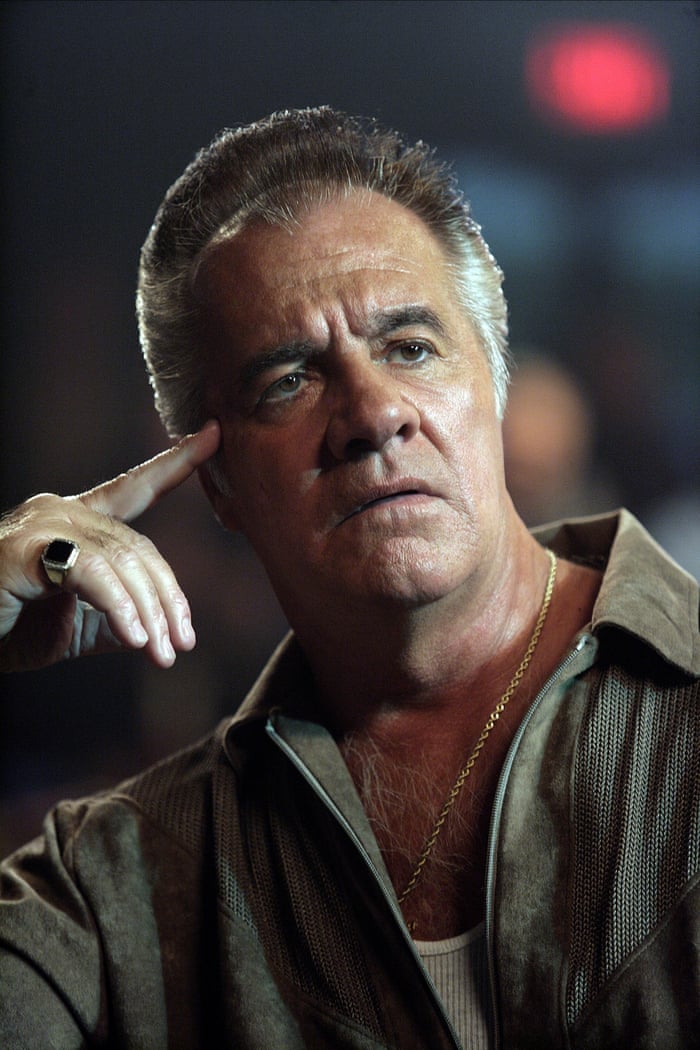 Arsenal, meanwhile, will be looking, I imagine, to get down the outsides of Brentford's outside centre-backs, with the full-backs high and wide to keep the width. I'm sure they'll miss Odegaard, whose ability to pick little passes into feet is so important for them, but Jesus' ability to occupy an entire defence will give Vieira a decent target.
The more I think about it, the more this game will be decided by how well – or not – Gabriel and Saliba handle Toney and Mbuemo. The 5-3-2 makes a lot of sense in that context, because while Arsenal are improving, I'm still not sold on their back four, and I daresay Brentford will also want to have a look at Ben White, out of position at right-back.
Er, Google have Pontus Janssen playing on the right of midfield in a 4-3-3. I'll take the L if that turns out to be so, but I can't completely see it.
Is Aaron Hickey's nickname "Bites yer neck"? Sorry.
This is a London derby, so here's a London anecdote: I was in a Soho hostelry last evening, and was approached by two Welsh women, wondering if I was local. They'd expected such establishments to be populated solely by tourists, so were excited to meet someone from the area; the film rights have already been optioned.
As for Arsenal, there's good news and bad news. We knew that Oleksandr Zinchenko would miss out – Kieran Tierney is a decent alternative – but Martin Odegaard is also absent, and he's a big loss. However, Thomas Partey begins his latest comeback, replacing Sambi Lokonga, and I'm really looking forward to getting a look at Fabio Vieira, who looked good when he came on at Old Trafford and looks to have plenty of potential.
There's a fair bit to go on here. Brentford, who were so impressive in gubbing Leeds last time out, switch from 4-3-3 to 5-3-2, bringing in Kristoffer Ajer and Josh Dasilva for Shandon Baptiste and Keane Lewis-Potter, the Premier League's first player to have three surnames. Their ability to switch formations in this way – they also played 5-3-2 against Manchester United – is a tribute both to Thomas Frank's coaching and the intelligence of their players, and the contest between their front two and Arsenal's centre-backs might well hold the key to this game.
Brentford (a progressive 5-3-2): Raya; Hickey, Jansson, Ajer, Mee, Henry; Janelt, Jensen, Dasilva; Mbeumo, Toney. Subs: Canos, Wissa, Zanka, Ghoddos, Onyeka, Strakosha, Damsgaard, Baptiste, Roerslev.
Arsenal (a non-negotiable 4-3-3): Ramsdale; White, Saliba, Gabriel, Tierney; Partey, Xhaka, Vieira; Saka, Martinelli, Jesus. Subs: Turner, Nketiah, Holding, Tomiyasu, Lokonga, Marquinhos, Smith, Nwaneri, Lino Sousa.
Referee: David Coote (Nottinghamshire)
Recency bias is a tedious thing, but please bear with me when I say that: in the 40 years I've been watching football and "this league" in particular, the standard of entertainment has never been as high as it is this season. I'm not sure there's any time in the past that I could look at fixture such as ours this afternoon and be absolutely certain that we're going to see a quality game of soccer, but looking at our fixture this afternoon, I'm absolutely certain that we're going to see a quality game of soccer.
Brentford are a terrific team, bristling, canny and intense, and also won this fixture at the start of last term – in what, to Gary Neville at least, seemed like a watershed moment for both sides. In the event, he was right about them but wrong about Arsenal, who were missing all manner of player that night, but their physicality and directness will still ask interesting questions of Mikel Arteta's men. In particular, I'm looking forward to seeing how Gabriel and William Saliba handle Ivan Toney, but all over the pitch, they've the players to make this a proper contest.
Arsenal, meanwhile, are growing, having somehow turned the disappointment of the run-in into pre-season momentum. I say somehow because it wasn't a given or anything like it, but central to the change was signing of Gabriel Jesus, a rare occasion on which it was just obvious that a club had acquired a player absolutely perfect for their needs in every single aspect. But it is not just him – Martin Odegaard has stepped up a level, Granit Xhaka is revelling in his new, advanced role, and Gabriel Martinelli is improving.
That, though brings pressure. This summer, Arsenal could console themselves that, though last season ended in disappointment, significant steps had been taken; next summer, there'll need to be solid proof, not just a nice little feeling. Brentford, meanwhile, could content themselves with survival, but now need to take things on and establish themselves as a Premier-League staple, because they've got everything they need for that – and more. This is going to be good.
Kick-off: 12pm BST