Half-time reading
Half time: Chelsea 2-2 Arsenal
Peep peep! While it won't win any prizes for elite defending, that was all sorts of fun to watch. Arsenal led twice through Eddie Nketiah and Emile Smith Rowe, but on both occasions they were ahead for only a few minutes. Timo Werner's shot deflected in off Granit Xhaka – I think it will go down as an own goal – and then Cesar Azpilicueta's classy finish made it 2-2.
45 min: Just wide from Smith Rowe! Odegaard again finds Smith Rowe in the D with a short pass. This time he's surrounded, so there's no chance of a first-time shot. Instead he produces some dizzying footwork to beat three players before cracking a shot just – and I mean just – wide.
44 min Saka cuts inside Alonso on the right edge of the area and teases a lovely cross that drifts wide of the far post. That was crying out for Mick Harford, arriving late to put the ball and four Chelsea defenders into the net.
42 min Mikel Arteta is giving the fourth official a mouthful about something or other, possibly the perceived foul on White in the build-up to Chelsea's second equaliser.
41 min Xhaka's shot is blocked by Azpilicueta, who then wears a cross from Tavares in the face. He'll be fine.
38 min A beautiful crossfield pass from Mount is controlled on the run by Alonso, who then slaps the bouncing ball over the bar from a tight angle. A tough chance.
37 min Chelsea have switched to a 3-4-2-1, with Loftus-Cheek dropping deeper alongside Kante.
36 min "Sounds like a fun game," says Dean Kinsella. "What has happened to Rudiger?"
He's injured. Doesn't sound serious so I'm sure he'll be fine for the FA Cup final.
34 min And now Tavares rifles a cross shot wide of the far post. This is great fun!
33 min Almost a fifth goal. Nketiah turns Sarr smartly, 22 yards out, and cracks a left-footed shot just wide of the near post. Mendy probably had it covered, in fairness.
The goal stands! There was a quick VAR check for a foul on White, with quick being the operative word.
It came from a throw-in on the left. Mount and Werner won the ball off White, who thought he was fouled, and then Mount curled a dangerous cross to the near post. Azpilicueta got in front of Tavares and poked the ball deftly past Ramsdale. Another terrific finish.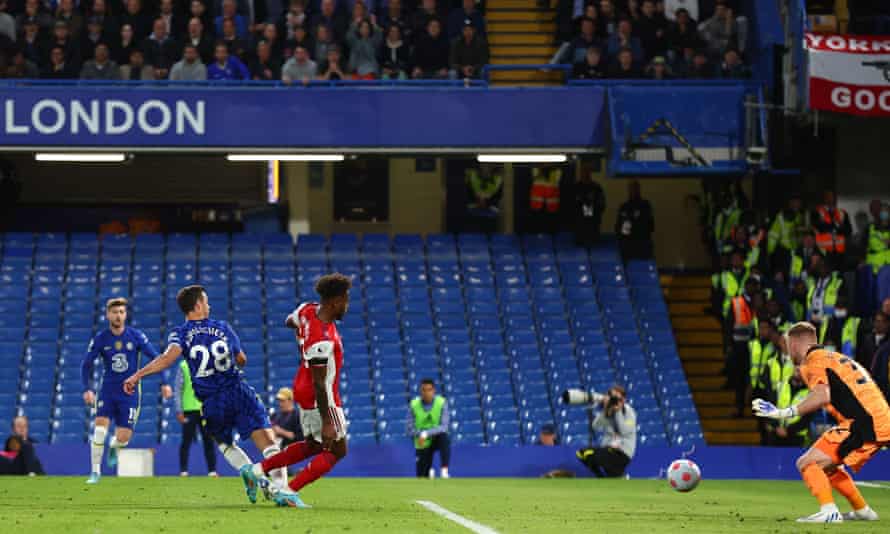 GOAL! Chelsea 2-2 Arsenal (Azpilicueta 32)
Chelsea have equalised again!
30 min More good pressing from Loftus-Cheek, who then curls a dangerous cross that just evades Werner.
Less than 20 seconds after a game of pinball in the Arsenal area, Emile Smith Rowe put them ahead at the other end. It was an excellent break, starting with an indecently cool nutmeg on Alonso by Xhaka. Eventually Odegaard played a short pass to Smith Rowe, who ran onto the ball in the D and shaped a sweet first-time shot into the far corner. What a lovely finish!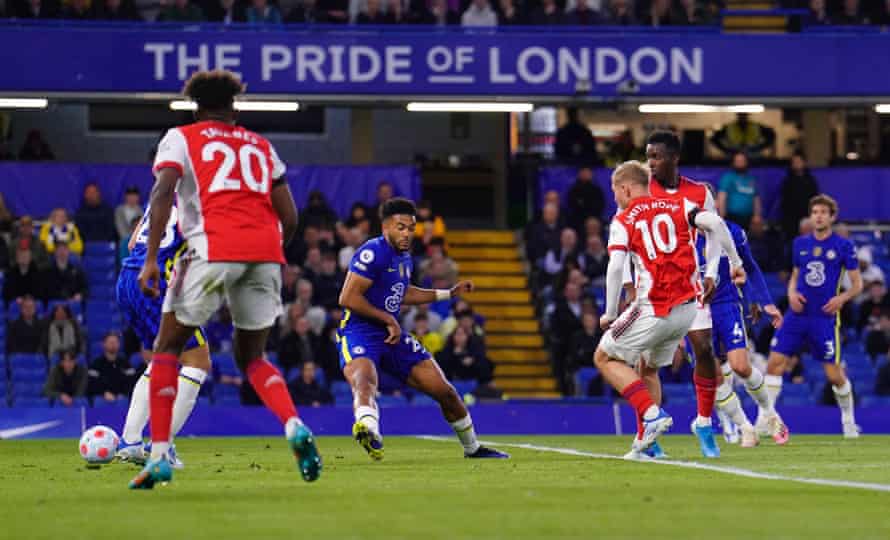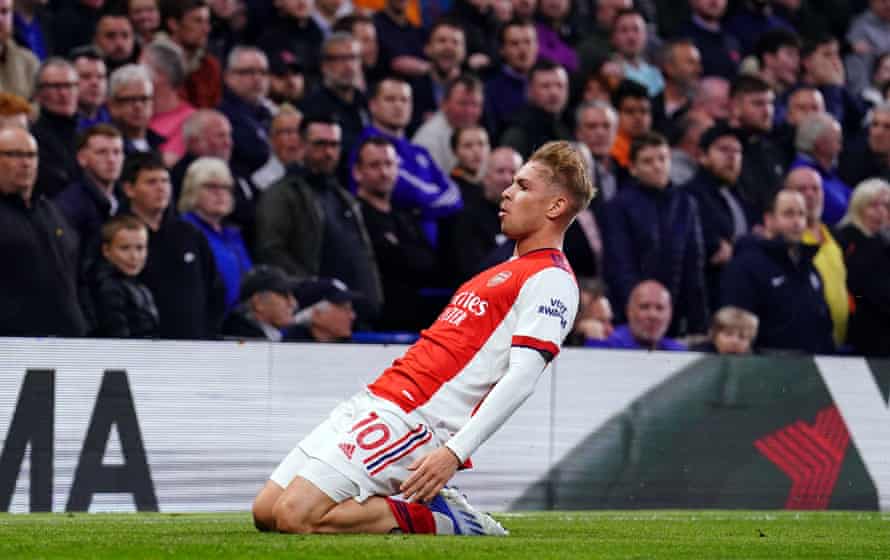 GOAL! Chelsea 1-2 Arsenal (Smith Rowe 27)
Arsenal are back in front!
25 min Saka's deflected shot is headed across goal by Nketiah and volleyed off target by the stretching Tavares. No matter: Tavares was offside. But Arsenal look a threat, especially when – shock, horror – Saka has the ball.
24 min: Chance for Nketiah! Saka teases Alonso on the edge of the area, then wriggles away from him and cuts the ball back to Nketiah. He slices well wide from 12 yards. That was a decent chance.
22 min Tavares screams with pain after a high challenge from Mount, who gives him a serve while he's on the floor. The referee gives a throw-in. It was a pretty poor challenge from Mount, actually, and he's fortunate not to be booked.
19 min Mount swishes a bouncing ball not far wide of the far post.
Arsenal were ahead for only four minutes. Loftus-Cheek won the ball 30 yards from goal and gave it to Werner on the left. He cut inside and hit a pretty tame shot that took a deflection off Xhaka, who turned away from the ball, and spun past Ramsdale. I'm pretty sure Werner's shot was going wide, in which case it will go down as a Xhaka own goal.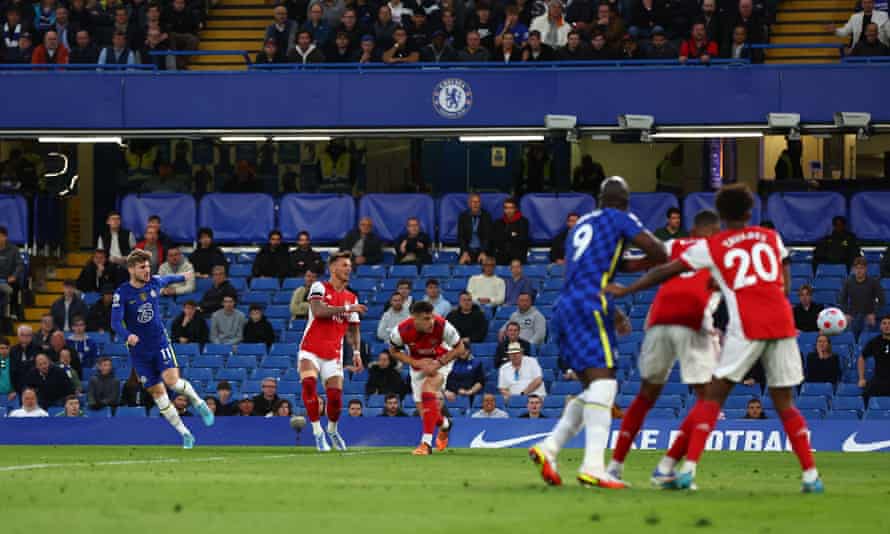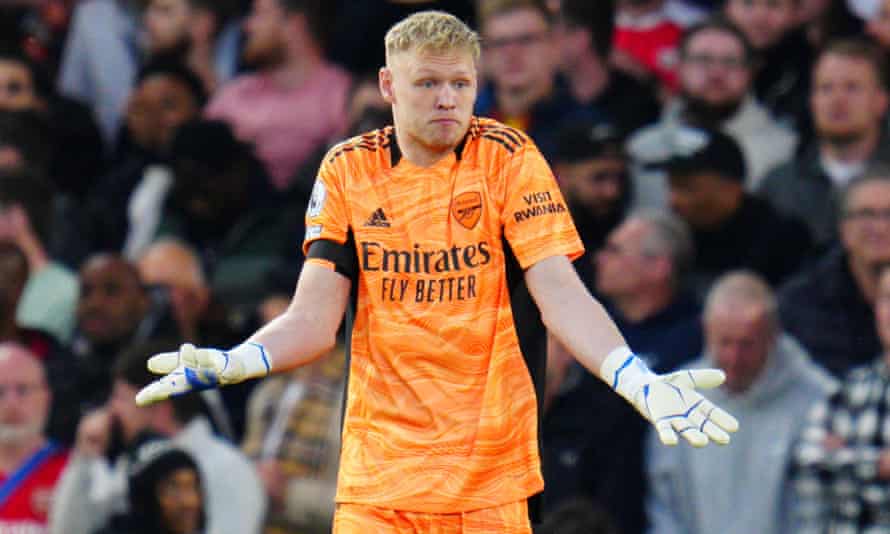 GOAL! Chelsea 1-1 Arsenal (Xhaka og 17)
Timo Werner equalises with the aid of a deflection!
17 min That was such a cool finish from Nketiah, even more so when you consider his lack of game time this season.
Christensen played a poor backpass, well short of Mendy, and Nketiah was onto it in a flash. He cut across the covering Sarr, taking him out of the game in the process, and clipped the ball confidently past Mendy. That's an emphatic finish.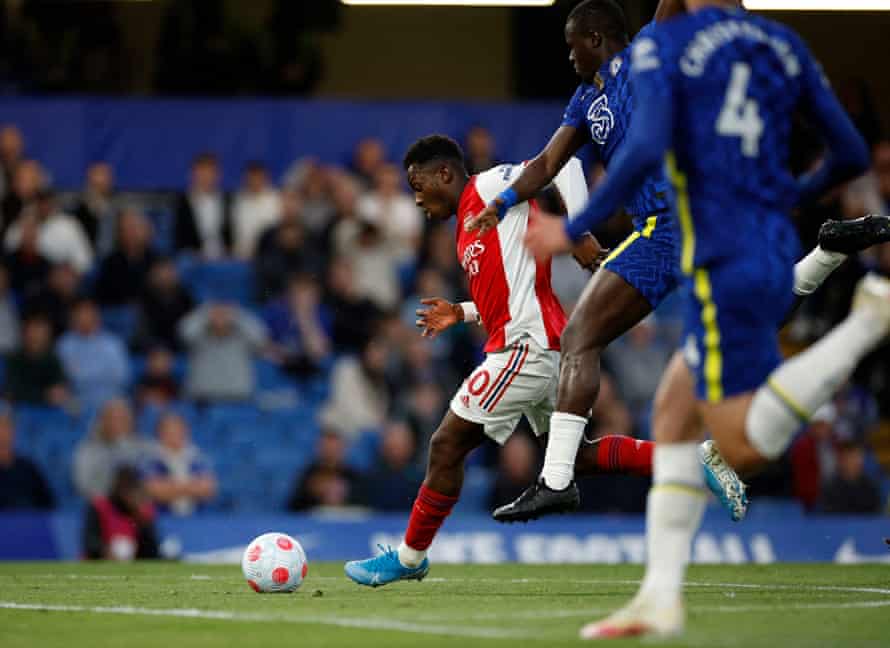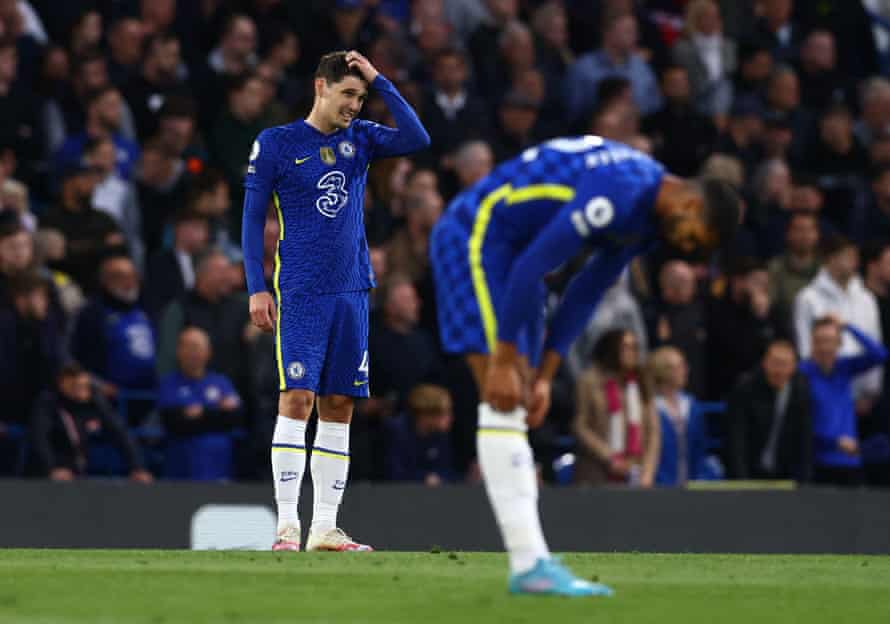 GOAL! Chelsea 0-1 Arsenal (Nketiah 13)
Eddie Nketiah gives Arsenal the lead after a mistake from Andreas Christensen!
10 min A poor ball is pinched by Loftus-Cheek, who pokes it forward to Lukaku. He moves away from Xhaka, into the area, and shoots wide of the far post with his right foot. A half chance.
9 min Yes, it's definitely a 4-2-3-1 for Arsenal. Tactics are so darned moreish.
7 min Arsenal take a short free-kick to Xhaka, who flips a clever straight pass towards Gabriel in the inside-left channel. His low cross shot is kicked away by the keeper Mendy.
6 min Arsenal seem to have switched to 4-2-3-1, with White at right-back. Maybe it was all a big bluff.
5 min: Off the line by Gabriel! Mount's second corner, a big inswinger from the left, beats the flapping Ramsdale and is headed clear from under the crossbar by Gabriel.
4 min: Chance for Chelsea! Mount's corner from the left is flicked on at the near post and ricochets around the six-yard box. Eventually if falls to Alonso, eight yards out, and his shot deflects just wide off Xhaka.
2 min Chelsea's system is slightly different, a 3-1-4-2/3-3-2-2 with Kante playing in front of the defence and Loftus-Cheek further forward.
1 min Arsenal have indeed straight with a back three. Bukayo Saka is at right wing-back.
1 min Peep peep! Arsenal get the game under way.
"I didn't know anything about Steve Rowley, and don't know much about scouting, but what a time to have worked as a scout!" says Jamie Tucker. "I imagine that scouting Tony Adams would have been an entirely different world to the one in which they scouted Cesc, and yet really not that many years apart. Another way, perhaps, in which that Wenger-era Arsenal seems to span the birth of Football Today."
There will be a reduced crowd at Stamford Bridge the night. The sanctions against Chelsea mean that season-ticket holders are the only home supporters allowed at the game, though they will be a few thousand Arsenal fans in the away end.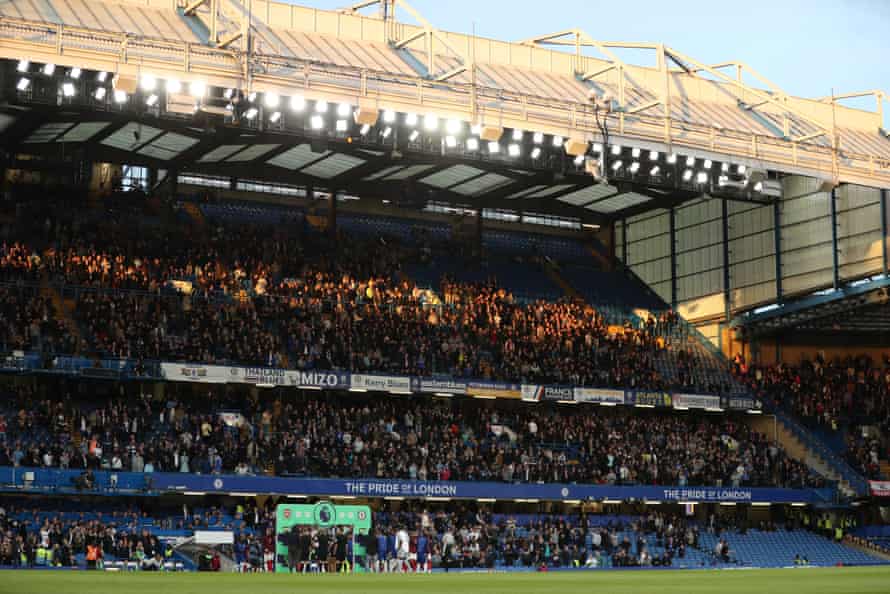 Arsenal's formation There are some suggestions that Arsenal will play a back three, with Saka and Tavares at wing-back. We'll find out soon enough.
"Edu and company almost got away with not fixing holes in the team mid-season but as an Arsenal fan when I saw Partey's injury I knew we were doomed," says Zach Neeley. "The biggest area of need wasn't his position but skill at one spot can balance out lack elsewhere (plus I think his presence is key to better, consistent performances from Xhaka)."
Thing is, how do you replace one of the better midfielders in the world? He allowed them to almost cheat by playing 4-1-4-1; without him they were always going to struggle a bit. And then there's the elephant in the room, or rather than Nou Camp.
The boy's a bit special
Arsenal will wear black armbands tonight in memory of Steve Rowley, the former chief scout who has died aged just 63. Rowley was responsible for signing many Arsenal legends, including Tony Adams and Cesc Fabregas, and was by all accounts a thoroughly decent man.
It looks like Arsenal will play two holding midfielders tonight, which proves that you really do need two men to replace Thomas Partey. He is a phenomenal player, good enough for any team in the world.
I'll be honest. When I saw this headline I thought, 'What's his problem?' But Thomas Tuchel's comments are as measured and eloquent as ever. If I was a Chelsea fan, I'd adore the man.
Romelu Lukaku starts a Premier League game for the first time since 19 February, when he infamously had only seven touches away to Crystal Palace.
In all there are four changes from the side that beat Palace in the FA Cup on Sunday. Malang Sarr, Ruben Loftus-Cheek, N'Golo Kante and Lukaku replace Antonio Rudiger, Jorginho, Mateo Kovacic and Kai Havertz.
It looks like Ben White will play at right-back for Arsenal, while Eddie Nketiah is preferred to Alexandre Lacazette. There are three changes from the weekend defeat at Southampton: Rob Holding, Mohamed Elneny and Emile Smith Rowe come in for Cedric, Albert Sambi Lokonga and Gabriel Martinelli.
Chelsea (3-4-1-2) Mendy; James, Christensen, Sarr; Azpilicueta, Loftus-Cheek, Kante, Alonso; Mount; Lukaku, Werner.
Substitutes: Arrizabalaga, Chalobah, Thiago Silva, Barkley, Jorginho, Saul, Pulisic, Ziyech, Havertz.
Arsenal (possible 3-4-2-1) Ramsdale; White, Holding, Gabriel; Saka, Elneny, Xhaka, Tavares; Odegaard, Smith Rowe; Nketiah.
Substitutes: Leno, Cedric, Swanson, Azeez, Lokonga, Hutchinson, Pepe, Martinelli, Lacazette.
Referee Jon Moss.
There are three other Premier League games tonight, including Everton v Leicester and Manchester City v Brighton. Oh sod it, I might as well tell you that the other match is Newcastle v Crystal Palace.
More importantly, we have a special Clockwatch for those games.
Hello and welcome to live coverage of Chelsea v Arsenal from Stamford Bridge. I doubt anyone connected with Chelsea will agree, but to the neutral liveblogger this game feels far more important for Arsenal.
Chelsea are going to finish third, barring a tale of the seriously unexpected, whereas Arsenal are involved in an increasingly messy struggle for fourth place. A disturbing run of four defeats in five games has wounded their hopes of qualifying for the Champions League for the first time since 2016-17.
Injuries, outgoing loans and the inherent irreplaceability of Thomas Partey have left Arsenal short in recent weeks, and few people fancy them to get anything tonight. But a win or even a draw at Stamford Bridge would change the mood for the umpteeth time in their topsy-turvy season, especially as their top-four rivals all have imperfections of their own.
Spurs, despite Antonio Conte's best efforts, are still Spurs, Manchester United are a laughing stock and West Ham are understandably distracted by the Europa League. To borrow a phrase beloved of Arsenal fans, fourth place is still up for grabs.
Kick off 7.45pm.