Key events
Back underway! Chelsea 3-0 Vllaznia
How big will this score get? We will find out shortly. There has been a break as Vllaznia make two changes with Ramadani and Lufo on for Bashka and Popovic
Adam has got in touch via email and said: "I think I heard on QI at one point that cakes go hard when they get stale whilst biscuits get soft. That would make Jaffa Cakes a cake…I think Less importantly, however, and why yes I am asking mainly because I'd quite like to see this typed out: how on Earth does one pronounce 'Vllaznia?'" I think you are right about the QI fact and so far we have had no votes for biscuit. In relation to the pronounciation, I think the double l make a y – I hope that helps!
Have a look at Sam Kerr's two goals in that first half:
Chelsea's dominance is displayed through the first half stats. They have had 73% possession with 16 shots at goal, five on target. Vllaznia have had 27% of the ball with no shots whatsoever.
Half-time: Chelsea 3-0 Vllaznia
Chelsea are sailing to the top of the group with this performance as they lead following two goals from Sam Kerr and a tap in from Pernille Harder. The hosts are completely dominant.
44 min: Kerr's long range shot is blocked and it seems those two quick goals have energised the hosts even more. Kerr looked as though she had her hat-trick but she was offside, Chelsea have the potential to be in front by a lot more.
42 min: Kerr was brought down in the box with Chelsea players screaming for a penalty but it isn't given. Kerr is there once again but Williams-Mosier punches away, Chelsea almost collect the rebound but the offside flag is raised. Fleming is the next to have a chance but it's wide.
40 min: Kerr has tripled her goal count this season in this game as I think she had only scored one ahead of the match. Please do correct me if I'm wrong! Chelsea have the ball once more and have it in the box but it's blocked.
GOAL! Chelsea 3-0 Vllaznia (Harder, 39′)
Wow that didn't take long! A great cross has the visitors napping and Harder taps home.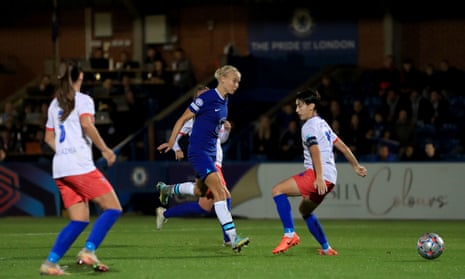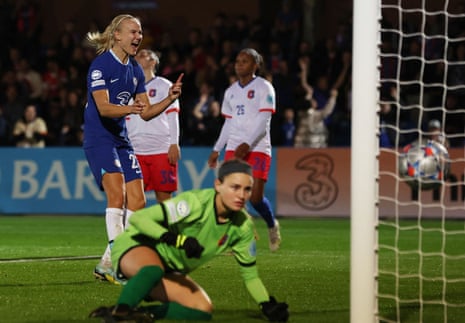 GOAL! Chelsea 2-0 Vllaznia (Kerr, 37′)
Reiten crosses and Kerr is in the perfect position to tap it in.
36 min: Vllaznia have a free kick from their own half as Kerr fouls. It is thundered in and though it is first blocked by Chelsea, the visitors keep coming. Reiten wrestles possession back, the visitors first real spell of attack there. Chelsea counter but Kaneryd is ruled offside.
34 min: You can hear the Vllaznia coaches celebrating every time their players manage to wrestle possession back. The away fans have also drowned out Chelsea supporters, it's thought around 420 away fans are at Kingsmeadow. Back to match play, Reiten has a shot but it is wide. She wins a corner though with Perisset hitting it in. Vllaznia manage to clear it.
32 min: Harder shots from outside the box but it is way off target. Chelsea need to be more patient if they want to wrack up an impressive score here, they are rushing some plays. Harder is there again but her header is just over the bar.
30 min: Kerr is ruled offside once more and she looks in disbelief. This time she is onside and wins a throw in. The ball comes to Reiten who runs it out of play. The hosts attack with a low ball into the box rolling behind Kerr.
27 min: Despite going 1-0 down, Vllaznia are doing well to stem the bleeding but will they be able to keep this up throughout the match? Chelsea once again come forward with Harder setting up another chance which is cut out.
25 min: Reiten's shot at goal sails over the bar. A great cross from Harder but the whistle is blown as Kerr is judged offside. It remains all Chelsea.
23 min: Vllaznia's free kick is mopped up quickly and Chelsea are in possession once more. Kerr falls in the box and so she can't turn the chance in goal.
21 min: Chelsea are retaining possession here, they should be more than 1-0 up but Vllaznia have been impressive so far. Perisset has a yellow card for a foul on Doci.
19 min: Perisset takes the kick and it is messy again but Chelsea can't get a shot in. Buchanan rifles it back into the box but Williams-Mosier punches away.
17 min: Ingle heard rings of 'shoot' from outside the box but she decides to pop it into the box but it can't find a teammate. Chelsea have their fifth corner of the match as Vllaznia defend again, this is going to be a long evening for the visitors.
15 min: Chelsea have a corner as Popovic plays it out, Perisset takes the kick but Williams-Mosier comes out and punches away. Perisset's next shot sails over the bar.
13 min: The dominance is incredible from Chelsea so far and it just keeps coming, going a goal up hasn't made the Blues put the brakes on. The goal was a beauty with Harder laying up Kerr perfectly. A fun fact for you the commentator on the stream has just said Vllaznia scored 162 goals and only conceded two in their domestic last season, how crazy is that!
GOAL! Chelsea 1-0 Vllaznia (Kerr, 10′)
There's the opener! Sam Kerr will be thrilled to get that after a few games without a score, a nice one touch finish.
8 min: What a defensive effort from Maliqi! She leaps through the air to head the ball away from the hunting Kerr, she concedes a corner but the set piece is well defended.
6 min: That was so close! Chelsea have two balls glide across goal but no one is there to hit it home. The Blues are completely dominant so far, a corner to come. Perisset takes the kick but it is blocked. Buchanan comes with another shot but Williams-Mosier saves once again.
4 min: Chelsea have a corner after Vllaznia defend once more, Reiten sends the ball in and it's messy in the box but Charles' shot is saved by Williams-Mosier.
2 min: There are so many Vllaznia fans at Kingsmeadow which is great to see! Chelsea have had the early possession, Fleming had a shot but it is blocked! Harder also gets on the ball but it goes wide and then Ingle's shot is blocked. It's all Chelsea so far.
Kick-off! Chelsea 0-0 Vllaznia
Here we go! Who will get the win here? Chelsea could top the group if they find a win after Real Madrid were held to a 0-0 result against PSG earlier today.
The players will be coming out to the pitch at Kingsmeadow shortly to get this match underway! Get in touch with your thoughts on this match or get involved in our Jaffa Cake debate via Twitter or email.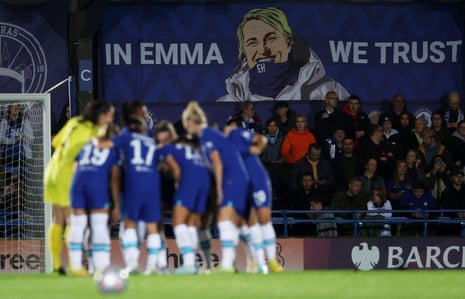 Chelsea captain Magdalena Eriksson said ahead of the Vllaznia match: "We learned we have it in us to go all the way [in 2021]. That brings big confidence to the group knowing we can do it and we definitely have the quality in the squad. Last year we got to understand the difficulty of the group stages where there are six games and you have a heavy schedule. I'm just really pleased we got off to a good start this year and got three points in a tough away game."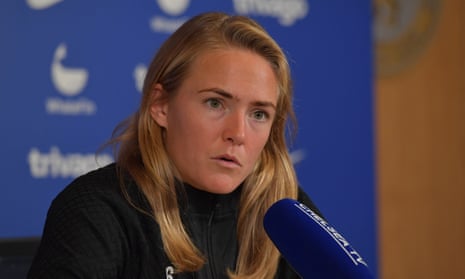 Those two matches have finished St Polten 3-4 Roma and Real Madrid 0-0 PSG. St Polten will be frustrated after they led 1-0 at half-time.
There are two other matches which kicked off earlier today. There is a thriller between St Polten and Roma as the match is currently 4-3 to Roma! Meanwhile Real Madrid v PSG is still in a 0-0 deadlock. They are both into the second half injury time and I'll keep you up to date on those when I can!
I have tracked Vllaznia's team news down with help from UEFA's website!
Vllaznia's starting XI: Williams-Mosier, Popovic, Knox, Maliqi, Gjini, Berisha, Franja, Patterson, Cavanaugh, Doci, Bashka.
Harriet has weighed in on whether Jaffa Cakes are cakes or biscuits, saying: "Jaffa Cakes and Rich Digestives cannot both be biscuits. Firmly team "cake". Now I'm craving them of course." Get to the shops before kick-off!
Have you been reading our weekly women's football newsletter? It is free to subscribe to and it brings you all the news from the sport, click below to read the latest edition:
If you have read my blogs before you know I love a bit of snack chat. This evening I have Jaffa cakes but do you think they are a cake or a biscuit? Let me know via Twitter or email.
Guro Reiten is in the starting line-up for Chelsea this evening and she will make her 100th appearance for the club. What an achievement!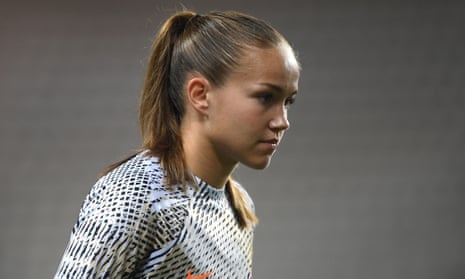 Chelsea have released their team news and Fran Kirby is back in the squad but she will start from the bench and Johanna Rytting Kaneryd retains her starting shirt.
Starting XI: Musovic, Ingle, Reiten, Perisset, Eriksson, Fleming, Kaneryd, Kerr, Charles, Harder, Buchanan.
I am tracking down the team news for Vllanzia.
Welcome back to our Women's Champions League coverage where Chelsea host Vllaznia and the visitors are looking for their first win of the campaign.
The tournament's group stage began last week and Vllaznia lost 2-0 to Real Madrid. They held off the Spanish giants for a long time with the first goal coming in the 54th minute and so they do have a strong defensive performance.
Chelsea, meanwhile, began their campaign with a 1-0 win over Paris Saint-Germain after a dogged display. Millie Bright scored in the first half and they put out a good defensive effort, particularly through goalkeeper Ann-Katrin Berger. The Blues have also been handed a boost with Fran Kirby available for the match.
Team news will be out soon so stay tuned for updates ahead of kick-off at 8pm BST.