Key events
The Guardian posted a compelling look at Croatian goal-scorer Marko Livaja before the Cup. He was the only player in this lineup who did not play in the opener.
Halftime: Croatia 2-1 Canada
Relief for Canada at that whistle.
OK, give me a minute to catch my breath, and I'll plow through your comments.
45 +4 min: Croatia again attacks Johnston, and Kamal Miller has to race back in the center to cut out the cross. Miller pounds the grass in anger and frustration at how things are going.
45 +3 min: Canada holds the ball for a bit in the Croatian third, getting a bit of a rest, but once they turn it over, the Croatian counter attack is devastating. After I thought it would be the other way around!
I did, though, say both teams would score, didn't I?
45 +2 min: Johnston, who has had a dreadful half, keeps the ball in play but just leaves it for an onrushing Croatia attacker, and Croatia gets another decent chance out of it. His day should end at halftime.
45 +5 min: We'll have five minutes of stoppage time here, and that's Very Bad News for a Canadian team that desperately needs to get into the locker room for John Herdman to make some adjustments and push the right buttons.
Goal! Croatia 2-1 Canada (Livaja 44)
Ugh, Canada. Slow to react in every step of midfield after that quick free kick, and Livaja has plenty of space to pick his spot from the top of the box.
Second straight game Canada has conceded to fall behind right before halftime.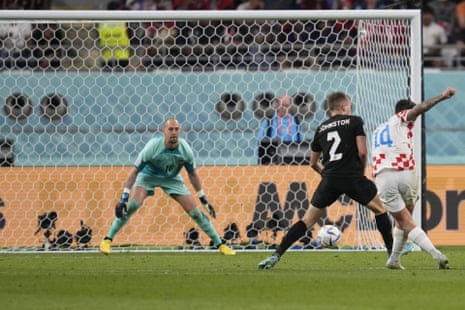 44 min: Looks like a handball on a Canadian attacker, and Croatia barely settles the ball before taking an astonishingly quick free kick. They know they might not be on the front foot forever.
OK, while he's getting treated …
Malcolm Shuttleworth: "Do I detect a certain amount of complacency creeping into the mindset of the so-called bigger teams at the World Cup? Germany, Argentina, Belgium, England and now Croatia have all come a cropper. Surely not a coincidence?"
Probably not. Or perhaps the world is flatter than we realize, more teams have players in Europe's big leagues, and players from Saudi Arabia's league – and, yes, from Major League Soccer – can play.
39 min: Free kick to Canada, but the Croatian midfield is starting to boss the game. Croatia wins it and races upfield. Its 2-on-4, but on that right flank, that's almost a mismatch for Croatia. Canadians flock back like Canada geese to address the situation.
(My understanding is that it's "Canada geese," not "Canadian geese.")
Modric has words with Laryea. I don't know what those words are.
Now more bad news for Canada: Outstanding midfielder Stephen Eustáquio is down. Looks like a cramp. Hopefully not worse.
I promise I'll engage with all the comments at halftime. This game hasn't had a lot of lulls. Or LOLs.
GOAL! Croatia 1-1 Canada (Kramaric 36)
Yeah, that was coming. On the aforementioned Canadian right flank, Perisic finds Kramaric left unattended in the box, and the Hoffenheim attacker slots it home.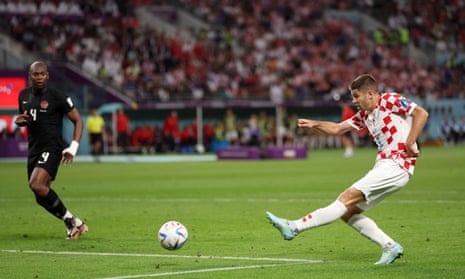 35 min: CHANCE for Croatia, with Livaja managing a firm shot despite having two defenders around him. Borjan holds his ground and knocks it out for a corner kick.
34 min: Speaking of Wake Forest, I once saw a presentation by a Wake Forest coach who showed game film and spoke with disapproval about a rival college that tries to create chances with long throw-ins, saying he wants to prepare his players for the "next level."
Croatia has looked exceptionally dangerous on long throw-ins.
So what would the "next level" be after the World Cup?
32 min: Canada's best defender on the right may be Tajon Buchanan. He races back from his forward position to clean up a mess left by Alistair Johnston, whom Croatia has identified as the weak link here.
Johnston plays for CF Montreal and previously played collegiately at Wake Forest, a small-ish college that punches above its weight in sports, even if their gridiron team lost to my Duke team yesterday. (Sorry.)
31 min: Lovren gets a forearm into Davies' face. That might have worked at Liverpool … no, wait, it didn't. Free kick for Canada, toward the center of the field about 25 yards out. Served into the box, headed clear. Canada retains possession and plays back to Borjan so everyone can have a quick rest.
28 min: Canada wanted a free kick on the right flank, but I didn't see much there. Fans give a whistle.
Laryea gets the ball in his own box and dithers a bit, then is a bit lucky that an impatient Croatian attacker fouls him.
A freeze-frame of the offside decision shows that it was correct. Probably. I don't trust freeze-frames like that because you don't know when the ball was actually struck. But the helpful rectangles carved out by the lawn mower certainly made it seem the correct call to my aging eyes. (I do have relatively new glasses. And I'm a referee. This is exactly like the Under-12 games I typically officiate, of course.)
Gooooaaal … no. It's a nice attack against a shaky Canadian defense, but a pass in the buildup is judged to have been offside. Correctly, to my eyes on the replay.
But Canada's defense looks a bit vulnerable, and Croatia's attack looks better than Belgium's. I did not expect to write the second half of that sentence.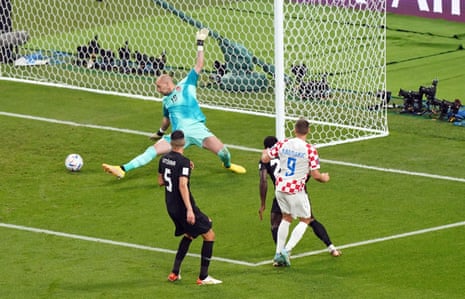 Stat of the day:
24 min: Canada completes a long string of passes in the attacking third. Which of these teams has the experienced European pros? Which one has a bunch of players from Major League Soccer who played college soccer in the USA and university soccer in Canada? (I apparently made the mistake of saying Canada has "colleges" last time. I learn so much from readers.)
22 min: Croatia is getting the best of Canada's right flank, where Alistair Johnston and Richie Laryea are failing to shut anyone down. Put a pin in that.
20 min: Croatia is tentatively pressing, giving Borjan plenty of time with the ball at his feet. They forced one turnover, but Canada gets it back and Croatia faces the intimidating sight of Davies heading down the left flank with the ball. Fortunately for them, his cross misses both of his teammates.
Travis Giblin writes to say that he made it home in time from Costco to see the goal. That was fast.
19 min: Didn't I say Croatia needs to win this game in midfield? They're not. Davies swipes the ball with panache and starts an attack that yields a corner kick.
17 min: Again, an unconvincing play from Borjan, who awkwardly punches a cross down and not that far away. The defense holds firm and draws a foul.
Note, however, that the Canadian goal started with a long, accurate kick from the Belgrade-based keeper.
15 min: Davies isn't content with one, of course. These Canadian forwards are buzzing around the Croatian penalty area.
Croatia must win this game in midfield. The more time the Canadian attackers have to run at this defense, the more miserable our checkerboard-kitted friends will be today.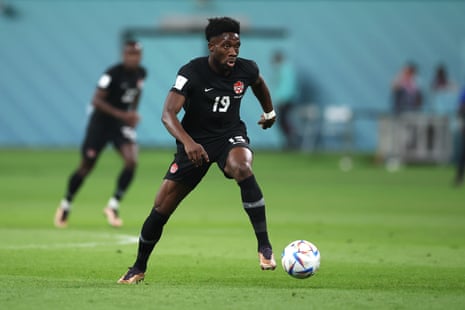 Richard in Dallas: "As a fellow philosophy major, don't worry about your bank account. In one hundred years, it won't matter. But your mistaking Rai for his (now deceased) brother, Socrates, will live on the Internet forever……"
Only if you screen-shotted it, because I raced back, verified the identity and changed it. So there. Not sure if it was my mistake or a crossed wire, so to speak.
12 min: A Croatian corner kick, some nifty footwork from Modric, and the marquee Europeans are starting to show their class. A ball goes out near the flag and is ruled a throw-in rather than a corner kick, but the throw-in is so long that there's hardly a difference.
Canada weathers a relatively mild storm.
9 min: More danger from Canada, but the AR's belated flag states the obvious – Cyle Larin was offside.
Croatia, though, is playing with fire by giving him that kind of space.
So anyway – the officials are mostly Uruguayan, led by referee Andres Matonte. The lead VAR is Mauro Vigliano of Argentina.
7 min: I've been singing the praises of Canadian keeper Milan Borjan, and he responds by fumbling a deflected cross. He quickly pounces on it, but that's a bit nervy.
5 min: Fox commentator Cobi Jones notes that Croatia may have to open up now, which will subject them to a dangerous Canadian counterattack. US fans shudder at the memory of qualifiers.
4 min: Croatia suddenly look nervous. Wouldn't you?
GOOOOAALLL!!! Croatia 0-1 Canada (Davies 2)
It's a dream start! Big distribution from Borjan, then Buchanan patiently waits to see Davies making his run, and that header is a thing of power of beauty.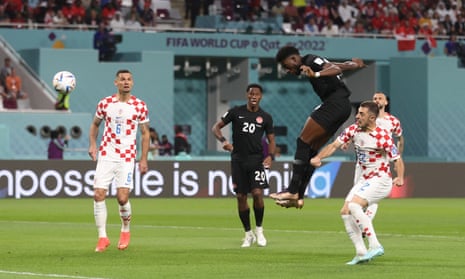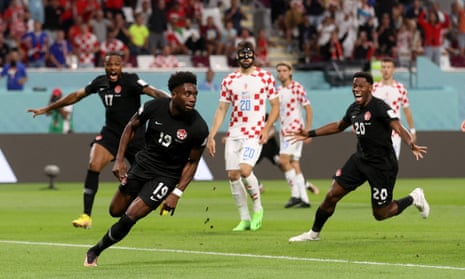 Tweet! from Uruguayan referee …WAIT!!!
Quick check of the mailbag before we launch into what could well be a frenetic start …
Richard Hirst: "My invocation of everyone from The Band to Paul Peschisolido may not have won Canada the last game (although it should have done), but it has put them in a position from which qualification is a formality. Win by a couple of goals today, then the last two games are draws, and Morocco and Canada both qualify – simple."
I envy Canadian optimism as well.
Matt Burtz: "As someone who did go to law school and is a lawyer, trust me, you made the right decision. Good luck to Canada from an American."
My bank account begs to differ.
Bruce Cooper: "Extra points if your minute by minute includes curling references. Let's confuse the heck out of the Europeans. Go Canada go!! We are here watching in our Toronto basement decked out in one u12 women's jersey, one 2020 Olympic Jersey and a 1972 Summit Series hockey jersey. Canada soccer failed at jerseys this year. Also is John Herdman a real life Ted Lasso?"
For the record, Bruce wrote before I made the Ted Lasso reference.
And Andy Flintoff says my photo of Socrates is actually of Rai, Socrates' younger brother. Hmmm … I'll have to check that.
Anthem time. We the people of the United States of America envy a couple of things about Canada. First, Rush. Second, health care. Third, the national anthem. No offense to Francis Scott Key, but O Canada simply blows the Star-Spangled Banner away.
The entire team is singing with gusto, including John Herdman, the manager who would draw all sorts of Ted Lasso comparisons if not for the complicating fact that he is English. He took New Zealand's women and Canada's women to dizzying heights before getting the job with Canada's men. It's safe to say his phone will be buzzing with offers after this Cup.
From the mailbag:
Bogdan Kotarlic: "This World Cup maybe lacks in quality of the football and the number of goals scored but it is very exciting and full of surprises. I think that, from a fan's point of view, it can be best described as "interesting". Do you agree?"
There was some debate on social media about whether the USA-England game was The Most Compelling 90 Minutes in the History of Association Football or A Complete Waste of Time by Two Teams Content With a Draw. The dazzling highlights haven't been there, apart from England's demolition of Iran and the Brazilian goals, but it's undoubtedly dramatic. Better than seeing all the favorites grind out 1-0 or 2-0 wins against overmatched underdogs desperately parking the bus.
Philip Podolsky asks, surely in reference to my philosophy degree: "Analytic or continental, was it?"
A lot of Greek stuff, plus a philosophy of music class (intriguing) and a philosophy of law class that convinced me not to go to law school. In retrospect, a big mistake, but then I wouldn't be here with you today, would I? (Nor would I have met my wife.)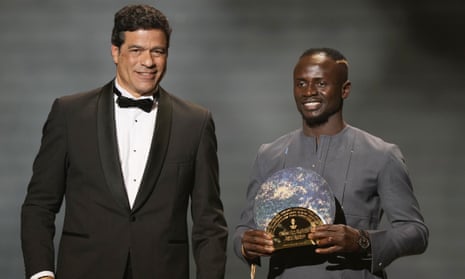 Unnamed writer: "I predict a 3-0 win to Croatia. Canada will try to attack, but Croatia will gradually take the game away from them."
Canada will score. Croatia will score. Which team does more, I don't know.
Bear in mind – Belgium proved that a bunch of over-30 players will struggle against Canada's enthusiastic pressure.
And Val Reed of Winnipeg says I'm doing quite well. Thanks, and I hope you are as well.
I am, incidentally, nursing the effects of spending 15 hours in a curling club yesterday, six of them on the ice.
Croatia also has made one change up front, with Marko Livaja in place of Nikola Vlasic, who left their opener at halftime with an apparent calf injury.
Dominik Livakovic (Dinamo Zagreb) is in goal.
At the back, the name most familiar to Premier League followers is Dejan Lovren, the subject of many a Liverpool supporter's nightmares. He's in the center with 20-year-old RB Leipzig player Josko Gvardiol. On the outside, it's fellow Bundesliga defender Borna Sosa (Stuttgart) and Celtic's Josip Juranovic.
In the midfield, the star man is Real Madrid's 37-year-old Luka Modric, who starts again alongside Inter's Marcelo Brozovic and Chelsea's Mateo Kovacic.
Yikes. That's a good midfield. They couldn't score against Morocco?
Up front: Ivan Perisic (Tottenham), Andrej Kramaric (Hoffenheim) and Livaja (Hadjuk Split).
One change: Cyle Larin gets the call up front in place of Junior Hoilett.
Alistair Johnston, Steven Vitória and Kamal Miller hold down the back in front of outstanding keeper Milan Borjan, who had little to do against Belgium other than pick the ball out of the net on a superbly taken finish off what you could easily be considered Belgium's only great chance.
Stephen Eustáquio is the embodiment of a midfield anchor. Captain Atiba Hutchinson is still plugging along at age 39.
Out on the left wing – defender, midfield, forward, wherever – is Alphonso Davies, from the Vancouver Whitecaps via some club called Bayern Munich. The prodigy looked as good as expected against Belgium but unfortunately took a weak penalty, perhaps rattled when the referee took about 45 minutes to set things up. (Mild exaggeration.)
Richie Laryea is out on the right. Up front is the aforementioned Larin, the leading scorer in the last round of CONCACAF World Cup qualifying, with Jonathan David, the second-leading scorer (tied with Christian Pulisic) in that round, and Tajon Buchanan.
Davies and Johnston are on yellow cards.
Belgium-Morocco fallout: Fox just aired part of a postgame interview with Belgium manager (for the moment) Roberto Martinez. I have no idea what he said. He was just shouting with the panicky voice of someone who knows he is feeling much more pressure than he was an hour prior.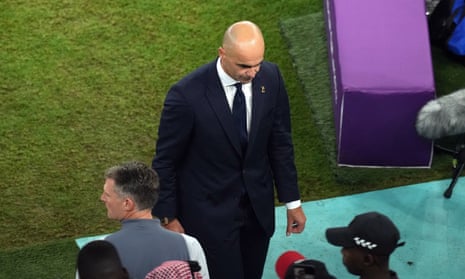 Already getting email, and I haven't even finished my chai latte.
Travis Giblin: "I'm in line waiting for Costco to open and there is 5 of us in line watching the end of the Belgium vs Morocco game. We're all here early, hoping to get our stuff and get home for the Canada game. This group is wide open if Canada can bring the same effort they brought to Belgium! Here's to a good one!"
This group is open and Costco is not. The world has gone mad. Dogs and cats are playing together in harmony. Pickleball is the sport of the future. Rachel Homan and Tracy Fleury are curling together. What next?
Hi folks, Beau here, and I'm lying on the floor in an existential and epistemological panic.
What do we make of any of these results? Can we be sure of anything? If Japan beat Germany, and then Costa Rica beats Japan, then is Japan good? Is Germany that bad?
So what do we make of Canada, which dominated Belgium and still lost. Canada also beat Japan in the last friendly before the Cup started. But Belgium just laid an egg against Morocco. So is Canada better than Germany? Worse than Morocco?
And why did I major in philosophy? (And music, because I collect useless degrees.)
Maybe we'll know more in three hours. Or maybe we'll just be more confused …
Here's a look at how the teams did in their first matches in Qatar. Croatia's draw with Morocco looks a lot better now after the way they played against Belgium today, while Canada may wish they had been more aggressive against a team that clearly has problems.