Jesse Marsch is confident he will still be at Elland Road even if the club are playing in the Championship. Marsch was tasked with rescuing Leeds' season when he replaced Marcelo Bielsa at the end of February and takes his side to Brentford where they must better Burnley's result against Newcastle to stay up.
I'm still planning to be here even in relegation. It's a long-term project and the club committed to me in that way. The connections we have made mesh well together. The support from everyone has been amazing, but I'm not thinking about the long-term project, only about Sunday and preparing for that.
Marsch is hoping striker Patrick Bamford can make his first appearance since mid-March after recovering from a foot injury to give his side a major lift. Boy does he need one.
'Harry doesn't want to miss this game'
Antonio Conte has dismissed rumours of a "Lasagna-gate" repeat before their match against Norwich though he did admit that a stomach bug has been doing the rounds at Tottenham. He doesn't expect it to be a problem though and was in good humour in his press conference, asking to be spared the graphic details when being told about the effects of the 2006 food poisoning episode, and saying he expects Harry Kane to recover for Sunday.
I remember the last game [against Burnley] we had two or three stomach problems and this week we had a couple of cases but we overcame the situation. In my staff only one person had this problem and we kept him at home. It's a problem that lasts one or two days and then you are OK. The medical department try to take care of it, with vitamins. A virus is the not a problem because we are very close to reaching a big achievement. In the last game we had Dejan Kulusevski and he didn't train on Saturday but was good to play. Harry doesn't want to miss this type of game.
He's been labelled a "parasite" by Spanish press and regularly booed and jeered by Madrid's fans but Carlo Ancelotti wants the Bernabéu faithful to finally recognise Gareth Bale's contributions towards the club's success in his final home match this evening, against Real Betis. Bale has won three La Liga titles and four Champions League trophies since joining from Tottenham in 2013. He really does deserve a bit of love doesn't he? If he doesn't get it maybe he should say farewell by waving that "Wales. Golf. Madrid" banner around.
Everyone knows that Bale's contract is ending and that he says goodbye to Real Madrid this year. It's not important if he plays. What's important is Bale is a part of the history of this club. He'll always be in the memories of Real Madrid fans. He was very important to the Decima [their 10th Champions League title] and the Copa del Rey final. He has written some great chapters for this club, it is important we recognise that.
You get the impression Steven Gerrard will be happy when this season's over so that people stop bothering him with questions about Liverpool. Here's Ben Fisher's take on what Gerrard had to say in the buildup to

Operation Etihad Exercise
Aston Villa's match at Manchester City.
Pep Guardiola also confirmed that John Stones and Kyle Walker are available for the match against Villa on Sunday, thanks to some top, top medical bods. The defensive duo had been expected to miss the remainder of the season after suffering injuries in recent weeks but both trained on Thursday.
We have incredible doctors and physios and they have made incredible recoveries. It is good to have them back.
Kane unwell in buildup to Spurs' match at Norwich
There have been rumours that there has been a similar food poisoning scare at Spurs to the one dubbed "Lasagna-gate" that saw Tottenham's Champions League hopes wrecked by food poisoning before a match at West Ham in 2006. Mostly due to a tweet from Gary Lineker.
But the PA news agency understands that those rumours are not true though Harry Kane has been unwell and has pulled out of media appearances as a precaution.
Pep Guardiola has just started his press conference to preview the match against Villa. Here's some of what he had to say. He talked about how quickly the joy evaporates after winning the title.
The day after the sun rises and people start to demand more and more [again]. After one or two days it is almost forgotten … the celebrations are over.
On whether his tactics will be any different to in 2019 when City also needed to win on the final day to pip Liverpool to the title.
"That was years ago. The situation is different. We know what we have to do. Analyse our opponents and do our best. The way we play we are most of the time close to the win but we cannot control it. Football is a game.
And on whether he still believes most of the country wants Liverpool to win, he explains that perhaps his English isn't too good and people misunderstood what he said.
When you arrive in the moment of the title the historic clubs have the support and we are the outsiders. I'm not saying all the country [want them to win] but in general more of the country want the historic clubs to win because they have more supporters.
He references Paul Dickov, I'm not quite sure why, but it appeared incongruous hearing the fiery Scttish striker's name coming out of Pep's mouth.
Sticking on the subject of pitch invasions, the Professional Footballers' Association has called on the football authorities to be tougher on anyone encroaching the pitch. There have been problems involving Port Vale fans and Swindon Players, Patrick Vieira and Everton fans, Sheffield United's Billy Sharp being headbutted and Mansfield's being manhandled by Northampton supporters just in the past week.
Here's what a union spokesperson had to say:
Since the return from lockdown, police data shows that incidents of fan disorder have been on the increase, and this has coincided with a rise of assaults on players by fans. While the broader issue of increased fan disorder requires a co-ordinated and long-term strategy, the clubs, leagues and police need to put their immediate focus on stopping large-scale pitch invasions. Encroachment on the field of play is against the law. While the majority of fans may be celebrating, it is clear that for a minority, this behaviour becomes toxic, aggressive and dangerous. This scenario has resulted in an unsafe environment for players and club staff. People are at risk of being seriously hurt or worse. The football authorities need to be tough and send a clear message. These are predictable events, it is a criminal offence, and it is unacceptable.
Thanks Will. Afternoon all. How are we? Good to hear. So, let's start with a bit of lunchtime reading on pitch invasions from Jonathan Wilson.
Football is richer for these eruptions of glee, but players, coaches and other fans should never be placed in danger as they manifestly now are.
Read the full article here:
That's all from me, Will Magee, as it's time for the early afternoon handover. Gregg Bakowski will take over from here.
Here's a transfer tidbit from Jamie Jackson, our Manchester football correspondent:
"There would be surprise if Fernandinho's next club is not a former one: Atlético Paranaense."
There has been plenty of transfer news coming out of the Emirates recently, with Arsenal confirming on Thursday that Dinos Mavropanos has made a permanent move to VfB Stuttgart. The Greece international has spent the last two seasons on loan in the Bundesliga, making 55 appearances and scoring five goals.
One of the less heralded signings of Sven Mislintat's short spell as Arsenal's head of recruitment, Mavropanos made eight appearances for the club in total. He has been reunited with Mislintat at Stuttgart, where the former Dortmund scout is now sporting director.
Liverpool fans who need something to calm their nerves ahead of their meeting with Wolves on Sunday need only look at the two teams' head-to head record. Klopp's side have won their last six games against the west Midlanders by an aggregate scoreline of 11-1.
There's always a chance of something going horribly wrong, though, isn't there, when the stakes are this high? That should set the nerves jangling again. Here's our preview of the game.
Some perspective on the Bundesliga, after all the handwringing about Bayern Munich making things uncompetitive by winning 10 league titles in a row.

Yes, it would probably be good for the league if Dortmund, or Bayer Leverkusen, or, well, no, not RB Leipzig, could knock Bayern off their perch. But Frankfurt are Europa League champions, there's a left-field, clash-of-cultures DFB-Pokal final between SC Freiburg and Leipzig coming up this weekend and, all in all, the match day experience in Germany remains unrivalled. It's almost as if supporters having democratic influence over their clubs via the 50+1 rule – Leipzig aside, of course – is a good thing for fan culture.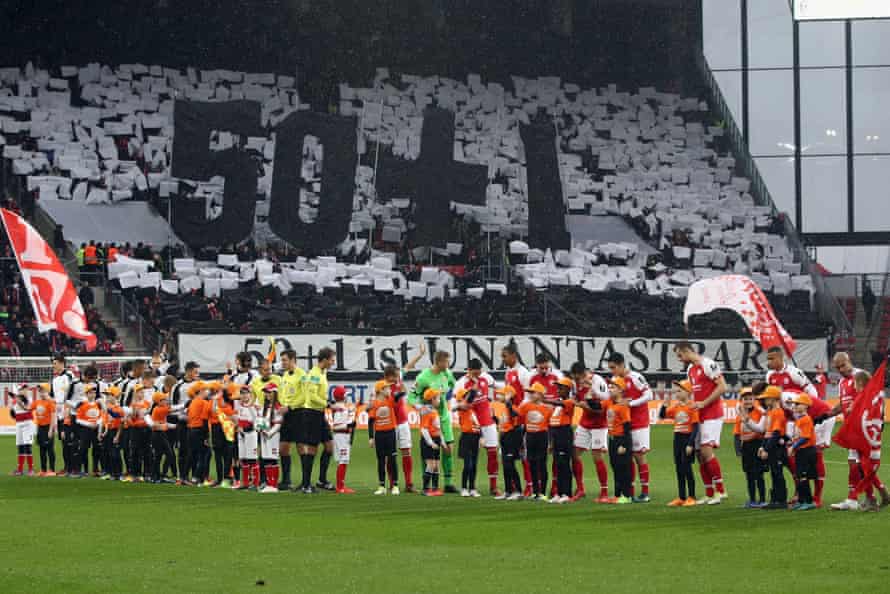 When Burnley's sharp-suited American owners dispensed with Sean Dyche last month, it was seen as a sort of anti-masterstroke. Whether through luck, judgment or the sheer, granite determination of Mike Jackson in his role as caretaker, however, their survival is in their hands going into the final weekend.
That said, beating a Newcastle side galvanised by a combination of Eddie Howe's motivational techniques and Saudi financing will not be easy. Here's an in-depth preview of the game at Turf Moor.
Coming straight off the back of their penalty shootout defeat to Eintracht Frankfurt in the Europa League final in Seville on Wednesday evening, Rangers have a shot at (partial?) redemption when they play Hearts in the Scottish Cup final on Saturday.
Robbie Neilson's side, meanwhile, have immortality in their sights. According to Andrew McKinlay, the Hearts chief executive: "Whoever plays on Saturday, if they win that cup they will forever be club legends."
Speaking of (free) transfers, Antonio Rüdiger has been speaking about the reasons for his impending departure from Chelsea. "Unfortunately, my contract negotiations had already started to get difficult last fall," he said in a piece for The Players' Tribune.
"Business is business, but when you don't hear any news from the club from August to January, the situation becomes complicated. After the first offer, there was a long gap of just nothing."
Klopp confirms Origi exit
The season isn't even over and already there are transfers happening left, right and centre. Following the news that Divock Origi is set to join Milan this summer, Klopp has said: "I expect Div to get a special reception, or farewell, or whatever. He is, and will be for me, forever a Liverpool legend [and] one of the most important players I ever had.
"That sounds completely strange with the amount of games he had, but it is, and was, a pure joy to work together with him … it's not over yet just because it's now the last Premier League game and, yes, he deserves all good thoughts we can generate somehow for his future and wherever he will go he will be successful, 100%.
"[He's] an outstanding player, [an] outstanding boy. Everybody in the team loves him because he was just a relaxed guy and a really lovable guy. So, yeah, it will be a harsh moment when he actually leaves.
"I remember so many things when I think about Div that's incredible: important goals, injuries … bad injuries, and all these kinds of things, ups and downs. He is a Liverpool legend, no doubt."
Dortmund part ways with Rose
Marco Rose arrived at the Westfalenstadion to much fanfare last year after an impressive spell with Borussia Mönchengladbach. As it turns out, he'll go down as a one-season wonder (of sorts).
He's been sacked by Dortmund after a campaign in which they have meandered to second in the Bundesliga, eight points off Bayern Munich at the summit, and failed to win any silverware. BVB went out of the Champions League at the group stage, the Europa League in the knockout playoffs and the DFB-Pokal in the round of 16, also losing to Bayern in the final of the DFL-Supercup.
In light of her contract extension, Miedema has given some additional insight into her reasons for sticking with Arsenal and her ambitions for the years ahead. "Five years ago I came to Arsenal because I wanted to help that club move up," she said. "Once we won the league and in the past few years we have been close. Last season we were in the running until the last day, but Chelsea won it in the end.
"I said to Arsenal that we have to develop further and really have to win titles. If not, I'll have to take another step. I will be 26 in a year so there are still many opportunities. But my focus is now completely on Arsenal." There's more from Miedema here.
While the pitch invasion discourse continues apace this morning, the latest following Thursday night's incursion at Goodison Park is that police are looking into an altercation between Patrick Vieira, the Palace manager, and a fan. More on that here.
Miedema extends stay at Arsenal
The good news for Arsenal this morning is that Vivianne Miedema has signed a new contract with the club.
Miedema has scored 117 goals in 144 games since arriving from Bayern Munich in 2017 and is, to put it mildly, an absolute phenomenon. "I think the most beautiful thing about the game is building something with a team and with people around you that you really want to be around," she said, following the announcement that she will be staying in north London.
"I do feel like I have got that at Arsenal. I feel like, for me, winning titles with Arsenal will mean a lot more to me than winning them with another club at the moment. And that's what I obviously hope to achieve with Arsenal."
The Premier League's final weekend is upon us. There's something reassuring about that, isn't there? The season must end, so it can start afresh, rising like a phoenix from the ashes, in August. A time to be born, a time to die, and a few weeks in between where footballers neck piña coladas on a yacht moored off Mykonos before jetting off to fulfil their commercial duties on a pre-season tour of Florida.
Before we start thinking about lucrative friendlies in Orlando, however, there's the small matter of deciding the title race and the relegation battle. Why is one a race and one a battle? We don't make the rules, those are the appropriate metaphors as laid down by the Football Writers' Association. At the top of the table, Manchester City lead Liverpool as they prepare to host Aston Villa at the Etihad. Jürgen Klopp's quadruple chasers welcome Wolves to Anfield, knowing that a win combined with a draw or a loss for their title rivals will be enough to see them crowned champions of England for the second time in three seasons.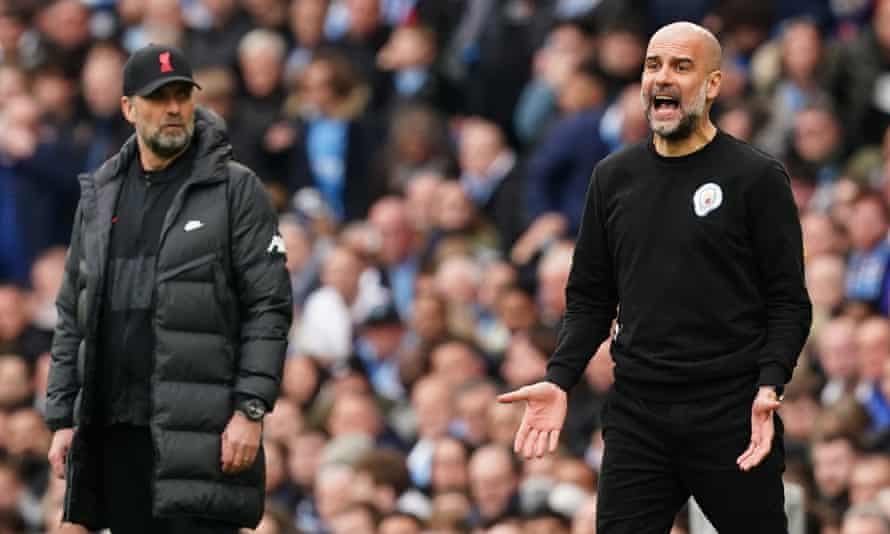 At the other end of the table, one of Leeds or Burnley must drop, screaming, through the Premier League trapdoor. Again, apologies, but when it comes to cliches, we don't make the rules. Burnley's 1-1 draw with Villa on Thursday evening lifted them above Jesse Marsch's men on goal difference, giving them a slight advantage going into their season-defining game against Newcastle at Turf Moor. Leeds travel to Brentford needing to better Burnley's result or face a return to the Championship after only two seasons back in the top tier.
Then there's the top-four scrap, where Tottenham have the edge on Arsenal thanks to their 3-0 win in the north London derby last week and their nemeses' subsequent self-destruction at St James' Park. Mikel Arteta needs to preside over a win against Everton, who are safe following their chaotic comeback against Crystal Palace, and hope that Antonio Conte fails to outwit Norwich's Dean Smith, or The Project™ will face a considerable setback and Arsenal will extend their Champions League hiatus to at least six years.
Elsewhere, West Ham could trade places with Manchester United if they beat Brighton away and Ralf Rangnick ends his tenure with a suitably underwhelming result against Palace. The Hammers have a superior goal difference, meaning that even a draw for Rangnick's side at Selhurst Park would allow West Ham to swap the Europa Conference League for the Europa League with a win.
As for the dead rubbers, Chelsea, safe in third, host relegated Watford and Leicester face Southampton in a mid-table melee at the King Power Stadium. Today will be all about the managers, with pre-match press conferences and build-up to come. The Scottish Cup final, Women's Champions League final and League One play-off final are also on the agenda this weekend, as are the finales of Serie A and La Liga.