Was this evidence that Arsenal will breeze across the finishing line and secure what, given the gloom around their prospects in August, would be a sensational return to Champions League football? Or was it fresh proof that they will make those who hold them dear chew anxiously until the bitter end, nerves hanging by a thread until the dying moments of the final day?
On Thursday night we may find out, given that three points at Spurs, of all places, will confirm their top-four spot. If Mikel Arteta's side play as they did in the first half here, cutting through Leeds relentlessly and doing their performance a disservice by failing to score more than two, those doubts could well be settled beyond anyone's expectations.
Turn in the kind of showing they managed in the final 25 minutes, when they somehow let an abject 10-man opposition back into the game and could even have let it all slide in added time, and the rollercoaster ride their manager so fears will become stomach-churning.
"We're going to go for that match with the same enthusiasm we always do, but knowing this can be a defining moment," Arteta said of the meeting with Spurs, who are four points behind them with three to play. "That can be another layer of motivation for us to really go for it."
Arsenal certainly went for Leeds, although they were aided by one of the most shambolic openings any top-flight side has produced this season. When Eddie Nketiah scored his second goal in the 10th minute there appeared little doubt about the outcome; a quarter of an hour later the hapless Luke Ayling had celebrated his 500th career appearance by scything into Gabriel Martinelli, thus ending both his afternoon and campaign.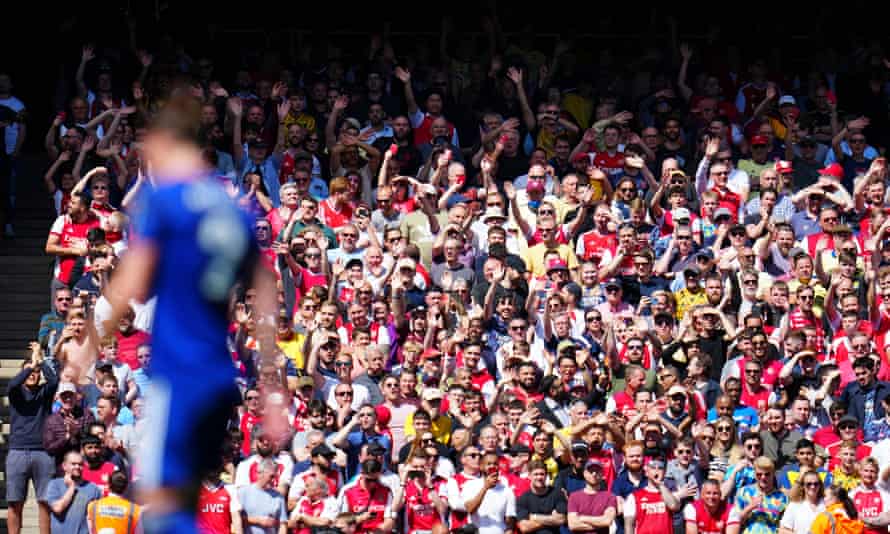 So the fact they were breathing a sigh of relief in the final minute of injury time, when Rodrigo could not quite flick a header beyond Aaron Ramsdale to equalise, was a mystery. Their football can be crisp, intense and thrilling but Arsenal rarely fail to leave the door open at least a crack.
"The way we started, we were electric," Arteta said. Nketiah's opener was testament to their tempo, which bizarrely appeared to catch Leeds by surprise. Ayling made one of his few successful contributions in passing back to Illan Meslier, but the keeper took a touch and let the ball run across his body when the situation called for safety first. Nketiah, who had made up a prodigious amount of ground, steamed in and swiped it into the net before Meslier could set himself to clear.
Meslier had already flapped at one free-kick and his jitters were of a piece with everything about Leeds' display. They had got in Manchester City's faces eight days previously but here they stood off and let Arsenal play. When the irrepressible Martinelli left Ayling chasing shadows down the left, keeping control of the ball well before cutting back, an unmarked Nketiah was stationed to clip in his second. A player who had been handed crumbs all season until last month now has four in four; whether that compels him and Arsenal to agree a new contract remains to be seen but his sharpness in the box has proved decisive at a crucial time.
"He has been very consistent with his performances, and how little he is giving away," Arteta said of the 22-year-old's future intentions. "Let him enjoy the moment because he completely deserves it and things will happen naturally."
Nature continued to take its course as Martinelli roasted Ayling twice more. Eventually, after the Brazilian kept a raking pass in near the byline, Ayling cracked and ploughed through his tormentor, and, although the ball came with him, his force was clearly excessive. Christopher Kavanagh initially showed a yellow card; it did not take the most pedantic of VAR reviews to turn it red, given the offender had leapt in with two feet.
Already depleted, Leeds now miss a vital component for their own decisive series of matches. They are in the relegation zone and face Chelsea next: it is a recipe for major trouble. "If we start playing blame games with players, we're screwed," Jesse Marsch said. In fairness there would have been plenty to go round. "We've got to stick together and fight for points, it's not time to point the finger."
Leeds just about staggered to the interval without further damage and, even though Martinelli went close three times, the margin remained at two with 24 minutes left. Then Diego Llorente converted a corner at the far post with their first goal attempt. Now the Emirates, almost somnolent in the late-afternoon sun, felt angsty and the outcome remained in doubt when Martin Ødegaard shot wide. Nicolas Pépé opted not to locate an open goal after Meslier went up for a corner and, at the end, the roars were of relief that everything remains squarely in Arsenal's slippery hands.