67 min BENRAHMA, DAVID.
66 min Rode is booked for a lunge at Bowen. This is a good spell for West Ham, probably their most threatening of the match.
65 min Bowen lobs a nice pass to leave Antonio one v one with Ndicka, who cleans us with the minimum of fuss. The booking aside, he has played Antonio really well.
64 min A deep, angled free-kick from the left is pulled down well on the chest by Dawson, but then he overhits his cross. That was a bit of a chance for West Ham.
60 min Antonio turns well on the left and hammers a deep cross to Dawson, whose downward header is saved comfortably to his left by Trapp. But it was more good play from West Ham, who haven't given this up.
58 min At the other end, Kostic shoots over from distance.
57 min A good move from West Ham. Fornals finds Bowen, whose angled low cross is kicked away by Toure in the six-yard box. Antonio was waiting behind him to score.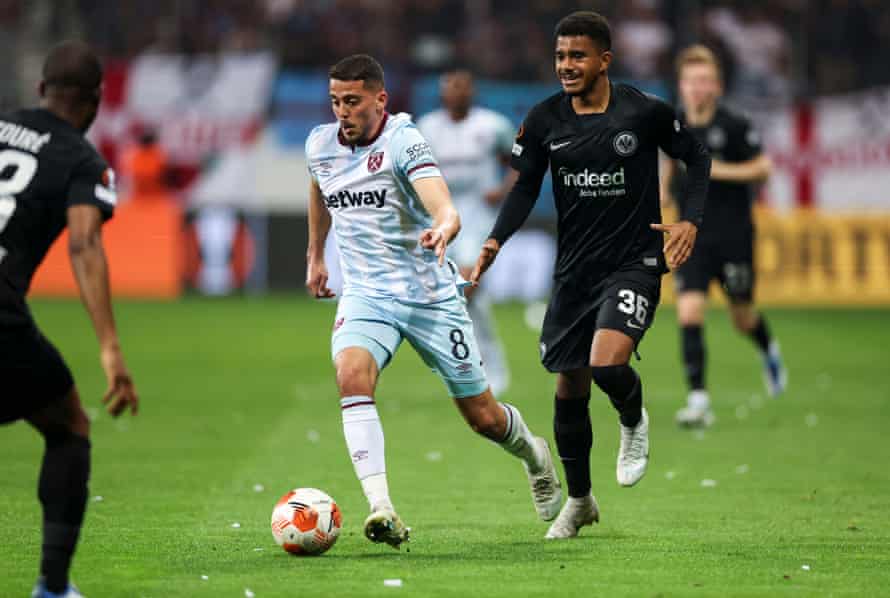 56 min Sow shoots from 30 yards, and instantly regrets it.
55 min Knauff, the most exciting player on the field, slaloms dangerously infield from the right and is eventually blocked off by Johnson in the area.
53 min Nothing much is happening. West Ham are holding their own but they have really struggled to create anything in open play. Said Benrahma needs to come on, in my spasmodically humble opinion.
49 min Hauge forces a pass into Borre, 22 yards from goal. He spins the ball up in the air and cracks a left-footed volley that is comfortably saved to his left by Areola. Borre is so good at finding pockets of space between Dawson/Zouma and Soucek/Rice.
48 min The Frankfurt supporters are making an incredible noise. If all goes to plan for them, this second half will be one long party.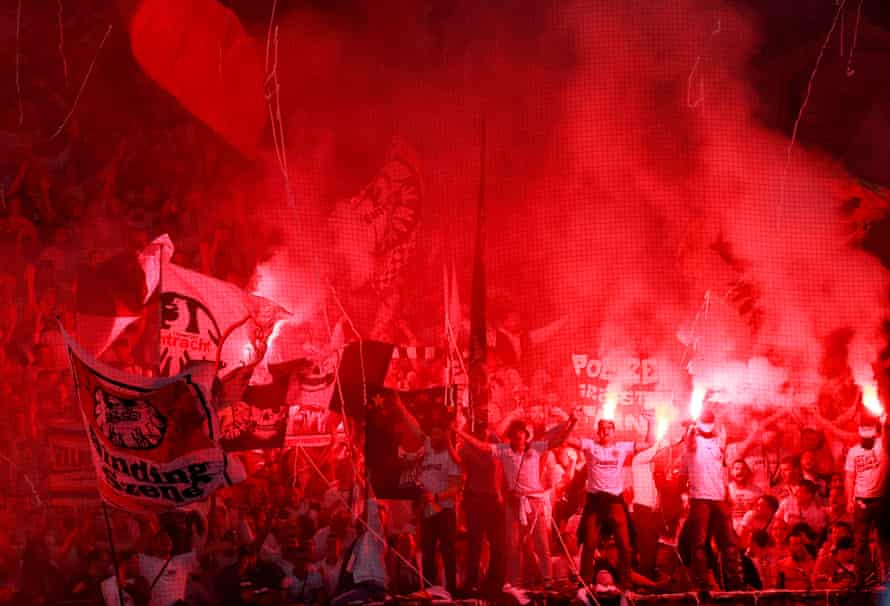 46 min Peep peep! West Ham begin the second half, with no changes on either side.
Cresswell is being slaughtered on Twitter, as you'd expect in such an empathy void. The poor bloke must be in bits. His season, perhaps his whole career, will be remembered for two extremely costly split-second misjudgements.
There's plenty going on in the other semi-final at Ibrox. I won't tell you the score, just in case, but you can follow the game with Scott Murray.
Half time: Eintracht Frankfurt 1-0 West Ham (agg: 3-1)
Eintracht Frankfurt are within touching distance of their first European final in 42 years. West Ham started confidently but Aaron Cresswell's red card in the 19th minute changed everything. Rafael Borre's excellent goal doubled Frankfurt's aggregate lead, and a punchdrunk West Ham's only chance came when Evan Ndicka cleared off the line from Kurt Zouma.
It's almost impossible to see a way back from here, though I suppose we said the same thing 24 hours ago.
45+3 min A very frustrated Declan Rice is booked for dissent.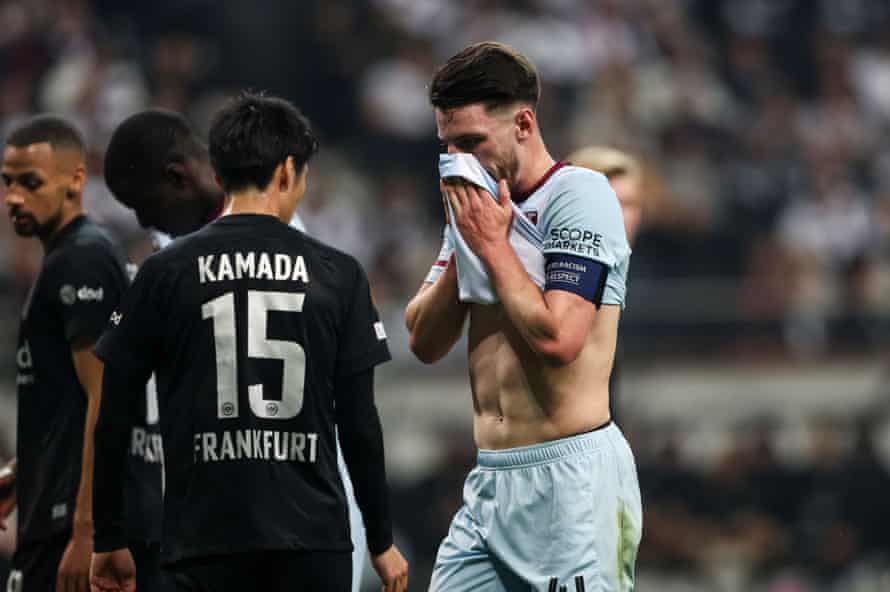 45+2 min "Frankfurt seem really focused," says Niall Mullen, "like they have an Eintracht mind."
That's either ingenious or abysmal, and I'm genuinely torn. Let's put it to the Twitterati… (let's not).
45+1 min Rode shoots a few yards wide from distance. Areola had it covered.
45 min Four minutes of added time.
45 min It was Ndicka who cleared off the line from Zouma. That would have been such a boost for West Ham.
44 min: Off the line by Frankfurt! Bowen's free-kick flashed across the six-yard box, hit the unsighted Zouma and was cleared off the line by a Frankfurt defender! And no I don't know who it was!
43 min Ndicka is booked for a poor tackle on Antonio, who made a good run down the right.
42 min I wonder if David Moyes might be tempted to bring on Said Benrahma as early as half time. They need something different, a bit of unpredictability. It would be a risk to lose Fornals' defensive ability but there's no point going out with a whimper.
39 min Nothing much is happening, just lots of Frankfurt possession. This must be immensely frustrating for the West Ham players, who can't get a foothold in the game.
37 min The outstanding Knauff feeds the ball down the line to Hauge, who returns it with a lovely backheel. Knauff vrooms into the area and is well challenged by Johnson.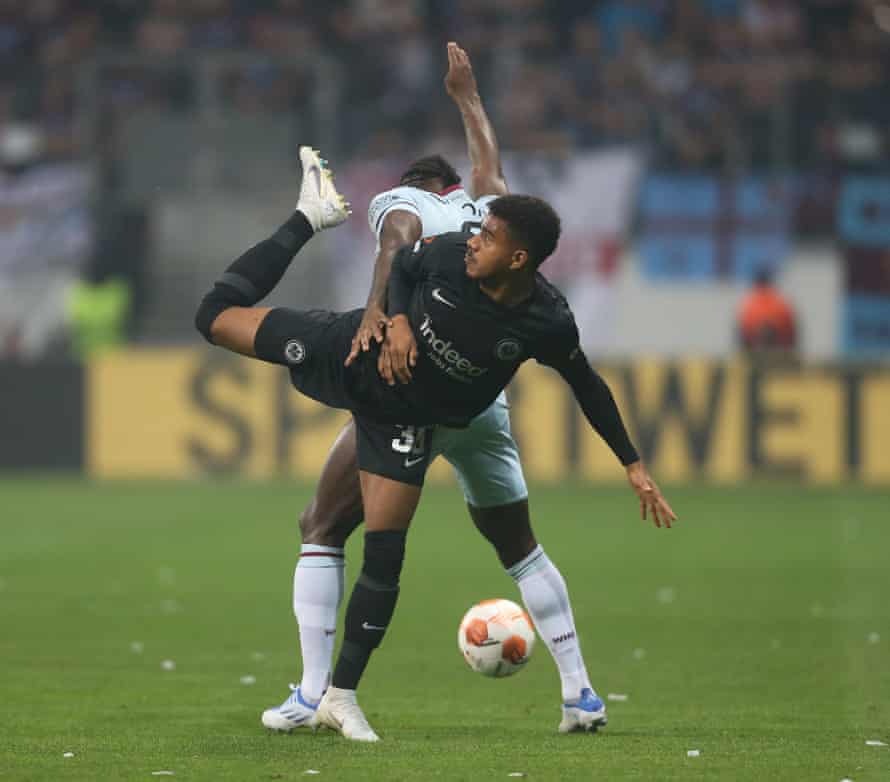 36 min West Ham were playing well at 0-0, albeit without creating any chances, but the double whammy of Cresswell's red card and Borre's goal have made this a nigh-on impossible task.
34 min The right wing-back Ansgar Knauff, a 20-year-old on loan from Dortmund, looks a helluva player. He's dynamic, skilful and relentless but also extremely clever in his movement.
33 min "If Cresswell has been sent off in consecutive Europa League ties, why was he eligible to play in this match," says David Hancock. "Am I missing something?"
It's consecutive ties rather than consecutive games. He was sent off in the first leg against Lyon, missed the second leg through suspension and then returned for this tie.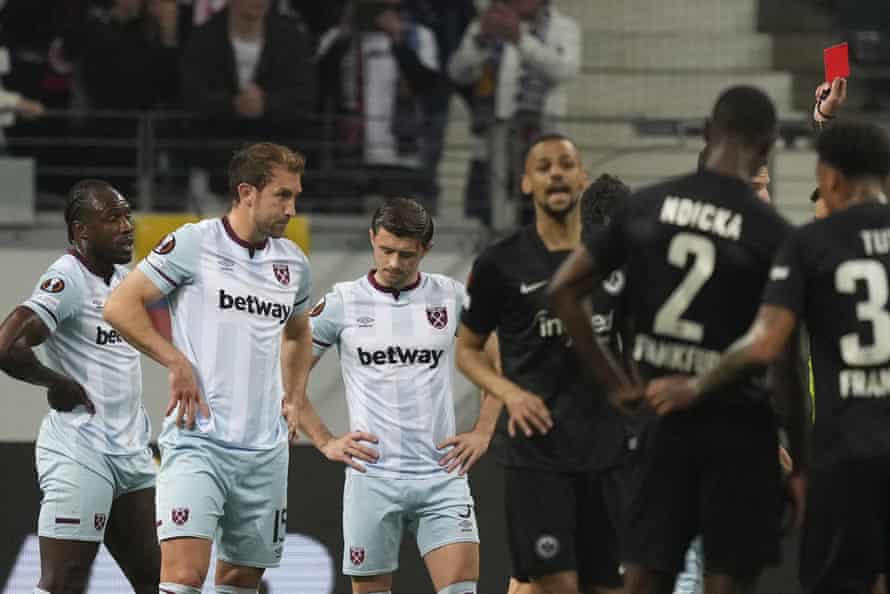 33 min West Ham are hanging on a bit. They simply cannot concede another goal before half-time.
30 min Ndicka makes an excellent last-man challenge on Antonio, who was charging onto a return ball from Fornals. I think Fornals' pass was slightly overhit.
28 min Here's Cresswell's red card. There's an argument that it wasn't actually a foul, but he took far too big a risk by putting hands on Hauge, especially as he was the last man.
Frankfurt are surely heading for Seville. Two of the stars of the first leg combined for an excellent goal. Ansgar Knauff curved his run away from Zouma, towards the byline, and then picked out Borre with a sharp cutback. Borre's first-time finish was immaculate, slammed across Areola from 10 yards.
GOAL! Eintracht Frankfurt 1-0 West Ham (agg: 3-1; Borre 26)
Uh-oh.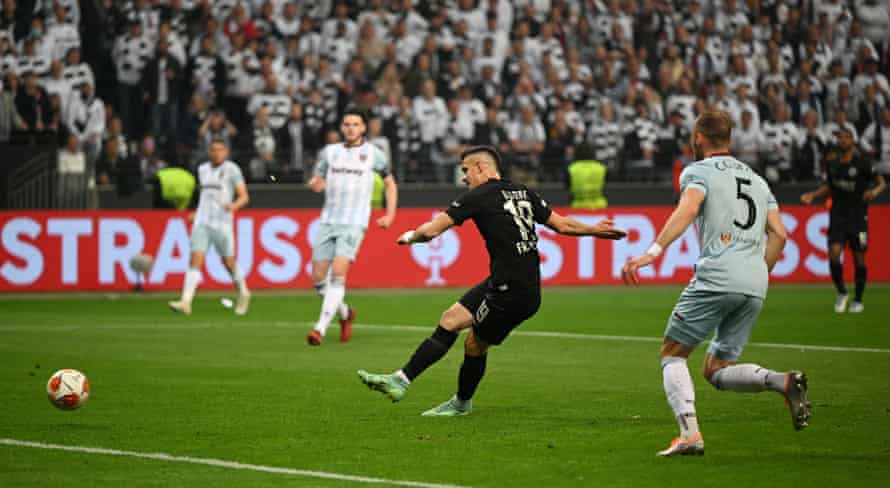 25 min West Ham are still having more of the ball, despite being down to 10 men. There is still a feasible way for them to get through – 1-0, penalties, lovely jubbly – but it will take a Homeric effort.