Dead rubber? What dead rubber? As Steve Smith stood at the top of his mark in the gloaming and readied himself to bowl the last ball of a captivating final day to Jimmy Anderson – the kind of job swap only Test cricket and its light rules can throw up – the Sydney Cricket Ground felt gripped with all the tension of an Ashes thriller.
Australia were one wicket away from going 4-0 up in a series they have dominated, England were one safely negotiated part-time leg-break away from shutting down the whitewash before the fifth Test in Hobart. Ben Stokes hid his face in the old pavilion, knowing his earlier near-three-hour 60 could easily amount to very little, while Pat Cummins, whose two‑wicket burst with the second new ball had blown the session wide open, was suddenly a fast-bowling captain under a helmet among the wake of close-catching vultures.
But Smith could not repeat the magic that had moments earlier winkled out Jack Leach to end a resolute 77-minute vigil from the No 9, his gentle long-hop patted away with disdain by a 39-year-old No 11 who had been there and got the T-shirt in Cardiff 12 and a half years ago.
Stuart Broad offered a little punch of the air at the non-striker's end, having resisted and stalled for 45 minutes himself, although relief was the prevailing mood among Joe Root's weary tourists. This has not been a trip to get carried away with a burgled draw but, having batted through 102 overs to reach 270 for nine and fought back from seemingly ruinous collapse to 36 for four on the third morning, England had finally denied Australia through a collective performance.
Over the course of the match they were unquestionably still a distant second (even if six drops and a wicket off a no-ball by the hosts flipped an earlier feature of the series). Twin centuries from the Sydney-raised Usman Khawaja on his return to the Australia side had rolled over the sense of destiny that engulfed Scott Boland's remarkable home debut in Melbourne.
When Boland struck in the final hour of the match, the first-innings centurion Jonny Bairstow popping a catch to silly mid-off via pad after a near-three-hour 41, Khawaja's scores of 137 and 101* looked match-winning with England eight down, 64 balls from safety and the seldom dependable Broad joining Leach.
Cummins had earlier vaporised Jos Buttler (11) and Mark Wood (0) lbw in the space of three inswinging deliveries in the 85th over and in case of the former, now leaving the tour on Monday with a broken finger, possibly ended his Test career in the process. But with four overs left and the floodlights starting to cast significant shadows, Cummins was forced to partner Nathan Lyon with Smith by the umpires. Although Leach, scourge of the Australians at Headingley in 2019, was finally prised from his rock when edging Smith to slip, Broad and Anderson cussedly held firm.
Perhaps we shouldn't have been surprised. Before the start of play, with England 30 for no loss after 11 overs chasing a notional 388 to win, the WinViz gizmo put their chances of saving the Test at 63%. Given their recent performances with the bat, this felt a bit like Brian Fantana's boasts about the powers of Sex Panther cologne. But weather is part of the calculation here and at lunch, when England sat 122 for three, rain began and delayed the afternoon session by an hour. Seven overs were wiped off the tally to be negotiated and this proved as telling as anything come the end.
The pitch was becoming sleepier too, allowing Zak Crawley
to turn his overnight 18 into a quite princely 77 from 100 balls in the morning. All‑comers were dispatched to the rope in crisp, risk-free fashion and his pull shot – either whipped off behind square or crunched in front – was reminiscent of Michael Vaughan in 2002-03. As the 23-year-old recently said about his Test average of 10.8 last year, stats can be misleading.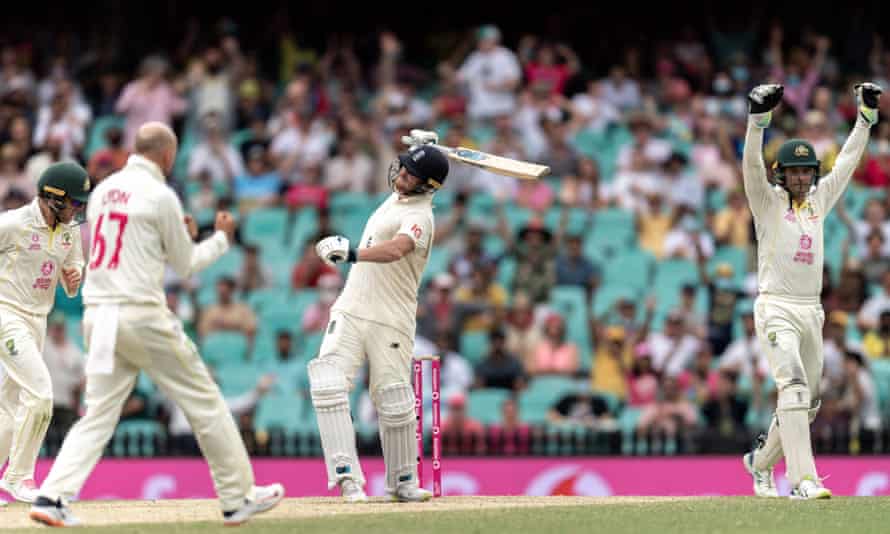 Crawley's eventual demise came via a fine piece of bowling from Cameron Green, who fired a surprise yorker into his boot for a simple lbw. Green has augmented Australia's attack significantly this series, the all-rounder's 64.4 overs, nine wickets at 15 and economy rate of 2.1 offering his captain both penetration and control. A brilliant gully fielder and fresh from 74 with the bat, he looks set to become a dominant Ashes force.
Haseeb Hameed, in contrast, may not appear in Hobart, having registered his sixth successive single-figure score (9) and been once again unable to capitalise on an early drop by Alex Carey. He fell to the same combination, wicketkeeper and Boland, through a meek poke outside off stump, before Dawid Malan's graph continued a downward trajectory when he was bowled playing back to an arm-ball from Lyon on four.
A further sliding doors moment came when Stokes was dropped off Cummins by Marcus Harris at short leg on 16, allowing the continuation of a partnership with Root that ate up 26 overs in total, before the England captain, on 24, finally edged behind off Boland for the third time in three innings. Stokes still batted through until after tea, his and Bairstow's reprisal of their fightback on the third day another significant chunk of time taken out, until Lyon got one finally to spit out of the surface and take the edge.
Having once again battled through the pain of a side strain and worn blows to the hand, Stokes was fuming his second innings of defiance had ended. This turned to tension during the gripping last hour, the pressure valve only released at 6.43pm when Anderson dead-batted the final ball of a dead-rubber Ashes classic that felt very much alive.