Ben Stokes has been told to pick up the phone when he feels ready to return after Chris Silverwood, the England head coach, named his strongest available Ashes squad without any players pulling out due to travel concerns.
Along with the pace of Jofra Archer, who is out for the rest of the year with an elbow injury, the absence of Stokes represents a huge loss as England look to win back the urn from Australia starting at the Gabba on 8 December, both as Joe Root's trusted vice-captain and the team's match-winning all-rounder.
Stokes, who is undergoing a four-week rehabilitation period after finger surgery but also on an indefinite break to prioritise his mental health, is not expected to return in time for the departure of England's red-ball specialists next month and will struggle to get match-fit having not trained since July. Silverwood, however, declined to fully rule out the 30-year-old's possible late arrival on tour.
"Ben is moving forward, the communications I have had with him he is definitely more upbeat," said Silverwood, after revealing a 17-man squad on Sunday that featured no uncapped wildcards. Jos Buttler, among those previously unsure of his availability, was confirmed as Root's deputy.
"What I will say is there will be no pressure from me for Ben to rush back. I've said 'when you're ready you call me and we'll make a plan from there.' First and foremost my intent is making sure he is OK from a well-being point of view and that when he is back, he is ready to perform." Stokes missed the 2017/18 tour due to the fallout from the infamous Bristol incident, with the campaign overshadowed by talk of a possible return – something that ultimately did not come to pass – and Root, just a year into the captaincy, overawed in a 4-0 defeat that saw the Ashes change hands.
As well as being in the form of his life, averaging 66 this year with 1,455 runs and six century runs, Root is a more seasoned leader these days and earned praise from Silverwood for the way he led the highly-charged talks over quarantine and off-field living conditions that have dominated the recent weeks.
Silverwood said: "There were a lot of negotiations that went on. One thing we did see was a lot of class from our captain. He really did lead from the front. He showed a lot of class, a lot of empathy and a lot of real good leadership skills to get the players to this point. Equally, the way he looked after the staff as well.
"What it has done, I think, is galvanise his position as a leader. All the boys have recognised that, all my staff have recognised that. It has made us all pull in behind him. Honestly, I can't emphasise how classy he was.
He came back with a very level view on everything and it really helped to get us to this point." England are due to name a Lions squad this week, with the likes of Saqib Mahmood, Matt Parkinson, Dom Sibley and Ben Foakes – all left out of the main squad – expected to get call-ups here and serve as both warm-up opposition for the Test side and a pool of reserve should injuries hit.
Ultimately Silverwood, currently in Oman with the T20 squad ahead of the World Cup campaign that starts in Dubai on 23 October, must get minds back on the cricket even if there are some outstanding issues over the Ashes tour including visas and travel exemptions for players, support staff and families.
Jack Leach and Dom Bess are the spin options but no Archer, who lit up the 2-2 Ashes draw in 2019, and similarly no Olly Stone, due to a lower back stress fracture, leaves Mark Wood as the sole 90mph fast bowler in the attack. Like four years ago, it is chiefly based on right-arm fast-medium through Jimmy Anderson, Stuart Broad, Chris Woakes, Craig Overton and Ollie Robinson, with left-armer Sam Curran also ruled out with a stress fracture.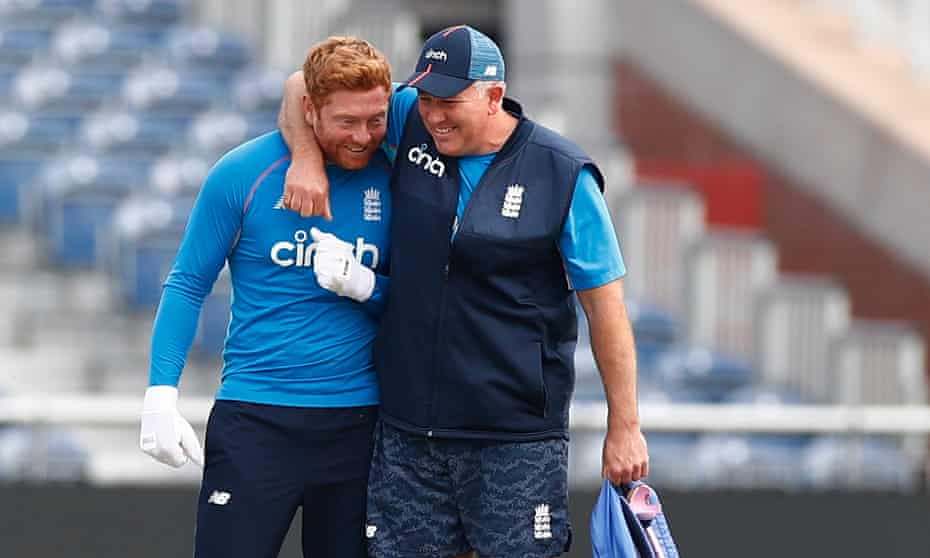 It is here where India's 2-1 win in Australia earlier this year serves as a blueprint for Silverwood, who insisted that win for the visitors underlined how "supreme accuracy" can still prevail. This will still hinge on the batsmen overcoming the threat of Pat Cummins and Josh Hazlewood to establish imposing totals.
Root, however, is the sole batsman in the squad who averages over 40, with Rory Burns and Haseeb Hameed the expected opening pair and Dawid Malan in at No 3, followed by middle order contenders in Ollie Pope and Jonny Bairstow. Zak Crawley and Dan Lawrence, who like Robinson with the ball both shone when the Lions won in Australia last year, serve as the back-up options.
Silverwood said: "Joe's stats speak for themselves, we know he's class. The rest of them, there's no hiding from it, we have to score runs. At some point, we do need people to put their hands up. But I promise you this, they are working very hard to make sure that they are successful." Despite sitting third in the rankings to England's fourth, Tim Paine's Australia have not played a Test match since their last home summer and thus the preparation for the two sides could scarcely be more different.
England come off the back of a 1-0 defeat to New Zealand and a series against India they trailed 2-1 before the fifth Test was cancelled and left the final result unresolved.
Silverwood said he respected the opinions of those who criticised their prevarication over tour conditions – Ian Botham, for example, wondered whether some players "don't fancy the ultimate test" – but stressed the fact that no side has been subjected to the suffocating bubble conditions more than England.
While the off-field restrictions in Australia are not expected to be too draconian, experience of the lifestyle could still present England with a possible advantage, so, too, the 12 months of unrest in the home dressing room that has seen reports of player disquiet over the coaching methods of Justin Langer.
Silverwood would not be drawn on the plight of his opposite number other than to stress that both he and Langer are under pressure for results and there will be additional expectation from the home crowds in Australia.
"It is a massive series that has always been played hard between two very passionate nations," Silverwood added. "I am so pleased that the Ashes is going to take place and we are going to see that competition now."