65 min No penalty. We haven't seen a replay yet.
64 min Everton appeal for a penalty when a cross hits the body of the unsighted James. VAR are checking…
62 min Now a chance for Everton! Richarlison charges down the left and slides a cross towards Gray in the six-yard box. He slips – possibly with the aid of a gentle hand in the back by Thiago Silva – and the ball hits him on the thigh. Had Gray stayed on his feet he would have scored, but VAR decide there wasn't enough contact from Thiago to award a penalty. I think that's far enough.
61 min: Another great save from Pickford! The ensuing corner is headed across goal towards Rudiger, whose close-range shot is blocked by the big daft face of Jordan Pickford! Brilliant goalkeeping again – not so much the stop as the speed with which he got across his line and made himself big.
59 min: MOUNT HITS BOTH POSTS AND PICKFORD MAKES A GREAT SAVE! My word, that was incredible. Alonso's cross was controlled on the chest by Havertz, who then headed it back to Mount on the edge of the area. He watched the bounce, twisted his body and cracked a beautiful shot that hit the inside of the near post, flew across the goalline and hit the far post.
The ball rebounded to Azpilicueta, whose follow-up was wonderfully saved by Pickford. He had to charge back across his line, having dived for Mount's shot, and then change direction again to keep the ball out. Most of his body was behind the line when he saved it, but his hands weren't, and that's all that matters.
57 min Richarlison wins a free-kick on the left wing, but Gordon overhits it and it drifts out of play. His set-pieces haven't been great today.
54 min "It's always a bit of a mixed blessing when your city rivals are relegated I think," writes Dundee United fan Simon McMahon. "Like watching your child leave home. Takes a while getting used to it, but you're happy for them, don't miss the aggravation, and know they'll be back to visit."
53 min This is the table as things stand. If Everton win today, I really fear for Leeds, as two of their remaining games are against Arsenal and Chelsea. Then again, Chelsea re currently losing at Everton, so William Goldman was right.
52 min Chelsea are attacking with greater urgency since going behind. A corner is headed well wide by Rudiger 15 yards from goal.
50 min "Does Frank Lampard normally wear a hoodie," says Niall Mullen, "or has he gone full Pellegrini?"
It's a relegation battle, you need to be able to roll your sleeves up. A gilet just wouldn't cut it.
49 min: What a chance for Mykolenko! Everton should be 2-0 up. Doucoure beat Loftus-Cheek to a loose ball in the D and poked it through to Mykolenko, who lifted his shot over the bar. He should have scored.
48 min That goal came after 61 seconds of the second half. Azpilicueta received a routine square pass from Thiago, faffed unnecessarily, and the rest might be Everton folklore.
48 min Meanwhile, here's more on Rick Harris's rumoured big-money move across Bristol. "I used to be a part-time Gas fan as a kid when Rovers played at the old Eastville Stadium (and dog track) and my best mate supported them," writes Rick. "He used to come with me on alternate Saturdays to Ashton Gate but I always secretly suspected he desperately wanted the opposition to win rather than City. Rovers had a great comeback win against Rochdale yesterday to keep their League Two automatic promotion push alive and I think most City fans would love a couple of Bristol derbies a season."
It came from a bad mistake by Azpilicueta, who dithered on the ball on the edge of the D. He was challenged by Richarlison, with the ball spinning towards Demarai Gray. He knocked it back to Richarlison, who opened his body and slid it calmly past Mendy from 15 yards. That was a nerveless finish.
GOAL! Everton 1-0 Chelsea (Richarlison 47)
A perfect start to the second half for Everton!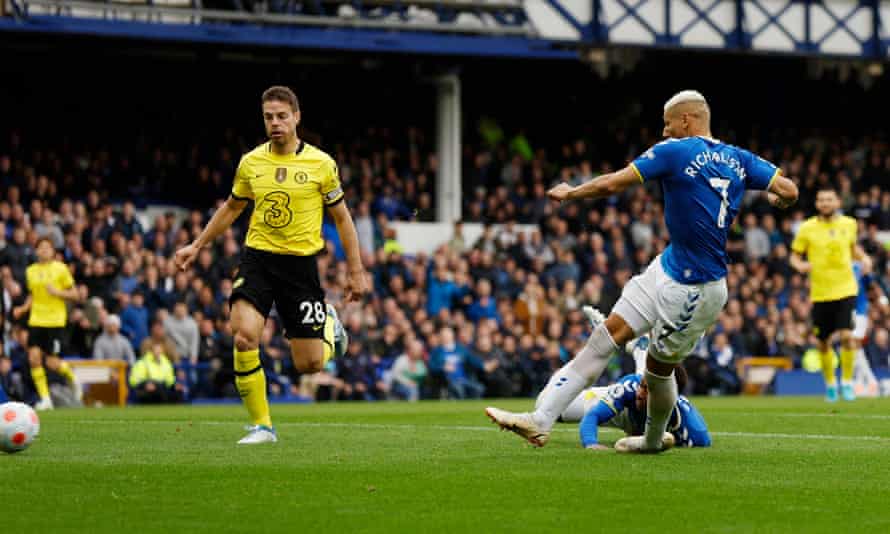 46 min Peep peep! Chelsea begin the second half.
A half-time change for Chelsea: Mateo Kovacic replaces Jorginho in midfield.
The Premier League table as things stand
"'Operation Goodison Exercise' is a call for stewards to go through a safety drill while the match is taking place," says Jonny Mac. "I always remember Bruce Grobbelaar back in the day doing star jumps whenever 'Commence Operation Anfield Exercise' was announced."
I'm disappointed his hot-tin-roof goalkeeping descendant, Jordan Pickford, doesn't do something similar.
"What are Stuttgart moaning about?!" says Jon Fanning. "They should try supporting Karlsruher. We were relegated to the third tier one season and had to play Stuggart reserves. Imagine if Everton going down meant not just being below Liverpool but having to play Liverpool Under-21s?"
Didn't that happen in the FA Cup a couple of years ago?
Half-time reading
Half time: Everton 0-0 Chelsea
Peep peep! A cagey, increasingly fractious half comes to an end. There was only one shot on target, from Demarai Gray, and I don't think that would have counted. Chelsea dominated every facet of the game except the most important one, but Everton – who switched from their usual 4-2-3-1 to a back three – deserve plenty of credit for a composed defensive performance.
45+3 min "I was hoping to wait for a positive moment to respond but that might not happen," says Mary Waltz. "The sentiments from my fellow MBMers are lovely but of course I will continue to follow the PL while my boys suffer in the lower division. I am about halfway through the seven stages of grief but acceptance is near."
45+2 min Delph is booked for a late tackle on Mount. This is getting very niggly.
45+1 min A loose ball breaks to Richarlison on the right side of the area. He tries to cut it back to Gordon but the pass is a bit sloppy and Azpilicueta clears.
45 min A long throw drops to Doucoure, 25 yards out, and his fierce shot is blocked bravely by the flying Thiago.
Two minutes of added time.
44 min Havertz is late on Mina, who is unhappy that the referee doesn't give anything. Those two have had a running battle throughout the half.
43 min Two excellent defensive blocks in the space of five seconds, first Coleman from Werner's cross and then Mina from Alonso's shot. I think Werner was offside, though, so I'm not sure any goal would have counted.
41 min "How long into his career will it be before Gordon gets the ball and manages to stay on his feet?" says David Flynn. "If he were anything but English I fancy the press would be busy moralising about how he goes down too easy and that's not the sort of thing we want to see in the Premier League."
Weren't people moralising about it seven days ago? I do think the days of thinking English players never dive have gone, though it took a while for the penny to drop.
39 min Chelsea have become uncomfortably good at this kind of sterile domination. There's so much to admire about their football, but they are nowhere near as penetrative as City and Liverpool.
38 min "Where were you when you were shit?" chant the Everton fans at the away end. I doubt it will be reciprocated, for obvious reasons.
38 min Azpilicueta and Coleman are both booked.
36 min In terms of conventional entertainment this has been a stinker, but the context makes it compelling. Chelsea are starting to lose their temper. Mount is booked for a foul on Mina, and then Azpilicueta has a shoving row with a number of Everton players.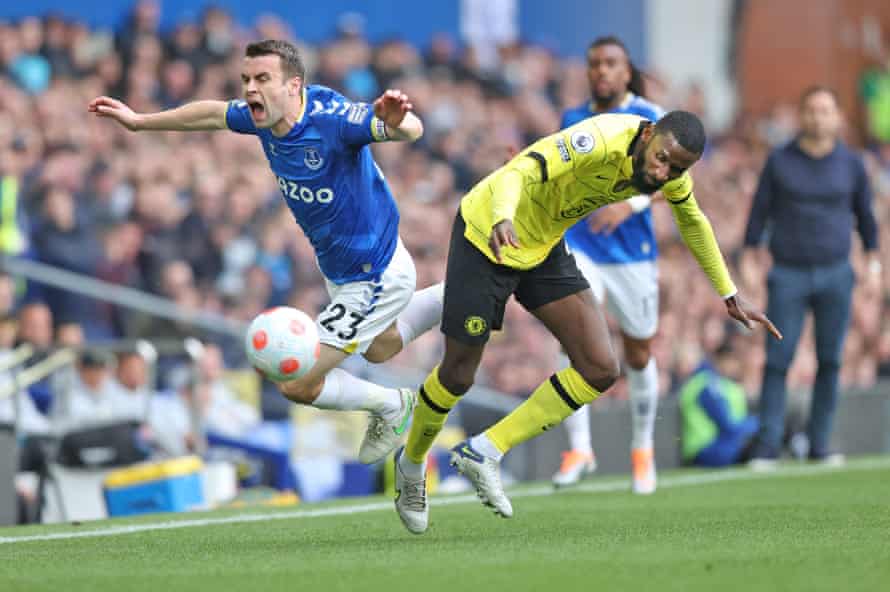 35 min "VfB Stuttgart's relegation from the Bundesliga in 2016 was a shock given they'd been champions in 2007, though they had often threatened to to go down in previous seasons," says Kári Tulinius. "It was fun to win the 2. Bundesliga, but two seasons later the club were down again. After going up in 2020, they're threatening to go back down again now, currently sitting in the relegation playoff spot. This season hasn't been quite as miserable as the last time Stuttgart went down, but supporting a yoyo club is not much fun."
34 min "Matt Dony makes an interesting point: why can't fans be bought and sold like players?" says Rick Harris. "As a long-suffering Bristol City fan I'm open to offers for next season when the summer transfer window opens."
But would you ever go to Rovers?
33 min Gordon wriggles clear of Jorginho and Loftus-Cheek, then shifts the ball away from Thiago and shoots just wide from 20 yards. It wasn't the cleanest strike, and I'm pretty sure Mendy had it covered, but it was a nice enterprising run.
31 min The return of Yerry Mina has brought some calmness to the Everton defence. There's a long way to go but they've been relatively comfortable in the first half hour, despite being under constant pressure.
29 min Actually, Sky are saying that Everton have had one shot on target to Chelsea's none. Chelsea have had 77 per cent of the possession.
28 min I don't think either team has had a shot on target. Mendy did make a comfortable save from Gray but I'm pretty sure the flag went up subsequently.
27 min "Not a Premier League one but Nottingham Forest becoming the first (and only) European Cup-winning team to be relegated to the third tier of their respective league system was big," says Matt Turland. "A hell of a lot of chat around them being too good and too big to go down.
"Mind you, I thought them getting relegated from the Prem was seismic instead of it just being step one in a 12-step masterclass of hopelessness."
26 min Frank Lampard will be very happy with Everton's defending but frustrated by their lack of threat on the break. At Anfield they had a fair bit of joy, particularly through Gordon on the left. It hasn't happened for them today, at least not yet.
24 min Chelsea are in complete control in the middle third of the pitch, though they are still to really test Jordan Pickford. Mount's cross is headed away well by the diving Coleman, under pressure from Havertz. The loops to the edge of the area, where James mihshits a volley into the ground. For a player of his enormous class, that was a chance.
22 min As Chelsea pass the ball around in midfield, there's a sudden announcement on the tannoy: "Commence Operation Goodison Exercise".