Key events:
That's it for tonight's blog, and indeed for the group stage of Euro 2022. I'll leave with Sophie Downey's report from Rotherham.
We'll be back on Wednesday for the appreciable matter of England v Spain. Goodnight!
The entire Iceland squad thunderclap their fans, then the goalscorer Brynjarsdottir runs across to embrace her son. It's a lovely scene, rich in humanity. Her penalty was majestic by the way, slammed nonchalantly over Peyraud-Magnin.
"Hello Rob," says Kári Tulinius. "I feel like Iceland played well enough to get out of the group. For the first time in my life I feel disappointment that Iceland didn't reach the quarterfinals of a major tournament. I realise it's a marker of how far they've come that I expected more, but it doesn't feel any better in the moment."
Iceland become the first team to go out at the group stage of the Euros without losing a game, having drawn all three matches 1-1. In time they'll reflect on their campaign with pride, but for now there will nothing but pain.
Belgium have gone through to the quarter-finals after being Italy 1-0 in Manchester. They will play Sweden in the last eight. And France, who were seconds away from a record-equalling 17th straight victory, will meet the Netherlands on Saturday.
Full time: Iceland 1-1 France
That was the last kick of the game, and Iceland are out of Euro 2022.
GOAL! Iceland 1-1 France (Brynjarsdottir 90+12)
Dagny Brynjarsdottir smashes a superb penalty high into the net!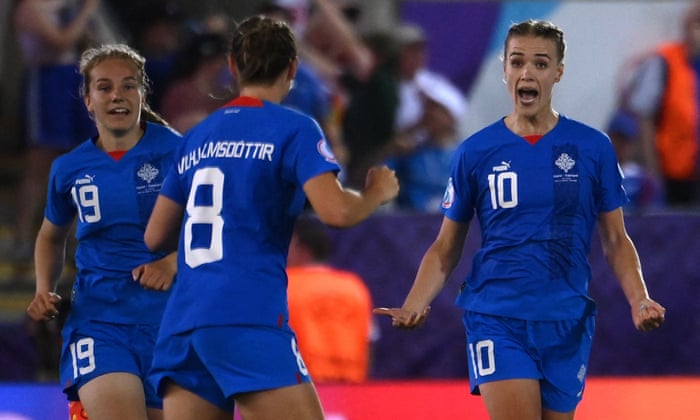 But Belgium have beaten Italy, so Iceland still need two goals in about five seconds.
90+10 min It's an accidental trip by Sarr on Jonsdottir, a split-second before that chance for Vilhjalmsdottir, and I think this will be given.
90+9 min: VAR check for an Iceland penalty! This would change things, though they would still need a second goal to qualify. The referee is going to the monitor!
90+8 min One last chance for Iceland, with Vilhjalmsdottir thrashing over following a corner. But even if she had scored, it wouldn't have been enough.
90+6 min "I think Matt Dony should duck out of the next MBM," says Simon McMahon. "For his own good, and that of the country. This spectacle isn't doing anyone any favours."
90+5 min The resulting corner is headed over by Viggosdottir, who made a really good run to the near post. She's had an outstanding game and saved at least two goals in the first half.
90+3 min Karchaoui is booked for fouling the irrepressible Vilhjalmsdottir. The free-kick is swung in, headed clear by Renard and then headed back into the area. Brynjarsdottir looks set to score, only for Tounkara to makes a brilliant last-ditch tackle.
There was a collision between Brynjarsdottir and the keeper Peyraud-Magnin, and both need treatment. They're okay to continue.
90 min Six minutes of added time. Iceland need two goals.
NO GOAL! Iceland 0-1 France
France have had another goal disallowed! Turns out the ball brushed Geyoro's arm before she volleyed it in, so that's fair enough.
Grace Geyoro gets her fourth goal of the tournament, scoring from 0.001 yards after excellent play by Cascarino and then Mateo. Her cross hit a defender and looped towards goal, and Geyoro reacted quickest to volley it in.
GOAL! Iceland 0-2 France (Geyoro 88)
It's all over now.
87 min One last change for Iceland: Erin Jensen replaces Gudny Arnadottir.
86 min Cascarino has a chance to shoot from the edge of the area but takes one touch too many.
84 min "On her first start in the tournament," begins Matt Dony, and I think we all know where this is going, "I've been impressed with how calm Malard has seemed on the surface, even though she must be absolutely buzzing underneath. Like a, ah, you can fill in the rest."
83 min A France corner is spilled by Sigurdardottir, which leads to a brief but desperate scramble before Vilhjalmsdottir hacks the ball to safety.
81 min A change for Iceland – Amanda Jacobsen Andradottir replaces Albertsdottir.
81 min The dangerous Cascarino dances away from a defender and thrashes a cross shot that is beaten away by the diving Sigurdadottir.
79 min A change for France: Ouleymata Sarr replaces the goalscorer Melvine Malard, who has probably done enough to start Saturday's quarter-final.
77 min: Just wide from Thorvaldsdottir! That was so close an outstanding equaliser for Iceland. Thorvaldsdottir controlled a long ball on the edge of the D, wrestled Tounkara aside and whistled a left-footed shot fractionally wide of the right-hand post.
76 min Cascarino lays the ball back to Mateo, whose stinging shot from the edge of the area is well blocked.
75 min It's still Italy 0-1 Belgium in Manchester, which means Iceland need a two-goal swing if they are to reach the quarter-finals. At this stage, for all their admirable endeavour, it looks pretty unlikely.
74 min "Matt Dony's Malard jokes are simply steaming through this feed aren't they…" asks Claire, presumably rhetorically.
72 min Cascarino fouls the impressive Vilhjalmsdottir on the left wing. Vilhjalmsdottir takes the free-kick herself, and Peyraud-Magnin punches away a little unconvincingly. She's looked vulnerable at set pieces all night.
70 min: Cooling break
NO GOAL! Iceland 0-1 France
Iceland's quarter-final dream is not over. Malard was offside, needlessly so, when she turned Karchaoui's low cross into an open net.
GOAL! Iceland 0-2 France (Malard 68)
Iceland's quarter-final dream is over.
67 min: Geyoro hits the post! The substitute Grace Geyoro, who scored a hat-trick in the first game against Italy, hits a shot that takes a big deflection off Viggosdottir and thumps off the near post.