Key events
First set: *Swiatek 3-1 Jabeur (*denotes next server)
Jabeur badly needs a straightforward hold to settle into this match. She races out to 40-love on a couple of Swiatek unforced errors early in rallies and a forehand winner at the net, before double-faulting and misfiring on the baseline for 40-30. From there another Swiatek unforced error bails her out and she's finally on the scoreboard.
First set: Swiatek 3-0 Jabeur* (*denotes next server)
Swiatek opens her second service game with a forehand winner before missing on a backhand for 15-all, gifting Jabeur her second point of the afternoon. Swiatek follows with her fourth and fifth winners, then closes out the hold with an 84mph second serve that Jabeur can't get back into play.
Swiatek breaks in second game of first set!
First set: *Swiatek 2-0 Jabeur (*denotes next server)
A scratchy start for Jabeur, who is not moving well at all to start. She falls behind love-30 after double-faulting, then love-40 and triple break point down with a misfire from the baseline. The No 5 seed follows with unforced error from the baseline and is broken at love in her opening service game. Not great!
First set: Swiatek 1-0 Jabeur* (*denotes next server)
The world No 1 and top seed wins three quick points to open the match including a 102mph ace down the middle. She misses a volley on her first net approach on the next point, but closes out the stress-free hold immediately after with a crisp backhand winner to close out a 15-stroke rally.
But enough of the juniors: it's time for the today's feature attraction. Micaela Bryan, the daughter of former doubles world No 1 Bob Bryan, has just regaled the Arthur Ashe Stadium crowd with a performance of America the Beautiful. Swiatek and Jabeur have given their pre-match tunnel interviews and emerged on to the court.
They meet chair umpire Louise Engzell at the net for the coin toss, which Jabeur wins and elects to return first. The players are now in the warm-up. It's a gorgeous 82F (28C) sunny day in Flushing Meadows-Corona Park. We should be under way shortly.
Carlos Alcaraz isn't the only Spanish teenager making noise in New York. Martin Landaluce, a 16-year-old from Madrid, has just won the US Open boys' singles title with a 7-6 (3), 5-7, 6-2 win over Belgium's Gilles Arnaud Bailly before a jam-packed crowd on Court 11.
The No 5 seed missed a golden opportunity to serve for the championship in the second set, letting the second-seeded Bailly off the hook from a 5-5, 15-40 bind on his serve. But he broke the Belgian in his first two service games of the decider and coasted through the finish line after 2hr 13min.
Landaluce's win makes it a clean sweep for juniors from Rafael Nadal's academy at this year's US Open. Alex Eala, who also trains at the Mallorca club, won the girls' title earlier today, becoming the first Filipino to win any major singles championship.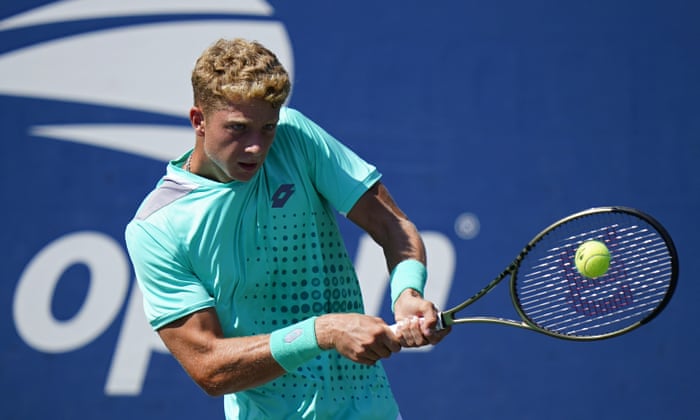 The 21-year-old Swiatek is the first No 1 seed to reach the US Open women's final since Serena Williams in 2014. She's also the first woman to reach the Roland Garros and US Open finals in the same season since Serena one year earlier. This is her third grand slam final, having previously lifted the French Open titles in 2020 and 2022.
Jabeur is the first woman to reach the final at both Wimbledon and the US Open in the same season since Serena in 2019. The 28-year-old Tunisian win is one of four African woman in history to reach a major final and first in the Open era. The other three were South Africans Irene Peacock (1927 Roland Garros), Renee Schuurman (1959 Australian Open) and Sandra Reynolds (1960 Wimbledon), each of whom came up short in the final.
Hello and welcome to Flushing Meadows for today's US Open women's final. We've got a cracker of a match in store between the two best players in the world today: Iga Swiatek, the world No 1 and top-seeded Pole who's already won six titles this year, and Ons Jabeur, the Wimbledon runner-up and Madrid champion who has reached five finals in all in 2022.
Our Tumaini Carayol has more on the stylistic matchup on hand:
They play different styles, but a common quality is that they have built varied, sustainable games that afford them a number of different options, making them far more adaptable and reliable than their opponents. This was clear on Thursday as Swiatek and Jabeur faced Aryna Sabalenka and Caroline Garcia in their respective semi-finals, both challengers resting their success on all-out attack. When nerves struck, at the very beginning for Garcia and while Sabalenka led 4-2 in the third set, neither could adapt.

Swiatek is one of the best athletes in the world and possesses some of the most destructive weaponry off the ground and she is increasingly finding that balance again. Jabeur, meanwhile, is blessed with a complete game and a vast array of shots. She can smother opponents with her serve and forehand, she can slice them to death, pepper them with drop shots and she has also massively improved her physicality.

In the past, Jabeur had so many options that it was overwhelming. She often struggled to make the right choices on court. But she is now slowly learning how to use them, to adjust in the matches and to know when to be disciplined and to play more with instinct. "When I talk to my coach before the matches, I just feel like now I can do whatever I can do and what I want to do on the court, which is surprising for me and I surprise myself so many times," said the 28-year-old.
The players should be on court in a little more than a half hour. Plenty more to come between now and then.