IND vs NZ 1st Test, Day 3 Stumps: India take 55-run lead: After Tom Latham and Will Young's resistance, Indian spinners fought back to the game with Axar Patel shining once again. Patel bagged 5/62 as New Zealand were bowled out for 296 in the first innings with India taking 49-run lead. At Day 3 stumps, India posted 14/1 with a lead of 55 runs. Follow India vs New Zealand Test LIVE Updates on InsideSport.IN
After a huge 151-run opening partnership between Tom Latham and Will Young, India made a fine comeback. With the pitch offering hardly any offer for the bowlers, India struggled in the first one hour. However, after Ravi Ashwin removed Will Young, the flood gates opened.
IND vs NZ 1st Test, Day 3 Stumps: Axar Patel's fifer powers India to narrow 55-run lead after Latham's 95, IND 14/1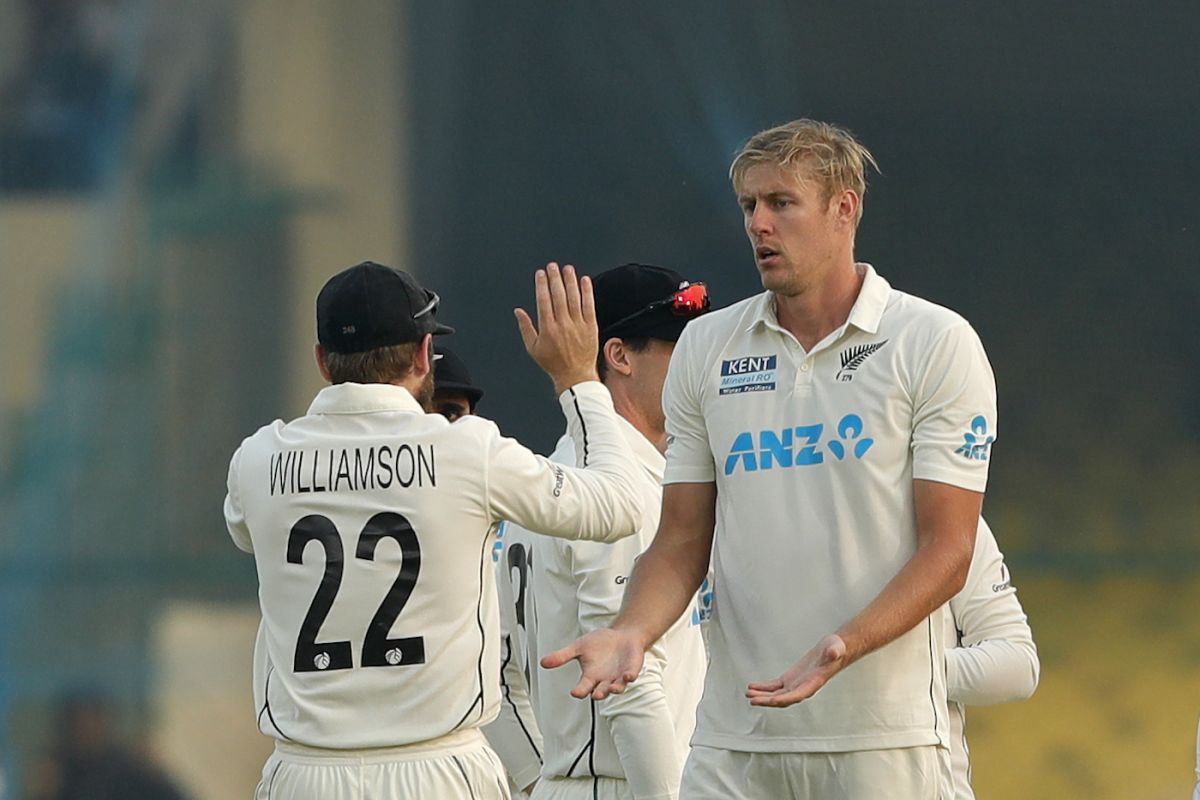 Axar Patel triggered the collapse with Ross Taylor's wicket after Umesh Yadav trapped Kane Williamson leg before. Even though Tom Latham continued to put pressure on Indian bowlers, the rest couldn't live up to the expectation.
Henry Nicholls, Tom Blundell, Tim Southee all failed to put up a resistance. Although Kyle Jamieson tried his best but Ashwin sent him back. As for Axar Patel, he continued his golden run in Test cricket, bagging his fifth fifer in just four Tests to take his tally to 32 wickets in just four matches. In the end, New Zealand folded for 296 handing over 49-run lead to the hosts in Kanpur.
However, India didn't do well bad light either. They lost Shubman Gill in an exactly similar fashion to the first innings. Kyle Jamieson's inswinger cleaned up Gill's stumps as India posted 14/1 at Day 3 stumps, 55 runs ahead.
IND vs NZ 1st Test, Day 3 Stumps: Axar Patel's fifer powers India to narrow 55-run lead after Latham's 95, IND 14/1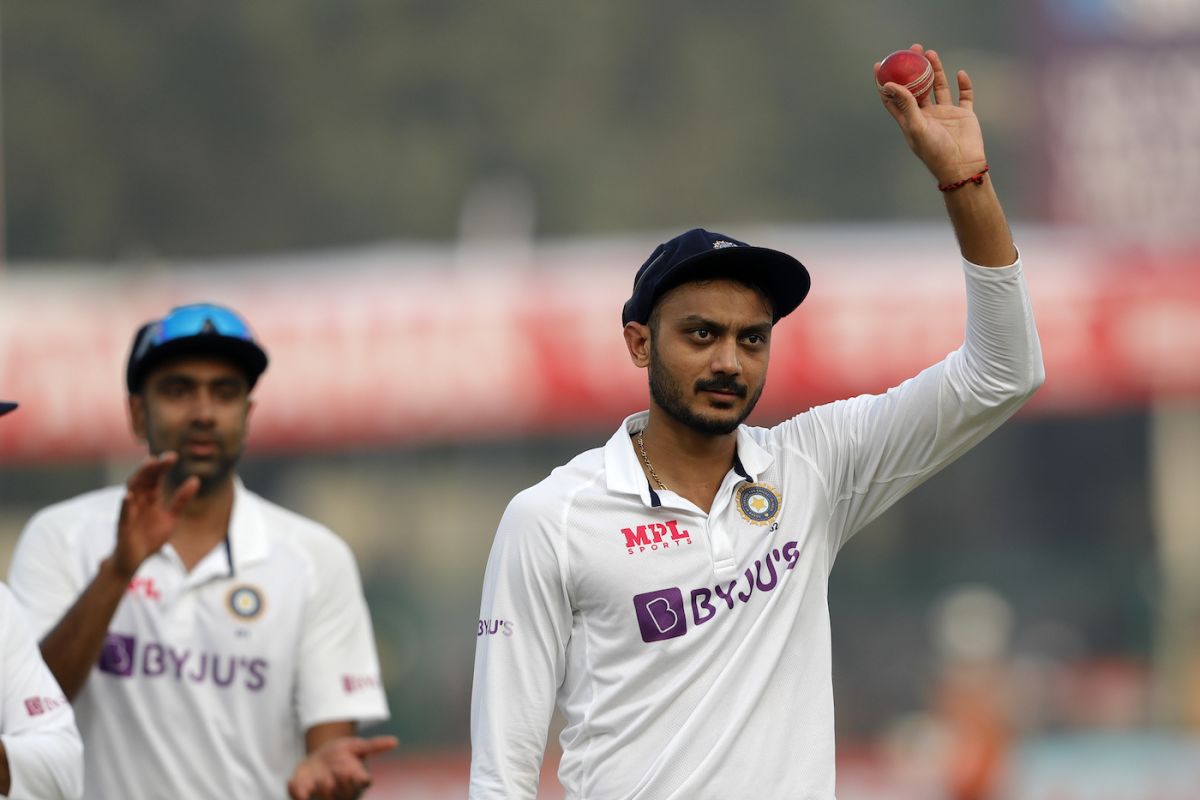 India 2nd Innings:
Mayank Agarwal
Not out
1
4
0
0
25.00
Shubman Gill
b KA Jamieson
1
3
0
0
33.33
Cheteshwar Pujara
Not out
4
5
1
0
80.00
Extra
0 (b 0, w 0, nb 0, lb 0)
Total
6/1 (2)
Yet To Bat
Ajinkya Rahane, SS Iyer, RA Jadeja, Wriddhiman Saha, Ravichandran Ashwin, Axar Patel, UT Yadav, Ishant Sharma
IND vs NZ Live Score Day 3: 3rd session, 6th hour
FOUR! Aggressive approach from Pujara
Kyle Jamieson's fiery spell continues. His inswingers trouble Oujara, Mayank.
WICKET! Shubman Gill departs. A great delivery from Jamieson but low visibility definitely could be a factor here.
New Zealand 1st Innings 296 all out, trail by 49 runs 
IND vs NZ Live Score: Day 3, 3rd session, 1st hour
All Out! India take 49 runs lead as Ashwin sends Somerville back to bring India back in the game.
WICKET! Axar Patel completes his fifer. It's his fifth fifer in 4 Tests. New Zealand are still 66 runs behind.
FOUR! Kyle Jamieson hits a boundary off Axar Patel
WICKET! Axar Patel outfoxes Tom Blundell, NZ 258/7
A maiden over by R Jadeja to start off the final session
IND vs NZ Live Score: Day 3, 2nd session, 3rd hour
WICKET! Ravindra Jadeja gets his first wicket and Rachin Ravindra has to depart. Fast delivery on the rough and Ravindra fails to read the ball. India get their 6th.
WICKET! Axar Patel keeps on turning the tide. Patel bags his third as India continue to come back. New Zealand trail by 117 runs.
Tom Latham moves to 94, closing in on his 12th Test century.
WICKET! India continue the fight back. Axar Patel once again. As Nicholls tries to sweep, he misses the shot.
WICKET! Finally a big one for Axar Patel. A big edge and KS Bharat didn't make any mistake this time. India continue to fight back.
Ross Taylor and Tom Latham have been steady and have cautiously played spinners so far.
The sun is up but the spinners are eyet to have great assistance from the pitch.
KS Bharat misses a stumping chance. His second error of the day.
Ross Taylor and Tom Latham resume 2nd session.
IND vs NZ Live Score: Day 3, 1st session, 2nd hour
Second new ball taken. Can Umesh Yadav and Axar Patel get a wicket before lunch?
Ravi Ashwin argues with umpire after blocking his vision. The umpire complained that Ashwin's action was blocking his vision. Nitin Menon gave not out to Tom Latham earlier off an Ashwin delivery. Ashwin is clearly not happy.
Another delivery keeps low and Jadeja is getting closer to a wicket.
IND vs NZ Live Score: Day 3, 1st session, 1st hour
FOUR! Back to back boundaries for Kiwis, Williamson making some quick runs
FOUR! Kane Williamson announces his arrival with a quality shot off the backfoot.
FOUR! Tom Latham sweeps away R Ashwin for a boundary
Drinks Break! NZ are 161/1 after 70 overs.
FOUR! Tom Latham brings first boundary of Day 3
WICKET! Finally breakthrough. Ashwin's delivery kept low and Young nicked it for KS Bharat. India fight back.
DROPPED! KS Bharat drops Latham. Latham tries to sweep and the ball hits his pad and goes for a catch but Bharat fails to grab the chance. Ashwin isn't happy.
Ashwin comes in early into attack.
Ishant Sharma begins India's bowling attack.
Highest scores for NZ in maiden innings in India
131 Kane Williamson Ahmedabad 2010/11
105 Bruce Taylor Kolkata 1964/65
104 John Parker Mumbai WS 1976/77
103 Jesse Ryder Ahmedabad 2010/11
102 John Guy Hyderabad 1955/56
89 Will Young Kanpur 2021/22
IND vs NZ Live Score Day 3: India under pressure, will R Ashwin & Co get early wickets – Follow Live Updates
9:30 AM IST: KS Bharat is keeping in place of Wriddhiman Saha. The wicketkeeper has a stiff neck.
UPDATE – Wriddhiman Saha has stiffness in his neck. The BCCI medical team is treating him and monitoring his progress. KS Bharat will be keeping wickets in his absence.#INDvNZ @Paytm

— BCCI (@BCCI) November 27, 2021
9:15 AM IST: "I don't think the ball will swing and if it doesn't swing, I don't know what I will do. Will bowl two overs and then come up with a plan," Ishant Sharma puzzled.
9:10 AM IST: Vikram Rathour, Paras Mhambrey and Rahul Dravid discuss gameplan with Ajinkya Rahane.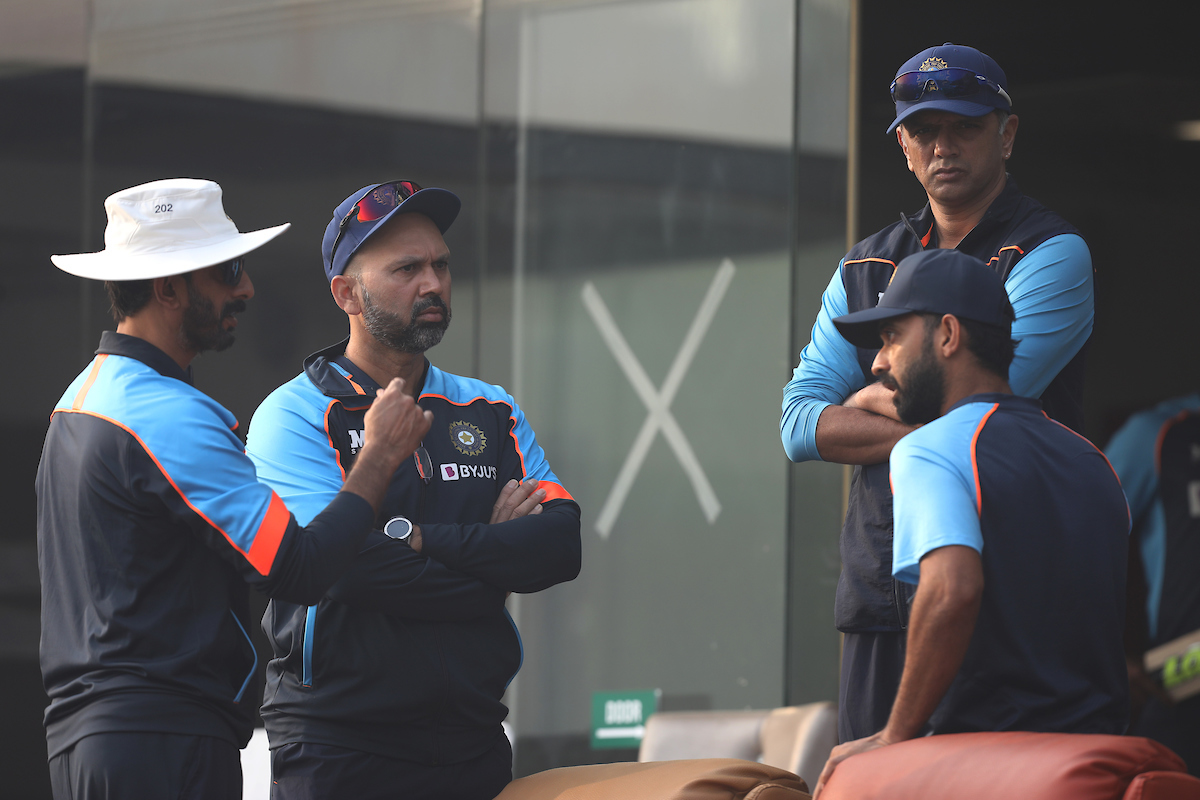 9:05 AM IST: Bowling coach Paras Mhambrey is having a chat with the bowlers. Ashwin holds the key and he is seen motivating others.
9:00 AM IST: In 2016, New Zealand crumbled from 152/1 to 262 all out on Day 3. Can India repeat that feat again?
8:40 AM IST: Tom Latham who got three times lucky to a DRS will be eyeing for a big score. His partner Will Young has looked impressive and just 25 runs from a century. The duo have already shared unbeaten 129 runs for the opening wicket.
8:30 AM IST: We are just an hour away from LIVE action on Day 3. The game hangs in balance as India and New Zealand shared Day 1 & Day 2 respectively. R Ashwin and Co will have to weave their magic to ensure a great start for Team India who are yet to get a breakthrough against Kiwis in their first innings.
Former Karnataka and India cricketers Rahul Dravid (Coach) and Javagal Srinath (Match referee) having a chat before the start of the 3rd day's play at Green Park, Kanpur.#IndvNZ #INDvsNZ#NZvIND #NZvsIND pic.twitter.com/PepZFs1iMB

— Mohandas Menon (@mohanstatsman) November 27, 2021
New Zealand 1st Innings129/0 (57 ov)
Tom Latham
Not out
50
165
4
0
30.30
Will Young
Not out
75
180
12
0
41.67
Extra
4 (b 0, w 0, nb 3, lb 1)
Total
129/0 (57)
Yet To Bat
KS Williamson, R Taylor, HM Nicholls, TA Blundell, R Ravindra, KA Jamieson, TG Southee, AY Patel, William Somerville
IND vs NZ 1st Test, Day 2 Stumps: Will Young, Tom Latham fifties put India on backfoot; NZ 129/0, trail by 216 runs
IND-NZ Test Day 2: New Zealand dominated right from the start of Day 2 as Tim Southee picked up 4 wickets restricting the host to a modest total of 345 runs. Later, Tom Latham and Will Young frustrated India as the Kiwi duo returned unbeaten as New Zealand score read 129/0.
Earlier, Shreyas Iyer's maiden 100 along with the fifties from Shubhman Gill and Ravindra Jadeja helped the host post 345 runs total. Speaking at the press conference after the match, Iyer stressed India's challenges with the bowl on the field but affirmed that one wicket would change the dimension of the game on Day 3.
"It's gonna be a really challenging day tomorrow (Day 3). The wicket is not helping the bowlers. So, we have to focus on trying to give less runs as much as possible and try to build more pressure. One wicket would completely change the momentum towards us. Once it starts to spin or some cracks start to open on the wicket, it will shift the momentum. Hoping we get off to a good start," he said at the press conference.
IND vs NZ LIVE: Shreyas Iyer joins elite club with century on Test debut, equals Sourav Ganguly, Rohit Sharma, Azharuddin
India 1st Innings345/10 (111.1 ov)
IND vs NZ Live Score Day 3: India under pressure, will R Ashwin & Co get early wickets – Follow Live Updates
---
For more IND vs NZ  live updates follow InsideSport.in