Perhaps when Jack Grealish signed for Manchester City, at the moment that contract was sealed, his elevation to this rarefied air confirmed, he might have imagined himself, just for one brief moment, swaggering, socks down, through his own ticker-tape parade, showered with glory, glitter, noise, screwed up pieces of white paper.
Although perhaps not like this. Maybe if Grealish squinted a little the faces of the middle Yorkshiremen pelting him with litter might have resembled, if you did not listen too hard, an adoring chorus, a Grealish super-fandom event.
But it did not really matter. Because this was an excellent day for City, and a good one for Grealish too, who was no more than solid, who fulfilled his new brief of provocateur in chief, hype man, distractor of crowds; but who ended the day as part of a team that is once again one point clear at the top of the Premier League table, having breezed through a game but outmatched Leeds United.
The paper thing was weird. Why didn't anyone seem to mind? Is this just OK now? Football crowds have generally had it with stewards. The gig is up here. These game souls paid a fixed hourly wage to deal with the herd-aggressions of a population that is, even at the best of times, pretty close to the edge, are not going to put themselves on the line for the brand. The police are generally absent, or following current policy of videoing the whole thing like a bunch of teenage voyeurs.
So the paper continued to fly, albeit harmlessly enough. Grealish beamed and shrugged and volleyed one away. And who knows, this might just have felt like a victory parade all the same. There were some fine moments in this 4-0 win. Phil Foden produced the pass of the game for Gabriel Jesus's goal and did the De Bruyne thing, taking risks with his passes, offering a sharp edge, racking up two more assists.
Beyond that City's key player was Rodri. It was always likely to be his kind of game. Jesse Marsch had promised that Leeds would be "pesky", not to mention "annoying", "aggressive" and "dangerous". He says a lot of good stuff. There is something of the high-end corporate communicator about Marsch, the Ivy League inspirationalist, coming on even in the moments before the game a mix between Sam Allardyce and the frontman for a seven-stage motivational programme called Find Your Wolf Spirit.
From kick-off this was a tight, bruising contest. Leeds' players made 49 tackles in this game. This is a lot of tackles. What does a game like that look like?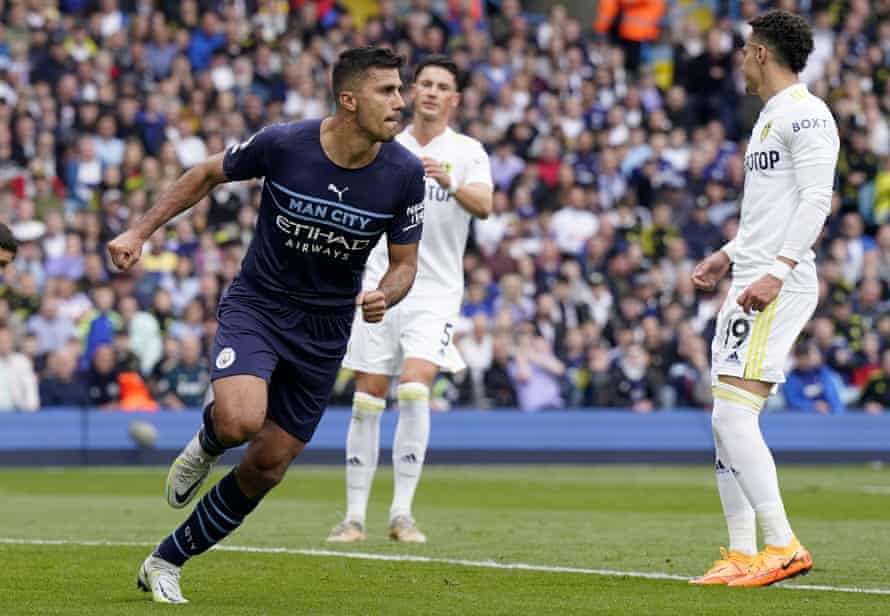 For a start the pitch looked small. At times there seemed to be too many white-shirted players on it, circling the ball, squeezing round it like a fist. This is football translated into a kind of blitz defence, a denial of space and air and lines of sight. City like to skate close to the wind on these occasions. This is a team built to play in the spaces, not the clinches, to float and probe and run through its angles. For everything else, well there is Rodri, and he was hugely important in those moments.
This was City's ninth game in April. Rodri has started eight of them. You tend to notice him in those moments where the game is reduced to duels and collisions, where you need that point of stillness. Rodri did the basics with precision and force, stitching the game together around the centre circle. He scored the opening goal too, from a free-kick on the left flank. Foden's delivery was hard, flat and wickedly accurate. Rodri leapt early and glanced the ball on in to the far corner.
It was a sweet moment for a player who has ploughed through the last month and who suffered more than most away to Atlético Madrid, when the game became a constant weather front of knees and elbows and tugs and pinches.
Talking of which: what to do with Grealish? It is no secret this first season has been a bodge, a process of stalled adaptation, a luxury most do not have with a £100m player. Perhaps Grealish's greatest contribution in a City shirt has been the contortion at the Wanda Metropolitana, where even his high-kicking, hair-flicking warm-up had an insolent, unsettling energy. And here he was thrust into that role again, this time, at least, while not wearing a bib.
And at times it was as though Grealish's role has evolved now from No10 to No8 to professional provocateur, taunting effigy, designated fancy boy there to prance and romp and draw the ire of the crowd, an elite midfielder reimagined as a distracting pair of red socks.
Stuart Dallas started on the right and took the opportunity to go in on Grealish as hard and as often as possible. Perhaps it was a tactic. Perhaps it fed off the crowd's energy. But it was a foul by Dallas that led to the first goal. And just before half-time his afternoon ended in disaster.
Grealish had already lost his cool, appealing to Paul Tierney to manage this point of pressure. Dallas flew into another almost-there, 60-40 ball. Grealish went for it too, the angle of his leg forming, inadvertently, a solid barrier, causing Dallas' knee to twist violently.
That entire interaction lent a strange, uncontrolled edge to this game. But Grealish was commendably resolute all the same. For City this was a genuine obstacle brushed aside with disarming ease.