This season cannot finish quickly enough as far as Chelsea are concerned. They have secured third place but this is a club crying out for a fresh start. Everything feels messy. There are gaps in Thomas Tuchel's defence, his attack remains infuriating and the worry is that nothing can move until Todd Boehly's consortium has finally ushered in the end of the Roman Abramovich era.
Time is of the essence. Stamford Bridge will not be full again until Abramovich is gone and it was easy to see why Chelsea are lagging so far behind Manchester City and Liverpool during this draw with Leicester, who earned a point mainly because their opponents are so blunt in front of goal.
The numbers were damning. Tuchel's side had 20 shots but only seven on target. No wonder they have won one of their last six home games. The issue, as Tuchel pointed out, is Chelsea keep inconveniencing themselves. It feels as if every defensive mistake invites disaster – Leicester's goal was a case in point, Marcos Alonso dozing off when James Maddison opened the scoring – and nobody typified the lack of edge more than Christian Pulisic, who missed a glaring chance to win the points for Chelsea during the second half.
It was that kind of night. There was a weariness to Chelsea as they looked to move on from their defeat to Liverpool in the FA Cup final. They had spent the day celebrating the 10th anniversary of their first Champions League triumph but only so much comfort can be found in the past. The present is uncertain and when the cameras picked out Boehly in the directors' box it seemed the American was seeing why Tuchel believes Chelsea will struggle to catch City and Liverpool next season.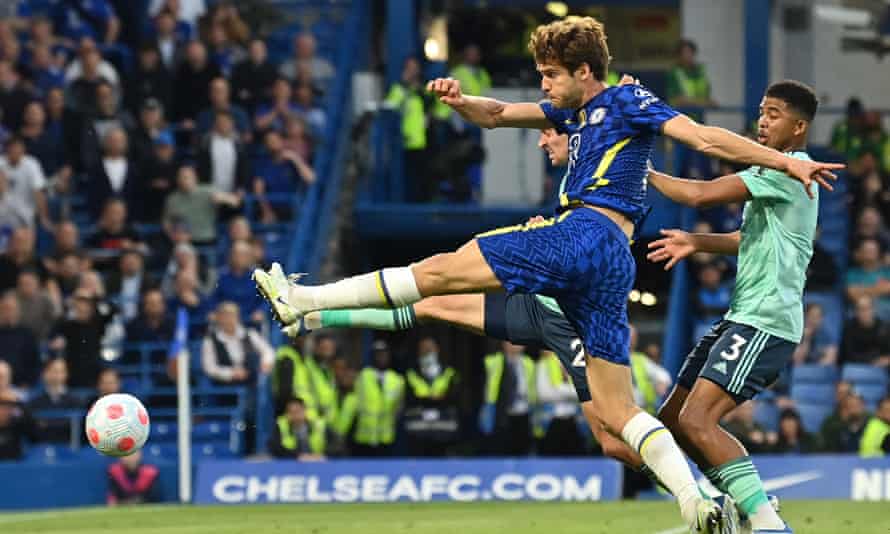 That much was clear when Leicester scored after six minutes. The laxness, epitomised by Alonso allowing a clearance from Kasper Schmeichel to reach Timothy Castagne on the right flank, was appalling. There was still no reaction when Antonio Rüdiger cut out Castagne's cross, nobody smelling danger when the ball ran to Maddison.
Where was the cover? Thiago Silva stepped up but the centre-back seemed off the pace after playing on with an injury against Liverpool. Maddison swept past the 37-year-old and his thumping finish from 20 yards gave Édouard Mendy no chance.
While Tuchel seethed Brendan Rodgers applauded Schmeichel's distribution. There may be doubts over the Dane's future but his value to Leicester cannot be underestimated. He was soon involved again, denying Trevoh Chalobah an instant equaliser.
Chelsea grew frantic. Alonso, who could join Barcelona this summer, was irritating the crowd and there were howls when Romelu Lukaku hesitated when he was through on goal, allowing Daniel Amartey to recover.
However Jamie Vardy and Kelechi Iheanacho were isolated up front for Leicester and the equaliser arrived when Reece James cleverly picked out Alonso. The Spaniard's volley was a reminder of the stronger side of his game.
Chelsea took control. Leicester offered nothing during the second half. Chalobah shackled Vardy and Rüdiger was commanding. Chelsea will miss the German when he joins Real Madrid. The rebuild of the defence will be hard. Andreas Christensen, who again was not involved, is heading to Barça, who also want César Azpilicueta.
This is not a settled squad. N'Golo Kanté was a driving presence in midfield but his contract expires next year and injuries are a concern. "He is our key player and if he only plays 40% of the games then it is maybe a miracle we arrive in third place," Tuchel said of the 31-year-old. "He is our Salah, our De Bruyne, our Neymar, our Mbappé. It's hard to live with. He starts getting rhythm and then is out again."
Frustration lingered. Lukaku headed wide after an hour and Pulisic scuffed wide from six yards. Chelsea, who were fortunate not to have Rüdiger sent off for a lunge on Wesley Fofana, fizzled out. Leicester, drifting in mid-table, held out. Chelsea could only look to the future.