ISL Season 8: Jamshedpur FC were exceptional to beat NorthEast United 3-2 in a five goal thriller on Friday night at the PJN Stadium in Margao in the Indian Super League. Goals from Seiminlen Doungel, Greg Stewart and substitute Jordan Murray helped the Men of Steel to bag all three points against a very tricky Highlanders unit. Follow all the ISL 2021-22 LIVE Updates only on InsideSport.IN
Jamshedpur FC are now a point away from sealing their first ever semifinal spot in the Indian Super League. However the Men of Steel are also going to battle Hyderabad FC and ATK Mohun Bagan for the ISL League Winner's Shield. Overall head coach Owen Coyle was very happy with how things turned out for Jamshedpur FC. He felt that they were the better team on the night by far and all the trouble that they faced was due to their mistakes in defence.
Baar baar haan, bolo yaar haan
Apni jeet ho, unki haar haan)
Koi humse jeet na paave
Chale chalo, chale chalo
Mit jaave jo takraave, chale chalo
Bhale ghor andheraa chhaave
Chale chalo, chale chalo
Koi raah mein na thaam jaawe, chale chalo#JamKeKhelo #NEUJFC pic.twitter.com/sEXgZYKx76

— Jamshedpur FC (@JamshedpurFC) February 25, 2022
"We were by far the better team. NEUFC had us in trouble, that was self-inflicted. But the mistakes came from us it wasn't a game of 2-0 it should have been 4-0 or 5-0. We were so far in front in the game. But credit to NEUFC all the way as they made it 2-2 but that only got us a little bit angry. We picked ourselves up and scored a wonderful winning goal. No doubt we were by far the best team on the pitch tonight, fully deserved the three-point, we should have scored more goals. And of course, I'm disappointed with the ones we conceded because there were mistakes that being said, we've been decimated by injuries again tonight," Coyle explained at the post-match press conference after beating the Highlanders.
ISL Season 8: AIFF DC exempts Kerala Blasters forward Jorge Pereyra Diaz from further punishment after showcausing him for misconduct
Coyle then shares how relaxed the Highlanders were s it was a dead rubber for them. He pointed out how his fought through and what it means to his men to reach the top four or even fight for the ISL Shield.
"There's always that danger because you know NEUFC were completely relaxed there's no pressure on them. All the so-called pressures were with us because we're desperate to be in the top four and be at the top for the Shield. But to do that you have to win tough games. So for us to come and get that level of performance, especially coming back from 2-2, it speaks volumes for us as a group and that's what we need moving forward. You know you're right we need another point to guarantee what we've got maybe is enough already but we want to get more points because we want to be up at the top end with Hyderabad FC and ATKMB," the Scotsman made his intentions clear of chasing for the ISL Shield.
Peter Hartley probably aggravated the injury that he picked up in the last clash against Chennaiyin FC. He felt some discomfort at the end of that game aswell and here again he was not down on the ground not able to walk without assistance. Hartley's removal from the Jamshedpur FC defence opened up a lot of space and allowed NorthEast United to capitalise on their chances.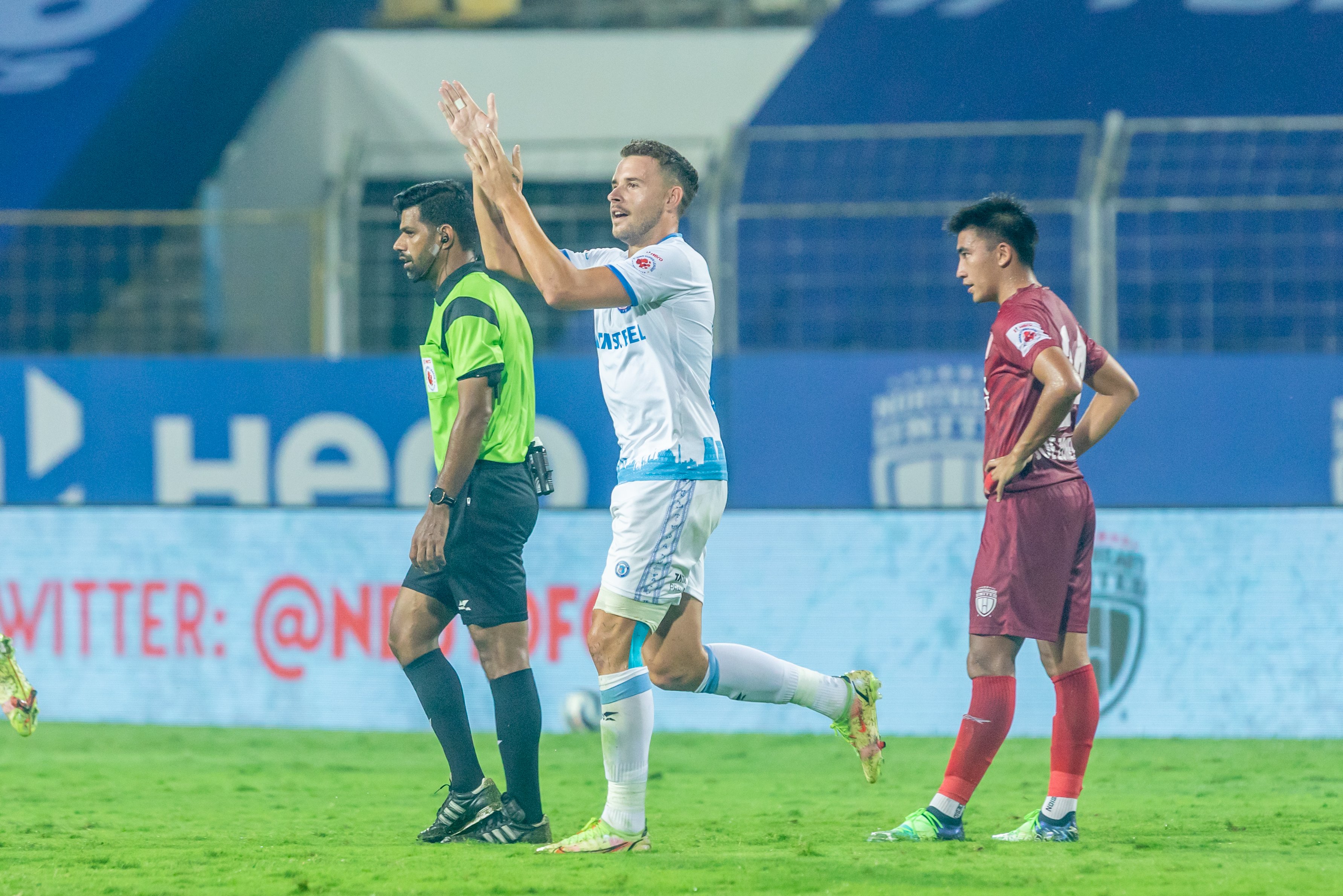 Coyle also feels that with Hartley at the back his team looks a lot more secure defensively. He also adds how the injury does not look good and the English defender may miss a couple of games. But Coyle believes that it is an opportunity for someone else to step up in Hartley's position.
"I do believe that when Peter is here, we do look and feel a lot more secure. He's a leader, he's an organiser, he's a winner. And then that's no disrespect to anybody else who comes in, he's a top center back in the league. Of course, his knee locked in the first half. So we'll have to look at, that doesn't look great at this moment in time. And we have three games and within seven days. That being said, as always, we're going to hope we get him back. But that gives other people an opportunity to come in. So, whoever has always been asked to come has given his very best for the Jamshedpur FC and that's what we need," Coyle signed off.
– Advertisement –