Key events
Back underway! Juventus 0-0 Arsenal
The second 45 is underway! Will we see some goals or will it stay in a deadlock? We'll soon find out …
I'm anticipating some Arsenal goals this half, what do you think? Let me know via Twitter and email.
The WSL match has ended 3-3! The point for each team means their table position has not changed with Liverpool still 10th and Reading in 11th. It has taken Reading to four points ahead of bottom Leicester City though, which could be important later in the season.
There is also a Women's Super League match taking place this evening, a postponed fixture between Liverpool and Reading. It has been a thriller! The game is in its closing stages and it is currently 3-3. Both will be keen to get the result as they are towards the bottom of the table.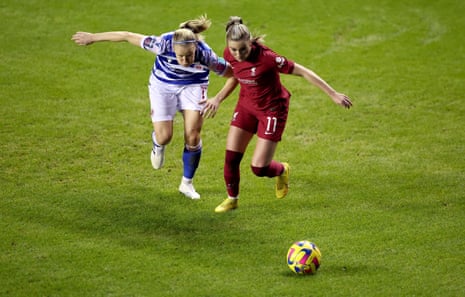 In the other match happening right now in the tournament Benfica are 1-0 up over Rosengard. Lacasse was the scorer in that one.
Half-time: Juventus 0-0 Arsenal
Caruso had a great chance just before the break but it goes wide. It has been the Arsenal show with Blackstenius missing three great chances but Juventus have displayed promise on the counter-attack. The hosts have also soaked up a lot of pressure and they will be happy to keep them out.
45 min: There will be one added minute.
45 min: McCabe and Salvai get a talking to ahead of the corner take for some shoving in the box. The kick comes in but Blackstenius heads away and then Pedersen fouls.
44 min: Juventus are building here, the first time they've been on the ball for a while. Girelli gets a header in the box but it's Zinsberger who collects. Beerensteyn is found in a great position with McCabe unable to close down the chance. Walti sends it out for a corner, great play from Juventus there.
42 min: I've been watching a lot of Taskmaster lately and I'm finding myself narrating the match in the style of the show in my head. For example: the most goals win, you have 90 minutes, your time started 42 minutes ago. I will stick to the usual commentary … Back to the game and Blackstenius has missed another huge chance! Foord gets a great ball across and Blackstenius is inches from tapping it in.
40 min: McCabe does well to block Grosso and Arsenal counter, Blackstenius is in a great position and finds herself in a one-on-one position with Peyraud-Magnin but it's a huge save from the keeper to deny her!
38 min: Foord wins a free kick for a soft foul, this match is high pace but the good defence by both sides are just stalling the attacks so far.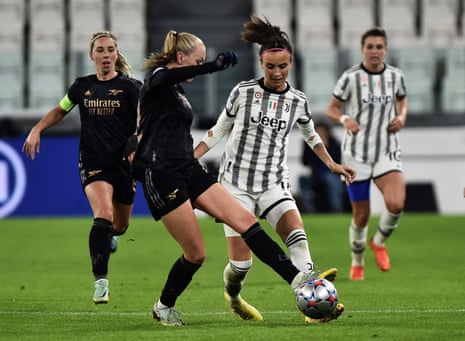 36 min: Blackstenius and Foord don't quite click in the box to rue another chance. Here they come again though and Blackstenius gets another shot but it's blocked by Rosucci.
34 min: Arsenal are being patient on the ball but Juventus are soaking up the pressure and even forcing the visitors back to halfway. Blackstenius is on here but it rattles the woodwork! It feels like a match where once the first goal is scored they will just keep coming.
32 min: Blackstenius has a shot but it sails over the bar, that is Arsenal's sixth chance of the match but for their lack of possession Juventus have had five. Foord fouls Lenzini and gives away possession at halfway.
30 min: Catley takes the corner but it is easily headed away. Could Juventus be on for a counter here? Beerensteyn does well to keep it away from Miedema as they build play in the midfield. Girelli gets two shots off in the box but Catley does well to block twice. The best bit of attacking play from Juventus.
28 min: Foord is challenged twice and she wins the free kick for the second foul coming from Pedersen. The Juventus star looks in pain after that one but she is okay to continue. Catley takes it and Wubben-Moy gets a head to it but Peyraud-Magnin punches it out for a corner! They are getting closer.
26 min: McCabe spots Peyraud-Magnin off her line and pelts the ball upfield to Blackstenius, the keeper reads it well to punch away though. Blackstenius does get a shot but Peyraud-Magnin does enough to keep it out. Arsenal turn up the pressure with another chance from Miedema but her shot is blocked. This game has been all Arsenal but they haven't reaped the rewards as of yet.
24 min: Juventus have had their longest time on the ball here and Beerensteyn gets it to the edge of the box. She attempts a cross but it's closed down for a goal kick.
22 min: Arsenal remain around the area from the set piece but they can't quite get the last hit clinical enough. Juventus do win it back but it's loose from the defenders and Blackstenius almost pounces!
20 min: Maanum wins Arsenal another corner after some good defending once again from Boattin. Catley takes again but the ball is hit out by Girelli for another corner. It's sent in again and Peyraud-Magnin punches away.
18 min: Arsenal are with the ball and they are playing possession based football as they run it through the team. Juventus' press are stopping them from unlocking their attack at the moment.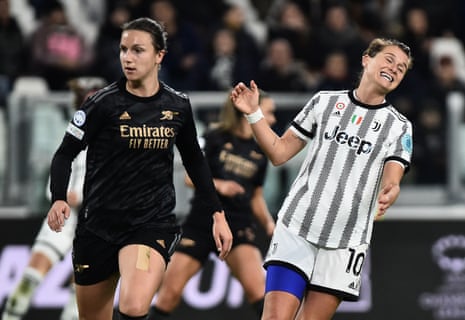 16 min: Foord gives away possession with a foul on Lenzini and they are building from deep. Walti gives away a free kick with a brutal foul on Caruso, still the hosts are only at halfway. They manage to get it up to the box but Caruso's ball to Girelli doesn't connect.
14 min: Miedema crosses it in trying to find Nobbs but Boattin heads it out for a corner. Mead has been the taker from set piece but with her injured it's Catley who takes the kick, it bundles around the box and the hosts deal with it. But Nobbs crosses in the rebound and Peyraud-Magnin confidently collects. Arsenal are then sloppy at the back but Beerensteyn can't pull the trigger fast enough and Arsenal deal with the threat.
12 min: Arsenal break through Miedema but Salvai defends well to thwart the chance. I think you would describe this match as a slow burner.
10 min: Beerensteyn crosses it in trying to find Bonansea but the player fouls McCabe to end the chance. But Maanum then gives away a free kick in a scorable position for Juventus. Caruso takes the kick but it is straight to Zinsberger who collects.
8 min: Foord makes a good run, getting the ball in the box but Juventus manage to clear it. Arsenal remain with it though and Miedema takes a long range shot but it is blocked. It is all Arsenal at the moment. A rare bit of sloppiness from Maanum though has the hosts in a good position.
6 min: Maanum takes the kick but it doesn't find a teammate and Peyraud-Magnin collects. Juventus are yet to even put a bit of possession together with Arsenal wrestling the ball back again.
4 min: Miedema gets the ball to Nobbs who passes to Maanum but her shot is off target. Juventus don't get the ball away cleanly and then Miedema wins a free kick in a good position.
2 min: It's a slow start from Arsenal who were trying to be patient on the ball but a sloppy ball from Zinsberger rolls out. Possession exchanges hands and it is the visitors with the ball.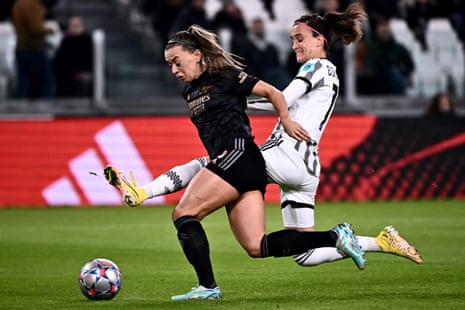 Kick-off! Juventus 0-0 Arsenal
Here we go then! Both sides are unbeaten but will that stay the same after tonight?
The players are out on the pitch and action will start soon. I am so excited for this one to get underway!
Yes of course I am going to include some snack chat before the players head out to the pitch. I am yet to choose my snack of choice, I have the option of pringles or smarties and I cannot choose! What have you gone for? Let me know via email or Twitter.
Arsenal manager Jonas Eidevall has spoken about how Mead's presence will be filled within the team. He said: "The responsibility in a team is always shared, the team will always have an output. It is obviously on me to create that output as best as possible."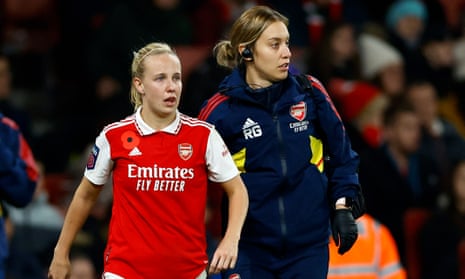 There were two other matches played earlier today. Barcelona hosted Bayern Munich at Camp Nou and Barca were victorious in a 3-0 result. Lyon and Zurich, the two other teams in Group C, also competed with the defending champions winning 3-0. Benfica and Rosengard kick-off at the same team as Juventus v Arsenal and I'll keep you up to date on that score as best I can.
The third round of the Women's Champions League group stage got underway yesterday and among the matches was Chelsea v Real Madrid. It was the first time the two has ever played one another and the Blues came out 2-0 victors. Catch up with all the action here:
Please do get in touch and let me know your thoughts on tonight's match, how your day has been or anything in between! You can reach me on email or Twitter.
Montemurro also spoke specifically about meeting with Arsenal and said: "It'll be a pleasure for me to face Arsenal. I spent four wonderful years in London, bonding with many people, and it will be wonderful to meet them again."
There will be another reunion apart from Hurtig seeing former teammates as Juventus manager Joe Montemurro previously coaches Arsenal. He won the Women's Super League with the team and has spoken on his sadness at Mead's injury. "I know Beth will come back stronger, I know Beth will be chomping at the bit to get back and work hard. I can only wish her all the best because she deserves the best, as a person and as a friend. We grew together and joined the club at similar times and had four fabulous years together so I can only wish her all the best, she will come back stronger, no doubt."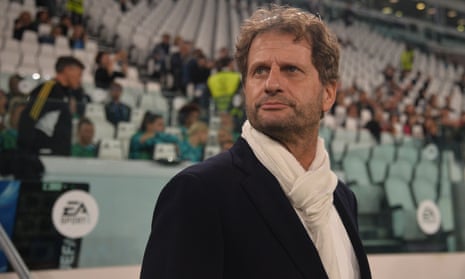 Lina Hurtig, though injured and not on the team sheet this evening, will have been helpful to her side in the build-up to the game. She signed for Arsenal from Juventus in the summer and she will have insights into the club. Will they help? We will soon find out …
Juventus have made four changes to their starting squad from their 2-1 win over Parma on Saturday. Peyraud-Magnin, Salvai, Grosso and Bonansea come in and Sara Bjork Gunnardsottir is not involved in the squad due to a thigh injury.
Juventus starting XI: Peyraud-Magnin, Lenzini, Rosucci, Salvai, Boattin, Caruso, Pedersen, Grosso, Bonansea, Girelli, Beerensteyn
Arsenal have made one change to their starting 11 from their 3-2 defeat to Manchester United. Vivianne Miedema comes in for the injured Beth Mead.
Arsenal starting XI: Zinsberger, Wienroither, Wubben-Moy, Catley, McCabe, Walti, Maanum, Miedema, Nobbs, Foord, Blackstenius
Juventus team news is also out so stay tuned!
Good evening and welcome back to our coverage of the Women's Champions League. Tonight Arsenal travel to Juventus to attempt to keep their unbeaten run in the competition on track.
The Gunners have so far defeated Lyon 5-1 and Zurich 3-1 to top Group C. They are trailed by Juventus by two points after they registered a 1-1 draw with Lyon and a 2-0 win over Zurich. A win over Arsenal this evening would see the Italian club top the group.
Arsenal's biggest worry tonight will come in the form of injuries. We have had conformation that star forward Beth Mead has torn her ACL and will be out for months. She adds to the list of injuries at the club including Leah Williamson and Rafaelle Souza.
Let's take a look at who Jonas Eidevall has called upon for tonight's match. The team news is out ahead of kick-off at 8pm GMT.