Ilkay Gundogan talks to Sky Sports. "It was a huge test. Leeds started with a lot of intensity. They made our lives difficult. The first goal helped us a lot, but still in the first half they were more than in the game. After the second one, we were able to move the ball better, quicker, and created more chances. At the end of the day it's a very good result for us. The pressure is on to win all the games. It looks as though both teams might not struggle until the end. Every game is a final now."
That's a huge win for City, though the scoreline doesn't tell the whole story. They were made to work hard by a Leeds side desperate for the points themselves, and could – perhaps should – have fallen behind when Cancelo's early slip let in Rodrigo, who should have teed up Raphinha. That was Leeds' big chance, and City went on to take advantage of Cooper's late withdrawal to score twice from set pieces, after which it was all over. The champions stretched away, as they reclaimed pole position in the race for their title. Leeds remain in relegation bother, though that performance, rather than the result, should give them a boost as they battle to save themselves.
FULL TIME: Leeds United 0-4 Manchester City
City go back to the top of the Premier League in – eventually, though it took a while – emphatic style!
GOAL! Leeds United 0-4 Manchester City (Fernandinho 90+3)
Sterling goes over in the box. He wants a penalty but he's not getting one, and he doesn't care, because the ball breaks to Fernandinho, who threads a shot towards the bottom left. Meslier should save it, but his wrist cocks back and the ball flies into the net.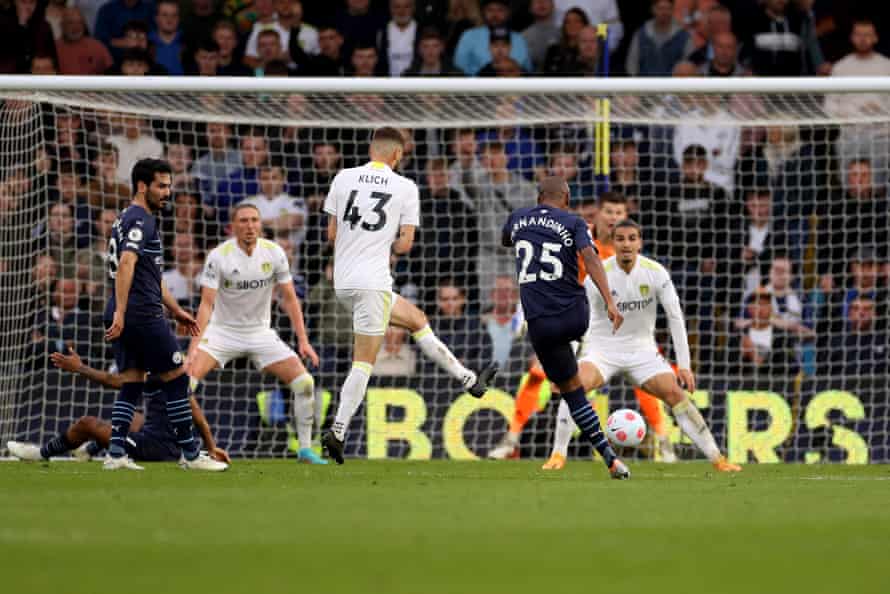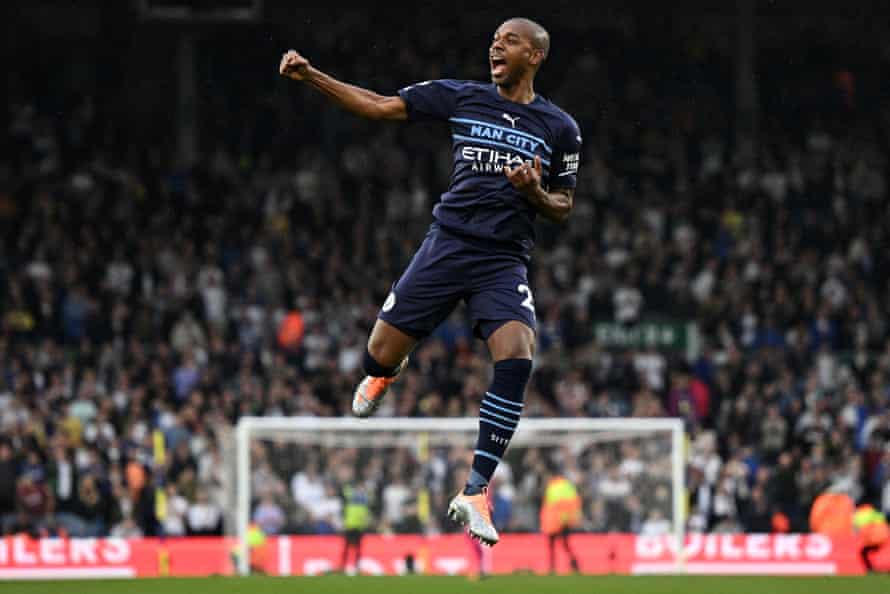 90 min +1: Greenwood tears down the right and pulls back for Gelhardt, who slides in to slam goalwards. Ederson blocks wonderfully with his feet, refusing to give up his clean sheet.
90 min: Gundogan heads wide right wastefully from six yards. There will be three added minutes.
89 min: Grealish jinks down the left, reaches the byline, and digs out a cross. Meslier claims, again keeping things respectable. Leeds go up the other end and nearly grab a consolation, James rounding Ederson on the right only for Cancelo to block on the line. From the minute Liam Cooper pulled up injured in the warm-up, it's fair to say this hasn't been Leeds' day.
87 min: Silva slips Cancelo into an absurd amount of space down the right. Cancelo enters the box and should make it four, but slams his shot straight into Meslier's chest.
85 min: City ping it around with the confidence of a team who have just come through a huge test. Easy to forget how difficult they found things during the first half.
83 min: Fernandinho comes on for Rodri, while for Leeds, Greenwood replaces Rodrigo.
82 min: The Leeds fans are giving it plenty, despite the scoreline. They've seen enough today that'll give them hope in the battle against relegation. Meanwhile, regarding matters up the other end, Joe Pearson writes: "So, Liverpool's chance to win the league comes down to Steven Gerrard in the final game?" Could be. Plenty of opportunity for

slip-ups
twists and turns before that, mind.
80 min: Having completed the job, Foden gets his reward. Pep allows him to put his feet up, replacing him with Silva.
GOAL! Leeds United 0-3 Manchester City (Jesus 78)
All of City's goals have been super-simple, and this one is no different. Ederson launches a ball down the right for Cancelo, who chests inside for Foden. A glorious defence-splitting ball sends Jesus clear down the middle. One touch, slam, game over!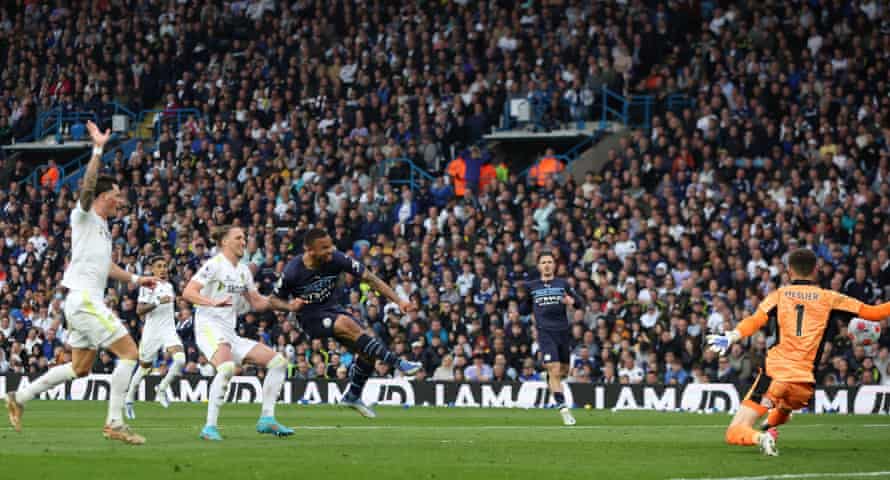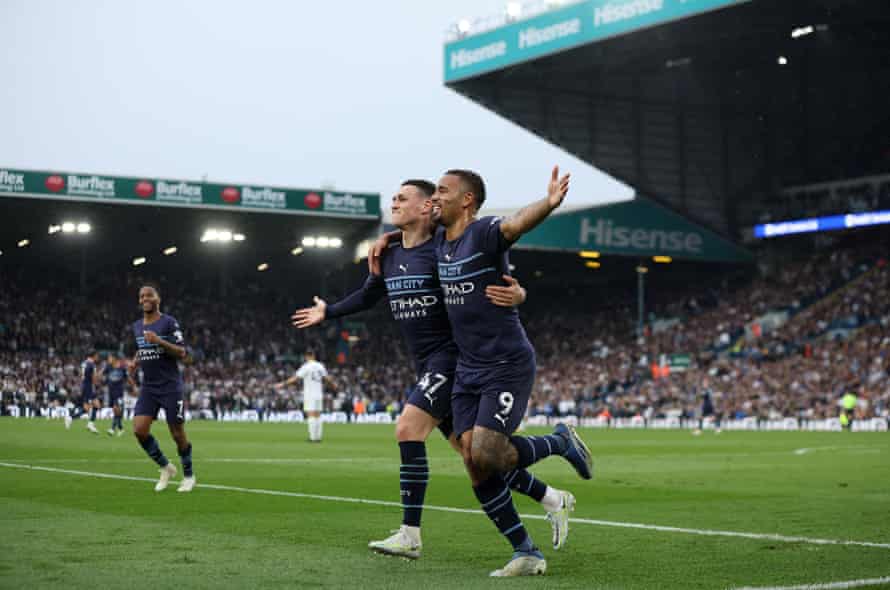 77 min: Thing is, though, Ederson still hasn't seriously had his hands warmed.
75 min: Fair play to Leeds, who still haven't turned it in. After a post-second-goal lull, they've come back into this, and have enjoyed 78 percent possession during the last five minutes. Can you guess how happy Pep is with this state of affairs? Answers on a scrunched-up bit of card.
73 min: A corner on the left leads to a corner on the right. Raphinha is incredulous as he's pelted with card boulders by his own fans! Then some hectic pinball in the City box, Harrison having a couple of half-chances to shoot closed down by a resolute defence. City clear their lines eventually.
72 min: Raphinha embarks on a determined dribble down the inside-right channel and makes it all the way into the box. He drops a shoulder and shoots, but Laporte gets over to block. Corner.
70 min: Rodrigo has another chance to slip someone clear, romping down the left but refusing to roll infield for Gelhardt. The hesitation costs Leeds again, as the play's switched and Raphinha flays witlessly into the stand behind the goal. Leeds haven't carved out great chances, as such, but they've had some very promising situations that a more assured team would develop.
68 min: Jesse Marsch is booked for the antics of his backroom team. Then Cancelo sees yellow for a garden-variety block on Rodrigo. This referee has pleased nobody this evening.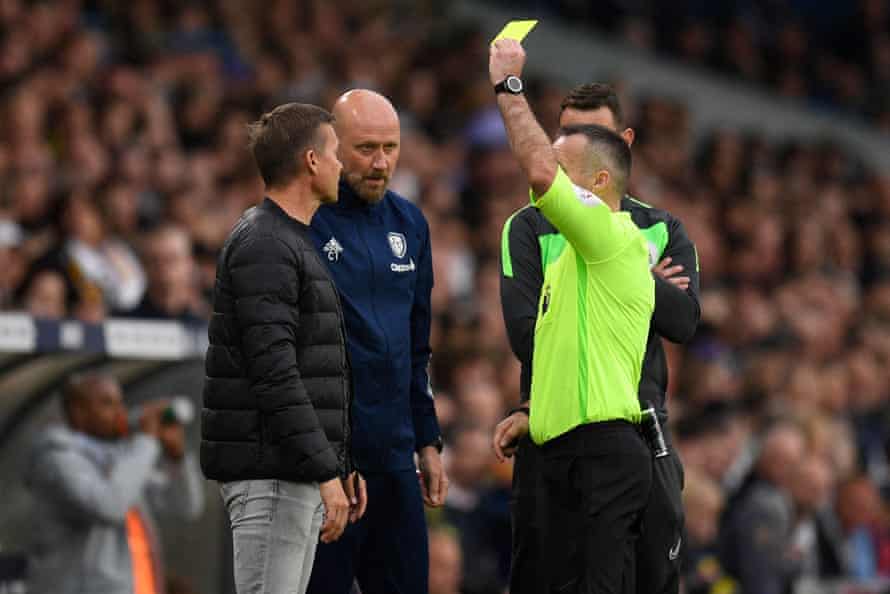 67 min: Chances inside the box for Foden and Gundogan, as Leeds begin to look a little ragged. The home side block them. Zinchenko blazes over from distance.
66 min: Leeds are a shadow of their first-half selves. That huge early chance for Rodrigo to tee up Raphinha feels like an awfully long time ago now. Come at the king, you best not miss.
64 min: Cancelo strides forward and slips Sterling in down the right. Sterling crosses for Foden, who prepares to head home from close range. Koch gets back to conceded a corner, just in time. Leeds deal with this one, and attempt to counter, a long ball sent towards Gelhardt. Ederson races miles out of his box to blooter clear. That's A1 sweeper-keeping.
62 min: Firpo makes way for Gelhardt.
61 min: Grealish dances in from the left and lays off to Gundogan, who sends a curler towards the top right. It's always going high and wide.
60 min: Ake has picked up a knock and is replaced by Zinchenko. His work this evening was already complete.
58 min: A corner out on the left for City. Grealish goes over to take it, and to his immense credit, laughs warmly as more of those cardboard balls ping off the top of his head. Nothing comes of the corner when it's eventually taken.
56 min: City are surely going back to the top of the table this evening now. They've stood firm against the Leeds whirlwind, and now have a cushion that should see them home. "We're not really here," trill the away fans, who can sense the title getting ever closer. The City bench celebrate as well, knowing full well how big these three points will be.
GOAL! Leeds United 0-2 Manchester City (Ake 54)
Cancelo worries Leeds down the right. His low cross is hoicked out for a corner by Ayling. Foden hits it long from the right. Dias heads down at the far stick, teeing up Ake, who sweeps into the bottom left. Easy as that!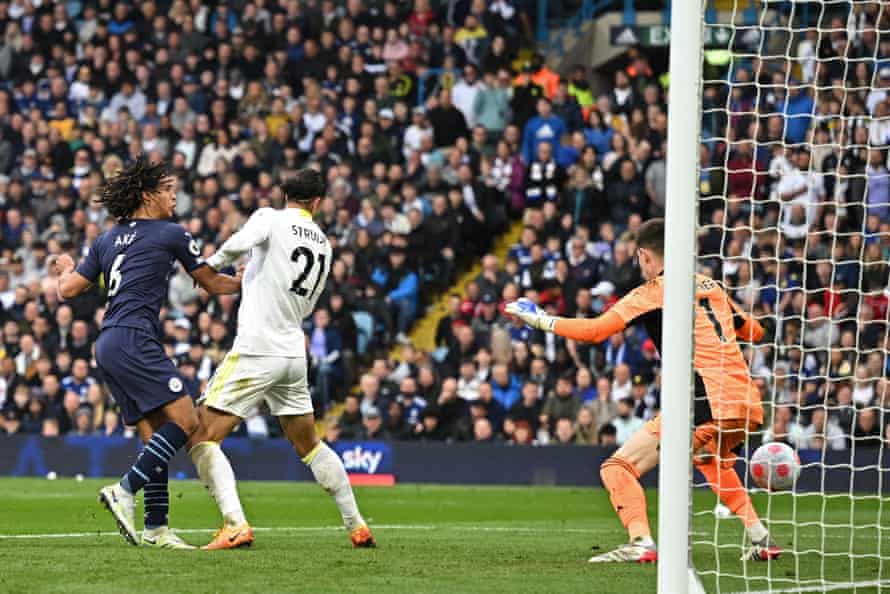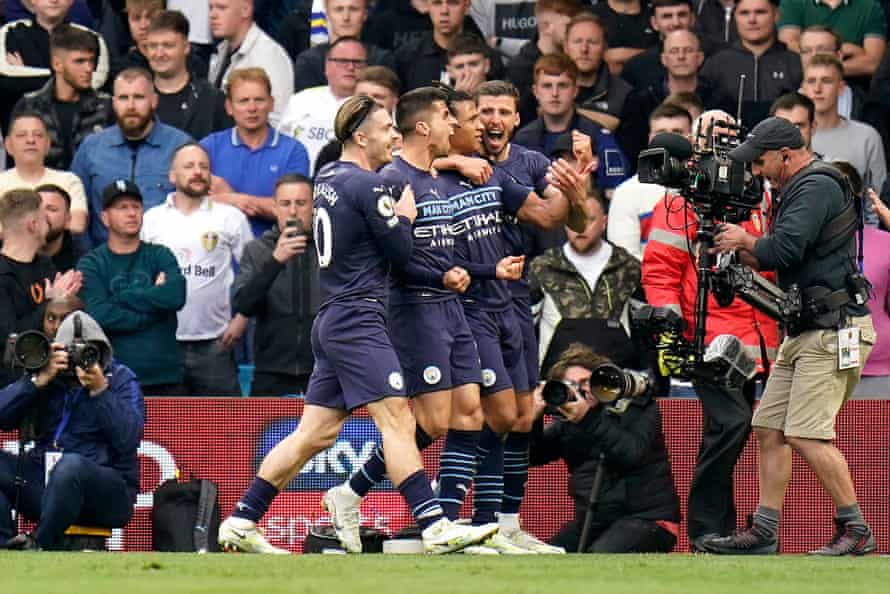 52 min: Jesus sends Sterling scampering clear down the right. Sterling makes it into the box and skips past a couple of challenges, before taking a shot that's blocked by the sliding Koch. Grealish has a dig from the left, and nearly hits the corner flag on the right. The Leeds fans enjoyed that.
51 min: Rodrigo floats a cross into the City box from the left. Ederson claims under pressure from Harrison. Leeds come again down the same wing, but Klich, Harrison and Rodrigo try to complete their triangular combinations too quickly, and lose control needlessly.
49 min: City enjoy some sterile possession for the first time in a while. Safe to say their manager might have had a stern word during the break.
47 min: Grealish is pelted with more of the scrunched-up card. We're obliged to say this is awful behaviour from the Leeds fans, but laughter is involuntary sometimes, what you gonna do. Grealish nearly delivers payback in equally hilarious style, though, tearing with grace down the left and firing a ball through the Leeds six-yard box that's simply begging to be trundled home. But neither Jesus nor Sterling had kept up. Grealish looks more aggrieved by this, to be fair.
Leeds get the second half underway. No changes. They immediately launch an attack down the left, Firpo making good ground before floating a weak cross into the stand behind the goal. An early statement of intent by the hosts, though.
Half-time entertainment. Some peerless prose concerning both ends of the table.
HALF TIME: Leeds United 0-1 Manchester City
A half which had been a lot of fun comes to a downbeat end. It's not often you get to say this, so you might as well take your opportunity now: this scoreline slightly flatters Manchester City. But they're reigning champions for a reason. As things stand, they're going back to the top of the table, while Leeds remain five points off the relegation places.
45 min +7: James comes on for the stricken Dallas, who departs to warm applause, covering his eyes.
45 min +6: "There's only one Stuart Dallas," chant the Leeds supporters, as the medical staff carefully load the Leeds man onto the stretcher. Dallas knew something was wrong the minute he crashed to the floor, and waved to his bench. An awfully sad scene.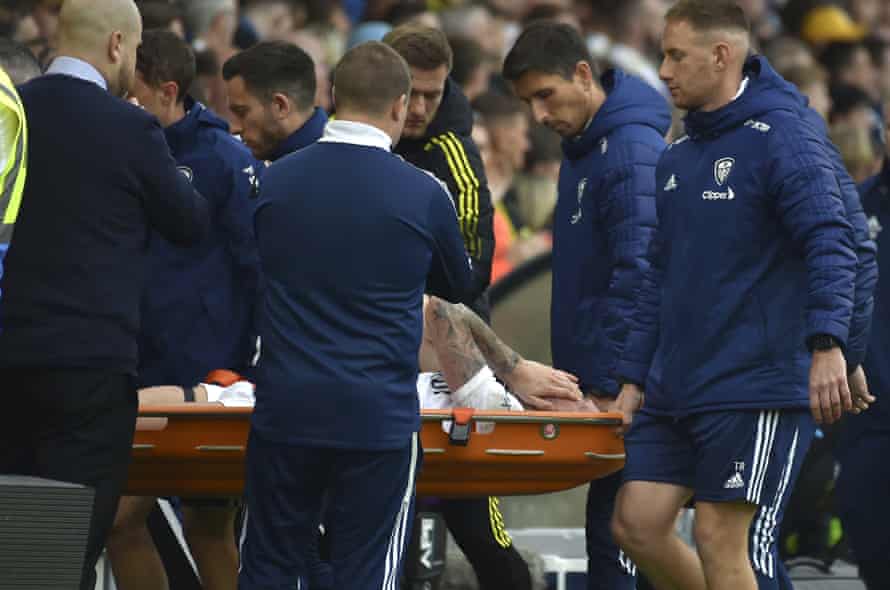 45 min +4: Dallas went into that challenge in the no-nonsense style, and might have damaged his knee. His team-mates look extremely concerned, Phillips holding his hand as the stretcher comes on.
45 min +3: Dallas and Grealish crash into each other at 101 miles per hour. Dallas was a millisecond late, and might have done himself some damage here.
45 min +2: For a team looking over their shoulder at the relegation places, Leeds have been impressive with their front-foot confidence, actual scoreline notwithstanding.
45 min: A second goal before half-time would change City's mood all right, and they've got four additional minutes in which to find it.
44 min: Grealish is ranting and raving at anyone who will listen. He's expected a couple of free kicks that haven't been awarded, and has lost the nut. Pep Guardiola is trying to calm him down, to little effect so far. City are leading, and they're not rattled exactly, but they're not particularly happy right now.
42 min: Ayling ships possession on the edge of his own box. Jesus and Sterling over-elaborate instead of combining to score. Then there's a bit of penalty-box pinball, before Leeds eventually clear their lines.
41 min: Raphinha dribbles at pace down the middle. He's tugged lightly by Laporte and pulls up, expecting a free kick that doesn't come. The home fans deliver a trenchant critique of Paul Tierney's refereeing ability.
40 min: Raphinha robs Ake in the middle of the park and barrels off down the right with Dallas by his side. The pair combine to earn a corner. Everyone floods into the City box. Ederson comes out and flaps at the corner. The ball's worked wide right to Raphinha, who fires low into the mixer. City clear their lines, but they're looking uncharacteristically flustered right now.
38 min: Leeds are playing well at the minute, but here's a reminder that City could take this game away from them in a flash. Foden, out on the right, creams a diagonal pass towards Jesus, who scampers in from the left wing and sends a low shot straight at Meslier. For a split second there, a goal looked on the cards.
37 min: Raphinha romps down the right and enters the City box. He thinks about curling one goalwards, but dithers, and when he tries to roll across for Dallas, the chance is gone. But Leeds come back at City again, Klich barging down the left and crossing. Gundogan heads clear under pressure.
36 min: Leeds have enjoyed 50 percent of possession in the last ten minutes. It's not often that Manchester City are forced to share.
35 min: Raphinha's right-wing cross is only half cleared by Cancelo, and Firpo suddenly finds himself in a bit of space, just inside the box on the left, with the ball at his feet. He sends an ambitious screamer over the bar. He should have looped into the centre for Rodrigo. City don't look totally comfortable here.