Key events
46 min Peep peep! Liverpool begin the second half, and there are no changes to either side.
"Did someone told Díaz not to dribble?" asks Alexander Quintero. "I bet someone did. He's not taking opponents just giving the ball backwards. No risk no win. Kudos to Crystal Palace. Excellent execution of their plan so far. I say this as a Liverpool fan."
I have a vague and barely half-arsed theory about Diaz that he is much better in big games than smaller ones.
Here's that chance for Nunez (and van Dijk)
"Nunez is going to be an outstanding PL striker," says Mary Waltz. "But Zlatan, from age 19, had the look of someone who thought they were simply the greatest ever and had no problem telling you the facts of life."
Half time: Liverpool 0-1 Crystal Palace
This is an absurd thing to say in mid-August, arguably a sackable offence, but Liverpool have a big 45 minutes coming up. If they lose they will already be five points behind Manchester City, and that's never a good place for anyone to be.
Liverpool started well, with their usual intensity, but missed a few decent chances and were punished by Wilfred Zaha's excellent counter-attacking goal. The place went a bit flat after that, though Darwin Nunez hit the post with the last attack of the half.
45+3 min: Nunez hits the post! The corner was half-cleared to Elliott, who clipped a fine pass over the defence to find Nunez. He took it down on the chest but then mishit a shot that looped over Guaita and hit the inside of the far post!
The loose ball eventually ran to van Dijk, who slipped in the act of shooting and kicked it against his standing leg.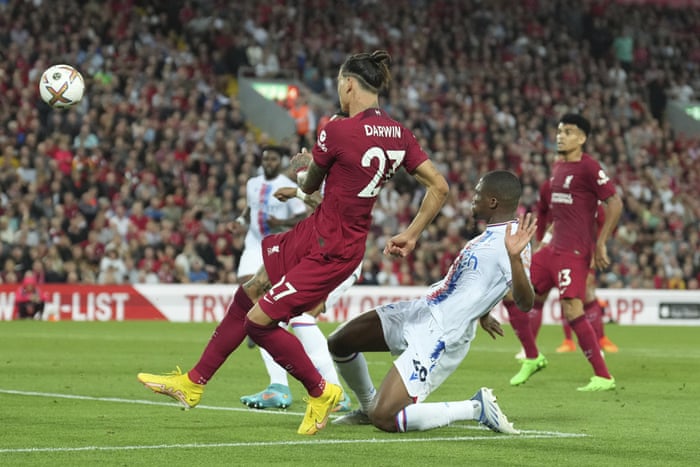 45+3 min Alexander-Arnold sweeps a beautiful through pass inside Mitchell towards Salah, forcing Guehi to come across and concede the corner. Excellent defending.
45 min Three minutes of added time.
44 min "Saying that the goal was not only against the run of play but was in fact a complete affront to the run of play kinda ignores the fact that this is exactly what Palace set out to do: absorb all the pressure and then hit Liverpool on the counter," says Shoaib. "And it's been working for them so far."
That's true, but it was still totally one-sided for the first half hour. The goal was the first time Palace put a decent counter-attack together.
43 min Salah clips a cross back towards Elliott, whose flying header from 15 yards is straight at Guaita. He pats it down – he could probably have held it – and Andersen puts it out of play.
42 min The first half has been a triumph for Patrick Vieira. Palace's back five withstood a whole load of pressure in the first half hour, and then they started to find their counter-attacking range.
40 min: Alisson saves from Zaha! Palace are opening Liverpool up with increasing ease. Doucoure slides a pass down the inside-right channel towards Zaha, who times his run superbly again. This time his touch is slightly heavy, and that allows Alisson to charge out and block the eventual shot.
40 min Diaz is booked for a foul on Ayew.
39 min Here's that Zaha goal, which really was a beauty.
38 min Doucoure wafts high and wide from 25 yards after a decent Palace break. Moments later, Zaha shoots straight at Alisson from 20 yards. The mood has changed.
36 min Alexander-Arnold has two long-range shots in the space of a few seconds, both blocked. Palace defenders must have blocked seven or eight shots already.
36 min "Is it me," says Gary Naylor, "or does Nunez look like the young Zlatan?"
I'm not seeing it yet.
35 min Nunez shoots wide from 25 yards. Apparently Liverpool have now conceded the first goal in their last six Premier League games. They've still won most of them, mind.
34 min That goal wasn't just against the run of play; it was a complete affront to the run of play. But it was such a good finish, not least because Alisson is arguably the best in the world at one-on-ones.
It was made brilliantly on the break by Ebere Eze. He killed a Palace defensive clearance, swerved elegantly away from Fabinho and sliced Liverpool open with a straight pass in behind Phillips. Zaha timed his run perfectly, moved into the area and placed an emphatic low shot across Alisson. What a superb goal.
GOAL! Liverpool 0-1 Crystal Palace (Zaha 32)
Wilfred Zaha gives Palace the lead with a superb goal!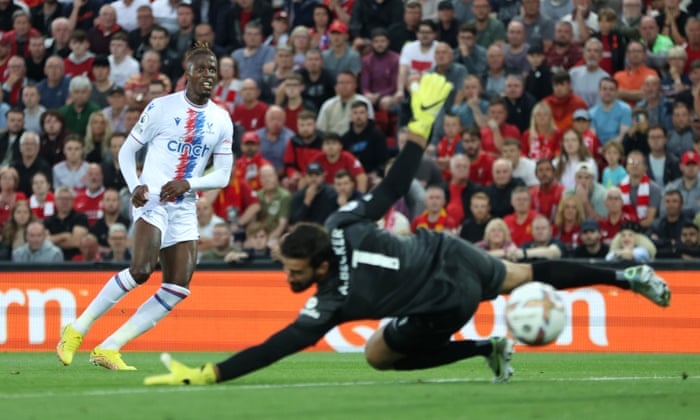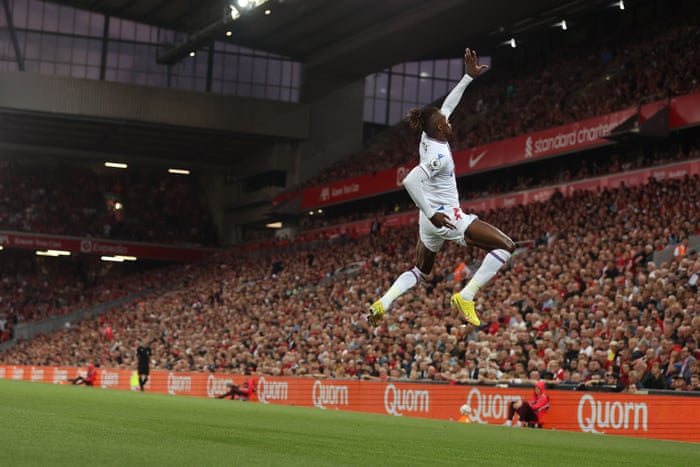 31 min I know he's not the world's best defender, I know that, but Alexander-Arnold's passing range is unreal.
30 min: Chance for Salah! Alexander-Arnold finds himself in the middle of the pitch, where he turns away from Schlupp and angles a delicious pass over the Palace defence. Salah meets it on the run, 10 yards from goal, but heads straight at Guaita. It was another good chance, and a ridiculous ball from Alexander-Arnold. He and Elliott have looked very bright for Liverpool.
28 min "Liverpool have had nine attempts in 24 minutes," says Richard Hirst. "Does the Knowledge know the record?"
Is that my new nickname? I suppose I've had worse.
27 min Clyne takes the ball off Elliott's toes in the area. It's all Liverpool, as it has been throughout. According to the official Premier League site, Liverpool have had 77 per cent possession.
24 min van Dijk has a pop from 30 yards. It's well struck but off target.
24 min "This has got 0-1 (Robertson OG, 86') all over it," weeps Matt Dony.
23 min: Chance for Salah! Alexander-Arnold receives the ball in space on the right. He takes a touch and arrows a brilliant low pass into Salah, who opens his body and shoots a few yards wide of the near post. It wasn't the easiest chance, but he should have worked Guaita.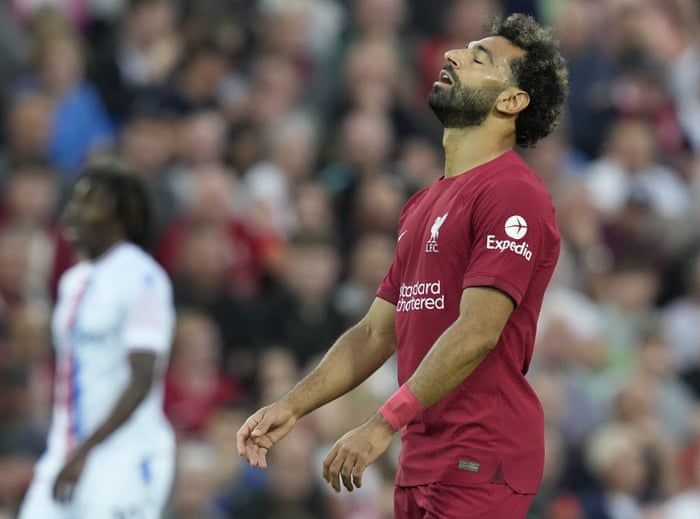 22 min Salah tees up Alexander-Arnold, whose stinger from the edge of the area is blocked by Guehi.
21 min Alexander-Arnold's deep cross is forced back across goal by Robertson, under pressure from Clyne, but Ayew gets in front of Nunez to boot the ball away.
20 min Palace have calmed things down a little, though the match remains very one-sided.
18 min Eze goes through one on one before being denied by Alisson, though deep down everyone knew he was offside. The flag went up as soon as Alisson made the save.
17 min Robertson makes an excellent run infield, onto a long pass from Milner, and has a shot blocked by Ward. Diaz picks up the loose ball and eventually makes room for a shot that also hits Ward before spinning into the arms of Guaita.
15 min Nunez runs into space down the right, onto a long pass from Phillips, and blasts a low cross that is well held by Guaita.
13 min Palace are already faffing around on goalkicks, prompting a few boos from the home crowd.
10 min Palace can't get out of their third, never mind their half.
9 min: Two chances for Liverpool! Elliott danced past a couple of defenders on the edge of the area and drove a low shot that would have gone in but for Andersen's excellent block in the six-yard box. Moments later, Nunez volleyed over from a tight angle at the far post.
6 min Palace's 5-4-1 formation already looks like morphing into 9-0-1. I don't suppose Palace fans would appreciate the juxtaposition of 9 and 0 during a game at Anfield.
5 min Liverpool have made a lively start. Salah gets away from Mitchell on the right and plays the ball back to Elliott, whose shot from the edge of the area is blocked by Andersen.
3 min "Matip and Konate are injured, and Gomez is still regaining match fitness?!" sniffs Peter Oh. "That is not good news for Liverpool's defence. Good thing Klopp was able to find a Phillips, er, screwdriver in the toolbox to try to tamp down the Palace attack."
2 min Milner caught Guaita in his follow through after slicing that shot over the bar – I think he stamped on his shin – and there's a break in play wihile Guaita receives treatment.
1 min: Chance for Milner! The old man almost gives Liverpool the lead after 55 seconds. Alexander-Arnold's dangerous cross was punched away by Guaita, under pressure from Nunez. Milner pinched the loose ball from Ayew, just outside the penalty area, then slapped a left-foot shot over the bar.
1 min Peep peep! Palace get the game under way.
Jurgen Klopp's pre-match interview
The players stroll onto the field, all wearing their gamefaces. It looks a bit gloomy on Merseyside, with something called 'rain' in the air.
"Nunez has looked very good so far," says Brendan Large. "Is this the new first-choice front three for Liverpool?"
Yep!
"I have a bad feeling about this (from a Liverpool standpoint)," says Niall Mullen. "And, looking at the other contenders, it feels that if the Reds don't make a challenge we could just send the First Division trophy over to the Etihad before August is out."
I expected Liverpool to make a terrifyingly fast start, as they did the last time they lost the title to City on the last day of the previous season. I still think they will, despite last week's minor fiasco. They're going to win 12-0 next Monday, we already know that.
Patrick Vieira's pre-match thoughts
Thirty years ago today, the Premier League got under way. For richer and poorer, it has dominated our lives ever since. The most famous images have been everywhere in the last few days, so our picture editors went looking for something a little more offbeat. And they've found some rare gems.
"I'm in your old stomping ground of that there London and hope to avoid walking in to a Palace supporters' pub while wearing my dual King Kenny/Ken Dodd tribute gear," says Ian Copestake. "Is best to have a tickling stick to defuse any liveliness."
Patrick Vieira starts without a recognised centre-forward tonight. But he may soon have a new toy to play with.
Some interesting selections on both sides. Jurgen Klopp has left out Jordan Henderson, with Harvey Elliott and James Milner preferred in midfield. Nat Phillips, who played so many games in the 2020-21, starts at centre-back. Joel Matip and Ibrahima Konate are injured, while Joe Gomez is only fit enough for the bench. And the record signing Darwin Nunez starts up front.
It looks like Patrick Vieira has switched to a back five, with Joel Ward replacing Odsonne Edouard. That's the only change from the Palace team that lost to Arsenal ten days ago.
Liverpool (4-3-3) Alisson; Alexander-Arnold, Phillips, van Dijk, Robertson; Elliott, Fabinho, Milner; Salah, Nunez, Diaz.
Substitutes: Adrian, Gomez, Tsimikas, Bajcetic, van den Berg, Keita, Henderson, Carvalho, Clark.
Crystal Palace (possible 5-4-1) Guaita; Clyne, Ward, Andersen, Guehi, Mitchell; Ayew, Doucoure, Schlupp, Eze; Zaha.
Substitutes: Johnstone, Richards, Milivojevic, Olise, Hughes, Ebiowei, Plange, Mateta, Edouard.
Referee Paul Tierney.
The fixture computer can be a sick twist all right. Crystal Palace, aiming to build on a fine first season under Patrick Vieira, have been given the toughest start of any team in the Premier League: an opening game against New Arsenal last week, then Liverpool tonight and Manchester City at the end of August. Sure they also have a winnable match at home to Villa on Saturday, but can we please not dwell on that. I'm trying to sell a narrative here!
Point is, nobody gives Palace much chance tonight. If you're into the whole betting thing, you can get 16/1 on a Palace victory and 6/1 on a draw. Since they had the effrontery to win three consecutive games at Anfield between 2015-17, Palace have lost ten in a row, home and away, against Liverpool.
This fixture looked formidable even before Liverpool started the season with a sloppy, sluggish 2-2 draw at Fulham. A performance like that has consequences. The Liverpool players have had nine days of listening to the people who doubt their commitment to another season of heavy-metal football. The backlash begins at 8pm.