Key events
Even by City's standards, this is awesome. De Bruyne roared through midfield and found Haaland in space on the left. He slid a wonderful low cross towards the far post, where Foden got the wrong side of Malacia and rammed the ball gleefully past de Gea. For the second time this season, Manchester United are 4-0 down in the first half.
GOAL! Man City 4-0 Man Utd (Foden 44)
Two for Haaland and now two for Phil Foden!
41 min: Manchester City substitution Sergio Gomez replaces the injured Kyle Walker, which means Cancelo will switch to right-back.
40 min: Manchester United substitution Victor Lindelof replaces Raphael Varane, who hasn't recovered from that awkward landing when he blocked Foden's shot at 1-0.
40 min There's a break in play while Kyle Walker receives treatment.
39 min Bruno Fernandes shoots straight at Ederson from distance. Erling Haaland, meanwhile, has now scored eight goals in his last two and a half Premier League games on this ground.
This is devastating stuff from City. Grealish surged through midfield and found De Bruyne in the inside-right channel, 25 yards out. He flipped a wonderful ball around Varane towards Haaland at the far post. Haaland slid onto it, watched the bounce carefully and studded the ball past de Gea. That's a quietly brilliant finish, because the bounce was rwally awkward.
GOAL! Man City 3-0 Man Utd (Haaland 37)
Erling Haaland is unstoppable!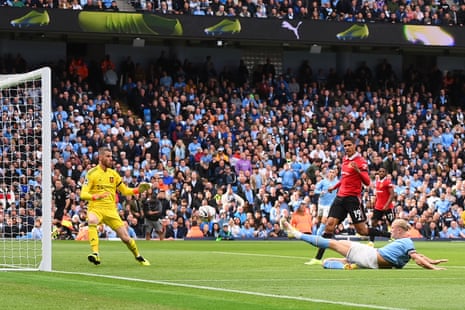 37 min One strange thing about Haaland's goal is that he was originally being marked by Christian Eriksen. He lost him easily enough and then got up so early that McTominay couldn't challenge him. The rest was a formality.
35 min I'd like to see that De Bruyne shot again, because I'm not certain de Gea got a touch. Not that United can really complain about the scoreline. They've been battered.
That De Bruyne shot which hit the bar was given as a corner, so presumably de Gea got a touch. De Bruyne curled the corner towards the six-yard line, where Haaland got above McTominay and powered a header past de Gea. Malacia hooked it away but the ball was over the line when he did so.
GOAL! Man City 2-0 Man Utd (Haaland 34)
Erling Haaland scores!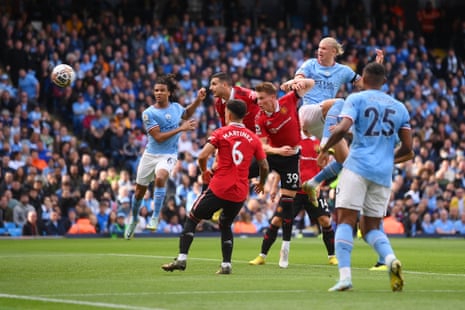 33 min I think Varane twisted his ankle when he landed after blocking that Foden shot. He's on his feet but limping a little.
31 min: Good block from Martinez! Foden's long-range shot hits Varane, who stays down, and runs to Grealish on the left of the area. He cuts inside Dalot and hammers a shot that is superbly blocked in the six-yard box by Martinez. City keep playing until De Bruyne hits a dipping long-range shot that brushes the top of the crossbar.
30 min Antony cuts inside, away from Grealish, but then overhits a cross that goes behind for a goalkick.
29 min De Bruyne shoots wide from 20 yards after a return ball from Grealish. City must have had the ball for around 90 seconds before that shot.
27 min Nothing comes of the corner.
26 min Eriksen's crossfield pass is intercepted by Cancelo and City are off again. Cancelo combines with Grealish to win a corner, the first of the game, off McTominay.
23 min A dreadful ball from McTominay (I think) goes straight to Grealish. He slaloms into the area and is well tackled by Martinez. Moments later, Malacia is booked for pulling down Foden. United are all over the show.
22 min United's attacking players have been peripheral, particularly Antony and Sancho. I'm not sure the team needed a reality check after four straight wins, but they're getting one.
21 min: Just wide from Foden! City could be out of sight already. Grealish plays in the underlapping Bernardo Silva, who holds off Dalot near the byline and cuts the ball back towards the penalty spot. It's collected by Foden, who takes a touch and rifles just wide of the left post.
20 min City have been fantastic so far. Foden plays in the underlapping De Bruyne, whose low cross is blocked at the near post by Martinez.
18 min: Gundogan hits the post! It was a lovely free-kick, curled around the outside of the wall. De Gea didn't move and the ball pinged off the outside of the right-hand post.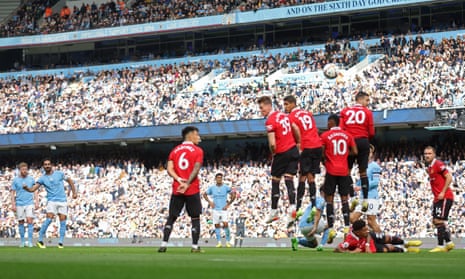 17 min Grealish, who looks bang up for this, scurries infield from the left, plays a one-two with Haaland and is chopped down by Martinez on the edge of the D. This is a chance for De Bruyne…
16 min Akanji's overhit backpass is kept in play by the stretching Ederson. Rashford collects on the left wing but is then shouldered off the ball by Akanji.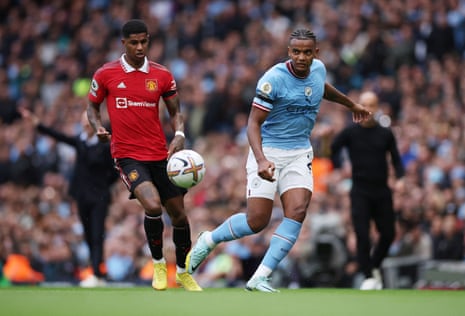 15 min Fernandes's crossfield pass is missed by Walker and reaches Sancho on the left of the area. He waits for support and then plays it back to Eriksen on the edge of the area, but he stumbles into the ball and knocks it harmlessly through to Ederson.
14 min A bit of possession for United, until Malacia lets the ball run under his foot and out for a throw-in. Erik ten Hag looks displeased by their start.
13 min Here's the opening goal from Phil Foden.
12 min Dalot, who is on a yellow card, fouls Grealish again. He already looks frazzled. Foden's free-kick is headed back across goal and then cleared by Eriksen.
9 min That finish was not dissimilar to the goal Foden scored at Chelsea when City turned their season round with a 3-1 win in January 2021. He's very good at wrapping his foot around low crosses from the left.
Phil Foden has put City in front. Inevitably, it came down the left, where City are having so much joy. Cancelo played a simple pass to the overlapping Bernardo Silva, who dragged a precise low cross towards the near post. Foden, unmarked, swept a first-time shot past de Gea. That's a really good finish.
GOAL! Man City 1-0 Man Utd (Foden 8)
It's been coming.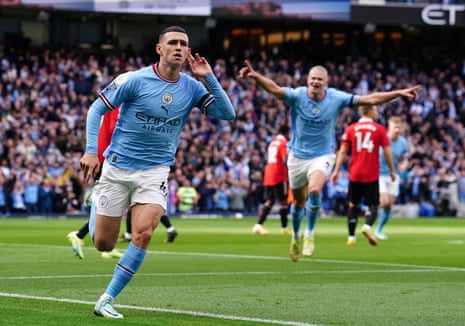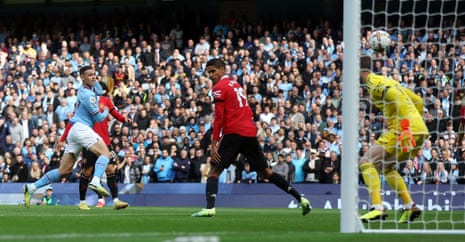 7 min A dodgy square ball from Grealish goes straight to Sancho, but he is well challenged by Akanji. That was an important tackle.
6 min It's been a really confident start from City. No surprise really: they have won their last seven home games in the league, scoring 30 goals in the process.
3 min: How did City not take the lead?! Silva's lofted cross from the left is headed back across goal by Haaland, who stayed in the air for an age, and half cleared by McTominay. De Bruyne's follow-up is beaten away by de Gea, and then Silva's shot is desperately blocked by McTominay.
2 min Dalot is booked for flattening Grealish.
2 min Both formations are as expected. Haaland gets his first few touches and is fouled by Varane near the halfway line.
2 min "It may be moot in an hour or so," says Neill Brown, "but if one manager needs to change things or chase the game with 20 minutes to go, I think I'd rather have Utd's substitutes than City's. Can't wait for this one."
1 min Peep peep! United, kicking from right to left as we watch, get the game under way.
Ilkay Gundogan and Bruno Fernandes lead the players onto the field. Both teams are wearing black armbands because of the tragedy in Indonesia.
Erik ten Hag speaks
We can bring confidence [from beating Arsenal] but it's a different game. They want to dictate the game and they are good at that, but we want to bring them out of their comfort zone. We will see.

[Marcus Rashford] is fit and trained well. Rodri has a huge influence on their game, in many aspects, so they will miss him. But they still have 11 really good players on the pitch.

We have to play our best. If we follow the rules, follow the principles, we have a chance to win this game. It will be hard but we are confident. It's always about the process. When two top teams play, it's about details. We need to make sure the details are on our side.
United will feel they can get at that City defence, especially with Marcus Rashford in such good form. City will feel they can get at any defence, especially with Beast up front. In short, this won't finish 0-0.
Jonathan Wilson's preview
Team news: Rodri out for City
Some interesting team news on both sides. City are without the injured Rodri, which means Ilkay Gundogan will play as the No6, and Ruben Dias is only on the bench. Manuel Akanji and Nathan Ake are the centre-halves.
Erik ten Hag sticks with the same XI that beat Arsenal a month ago, which means Casemiro stays on the bench.
Manchester City (4-3-3) Ederson; Walker, Akanji, Ake, Cancelo; De Bruyne, Gundogan, Bernardo; Foden, Haaland, Grealish.
Substitutes: Ortega Moreno, Carson, Dias, Laporte, Alvarez, Gomez, Mahrez, Palmer, Lewis.
Manchester United (4-2-3-1) de Gea; Dalot, Varane, Martinez, Malacia; McTominay, Eriksen; Antony, Fernandes, Sancho; Rashford.
Substitutes: Heaton, Shaw, Lindelof, Casemiro, Fred, Pellistri, Elanga, Martial, Ronaldo.
Sometimes, as Vito Corleone could confirm, revenge is a dish best served by your offspring. Twenty-one years after Alf-Inge Haaland was flipped upside down by Roy Keane in the Manchester derby, his son Erling has a chance to put the hurt on United. Young Erling was exactly nine months old when his dad was nobbled at Old Trafford. Hasn't he grown up fast!
When Haaland was presented as a City player in the summer, he was asked which game he was looking forward to the most. He didn't need to think about his answer. "I don't like to say the words, but… Manchester United."
One of the fun things about longstanding rivalries is watching the cast of characters evolve. There are only six survivors* from Pep Guardiola's first Manchester derby six years ago, and Haaland should be one of at least six debutants this afternoon. Erik ten Hag will also face City for the first time as United manager. His team have had some good results of late, but now they are up against the most consistent team in world football. By 4pm, we might have a better idea whether United are serious top-four contenders, or whether their run of four straight wins was an affront to xG.
Then again, maybe derby results aren't that revealing. To explain. It feels like City have been embarrassing United ever since Sir Alex Ferguson retired in 2013. On a macro level – 12 trophies to three – that's certainly true, but in the actual matches United have done okay. Their derby record post-Fergie is W8 D3 L11. They've won five of their last eight games at the Etihad, although they were plugged 4-1 in the most recent meeting.
In short, nobody knows anything. The fun part is finding out.
Kick off 2pm
* De Gea, Shaw, Rashford, Martial, Stones, De Bruyne.