Key events
69 min: A cute spin by Atiemwen in the centre circle, and Sheriff are on the break. The ball's sent wide right to Badolo, who makes it as far as the edge of the box before looking to find Diop in the middle with a low curler. Too close to De Gea, who reminds everyone that he's here.
67 min: Rashford is this close to releasing either Garnacho or Ronaldo down the inside-left channel with an outrageous backheeled pass. But it's blocked. Shame. Rashford full of confidence after his first goal in five.
GOAL! Manchester United 2-0 Sheriff (Rashford 65)
It doesn't take long for Shaw to get involved. Eriksen finds Shaw down the left. Shaw scoops a cross towards Rashford, who powers a header into the top left from 12 yards. That's a simple but very fine finish. Rashford had to generate all the power himself.
64 min: Borges is booked for hanging out a late leg to stop an in-flight Garnacho.
62 min: Another double change for United: Shaw and McTominay come on for Dalot and Casemiro. Malacia will shift over to right back.
61 min: United ping it around a bit. Rashford shovels a diagonal pass into the Sheriff box. Fernandes, on the right-hand corner of the six-yard box, heads down to Ronaldo, who whips into the top right. Delight! But the flag goes up correctly for offside, and a frustrated Ronaldo drop-kicks the ball into the top tier of the Stretford End. No booking.
60 min: Sheriff string a few passes together. They don't really go anywhere, but they've not had the chance to hog the ball that often, so.
58 min: The ball breaks to Ronaldo, 30 yards from goal. He drops a shoulder to send Radeljic off to the shops, then looks to curl one into the top right. High and wide, and you really expected him to do so much better. He looks miffed, but then the Stretford End awards him a warm round of applause. He might be out of the doghouse at last. There's nice.
56 min: Another dribble down the left by Garnacho. Then Malacia and Rashford nearly open Sheriff up with a quick give-and-go. Not quite, but United are picking up the pace as they search for the cushion of a second goal.
55 min: Garnacho drops a shoulder to burn his way past Badolo on the left. Lovely skill, and what a burst of pace, but he then balloons his cross out of play on the other flank. On balance, though, the young man has enjoyed a very decent full debut.
53 min: Rashford battles his way down the inside-left channel and nearly breaks into the box, but is scuppered by a couple of yellow shirts. He fouls them both at once in frustration to release the pressure on Sheriff.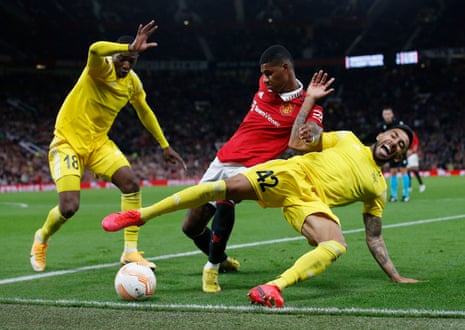 51 min: It's Diop again, but up the other end. He clumsily brings down Eriksen, 25 yards out, in a central position. Ronaldo wants to take it, but Eriksen wins that debate, and hoicks it harmlessly over the bar. The look on Ronaldo's face speaks volumes, and you don't need me to describe it at all, or suggest what he's thinking.
49 min: Rasheed crosses from the left and nearly finds Diop in the United box. Just too much pace on the ball.
47 min: There's half a chance Antony was hooked for that ludicrous but admittedly very technical 720-degree spin. At half-time BT showed footage of Ten Hag's reaction to the stunt, and you don't have to be an expert on micro-tells to suspect he wasn't wholly appreciative of it.
Sheriff get the second half underway. United are shooting towards the Stretford End in this second half. A couple of changes by the home side: Maguire for Martinez, and Rashford for Antony.
Half-time advertisement. Sign up now! Sign up now! Sign up now? Sign up now!
The Knowledge bonus edition: Can You Help? "Is this the first time Manchester United have ever started with no UK or Irish players?" wonders Tim Stappard.
Also: was that United's first goal from a corner this season?
Answers on a postcard to BBC Television Centre, Wood Lane, London, W12 8QT to me here.
HALF TIME: Manchester United 1-0 Sheriff
More than deserved on the balance of play, though it took a while, and Sheriff were inches away from taking the lead themselves just before Dalot's breakthrough.
45 min: That will sicken Sheriff, who had defended staunchly. It'll be interesting to see if they bother changing tack in the second half. There will be one added minute.
GOAL! Manchester United 1-0 Sheriff (Dalot 44)
Yessir! Eriksen whips the corner in with pace. Dalot rises at the left-hand corner of the six-yard box and guides the ball across Koval and into the bottom right. Textbook!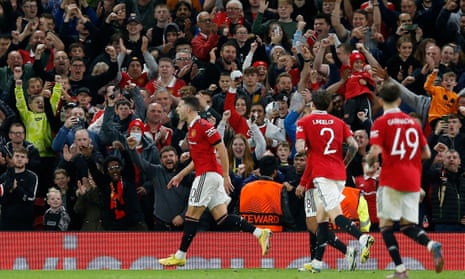 43 min: Casemiro earns a corner down the left. Reward for all this possession and territorial advantage coming up?
41 min: Dalot has a dig from distance. Nope.
40 min: … and after all that's happened, Sheriff nearly score the opener! Kpozo curls a sensational cross in from the left. Rasheed is inches away from heading home from close range at the far post, but arrives a nanosecond too late and can't connect. Old Trafford hearts in mouths there!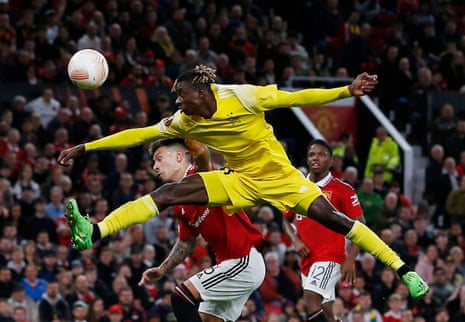 39 min: An astonishing cameo from Antony, who takes up possession on the left flank, then hops on his right foot, spinning ever-so-smoothly in a full circle twice, dragging the ball with his left … then under no pressure clanking a dismal pass out for a goal kick. Full marks for showboating. That'll be going viral all right.
37 min: Malacia dribbles into the Sheriff box from the left with great determination. A low shot is blocked out for a corner, and that's another bust.
35 min: Guedes Borges fouls Garnacho out on the left wing. He rakes his studs down the back of the winger's leg, and is fortunate not to get booked. From the resulting free kick, Fernandes flays a long-distance shot well off target.
33 min: Garnacho channels his inner Georgie and shimmies across the face of the Sheriff box, left to right. He can't quite get a shot away, but the excitement whenever the young man gets the ball is palpable.
32 min: Ronaldo drops a shoulder to make space down the inside left, then hits a pearler that's deflected off Kiki and out for a corner. For a second, Old Trafford wondered whether that was flying into the top right, past the wrong-footed Sheriff keeper. But no, and nothing comes of the resulting corner.
30 min: Eriksen has a belt from distance. It's heading into the bottom left. Koval parries, but only to Fernandes, who again tries to tee up Ronaldo. He's swarmed by yellow shirts and Sheriff clear again.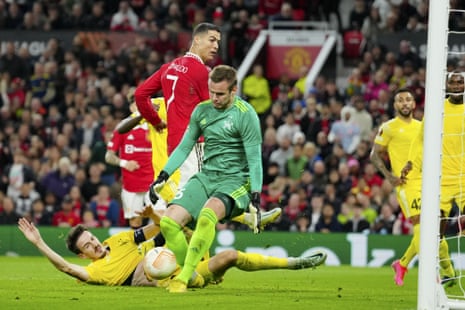 28 min: Lindelof floats a long pass down the inside-left channel for Fernandes, who heads across the face of the six-yard box for Ronaldo. It's got to be a goal, but Ronaldo's insouciant flick is easily kicked away by Koval, finally given a task to complete. Ronaldo smiles and shrugs in a carefree fashion that might not endear him to those earlier giving him the what-for.
26 min: Antony rolls infield from the right and tees up Fernandes, who very nearly curls a peach into the top right. Just wide. Not entirely sure Koval was getting to that had it been on target.
25 min: Eriksen nearly finds Fernandes on the right-hand corner of the six-yard box with a raking diagonal. Just too much pace on the pass. Goal kick. For all United's dominance, they haven't given Koval in the Sheriff goal too much work to do.
24 min: Casemiro is fine to continue, though that drew blood. Let's see if payback's a-comin' down the track. Will United deliver Sheriff some frontier justice?
22 min: Rasheed was lucky to get away with yellow there, you know. A replay shows him taking a sly look at Casemiro and making a second movement with his arm before catching the United man in the mush. You've seen players walk for a lot less.
21 min: Casemiro is down, having taken an elbow in the mouth from Rasheed as the pair contested a bouncing ball. Antony, incensed, shoves Rasheed in the back. Rasheed goes into the book.
19 min: Eriksen continues to wave his wand, sending a gorgeous pass down the inside-left channel in the hope of releasing Garnacho into the box. The young winger overruns, lets the ball ricochet off his heel, and the chance is gone.
17 min: Eriksen finds Fernandes just inside the Sheriff box on the left. Fernandes tries to shift his feet to make space to shoot, but Kiki isn't having a bar of it, and stands firm. Fine defending. Fernandes looks pained, like that's breaking news.
16 min: Casemiro and Dalot take turns to fall over inside the Sheriff box. Both want penalties. So does the crowd. The referee is quite rightly not interested.
14 min: Garnacho dribbles his way down the left and reaches the byline. He tries to tee up Ronaldo at the near post, but a Sheriff leg gets in the way to turn around for a corner. From the resulting corner, Ronaldo heads carelessly over from close range. "Panto season, eh?" begins improv star Justin Kavanagh. "Ronaldo: Where's my career at Manchester United? The Wicked Dutch Stepmother (and crowd): IT'S BEHIND YOU!" He's here all week. Try the Scotch egg / black pudding hybrid.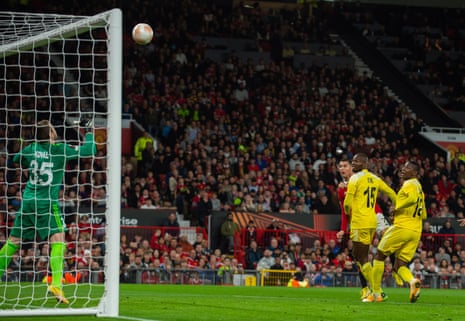 13 min: Malacia curls in from the left. Ronaldo runs into the box hoping to meet the ball with his head, but Radeljic steps in to eyebrow out for a corner. The Sheriff captain also hacks the resulting corner clear. United are beginning to build up a head of steam.
11 min: United come again. Ronaldo dribbles down the inside left and is brought down by Kyabou just to the left of the D. No free kick, though, because the ball breaks to Antony, who has a dig from the edge of the box. Straight at Koval. Ronaldo's not happy. He wanted that free kick!
10 min: Eriksen shovels a pass down the inside-left channel and nearly tees up Malacia, rushing into the box, for a goalbound volley. Koval is out quickly to claim. That's fine keeping, because it was a cute ball from Eriksen.
9 min: Casemiro channels his inner David Beckham and attempts to beat Sheriff keeper Koval, on walkabout, from the halfway line. The ball drifts harmlessly wide left.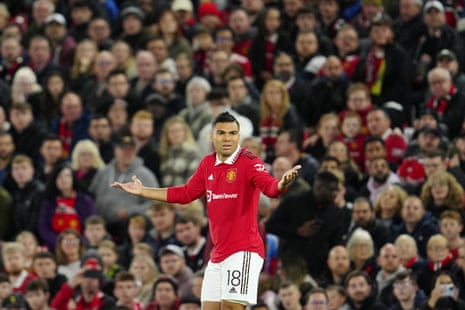 7 min: Sheriff have set their stall out. Four at the back, five strung along in front. United can't find a way through at the minute, but they've enjoyed 85 percent possession so far, so it could simply be a matter of time.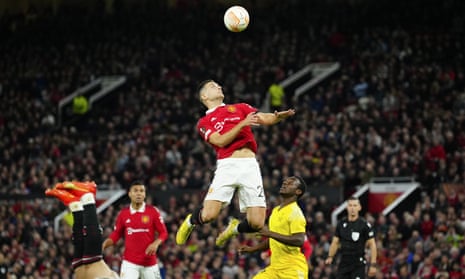 5 min: A slip in the Sheriff defensive block by Kyabou, and for a second there's a bit of space for Casemiro. Old Trafford wants him to shoot from distance, but he's closed down too quickly to bother.
3 min: Garnacho's run down the opposite flank is equally unsuccessful, though for a split second, before Borges gets in the road, it looked as though he'd break into the box. An exciting run, with an appreciate soundtrack to match.
1 min: Ronaldo dribbles down the inside-right channel, but can't break into the box. Another mixture of excitement and cat-calls. Welcome to panto season.
A proper mixed reception for Ronaldo as his name is read out over the PA system. He wears a wry grin. Then he gets the ball rolling. Sheriff are kicking towards the Stretford End in this first half.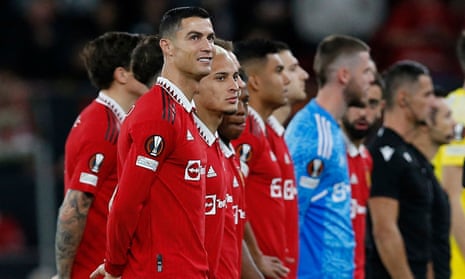 The teams are out. United wear their storied red, Sheriff wear second-choice yellow. Victor Mihailov takes his place in the Sheriff dugout, manager Stjepan Tomas having handed in his badge a couple of days ago. Tomas had lost the head in the wake of a defeat to Petrocub, during which his players were "thinking about the match in Manchester, there was no concentration, this is my mistake." As outs grasped with both hands go, it's a doozy, not least because Sheriff remain three points clear of Petrocub at the top of the Moldovan Super Liga. Anyway, we digress. We'll be off in a couple of minutes!
There were a few boos directed at Ronaldo as he entered the stadium earlier. Not sure how many folk were giving him the bird, or how loud it was, but BT Sport went out of their way to mention it, so one level or another it'll have been a thing all right. It's only fair to say there were an awful lot of people also asking for his autograph and the like, so it's swings and roundabouts. An ameliorative goal or two tonight and everyone can love each other all over again.
Erik ten Hag gives it to Harry Maguire BT Sport straight. "Cristiano Ronaldo is an important part of the squad and will have to play a role in all the competitions. We want to win. We have to win, because we want to be number one in the group. Garnacho is reliable but also can do the unexpected; I have a really creative front three. It must be a creative and dynamic team today." Is it a risk to pick Lisandro Martinez given he's one booking away from missing the trip to Real Sociedad? "Harry Maguire has returned to team training, not even a week, so we have built his fitness levels, but Raphael Varane is injured, so we don't have a choice and we want to be number one in this group. We want to score as many goals as possible. We will then see if we can give players like Harry Maguire and Donny van de Beek some minutes."
The big news for Manchester United: Cristiano Ronaldo has been called down from the naughty step 18-year old Argentinian winger Alejandro Garnacho is given his full debut. Garnacho and Ronaldo take the places of Jadon Sancho and Marcus Rashford. Meanwhile there are two other changes to the starting XI named for the 1-1 draw at Chelsea on Saturday: Victor Lindelöf replaces the injured Raphaël Varane, while Tyrell Malacia comes in for Luke Shaw.
Manchester United: de Gea, Dalot, Lindelof, Martinez, Malacia, Eriksen, Casemiro, Antony, Bruno Fernandes, Garnacho, Ronaldo.
Subs: Maguire, Rashford, Fred, Heaton, Shaw, Sancho, Pellistri, Dubravka, van de Beek, Elanga, McTominay, Iqbal.
Sheriff: Koval, Guedes, Gabi, Radeljic, Kpozo, Badolo, Diop, Kyabou, Salifu, Rasheed, Atiemwen.
Subs: Celeadnic, Heron, Felipe Vizeu, Gliga, Hatman, Pernambuco, Ignatov, Covali, Pascenco.
Referee: Anastasios Sidiropoulos (Greece).
A couple of weeks ago, Manchester United did this …
… which means that if they avoid defeat tonight at home to Sheriff Tiraspol, they'll be guaranteed a place in the Europa League knockout-round play-offs at the very least. Ron could be back! Harry could be back! Kick-off is at 8pm BST. It's on!