ISL 2021-22: Despite giving it their all Hyderabad FC were beaten by the Kerala Blasters by 1-0 as the Nizams fail to bring up an answer to Alvaro Vazquez's brilliant strike in their latest Indian Super League clash. Hyderabad FC had the opportunity to go top of the points table but a win for Kerala Balsters meant that they are now at the summit. Follow all the ISL 2021-22 LIVE Updates only on InsideSport.IN
FULL-TIME in Vasco!

Not our best game of the season but just a goal in it in the end.

Back to the drawing board now for the boys… 💪#KBFCHFC #ThisIsOurGame #మనహైదరాబాద్ #HyderabadFC pic.twitter.com/IYqBEZGgTE

— Hyderabad FC (@HydFCOfficial) January 9, 2022
Not a fair outcome: Manolo Marquez
However, Hyderabad FC head coach Manolo Marquez felt that the result was not a true reflection of his team's performance on the night. He highlighted how his team controlled the game and were better than what they have played in previous matches. "I think we played a lot better than other days. We controlled the game in the first minutes of both the first and the second half. But, they had very good players, especially the offensive ones and they could score at any moment, even if you are attacking more than them."
Ruing the missed opportunities
Hyderabad FC were in a similar situation in their last match against ATK Mohun Bagan but there they scored a late equaliser hence salvaging a point from the game. Speaking on the difference between the two matches, Marquez pointed out the fact that they took their chance in the last game which they failed to do against the Blasters.
"That we didn't score (the difference) I think it's an easy answer. We scored, I don't know, from my position it is impossible to know if it was offside or not. But, the difference was that the other day, the last substitution and the change in the system was early. But today I was looking that we could equalize in the game in one moment and then maybe that the substitutions were late, this was the reason," the Spaniard explained.
Competition for the top four is far from over
While Kerala Blasters are at the top of the table, Manolo Marquez feels that the competition is very open and many teams are in and around the top spot and can beat each other on a given day.
"All the six, seven teams, eight teams, I think that we are candidates (for top-four finish," Marquez said. "It is a very very equal game. I don't want to repeat, but sometimes we forget who these teams are (Kerala Blasters FC and Hyderabad FC). We (Hyderabad FC), we are trying to grow in football. Kerala Blasters has a fantastic fan following. I think that all the teams have possibilities. Yeah, I'm not happy because we lost the game. But I think that the game was very good in terms of football."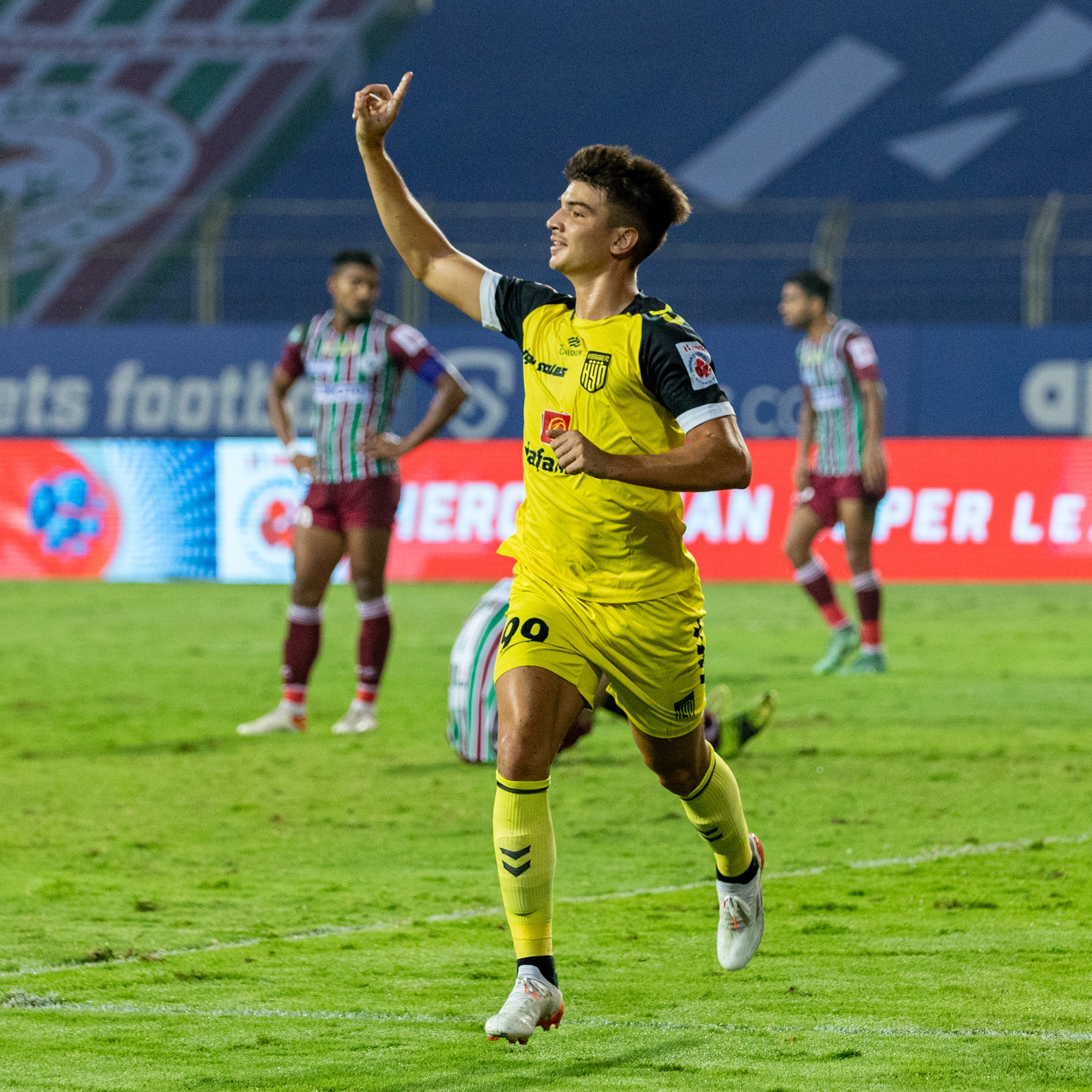 Siverio to finally start against Chennaiyin FC
However looking at the future, Hyderabad FC will miss their talisman Bartholomew Ogbeche in their next game as the Nigerian picked up his fourth yellow card. He will not be available for the game against Chennaiyin FC. But Marquez was pretty relaxed about the situation as he feels that he has players who can replace the forward. He revealed that it will be an opportunity for young Spaniard Javi Siverio to step up.
"Yes, Javier Siverio will play. This is the rule. If you have four yellow cards, you can't play, but for sure we will play with 11 players, that is for sure. Then, Javier has a lot of possibilities to play as a number nine against Chennaiyin FC," concluded the Spanish tactician.
– Advertisement –