Key events
38 min Newcastle are breaching City's line over and over again, a pass from I'm not sure who putting Almiron in a race with Ederson! Almiron gets there first, nicking it away from the keeper, who does well not to bring him down and get sent off; Almiron runs out of angle, so can't get a cross off.
37 min After a quiet start, Foden's got himself involved these last few minutes and he swings over a decent cross that Botman touches down to himself. I'm not sure why, because he's got Gundogan up in his phizog, and gets lucky when a ricochet from their subsequent challenge loops through to Pope.
36 min "I do concur now though," returns Ben Burrell. "Our defence were rather crap for that equaliser."
And for most of the 35 minutes we've seen so far. That's the beauty of football – add something on one area, lose it in another. There are better centre-backs than City's but not many as good on the ball, as there are many better keepers than Ederson, none as ludicrous on the ball.
35 min I think Haaland gets a minor flick – or perhaps not – but either way, Pope punches clear.
34 min Foden dashes onto a ball down the line, nicks it away from Schar at full speed, and absorbs the sliding hack that comes his way. This time, it is a booking, and De Bruyne will curl in a free-kick from just outside the box, left-hand side.
32 min Saint-Maximin is just absolute box office – he doesn't just want to be good, he wants to make other people look bad, for our entertainment. He wriggles by Rodri, who hacks him down and somehow avoids a card.
30 min "Centre-backs all over the PL are waking up screaming from the dreams of Haaland charging straight at them at full speed," emails Mary Waltz. "I mean this in the best way possible, he is an absolute freak of nature."
I was lucky enough to do a book with Kevin Pietersen a few years ago, and "freak of nature" is the phrase he and his mates – Kallis, Warne, Lara and the rest – use to describe each other. I'd take it.
GOAL! Newcastle United 1-1 Manchester City (Almiron 28)
Newcastle have earned that! They've been superb since going behind, fast, imaginative and brave. This is a ball-game.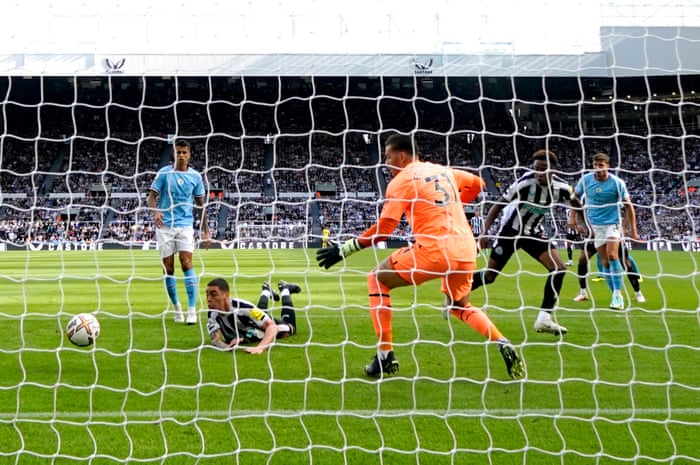 28 min Further brilliance from Saint-Maximin, luscious footwork foxing Walker and Ake, both of them now deputed to handle him. He shuffles, kicks, checks and crosses, there are two in the middle, and Almiron, though put off by the lunging Willocks, thighs home on the stumble! He loves it, but the flag goes up; over to VAR…
27 min The corner loops towards Botman at the back post, who wins the header and knocks down for Wilson! This is a massive chance, but in controlling, the ball goes behind him a little and he can't get laces around arse-cheek with sufficient power to overly trouble Ederson.
27 min Saint-Maximin is coming into this now, lofting a cross to the back stick where Wilson heads into De Bruyne and behind. He wants a penalty but will make do with a corner.
25 min "I'm a Liverpool fan and I hate Manchester City," but they are just light years ahead of all other teams. Every other team it's always a question of whether they can score; with City it seems inevitable they will score. With Haaland picking up on chances they missed last season I'm taking bets they will win every single league game for a perfect season? Any takers?"
I'd be very surprised, but I can't see any game you'd expect them not to win before it actually happens. If that makes sense, which it might not.
24 min This is brilliant from Newcastle, attacking down the left again after Stones gives it away then Saint-Maximin jinking by him, earning a shooting lane … only to lash straight at Ederson. City look as dangerous as ever when in possession, but when I said I didn't rate their defence earlier, this is what I meant.
22 min Newcastle are enjoying this, Almiron and Guimaraes having crosses headed clear. The wide pitch at St James' is helping them because they've been brave enough to keep wingers high and wide, then send the full-backs forward in support.
21 min Ake is hurt, and though he wants longer to see what happens, with the flow of things as it is, Guardiola can't allow him that, sending on Dias.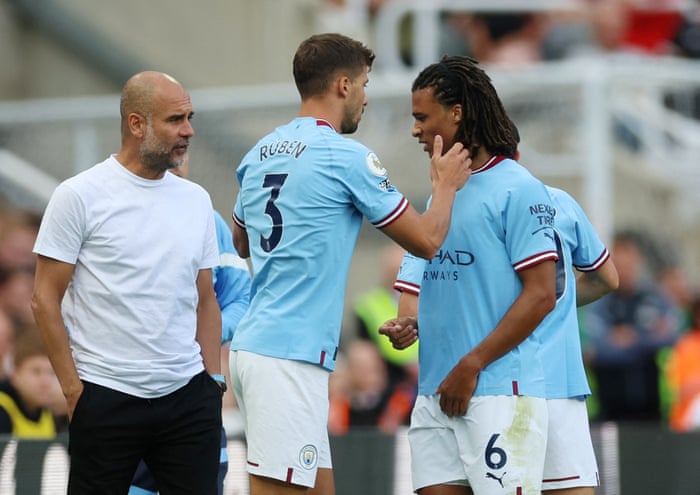 20 min Now Newcastle counter, again with speed and intensity, Saint-Maximin finding Almiron, who'se cross is just too far ahead of Wilson. Could he have slid in? Either way, City are lucky to still have their lead and clean sheet – this match is cooking.
20 min De Bruyne tries the outswinger, and it's on target but Pope shoves away easily enough.
19 min City win a free-kick just outside the box, right of centre…
18 min Cancelo is booked for a foul during that move.
17 min This is getting frantic! Newcastle are flooding men forward, and when Wilson touches off for Joelinton, he slides a fine ball out to Saint-Maximin, who ducks outside Walker and cuts back! Almiron must score! But the attacker with nine league goals in 93 league starts leans backs and larrups over the top. That is a colossal oversight.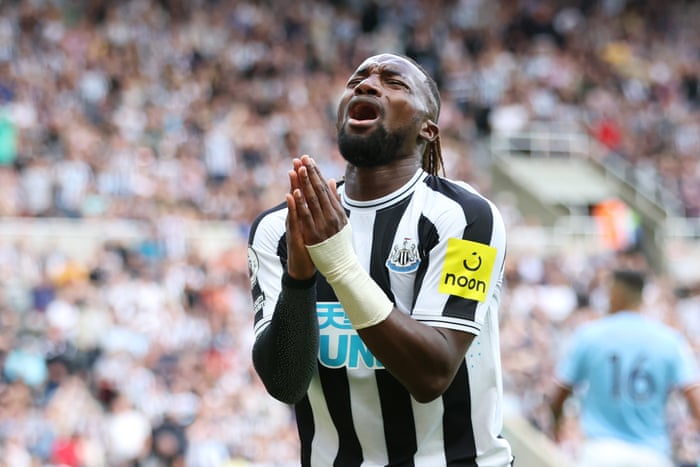 15 min This is a really open game, which I guess Newcastle are allowing with their defensive line. But it's breached yet again when De Bruyne sends Foden away down the left; again, he shoots towards the near post and Pope saves with a foot when he tries for the far corner. On the touchline, Guardiola is irate because there was no square pass for Haaland – as there wasn't from Foden last weekend. He may be apprised of some sentiments at half-time.
13 min Better from Newcastle, Willock skirting around Walker and … beating him for pace? Do not adjust your sets, that did just happen. I know! Anyhow, he lanks down the left, then with Wilson inside squares … but yerman opts not to allow the ball across him and onto his right foot, sweeping with his left and seeing it fly wide.
11 min That really was excellent from Haaland, the world's first lab-created soccermonster. He is going to do some ludicrous damage this season.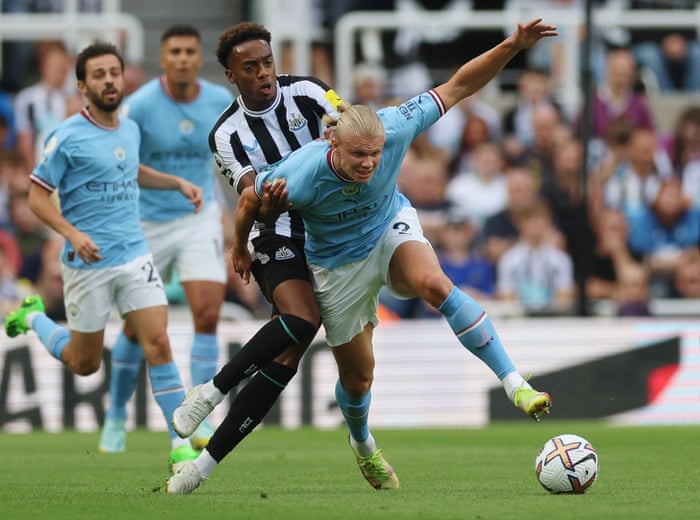 10 min Haaland holds up adroitly, then turns, gives Willock a free piggy back, and with the outside of his boot, curves De Bruyne through at inside-right! He should slightly angle his run to get closer to goal but doesn't, so that when it's time to pull the trigger, he's not go much at which to aim and Pope saves with his feet at the near post.
9 min "The song choice was spot-on!" reckons Michael Driscoll.
– Kaiser Chiefs are from Leeds
– The home team just ran all over Chelsea
– There may well be a riot at Old Trafford
Points deductions for… being funny and brilliant?"
I'm not having that Kaiser Chiefs – named for Lucas Radebe, if we're doing Leeds connections – are spot-on. I don't make the rules, but I am bound by them.
8 min De Bruyne skips away from Guimaraes, who boots him to the turf before protesting as obvious a booking as you'll see.
7 min Eddie Howe will be extremely displeased with how all that happened, but to significant extent, it's what happens against City: the pressure to perform is intense, so players make errors they wouldn't otherwise.
GOAL! Newcastle United 0-1 Manchester City (Gundogan 5)
Gundogan starts the move just inside the City half and mooches forward, as Bernardo eases forward unmolested. The cross then picks him out and he's got time to control, fetch the ball from behind him, and slot it home, which is to say this is an absolute embarrassment for Newcastle's much-improved defence.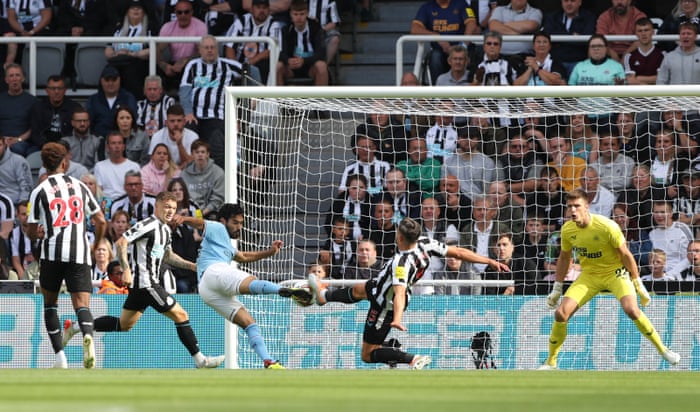 4 min I first saw Rodri playing for Spain, I think, and he looked a serious talent then. But his improvement into probably the best in the league is yet further evidence of Guardiola's ability to pick players he needs then develop them, and Rodri's pleasingly nasty streak. He's not as quick as Fernandindo, but he's every bit as snide.
4 min Now City build, Haaland laying off and spinning in behind, while Rodri lashes over the top.
2 min How often do teams score from a short corner? I'd wager even less frequently, on average, than from a corner sent into the box. On which point, I wonder if data will ever insist players stop shooting from free-kicks, as that hardly ever yields a goal, and have them cross or pass instead.
2 min Newcastle work a short corner nicely, Guimaraes finding Trippier, whose cross is collected by Ederson.
1 min Yup, Joelinton Scholes spreads play to Trippier, deep inside the City half as expected, and his cross is headed behind for an early corner…
1 min Howay we go!
I don't even like Mark Knopfler, but Local Hero has got to be the best walk-on tune in the league.
Here come the teams!
"It is depressing just how easily we humans are bought off" emails Niall Mullen. "I can only assume that if Putin bought my club and promised massive investment in the team I'd turn up at the next game in a ushanka claiming that, actually, Ukraine is ethnically Russian."
I guess it make some sense – there's little better in life than your team's footballing glory. What I find bothersome is the refusal to recognise the provenance of success, and the animus sent those whose job it is to point that out. None of them want it to be like this, or resent any club its success beyond that.
I wrote about that – and about City's lack of brutes – here.
"So the defence with the joint best defensive record in the Premier League last season and that haven't conceded yet this season 'lack quality'," says Ben Burrell, quoting me back to myself. "I'd love to hear how you define defensive quality Dan!"
As with all Guardiola teams, City press from the front and keep possession amazingly well – the battle is getting at their defence much more than getting anything from them. It's the main reason Guardiola has only won the Champions League with Messi and the greatest midfield of all time – you can get away with it domestically, but in Europe you eventually get caught. See Liverpool, Spurs, Lyon, Chelsea, Madrid – City have been the best side in Europe for about five years now, and one final is not a sensible reflection of that. The defence is the reason why.
Football nicknames: I mentioned earlier that Steve Bruce used to call Joelinton "Big Joe", which reminded me that Sam Allardyce called Tal Ben Haim "Ben", meaning "son of". Any more for any more?
"If the men's sides deserve opprobrium," emails Em Jackson, "for the way in which KSA and UAE have invested in both sides to facilitate sportswashing of dubious regimes (and NUFC with KSA especially – and with links to Tory supporting Reuben Brothers even more so), then what news from the sports commentariat about NUFC Women now being run, entirely, by NUFC's owners? Is equality in sport the chance to be as bad as the men's sides re: ownership? Or should the women have said 'No, not until women in KSA are free to exercise democratic choices and freedoms?'"
This is football. There should always be enough opprobrium to go round.
Fast Edward says playing is "the ultimate test" – with added "for me," obviously. His team need to be the best version of themselves, and in that connection won't be sitting deep. Well, that's the plan, but he knows the way the game can go, that can happen whether or not you want it to. But he doesn't want to give class players too much time on the ball, knows his side have players who can hurt City, and by showing the intent to win the game, his players can involve the crowd.
Guardiola is typically gnomic when asked about his selection, saying there's room for Sergio Gomez because Jack Grealish is injured. He knows Newcastle away is always tough, so his team will have to show how good they are and how well they understand their football. He's also surprised his team have started the season in decent form, as they had a short pre-season – o at least he says he is.
On which point, I'd expect to see Kieran Trippier being brave in attack for that reason.
As with pretty much every team that has to play City, beating them is a nause because it's got to be done with roughly 30% possession, most of which isn't in dangerous areas. But every team that plays City also has the chance, if they can get enough decent ball, to have a word with a defence that lacks sturdiness and quality. Obviously the full-backs are excellent, but Joao Cancelo's licence to attack means space behind, while the centre-backs are decent but not among the best, and both can be dominated physically. I'd expect Callum Wilson to try and pin them, but he'll need decent service from out wide – I actually wonder if, for that reason, Fraser might've been picked ahead of Almiron, had he been fit.
At full-time at Elland Road, they played I Predict A Riot. I'd have the points off them for that, quicksmart.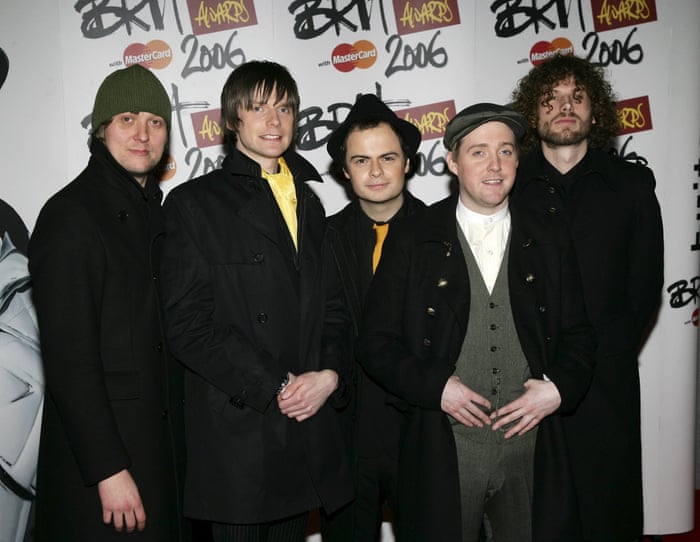 The final whistle has gone there – Leeds are now second in the table, Chelsea 12th – and at London Stadium – or the London Stadium – where Brighton have beaten West Ham 2-0. Brighton are fourth, West Ham bottom.
They're playing injury time at Elland Road, where Leeds still lead Chelsea 3-0 and, for extra mirth, Kalidou Koulibaly has been sent off for an entirely unnecessary second bookable offence.
Neither of those changes is unintelligible, and before I lightly question them, yes, I know that, chances are, Josep Guardiola knows more about association football than do I. However, given City's defence remains their weak point, I'm surprised he's not trying to settle a centre-back partnership that plays every week. And brilliant though Bernardo is, I'm a little surprised he's on the wing, where his relative lack of pace can be a problem, than in midfield, where he's at his best.
As for City, it's John Stones and Nathan Aké at the back, which means no Rúben Dias, while in attack, Bernardo Silva starts ahead of Riyad Mahrez.
Newcastle are unchanged following last weekend's goalless draw at Brighton, but though Matt Targett isn't fit enough for selection, Ryan Fraser and Emil Krafth make the bench.
Newcastle United (a Howeian, howayian 4-3-3): Pope; Trippier, Schar, Botman, Burn; Guimaraes, Joelinton, Willocks; Almiron, Wilson, Saint-Maximin. Subs: Dubravka, Lascelles, Ritchie, Krafth, Wood, Fraser, Murphy, Anderson, Longstaff.
Manchester City (a more formal 4-3-3): Ederson; Walker, Stones, Ake, Cancelo; Rodri, Gundogan, De Bruyne; Bernardo Silva, Haaland, Foden. Subs: Ortega, Dias, Phillips, Alvarez, Gomez, Mahrez, Mbete, Palmer, Lewis.
Referee: Jarred Gillett (Gold Coast)
First things first: Leeds are clattering Chelsea 3-0, with 18 minutes and change remaining.
Given a world that's in constant flux, it's surprisingly easy to assume a state of permanence with regard to things that are necessarily changeable. Whether we're contemplating summer, love or football, once we're ensconced within a rhythm – hot days, disappointing nights, predictable results – it can seem like things will never change.
Such are Manchester City. Champions of England in four of the last five seasons, they've won 11 and drawn three of their last 14 league games – in which time they've also added Erling Haaland, making the prospect of their failing to win any game look extremely remote. We must never forget that all this is a facility of state wealth, but it feels like a state of permanence nevertheless.
Of course, sport and football are rarely like that – City were once where Newcastle are now, bankrolled by some of the planet's most renowned altruists for the simple joy of the game. Things have changed since then, though. Where City had a free run at players as brilliant as David Silva, Sergio Aguëro and Yaya Touré and rivals, in Man United, whose owners prioritised silver over silverware, there are now financial fair play rules which make it harder to penetrate the elite, and chief execs whose personal interests largely coincide with those of their clubs.
Which isn't to say Newcastle haven't improved a lot over the last bit; they have. Bruno Guimarães is a fine player, far better than any they might have expected to sign at this point; Joelinton, or Big Joe as Steve Bruce liked to call him, has been a revelation in midfield; and the defence now looks like a defence.
All very nice, but to cause problems for City will take significantly more than we've seen from the iteration of Newcastle. They are capable – if they find the level they hit in dismantling Arsenal at the end of last season, they can hurt City – but anything less, and they're for it.
Kick-off: 4.30pm BST