4 min: So close, again Hemp crosses in with White's head connecting. The shot goes just wide, the Manchester City striker evidently hungry for goals tonight.
Walsh has a sloppy touch in the midfield but England recover and get to the box once again. Nikolovska concedes the first corner of the match.
Stanway takes the kick with White's head connecting once again but it's not a clean touch.
2 min: Predictably England have a strong start to this qualifier with all the possession so far.
Hemp is making some great runs and she feeds Stanway to give England their first shot. North Macedonia deal with it well but there is a sense it could be a long evening for the hosts.
14:00
Kick-off! North Macedonia 0-0 England
We are underway after the teams take a knee.
How many goals can the Lionesses score this evening? And will North Macedonia's defence hold up?
Kari has emailed me with a clumsy moment, saying: "Once I had to take the train to a different city for an onstage event. It was in the late afternoon, but the only train I could take arrived at noon. So I figured I'd get lunch near the train station.
"The train was hours late, so when I got there I was famished, and in a hurry, and went into the first restaurant I saw, which was Italian. I ordered pasta in sauce. Anyway, before I could go on stage I had to buy a new shirt."
Pasta sauce is always going to have consequences, but the taste is worth it right?
The teams are out and the anthems are about to begin!
Just five minutes now until kick-off in this qualifier.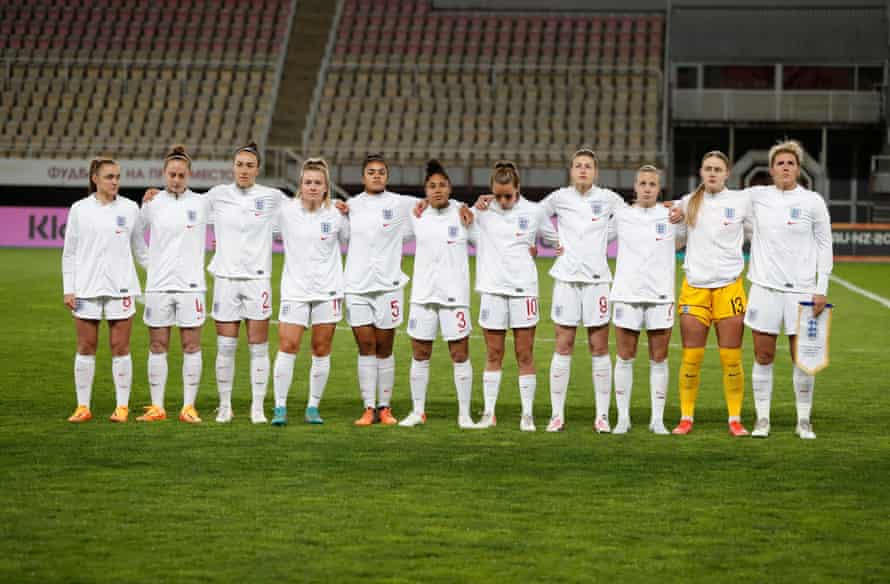 The clumsy moments continue and Lucy is on my level with spilling drinks!
She has got in touch and said she got so excited in a club because a great tune came on that she threw her drink. It bounced off the wall, onto a chair and went all over the floor.
Her story is much better than mine and she really painted a picture! Keep the clumsy moments coming, I'm comforted that I am not the only person doing this.
If you're confused by this discussion, I shared earlier I spilled a pint of juice on my cream carpet while trying to charge my laptop. What a start to my shift!
Other discussions have been around why Wiegman would play Ellen White instead of giving Alessia Russo experience.
It's a difficult decision as you want to put your best foot forward, no matter the opposition, but players do need that experience – especially ahead of a big tournament.
What do you think? I'd love to hear your opinions.
England selection has a lot of discussion around it among fans and media just though the pure strength in depth the Lionesses have.
One of the positions which is highly contested is goalkeeper with Hannah Hampton getting the shirt this evening.
Manager Sarina Wiegman told ITV when asked who is her number one choice in goal was: "At this moment Mary Earps is our number 1, the goalkeepers are pushing each other very hard.
"It's a luxury to have [many] keepers at this level. Hannah has been playing well at her club [Aston Villa] and she hasn't had that much experience at this level."
I've had some responses on the clumsy front and it has made me feel better!
Francesca has said she once ran over her laptop with her car.
I have so many questions and I don't know if we have time before kick-off at 7pm! How did this occur? Was the laptop okay afterwards? Why was the laptop on the floor in the first place?
Get you clumsy moments in via Twitter or email!
Leah Williamson may not be involved this evening due to concussion protocols but it has been a proud week for the Arsenal star.
Sarina Wiegman has named her as the permanent captain for the Lionesses. Steph Houghton has been plagued with injury and the manager is looking for some continuity ahead of the Euros this summer.
Today's skipper Millie Bright is the vice-captain with record scorer Ellen White the third in line.
Williamson said of being named captain earlier this week: "I am honoured to be asked to lead us at the Euros.
"Steph Houghton is one of this country's all-time greats and to follow in her footsteps – and all of those special names who have led the team in the past – means so much."
Read the full story here.
Frankie has got in touch with some concern about what flavour of juice is that I've spilled all over my cream carpet.
It was a refreshing peach so the stain isn't as bad as it would have been with a blackcurrant. But it wasn't the best moment of my day!
Share your clumsy stories with me or stain advice on Twitter or email.
Ellen White starts this evening and could add another record to her name.
She is already the Lionesses' top-scorer but she could also catch Wayne Rooney's record of 53 goals.
The Manchester City star has 49 scores and so she has the fixtures against North Macedonia and Northern Ireland to either equal Rooney's record with four goals or beat it with five.
It will be a tall order but, with the Lionesses beating North Macedonia 8-0 the last time the two teams faced on another, it's not an impossible feat.
Just before the blog went live I opened my juice which I treated myself to at the coffee shop.
I jumped up to charge my laptop and managed to clip the juice with my heel, I don't know how, and it's gone all over the carpet. I've whacked vanish on it, hopefully it doesn't stain as I'm renting and that will come out of my deposit!
So to make myself feel better please tell me some of your clumsiest moments. Or if you know how to get a juice stain out that would be much appreciated!
Let me know via Twitter (@rendellx) or by email.
England have revealed their line-up for tonight's qualifier and it sees Millie Bright captain the side.
Leah Williamson is out due to concussion protocols.
The starting XI is: Hampton, Bronze, Stokes, Walsh, Carter, Bright, Mead, Stanway, White, Toone, Hemp.
Substitutes: Earps, Daly, Zelem, George, Parris, Nobbs, Russo, Scott, Roebuck.
North Macedonia, who host this evening, have also announced their squad.
The starting 11 is: Panchurova, Boseska, Petrovska, Nikolovska, Joshevska, Velkova, Jakovska, Mustafa, Andonova, Maksuti, Rochi.
Substitutes: Veleska, Gjorgjevska, Shemsovikj, Markovska, Saliihi, Samardzievska, Nikolova, Stojkovska, Petrushevska, Choneva, Pavlovska.
Hello and welcome to England's World Cup qualifier against North Macedonia!
The Lionesses are currently sat at the top of Group D with their opponents this evening in fifth. Sarina Wiegman's women are favourites to bag another win but North Macedonia will be looking to stem the bleeding of goals.
The last time these two sides met England raced to a 8-0 victory but they will be without many stars in this qualifier. Beth England and Niamh Charles had to withdraw after testing positive for Covid. Captain Leah Williamson has travelled with the team but she won't be playing due to concussion protocols.
Alex Greenwood and Lotte Wubben-Moy are also both out with injury.
Some fans may also be wondering where Fran Kirby is, she is being rested by Chelsea and so won't participate in today's qualifier or Tuesday's against Northern Ireland.
Despite the absences, England have a lot of stars to choose from and the team have released their starting XI so stay tuned for updates …