90+5 min Hegerberg almost gets her second goal, flashing just wide after cutting inside Dudek. I think she slipped as she took the shot.
90+2 min PSG know this is over.
90 min Five minutes of added time.
89 min Macario almost adds some gloss with a vicious low drive from the edge of the area. Voll gets down smartly to her right to make a good save.
88 min PSG will rue mistakes in the first leg and missed chances in the second. There has been very little between the teams in this tie.
86 min A change for Lyon: Kadeisha Buchanan replaces the injured Griedge Mbock Bathy.
85 min Wendie Renard has scored some huge goals in her career, and that's another one for the portfolio. She has been there right from the start of Lyon's dominance, and now she'll have the chance to win an eighth Champions League.
What an emphatic header from Wendie Renard. Bacha, on the right, swung a really good free-kick into the six-yard box, where Renard towered over Diani and thumped a header past Voll.
GOAL! PSG 1-2 Lyon (agg: 3-5; Renard 83)
The captain Wendie Renard has put Lyon into the Champions League final!
82 min Another change for Lyon: Eugenie Le Sommer replaces the injured Delphine Cascarino.
81 min At the other end, Macario has a shot crucially blocked by Ilestedt. The chance came after superb play from Hegerberg, who bounced Dudek off the ball and then fizzed it into Macario.
80 min: Chance for PSG! And another one goes by. Dabritz's free-kick is touched off neatly by Diani to Bachmann, who sprays wide of the near post.
79 min This is so tense.
76 min: Great save from Endler! What a chance that was for PSG to square the tie. It came from a beautiful one-touch move on the left, with Baltimore eventually lifting a first-time pass into Karchaoui on the edge of the area. She chested it deftly into the space behind the defence and lifted a shot that was pushed behind by Endler. It came at a decent height for Endler but it was still a superb reaction save to her right.
75 min PSG have struggled to generate much attacking momentum since Katoto's equaliser. They have 15 minutes plus added time to score the goal that would take the tie to extra-time.
73 min Correction: I do think Karchaoui will be able to continue. In fact, she's continuing as I type.
72 min This game has flown by, which is usually a good sing. I don't think Karchaoui will be able to continue.
71 min PSG have another injury problem, with Karchaoui limping heavily. She's receiving treatment off the field.
70 min "Hello Rob," says Kári Tulinius. "There's something so satisfying about seeing your club score a goal like Katoto's, when two or three close-range attempts get saved, before finally the ball ends up in the back of the net. The anticipation keeps rising, until finally you can cheer."
That is so true. It's a kind of weird variation on the crescendo: yes, no, yes, no, yes, no, YA FUGGIN DANCER!
69 min Nothing comes of the corner.
68 min Lyon are trying to take the sting out of the game, and there is a fair bit of sting. Macario's cross is knocked behind by the off balance Cascarino, but the referee mistakenly gives Lyon a corner.
66 min Lyon are looking a bit flustered, which is testament to the quality and intensity of PSG's second-half performance.
65 min "I have no incisive analysis to offer," says Adam Kline-Schoder, "other than to say that what the women's Champions League has been this season is exactly what I love about football: outrageously talented players doing outrageous football things under intense pressure.
"In particular I have really rated Bachmann since she was at Chelsea, and, given the way she runs games every time I have watched her, it baffles at least my little mind why she doesn't start more frequently. I'd be terrified playing against her; she's so tricky. Here's to more drama and skill in what remains here."
64 min This is pulsating stuff. The pace of the game has been unrelenting.
GOAL! PSG 1-1 Lyon (agg: 3-4; Katoto 62)
PSG are right back in the tie! Endler made two excellent saves, first from Diani and then from Baltimore, but Katoto slammed the loose ball into the net from six yards. Now then!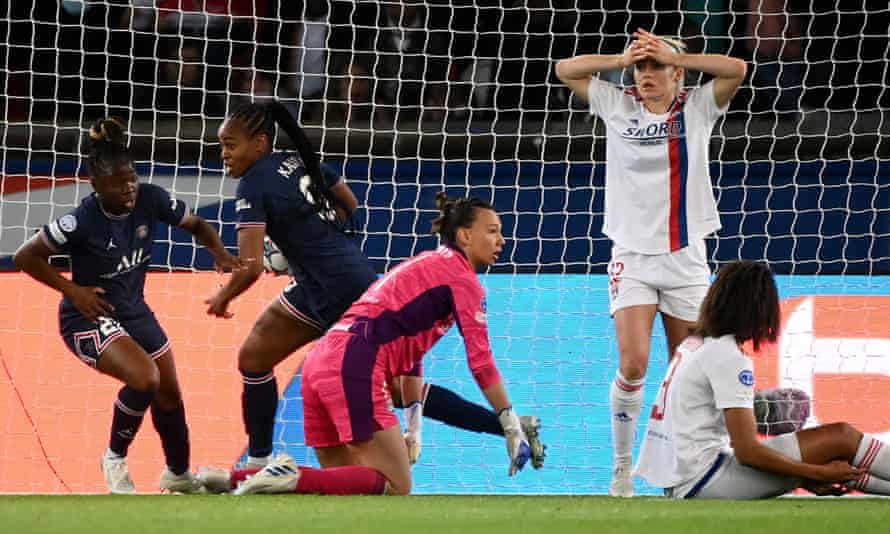 58 min: Lyon substitution That assist-that-wasn't is Malard's last contribution of the game; she has been replaced by Damaris Egurrola.
The goal has been ruled out for offside. It was incredibly tight, but Malard was just ahead of the last defender when she set up Hegerberg.
To say that goal came against the run of play is an understatement. It's an affront to the run of play, but Lyon will not care one jot. A cross from the right was headed back across goal by Malard, and Hegerberg had a simple header from eight yards.
GOAL! PSG 0-2 Lyon (Hegerberg 56)
Ada Hegerberg has put Lyon into yet another Champions League final!
NO PENALTY!
VAR check for a PSG penalty I assume it must be for a potential handball.
54 min: Fine save from Endlet! A mistake from Endlet leads to a PSG corner, but she redeems herself with a spectacular flying save from Dabritz's 20-yard drive.
51 min Bachmann has made a difference since coming on at half-time, and PSG are having a really good spell. If they get the next goal, all bets are off.
47 min: Great chance for PSG! Diani plays a one-two with the substitute Bachmann but then screws her shot into the side netting. That was their best chance of the match so far.
47 min Malard shoots over from long range.
46 min Peep peep! Lyon begin the second half.
PSG are making a double half-time substitution. Charlotte Voll replaces the injured Barbora Votikova in goal, and Ramona Bachmann has come on for Laurina Fazer.
Half-time reading
Half time: Paris Saint-Germain 0-1 Lyon (agg: 2-4)
Ada Hegerberg's expert header has given Lyon a two-goal cushion in this tie. There hasn't been much in it but Lyon have been the slicker, more incisive team and deserve their lead.
45+2 min A poor corner from Bacha goes out of play beyond the far post.
45+1 min Two minutes of added time. Lyon have a corner, which Bacha will surely drop straight under the crossbar.