GOAL! Real Madrid 1-1 Manchester City (Rodrygo 90); agg 4-5
A ball floated down the inside-left channel. Benzema hoicks a volley across the face of goal, and Rodrygo slams home at the near post. And there will be six added minutes!
89 min: Carvajal slides a low cross through the City box from the right. Asensio can't poke home. But no matter, because …
88 min: Grealish tears down the left again and slips a powerful shot past Courtois from a tight angle. Militao somehow clears off the line! Grealish comes again, down the same flank. His low drive is deflected wide right by Courtois' boot. Nothing comes of the corner. It's surely far too late for City to regret these close shaves, though.
86 min: From the right of the D, Cancelo sends a swerving diagonal shot towards the top left. Courtois does very well to parry clear.
85 min: Before the resulting free kick can be taken, the goalscoring hero Mahrez is replaced by Fernandinho. Gundogan's eventual ball into the mixer is cleared easily enough.
84 min: Grealish turns on the jets and prepares to sprint past Militao on the left. Militao hangs out a cynical leg and goes into the book.
82 min: Rodrygo tears down the right, and for a second there's the whiff of danger, but he's got nobody with him in support, and Zinchenko clears. Real come again, Benzema breaking clear down the middle, but his low shot is parried bravely by Ederson. The offside flag goes up anyway.
80 min: Real can't get anything going. City can, though, Silva dribbling down the right and winning a corner. They play it short, and go nowhere, but the clock ticks on.
78 min: Grealish comes on for Jesus.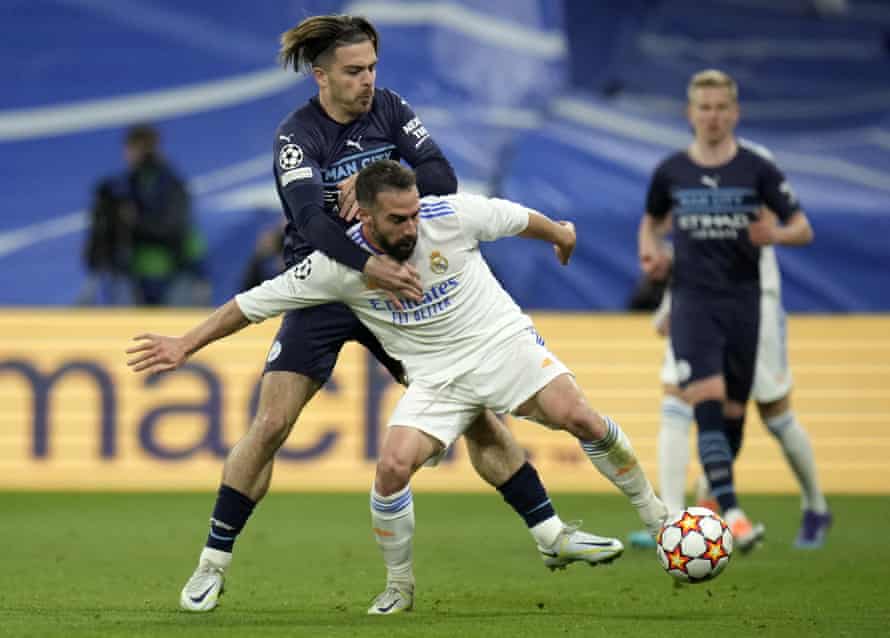 77 min: Asensio curls in low from the left, allowing Ederson to gather and channel his inner Pickford by flopping to the floor. City have earned the right to start running down the clock.
76 min: Blue Moon rings around the Bernabeu. That defiant roar from the home fans didn't last long.
75 min: The Bernabeu roars in defiance. Ancelotti also reacts, sending on Asensio and Camavinga for Casemiro and Modric.
GOAL! Real Madrid 0-1 Manchester City (Mahrez 73); agg 3-5
Gundogan and Zinchenko make an instant impact! They combine down the left before slipping a pass infield for Silva, who runs and runs and runs. Upon reaching the edge of the box, Silva clips a pass to his right. Mahrez, rushing in from the flank, smashes an instant shot into the top right, beating Courtois at his near post with pace! City have one foot in the final!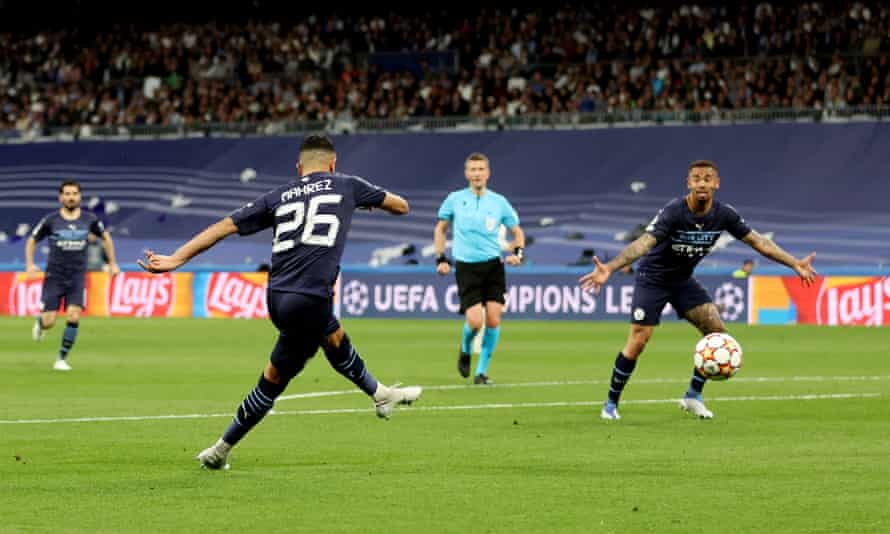 72 min: Walker doesn't require the stretcher, getting to his feet and limping off. He's replaced by Zinchenko, who will take over at left back, while Cancelo moves across to fill in for the departing right back. City also swap the out-of-sorts De Bruyne for Gundogan.
70 min: Courtois launches long. Vinicius looks to have got in behind Walker, who runs into the back of his man. No free kick, but Walker goes down in pain. Will he survive this one? Real claim time wasting, but on comes the stretcher.
68 min: Real make the first change of the evening, and unsurprisingly it's an attacking one: Rodrygo comes on for Kroos.
66 min: Casemiro brings Silva down as the City man busies himself on the left flank. De Bruyne fires the free kick into the mixer. Benzema heads clear.
65 min: Carvajal is booked for a late clack on De Bruyne. The referee brought his cards with him after all.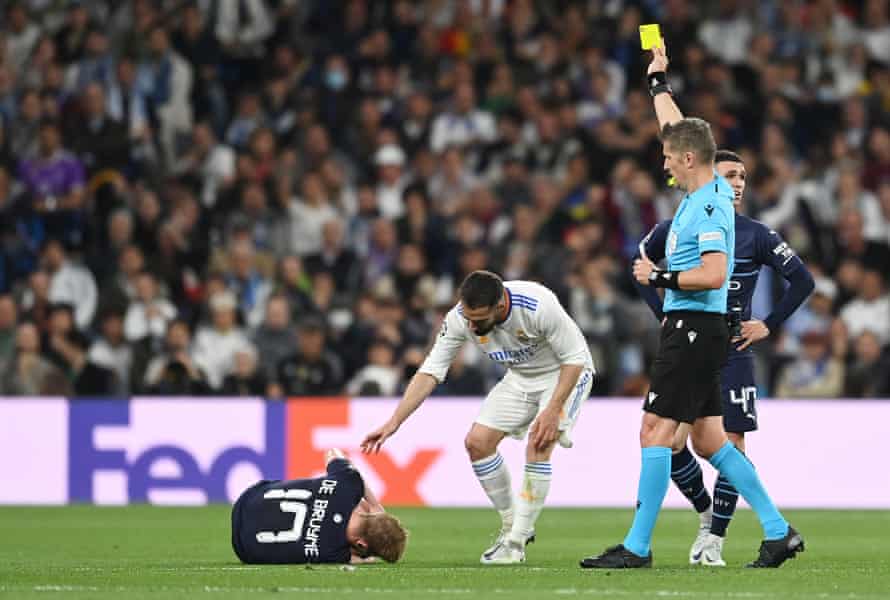 63 min: Walker trudges off morosely … but he's chomping on an energy gel … and now it looks as though he'll try to keep going! Zinchenko was stripped and ready to go, as well.
62 min: Walker goes down, shaking his head. It looks as though it's the end of the road for him tonight.
60 min: Walker miscontrols and is stripped by Vinicius, who makes off down the left. He crosses, hoping to find Benzema, but Laporte clears. This has been a slow burner of a performance by Real – well, by both teams, really – but this suddenly feels like the business end of a semi-final now.
58 min: The crowd are well into this now, having become a little quiet towards the end of the first half. And no wonder: Real have been the better side since the restart.
56 min: Foden is barged off the ball by Modric and Real break upfield. Vinicius and Benzema can't quite combine on the edge of the City box and the visitors clear again. Real are finally carrying a threat in attack.
55 min: Walker's loose pass in the centre circle is snaffled by Casemiro, who hares towards the City box. Casemiro lays off for Vinicius, but Silva arrives on the scene to mop up, just in time. For the first time this evening, City are looking a little nervous.
53 min: Vinicius dribbles with intent down the left. He pulls back for Modric, who attempts a Le Tissieresque flick and volley. He's closed down. Ederson comes out to claim but flaps. City eventually clear, but their nerves betrayed them there. The crowd are lifted as a result.
51 min: Now it's Silva's turn to escape an obvious booking, for a tug on the back of Modric's shirt. This referee really isn't in the mood to make any big decisions, that's for sure.
50 min: Jesus nips down the left and shoots low and hard from a tight angle. Courtois catches with safe hands. That's City's fifth attempt on target; Real have yet to take one.
48 min: Benzema dribbles down the left but is stripped of possession by Dias. Real have come out for the second half having visibly upped the tempo.
47 min: That was an appalling miss by Vinicius, even if it wouldn't have counted. Not great for the old confidence.
46 min: Straight from the kick-off, Modric wedges a pass down the right for Carvajal, who crosses low towards the far post. Vinicius should slam home from six yards, but shanks wide left! His blushes are spared, sort of, when the flag pops up for offside. City were sleeping, though.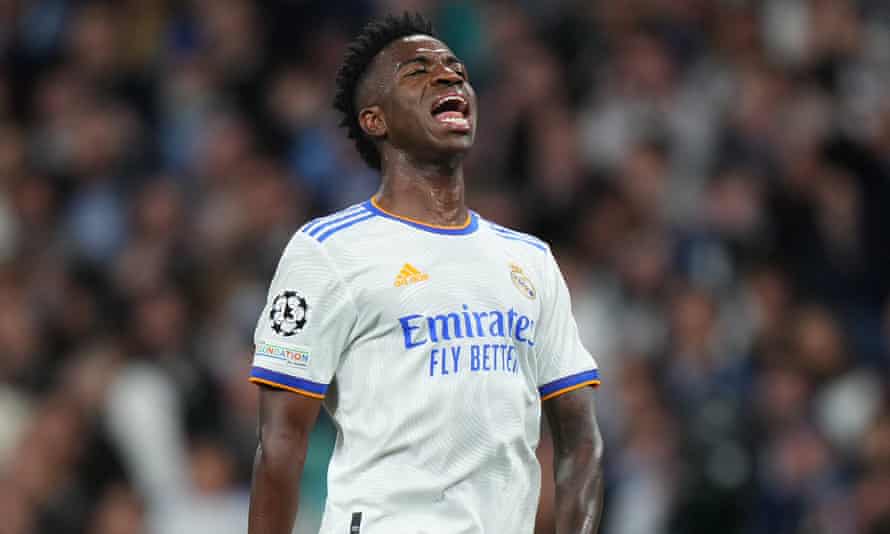 Real get the second half started. There had been a rumour that Fernandinho was coming on for an injured Kyle Walker, but the City right back is back out.
Half-time advertisement. Moving the Goalposts is the Guardian's brilliant new women's football newsletter. It's free, so what are you waiting for? Sign up now!
HALF TIME: Real Madrid 0-0 Manchester City (agg 3-4)
De Bruyne's shot is deflected out for a corner. One corner leads to another, and then the half-time whistle goes. Carvajal, Nacho and Militao surround the referee and complain about something, it's really not clear what. Vinicius seems fairly annoyed, too, and is advised to pipe down by his countryman Fernandinho. Everyone eventually takes their leave, and as things stand, it's City who'll be facing Liverpool in Paris on May 28.
45 min: Mendy crosses from the left. Valverde tries to win a header at the far stick, but Laporte eyebrows out for a corner … that Real aren't awarded! There will be two bonus minutes before the break.
43 min: Suddenly Benzema tears clear down the left! He strides into the box, opens his body, and … sends a riser over the bar. Wild. His blushes are spared when the flag goes up belatedly for offside. He was well off.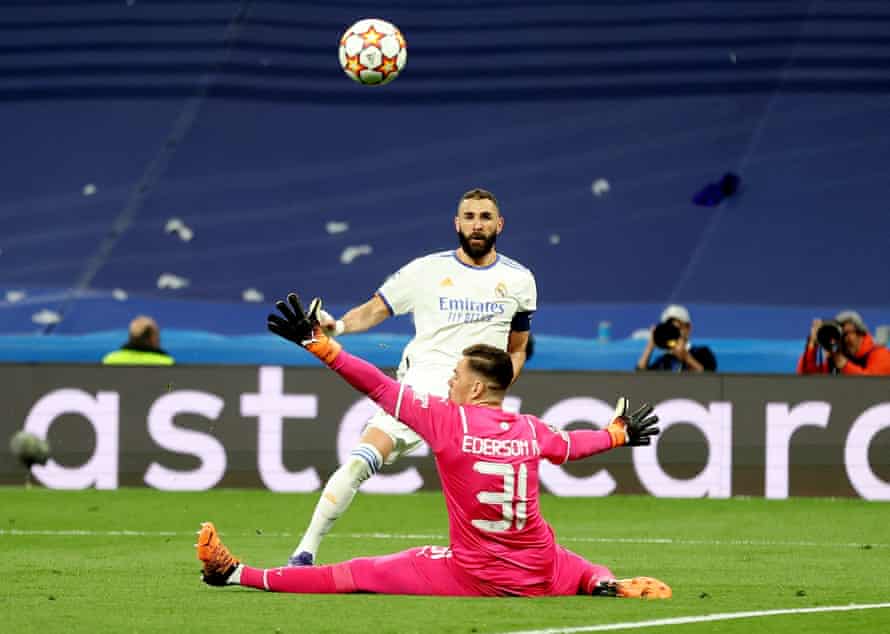 42 min: Vinicius is Real's chief point of attack right now. This time he tries to take on Mahrez, but can't get past his man.
40 min: Vinicius nearly breaks into the City box on the left, but is denied by a sensational sliding Walker tackle. Nothing comes of the corner. Vinicius v Walker is turning into a great contest.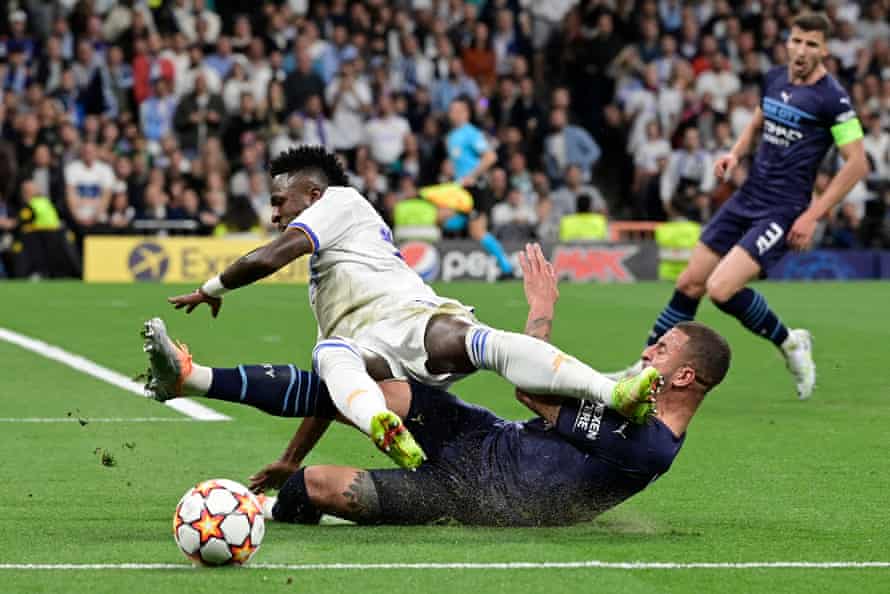 39 min: Foden chests and volleys, smacking a speculative one goalwards from distance. Courtois does well to get down and save, the surprise shot heading towards the bottom left.
37 min: Modric shovels a pass down the middle and very nearly springs Vinicius through the middle. Walker eases him off the ball, leaning on him slightly from behind, Vinicius falling to the floor. The home fans want a red card – Walker was the last man – but they're not getting one, as play is waved on. It would have been a very soft dismissal, though you've seen them given by less laissez-faire referees.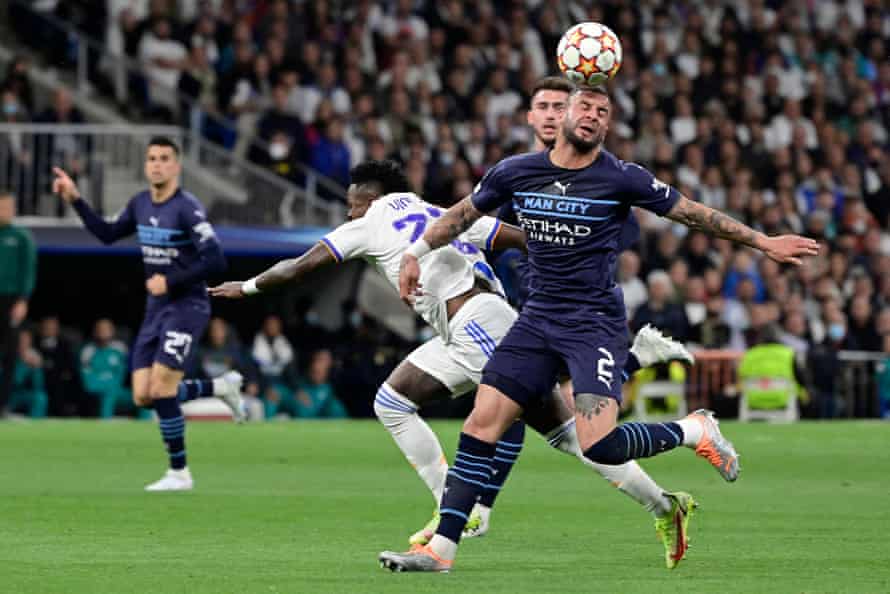 36 min: This is all a bit scrappy. A week is a long time in football all right.
34 min: That's Casemiro's second egregious challenge of the evening – remember his scissor tackle on De Bruyne – and he really should be bathing now. But here we are.
32 min: Casemiro hauls back Foden by the scruff of the neck. That's an absurd challenge, and should be a yellow card, but the Real midfielder escapes sanction because the ref waves an advantage, then forgets about what happened when the move breaks down.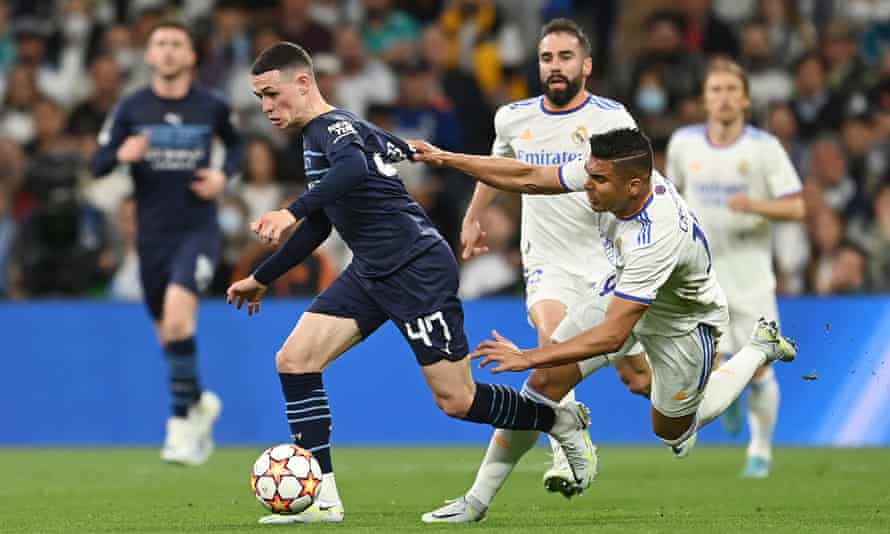 30 min: Valverde has the opportunity to send Vinicius clear down the middle, but his attempt at a slide-rule defence splitter is no good. City's defence certainly doesn't look impregnable.
28 min: Kroos sends the corner into the mixer. Militao goes up for a header but clatters into Walker, who needs the once-over from the physio. After a splash of water, the City right back is good to continue.