Key events
Mike MacKenzie writes: "I'm watching the Poland – Argentina match and given how turgid and defensively the Poles have played, Mexico merits the 2nd spot in the group."
On tonight's evidence, they do Mike. Mexico have been brilliant.
72 min: Another free-kick to Mexico and it's in Chavez range. He tells Lozano to go away and then… hits a beauty which the flying Owais fists away. Great shot, great save. Chavez went the other side this time and so nearly had his second stunning free-kick of the game.
69 min: Basically, Mexico need a goal and they so nearly get it as Martin volleys over from a great position when free in the box. This is tremendous and dramatic stuff!! By the way, Poland have only four yellows to Mexico's seven so the Mexicans look unlikely to scrape through that way.
67 min: Well, get this, if scores remain the same, Poland and Mexico are level on points, goal difference and goals scored. They're also level on head-to-heads having drawn 0-0. So why are Poland in second place in the table? It's because they've received fewer bookings than Mexico. Yes, that really is the final divider. Senegal went out on those same grounds to Japan in the last World Cup. Unless FIFA put the Japanese through for best litter picking.
65 min: More drama in the other game and it's 2-0 to Argentina!!! I'll tell you of the implications of that in a moment but first a mention for Saudi goalkeeper Al Owais who makes a brilliant stop down to his right to stop Lozano making it 3-0 to Mexico.
63 min: Mexico continue to push. A reminder that one more goal for the men in green and they'd sneak into second spot if it remains Argentina 1-0 Poland in the other game which you can follow here.
Safar writes: "Is it only me who dislikes showing points tables as if the match has ended already?"
Quite possibly it is, Safar. Here's another which shows how fragile Poland's advantage over Mexico is. As I paste it in, Al Amri heads over in a rare Saudi attack.
59 min: A desperate tackle from Madu gives Mexico a corner. Lozano rises to meet it at the far post but it's nicked off his head. Another corner for the now rampant Mexicans. This one goes deep and Lozano's attempted cross is blocked behind to make it a trio of corners for El Tri. Chavez delivers a quality ball that Owais fists clear somewhat unconventionally.
57 min: Goals are now massive for Mexico. In fact, if the Mexicans get one more they'd go above Poland on goals scored! This group is absolutely on a knife edge and, from what we've seen in this second half, Mexico look capable of winning this by the hefty margin they need.
54 min: Saudi Arabia have to throw everything at this now and it means further goals look on the cards. It's end to end and… Lozano has the ball in the net! Is that 3-0? No, the offside flag goes up. It looks a correct decision and VAR doesn't really needs to get too involved.
GOAL! Saudi Arabia 0-2 Mexico (Chavez 52)
Oh my word! What a strike from Chavez!! Outrageous. Mexico win a free-kick nearly 30 yards out and Chavez's whipped left footer curls away from Owais and into the top corner. His first international goal and it's a thing of beauty. Suddenly free-kicks are being scored in this World Cup now. Marcus Rashford yesterday and now a pearler from Chavez. What's Mexican for "pick that out!"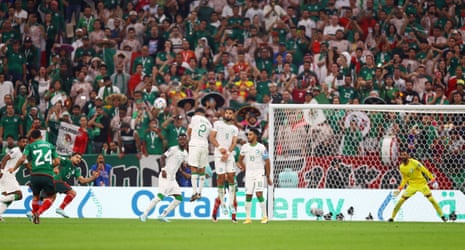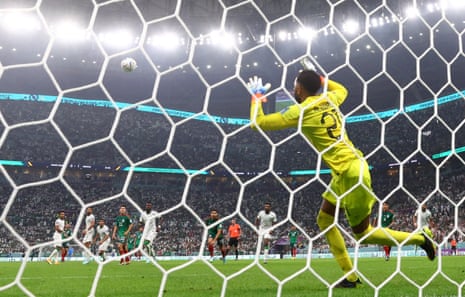 50 min: Definitely time for an 'as it stands now' following those goals for Argentina and Mexico. It's caused a shuffle but Argentina and Poland are still the sides going through if we don't get further goals.
48 min: Can Saudi Arabia respond immediately? They win a free-kick not too far outside the box but Al Dawsari goes for a delicate chip to a teammate in white rather than a shot and it's headed away. The Saudis recycle possession and a cross to the far post just has too much juice on it as the heads go up.
GOAL! Saudi Arabia 0-1 Mexico (Martin 47)
The corner is flicked on to Henry Martin and the striker taps in from close range to give Mexico the lead!!!!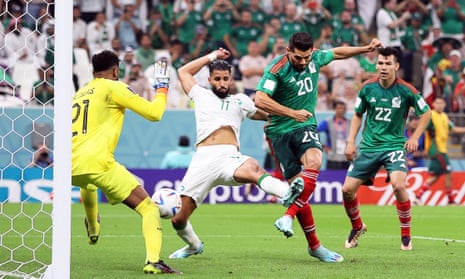 46 min: Mexico come out on guns blazing. Alvarez tries a left-foot curler that's saved and then Mexico win a corner. And then…
Peep! Peep! Peep!! The second half is in play. But breaking news!!! Argentina have scored! Brighton's Alexis Mac Allister has scored the goal that means Lionel Scaloni's side are back on track to top the group.
While I peel a half-time orange, here's the table with both Group C games still goalless at the break.
That's the final act of the opening period and it's been entertaining stuff. Mexico have clearly had the best of it but haven't quite carved out enough clear-cut chances. All to play for in the second half.
45+5 min: Saudi Arabia have their best moment so far. Al Ghanam gets to the byline, zings in a cross and Al Hassan's header isn't too far wide of the far post. He was stretching but should really have got that on target. It's got the crowd going though.
45+3 min: Howls as Al Buraikan is bundled over after, for a split second, seemingly getting in behind the Mexico defence. Michael Oliver is having none of it though. The Saudi No.9 basically didn't have the pace.
45+1 min: We're into six minutes of first-half added time. Lozano has the chance to put a dangerous ball into the box but he overhits it to an extent that can only be described as wild.
44 min: Al Shehri buys his team some time after being shoved over by Cesar Montes. He came, he saw, he clearly pushed him in the back.
43 min: Chavez switches play out to Lozano. He drives infield and the ball breaks to Vega whose shot is charged down. Another Mexican effort is blocked and then Owais flies through the air to punch a cross clear although the offside flag deemed it unnecessary. Looked good though and you sense the Saudis can't keep repelling these Mexican attacks.
42 min: The Saudis have rather dried up as an attacking force as the half has gone on. Renard will need one of his big half-time talks.
41 min: Edson Alvarez's low left-footer from 18 yards is deflected wide for a Mexico corner. Chavez curls it in but this Saudi defence has been resolute so far and deals with the problem.
Meanwhile, I'm digesting that penalty miss from Messi. He's in my fantasy team. That'll be a few minus points surely.
38 min: The suave Saudi boss Hervé Renard looks flustered as the camera closes in on him.
But wait, what's happening over in the other game? I'll tell you what, Messi has seen his penalty saved by Wojciech Szczesny!! That's two spot-kicks the former Arsenal goalkeeper has kept out in this World Cup.
36 min: Getting a bit stop-starty now and the Saudis have to make a change due to an injury to Al Bulayhi, the problem (a hamstring maybe) occurring after that shove from Lozano. On comes Riyadh Sharahili.
34 min: A corner at last and it's to Mexico on their right. It's an outswinger to Gallardo whose first-time half-volley from the edge of the box rather balloons over the bar.
32 min: The 0-0 at half-time has been a popular scoreline in this World Cup so again there's a feeling that the best stuff will come after the break. Meanwhile, the tackles are really starting to fly in now. Chavez nutmegs Al Hassan, who is booked for bringing him down.
30 min: Lozano leaves a bit on Al Bulayhi as the ball runs out for a Saudi goal kick. Whistles from the crowd but it's something and nothing really.
28 min: Al Shehri is shown a yellow card by Michael Oliver. That's one apiece now although the Saudis lead the naughty list in this World Cup with nine bookings.
26 min: Mexico look far more alive than they have done so far in this World Cup. Needs must I guess.
And… so close! A brilliant cross from the right is met by Pineda but just as you expect the ball to nestle in the back of the net, it's still there on view in the area as the Saudis somehow smother it – Al Ghanam the hero – around three yards from goal.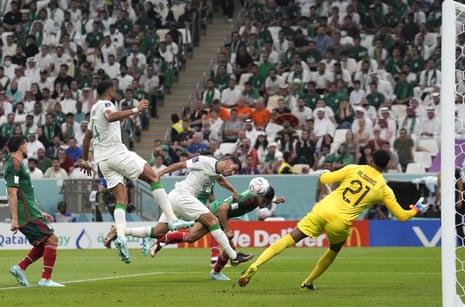 24 min: Pineda shows his dribbling skills down the left and then wins a foul in the centre circle. Mexico continuing to get touches in the Saudi Arabia box and Pineda pops up again to hit a right-foot shot from around 16 yards. He strikes it well but two Saudi defenders jump in to take some of the pace off the ball and Owais makes a diving save.
22 min: A dinked cross into the Saudi box is headed clear and drops to Luis Chavez on the edge of the box. He connects with a volley but it's straight at the goalkeeper and hit with insufficient power. Not a great combo.
21 min: A poor start for fans of corners. None so far. The tempo has just dropped a little after that frenetic start.
20 min: As a Mexico cross drifts behind, let's have our first 'as it stands' of the evening. Basically, nothing has changed.
17 min: 56% possession for Mexico so far with just 29% for Saudi Arabia. It's 15% for 'other/don't understand the question'.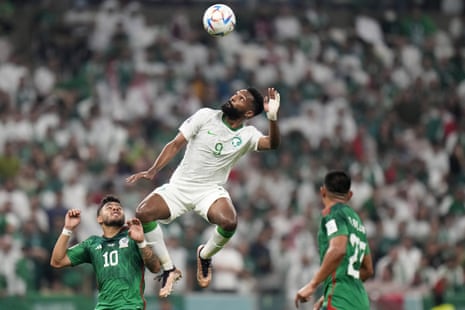 15 min: A first yellow card and it's shown to Edson Alvarez for a late challenge. He gets a bit gobby with Michael Oliver but the English referee waves him away. Meanwhile, Abdulhamid needs a bit of treatment after being on the end of that tackle. He's fine.
13 min: Everyone expects Al Dawsari to take it, including Ochoa in the Mexican goal. Kanno steps up and his whipped dipper curls only just over the crossbar. Close!
12 min: Free-kick to Saudi Arabia just outside the box as Saud Abdulhamid is brought down. Great chance here in such a dangerous position…
Roger Kirkby mails: "Hi David. Calling this the Gubba/Dellor blog is all wrong. This is the F1 blog the other is the 50km walk in comparison. 2 sets of greyhounds going at it here. The other game will be pedestrian compared to this."
You've called it Roger. A crackling start.
10 min: Massive roars from the predominantly Saudi crowd whenever one of their players puts in a tackle. It's making for a cracking atmosphere you have to say.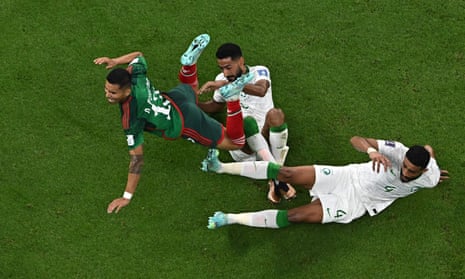 8 min: Another Mexican attack causes a problem. Jesus Gallardo whips in an awkward cross and Al Owais doesn't know whether to stick or twist, eventually just about getting enough on the ball to stop Henry Martin getting a touch for Mexico.
The Saudis respond and Kanno takes a crossfield ball on his instep and goes for goal from the right edge of the box. It's high and wide though.
7 min: A concern here for Saudi Arabia as key man Salem Al Dawsari goes down after contesting a challenge. Did he twist an ankle? Huge applause as he gets to his feet somewhat gingerly.
5 min: The game settles down a little but it's been a bright opening by the men in green: that's Mexico on this occasion.
3 min: And a first shot from Saudi Arabia too although Al Shehri's weak volley is a dribbler.
Suddenly, Mexico break and Vega is through on goal. A golden chance for his team's first goal of the tournament but the alert Al Owais dashes out and smothers the shot. A lively start!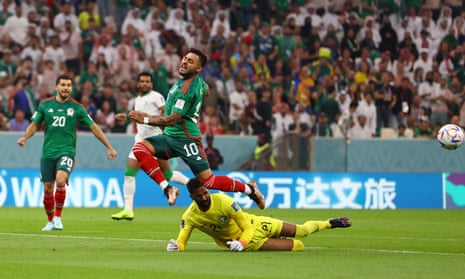 2 min: There's a lot of green on my TV screen. A verdant green pitch, Mexico in all green and the Saudis in white with a green trim. This may not be the best time to inform you that I'm red-green colour blind. Mexico get in an early shot (I think) as Luis Chavez drives wide of the post from distance. An early sighter for both him and me.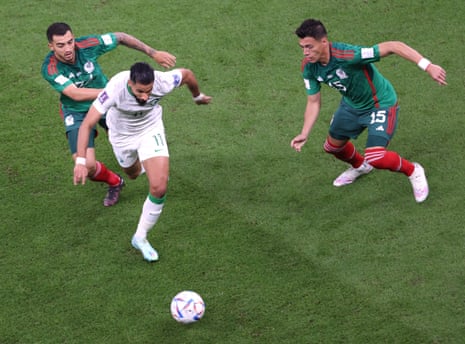 Kick-off: Peep! Peep! Peep! Michael Oliver blows his whistle. The Saudi fans are out in force in the same stadium where they shocked Argentina what seems ages ago but was probably last week. There's a healthy Mexico contingent too and, boy, did they belt out the national anthem!
Saudi Arabia's other goal in this World Cup was scored by striker Saleh Al Shehri. Keep an eye out for him along with Al Dawsari while I've also been impressed by languid midfielder Mohammed Kanno, a sort of Saudi Philip Billing (both Kanno and the Bournemouth man measure in at 6ft 5).
Surely Mexico can score a football goal tonight. But are we putting faith in 30-year-old striker Henry Martin? Six goals in 28 appearances for his country.
Salem Al Dawsari is the golden boy of Saudi Arabian football and he cemented that status further with his brilliant winner against Argentina. Less memorable was his penalty miss against Poland.
Here's a good omen though. Al Dawsari scored the winner (v Egypt) in the Saudis' final group game of the 2018 World Cup. It didn't make a difference to qualification that time as Saudi Arabia had lost their previous two games but if he could repeat the trick tonight, the Green Falcons would make the last 16.
Some might say this MBM is the Tony Gubba/Ralph Dellor option this evening. For those wanting the Motson/Davies 'big one' between Argentina and Poland, it's right here with Michael Butler.
There's a great moment in one of the Guardian World Cup podcasts earlier this week when Paul MacInnes meets two female Saudi footballs fan in Doha. Have a listen (23 minutes in) and a read.
Paul: "What can female football fans bring to a previously all-male crowd?"
Mariam: "Civility".
Changes for both teams. Saudi Arabia would appear to be lining up in a 3-4-3 formation due to the suspension of Abdulelah Al Malki, the usual shield in front of the defence. Al Malki picked up a second yellow against Poland.
Hassan Tambakti is part of a three-man defence while Sultan Ghannam and Ali Al Hassan also come in.
Mexico are one of just two teams without a goal in this World Cup and, understandably, they've mixed things up in attack.
Henry Martin is the focal point while Alexis Vega, Orbelin Pineda and Hirving Lozano are the three in behind for El Tri in what appears to be a 4-2-3-1 formation.
Jorge Sanchez and Edson Alvarez also get starts but Wolves' Raul Jimenez has to settle for a place on the bench again.
Saudi Arabia: Al-Owais, Tambakti, Al-Amri, Al-Bulayhi, Al-Ghanam, Al-Hassan, Kanno, Abdulhamid, Al-Buraikan, Al-Shehri, Salem Al-Dawsari.
Subs: Madu, Otayf, Al-Naji, Al-Abed, Bahbri, Al-Aboud, Al-Aqidi, Nasser Al-Dawsari, Asiri, Sharahili, Al-Rubaie.
Mexico: Ochoa, Sanchez, Montes, Moreno, Gallardo, Edson Alvarez, Chavez, Lozano, Pineda, Vega, Martin.
Subs: Talavera, Araujo, Vasquez, Arteaga, Romo, Rodriguez, Jimenez, Funes Mori, Cota, Gutierrez, Herrera, Guardado, Antuna, Alvarado, Kevin Alvarez.
Referee: It's the Premier League's very own Michael Oliver.
Possible scenarios in this most open of groups…
Poland: Poland qualify with a win or a draw against Argentina. They are not necessarily eliminated if they lose, provided Saudi Arabia don't beat Mexico.
Argentina: Argentina must beat Poland to be sure of going through. A draw will be enough if Saudi Arabia and Mexico draw, or unless Mexico win that game by four or more goals
Saudi Arabia: Saudi Arabia qualify with a win. A draw will be enough if Poland beat Argentina.
Mexico: Mexico qualify if they win and Poland beat Argentina. If Poland and Argentina draw, and Mexico win, it has to be by four goals or more to overhaul Argentina's goal difference.
Mexico manager Gerardo Martino goes by the nickname 'Tata'. And, yes, here it comes… it could be ta ta to his team after today's Group C action at the World Cup. Silence… taps mic… whistly feedback. Okay, that's lame. But lame is an apt word to describe the Mexicans so far. Two games, one point, no goals. El Tri have made it out of the group stage (before going out in the last 16) in each of the last seven World Cups. That streak is now in grave danger.
Mexico must win against Saudi Arabia to have any chance of reaching the knockout stages and that would have seemed a reasonable ask before this weirdest of World Cups got underway. But the Saudis have been bright, sending shockwaves around the sporting world by beating Argentina 2-1 in their opening game. Despite further evidence of being a decent outfit, they couldn't follow it up against Poland, losing 2-0, but the Green Falcons remain in the hunt to make the last 16 for the first time since 1994. They head to the Lusail Stadium (situated in the north of Qatar according to my When Saturday Comes wallchart) with their fate in their own hands.
The two sides have played each other five times previously, with Mexico winning four of those head-to-heads. All took place between 1995 and 1999 so that's hardly form to rely on. What matters is the here and now so let's get this thing on.
Kick-off time:
7pm: UK
10pm: Qatar
10pm: Riyadh
1pm: Mexico City