Half-time: West Ham 1-1 Arsenal
Well, a pretty dismal contest sparked into life after 38 minutes. Holding nodded Arsenal into the lead then visitors spent the rest of the half willing West Ham to draw level, which they duly did. More wackiness in the second half please!
GOAL! West Ham 1-1 Arsenal (Bowen 45)
Well, that was coming. Coufal again has acres of room on the right. He volleys an awkward cross into the box. Bowen takes a touch, which bobbles up, then zips his effort past Ramsdale via Gabriel's backside.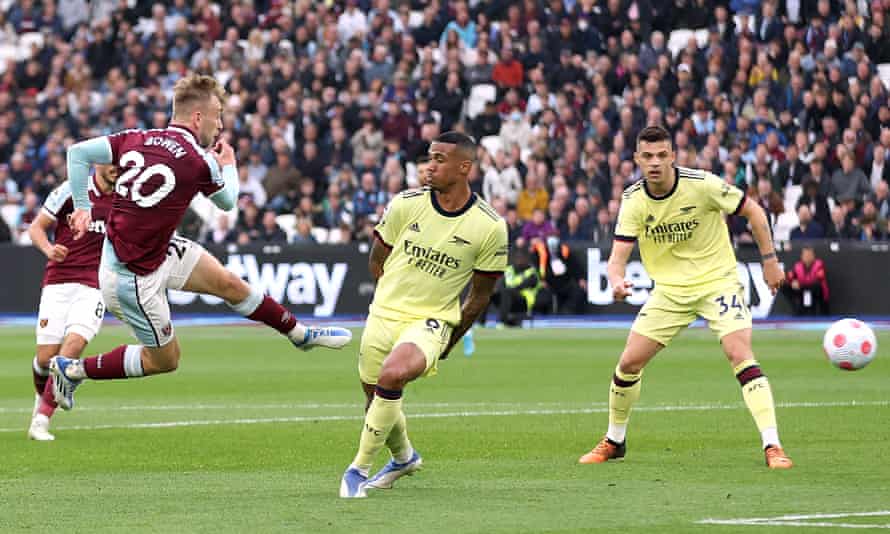 44 min: Arsenal have been so sloppy in possession at times and again West Ham are handed the ball inside the Arsenal half without having done anything to earn it. Fredericks' cross finds Fornals this time and though West Ham can't fashion an opening, the pressure is on.
43 min: … but an Arsenal head gets to it this time.
42 min: Holding heads away from in front of his own goal as Coufal sends another threatening ball into the area. Another West Ham corner …
40 min: What a save this is! West Ham's turn to threaten from a corner. Rice glances on at the near post and Ramsdale has to react quickly to claw the effort out of the top corner. This match has gone from 0-100 in the last three minutes.
GOAL! West Ham 0-1 Arsenal (Holding 39)
Well, I didn't see that coming! The corner is whipped in – Holding gets across his man at the near post and glances his header into the far corner.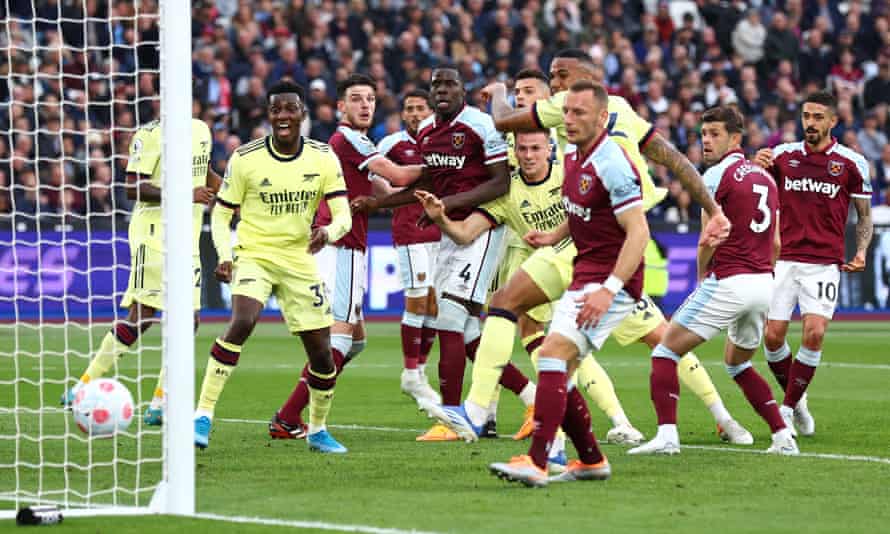 38 min: Fine save! Fabianski does well to get across to Nketiah's low effort. An Arsenal corner …
37 min: Tavares rumbles forward through the middle but seems to get stage fright as he enters the final third and is crowded out.
35 min: Cresswell clonks the ball forward. Holding nods clear but only to Fornals. Who finds Coufal. Who clonks the ball forward and out of play.
33 min: We finally get a shot on target: Rice charging forward but sidefooting his effort straight at Ramsdale from the edge of the box.
31 min: Saka charges menacingly down the right as Arsenal look to break but West Ham get bodies back to deal with the danger.
30 min: Holding makes a fine block as Benrahma lines up a shot from Coufal's deflected cross.
29 min: Martinelli floats in an Arsenal corner from the left but Fabianski claims again.
28 min: The first chance of any real note falls to West Ham. A lovely curling cross from Coufal is nodded away meakly by Gabriel. Fornals chests down the loose ball but pings his shot off towards Stratford Shopping Centre.
27 min: The home terraces go up to claim a handball as Zouma breaks forward from open play. Nothing doing.
25 min: "Greetings from the OS," writes Ian Sargeant on Twitter. "Good to see Aaron Cresswell in the Steve Potts role of shortarsed centre half. The retiring Mike Dean to send off the retiring Mark Noble?" Well, that would require Nobile to be forced into a tackle or two and there's been little danger of that so far.
23 min: It does feel like Arsenal should be the aggressors here but that hasn't been the case.
21 min: Given the high stakes in this one, it's been a soporific start. Arsenal are sitting deep to nullify the pace of Bowen through the middle but their own attacking talents have barely been in the game thus far.
19 min: Martinelli swings in another Arsenal corner but Fabianski punches clear and the keeper was fouled in any case.
17 min: Nketiah tries one from long range, and the low shot is deflected away for a corner … which Odegaard swings in and Zouma clears.
16 min: Saka is given a little too much space on the left and is able cut inside and try his luck. The shot is blocked by Cresswell but the ease with which Arsenal were able to cut through there might worry the home side.
14 min: Zouma is a touch late on Elneny and the Egypt midfielder needs a visit from the magic sponge.
13 min: Arsenal finally get their collective foot on the ball for the first time, but Ramsdale is forced to go long and the battle for scraps in midfield begins again.
11 min: The Gunners look a little flat at the moment, as the home side caress the ball around the green expanses of the London Stadium.
10 min: … which Ramsdale, under pressure, punches clear.
8 min: Coufal and Fornals combine neatly down the West Ham right, and force Tavares to concede a corner …
6 min: Cresswell steps out to intercept a pass fizzed in towards Nketiah. West Ham have settled much the better so far.
5 min: "What happened to Ben White?" wonders Henrik Nielsen. Tight hamstring apparently.
4 min: West Ham left-back Fredricks takes a throw in … well, tried to take it but his teammates aren't offering much in the way of options. The TV footage cuts to a close up just as a frustrated Fredericks shouts … well … it rhymes with clucking bell.
2 min: Arsenal force an early corner – which comes to nowt – and Bowen (the best uncapped Englishman in the Premier League?) is bundled over in midfield during a scrappy start.
1 min: It looks to me a back four for West Ham, with Aaron Cresswell tucked inside as one of the two centre-halves.
Peep! Off we go then. Arsenal get us under way.
Click, clack, click, clack … the players emerge into the usual cloud of bubbles at the London Stadium.
Here's Ed Aarons at the Tottenham Hotspur Stadium:
The 2pm kick offs in the Premier League have finished, so if you don't want to know the scores look away now (though, to be fair, you're playing with fire being on a sport news website if you're trying to avoid the scores. I mean, seriously, what are you thinking?)
Everton have claimed a vital three points by with a 1-0 win over Chelsea at Goodison, while, with more relevance to today's game at the London Stadium, Tottenham have beaten Leicester 3-1 at the Spursbowl. So as it stands Spurs are up into fourth, and the Gunners will need a win to take the place back.
And here are those teams in text form. It'll be interesting to see how West Ham shape up, whether they stick with the back four Moyes prefers or whether the personnel available means they have to utilise a back three.
West Ham (4-2-3-1/3-4-1-2)
Fabianski; Coufal, Zouma, Cresswell, Fredericks; Rice, Noble; Fornals, Lanzini, Benrahma; Bowen.
Subs: Areola, Masuaku, Alese, Diop, Kral, Soucek, Vlasic, Yarmolenko, Antonio.
Arsenal (4-2-3-1 probable)
Ramsdale; Tomiyasu, Holding, Gabriel, Tavares; Elneny, Xhaka; Saka, Odegaard, Martinelli; Nketiah.
Subs: Leno, Cedric, Kirk, Swanson, Lokonga, Oulad M'Hand, Smith Rowe, Pepe, Lacazette.
It's not been hard to pick up the narrative thread in the buildup to this one: West Ham, stretched to breaking point by their Europa League exploits, are limping towards the finish line of the season; Arsenal, who have spent their midweeks lounging about with their feet up and sunglasses on, are fresh and firing as the end of the campaign approaches.
There's certainly plenty of truth to that – the Hammers' backline is likely to be very much makeshift as injuries and suspension bite – but David Moyes' side have still only lost once at home in the league since Christmas and that was back in January. And, yes, Arsenal were impressive against Manchester United and Chelsea but it isn't that long ago that they were being soundly beaten by Crystal Palace at Selhurst Park.
So, who knows? Things might not be quite as simple as they seem. Kick off is at 4.30pm BST.