16:18
GOAL! West Ham 1-0 Lyon (Bowen 52)
What the hell!
46 min: West Ham were already playing a low block, so not much has changed as yet. But their problem is that when they hoof it long to Antonio, he now has nobody to flick it on to.
West Ham are out early for the second half. Ben Johnson has come on to replace Cresswell, and Benrahma has been sacrificed, which is a shame as he was playing well.
The wink has already been shown about six times. And rightly so in my humble opinion, because the incident did seem to be part of a pattern. Several times, a Lyon player had gone down softly, or stayed down implausibly. And the ref had let them get away with it.
"I want West Ham to win," says Adam Berry, "but I don't see the controversy around that sending off. Cresswell has got his eyes on the man, Dembele has the run on him, Cresswell clearly tugs his shoulder, and if it happened in the middle of the pitch it'd be a clear foul and yellow. It's the right call in my opinion.
"The wink was equally parts infuriating and hilarious though."
"I've got to say," says Nick Jones, "if that was a straight red, I'm a banana. Watching this on holiday in Mallorca, with a lot of unhappy WHU fans. Quite mad." Are there any Lyon fans in the house? They might well agree with you.
On a happier note, here's Joe Pearson in Indianapolis. "I thought," he says, "it was THE LAW that all musical references in West Ham MBMs must be Iron Maiden related. Or maybe we've just entered a brave new world."
15:55
Half-time! West Ham 0-0 Lyon
You wait 45 minutes for something to happen, and then it's a shocker. As Cresswell got his straight red, a camera zoomed in on Moussa Dembele – who was winking. This match may have been ruined before it has even got going.
45+5 min: Lyon waste the free kick, but pick up a corner. It's been a long two minutes.
15:51
Red card! Cresswell (West Ham, 45+2)
This is highly controversial. Dembele was away, Cresswell did get a touch with his hand, but the red card seems very harsh.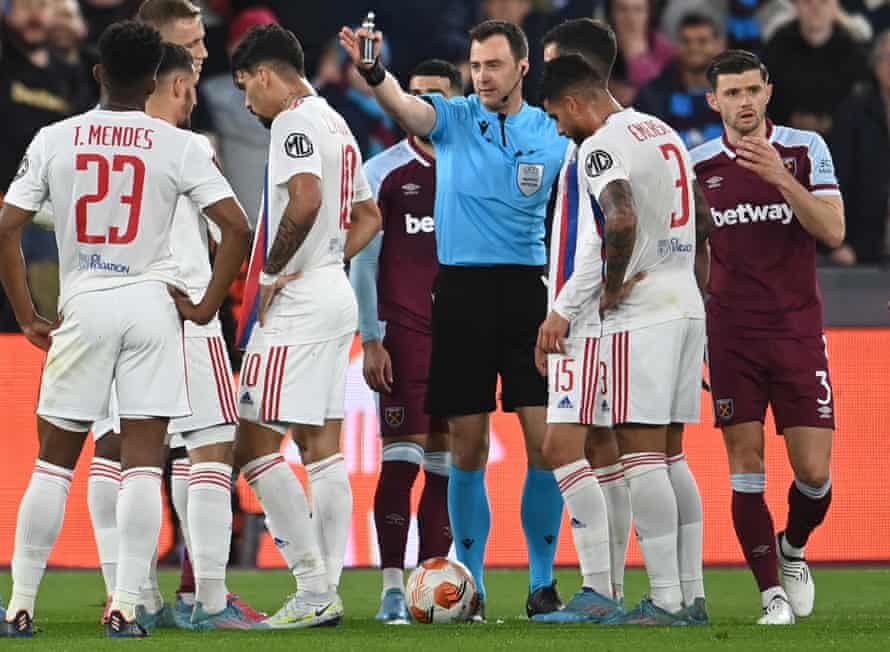 45+1 min: We're into the first of two added minutes.
45 min: West Ham spend a minute in Lyon's half, for once, and get their reward as Bowen wins a free kick on the right wing. Lyon clear it easily enough.
41 min: Declan Rice makes a mistake! He aims a back header, down into the ground, and doesn't get enough on it, allowing Lyon to take another of their long shots – which brings only a corner. West Ham break with Benrahma down the left. He thinks he's won a corner too, but the ref gives a goal kick.
39 min: Lyon go back to the patient build-up, which seems to be their default. West Ham escape with the long ball. Emerson and Fredericks go for a 50-50 and end up nose to nose. The words "Fuck you" may have been uttered (by Emerson).
"I hope you're well!" says Adam Kline-Schoder. Can't complain. "I am watching the Eintracht Frankfurt-Barcelona match — since you didn't ask: 0-0 but Piqué is off injured already and Frankfurt should really be 2-0 up — and am keeping tabs on the West Ham-Lyon game through your MBM. I saw the photo at the top of the page, and it got me thinking: why do teams change their kits for European competition? West Ham's shorts are usually white at home but here are claret (I believe Leicester do the same with blue), and Manchester City have their weird digital numbers on their Champions League kits. Is that unique to British teams? Is it sponsorship nonsense? Enquiring minds (read: my mind) want to know." I'm not sure! So I'm throwing it out to the floor.
36 min: There's a delay as Jerome Boating gets some treatment for what looks like cramp, odd as it may sound.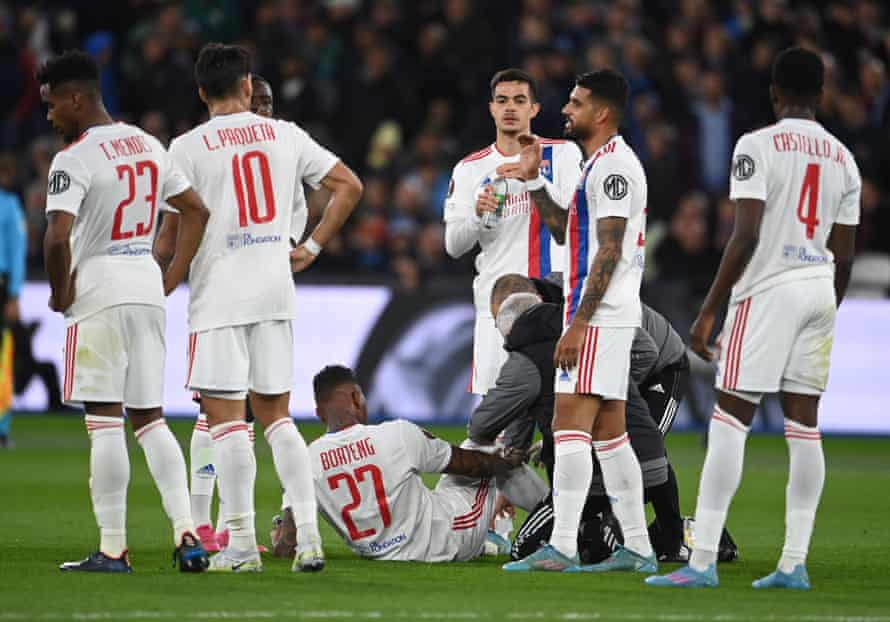 32 min: We have another shot on target! From Declan Rice, not tumbling but taking part in a training-ground corner routine. He has to take it with his left foot, and it's the opposite of that shot from Ndombele: precision without power. West Ham then win another corner, only to do nothing with it.
30 min: A third of the game has somehow slipped by. Lyon have had twice as much of the ball as West Ham, but have also conceded the only shot on target.
An email! From Peter Oh. "I suppose West Ham and Rolling Stones fans reckon that it's only the Europa League, but they like it." Ha. "Now that you've mentioned the Stones having played this ground, I'll be keeping a close eye on Declan Rice whenever he approaches the Lyon box. If he goes down too easy, I'll be forced to make a Tumbling Rice joke. In any event, it's nice to see the visitors play with Gusto."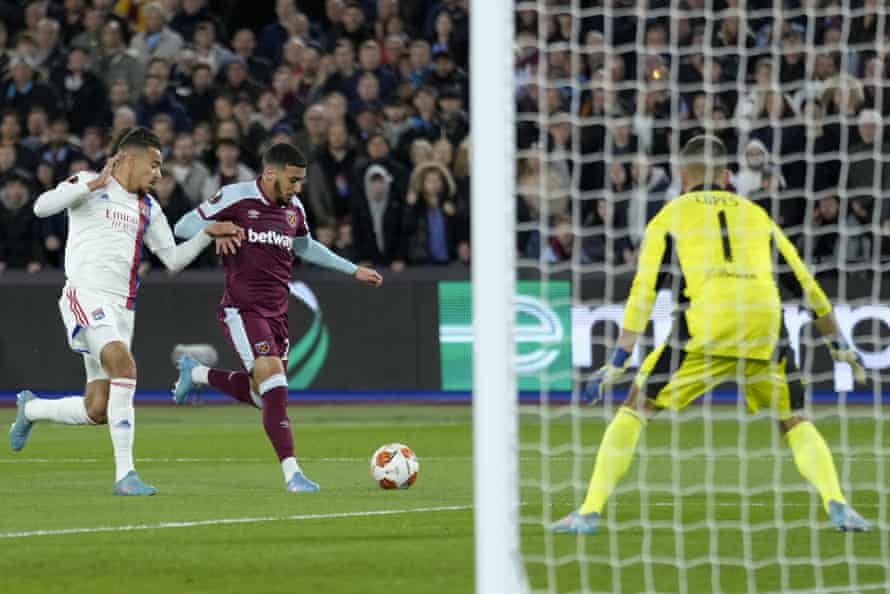 28 min: A free kick to West Ham, chipped into the box, but it leads only to a free kick for Lyon as Gusto goes down.
26 min: Lyon go back to knocking it around. Eventually Ndombele gets bored and has a crack from 25 yards – all power and no precision.
23 min: Suddenly it's end to end as Lyon answer another long ball from West Ham with one of their own. As usual, nothing comes of it bar a feeble appeal for a penalty as Fredericks stops Auouar in his tracks.
20 min: Dembele runs onto a through ball, and he's probably onside, but Areola is alert to the danger and gets a booming clearance in.
18 min: Lyon have a promising attack, but it ends with West Ham coming close. Rice, clearing up after a poor cross, picks out Antonio, who flicks on, then gets the ball back in the inside-right channel. Again, though, the angle is too tight.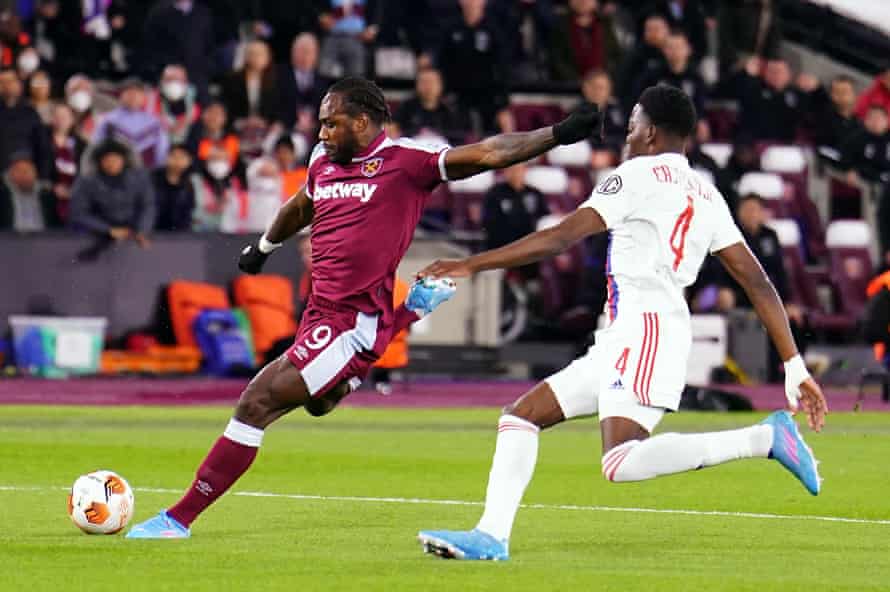 16 min: West Ham come alive! It's another long ball, but a pinpoint one, from Dawson. Benrahma controls it on the run and gets a firm shot away, but the angle is too tight.
14 min: The game has developed a pattern: patience and latticework passing from Lyon, long balls and high pressing from West Ham, cutting edge from neither.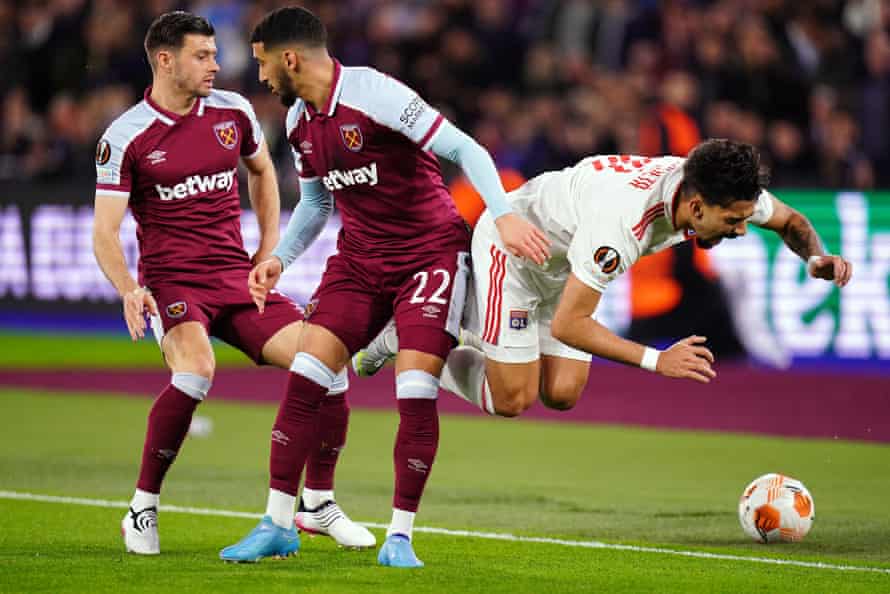 9 min: A shot! From a Lyon player – about 30 yards out, instantly blocked. But they are warming up, and they play their first threatening cross, whipped in from the left, well defended by West Ham.
8 min: You know how some matches set off at a thunderous pace? This is not one of them.
7 min: Lyon make it into the box, with Dembele holding the ball up well, Lukaku-style, but again the final ball is poor.
5 min: Gusto, Lyon's pacey right-winger, has plenty of time to get a cross in, but he overcooks it.
3 min: Lyon are being leisurely, West Ham more direct. Antonio gets his head on a punt from Areola but can't quite find Bowen with his flick-on.
1 min: Lyon get the party started with some neat little passes.
Declan Rice bumps fists with the Lyon captain – Moussa Dembele. Rice needs to avoid a yellow if he wants to play in the second leg.
West Ham have won their last four at home in all competitions, their best such sequence for ten years. But then Lyon have won their last six away matches in the Europa League. Something's gotta give.
The crowd are absolutely loving it. The London Stadium is rocking as it hasn't rocked since the Rolling Stones played there a few years ago.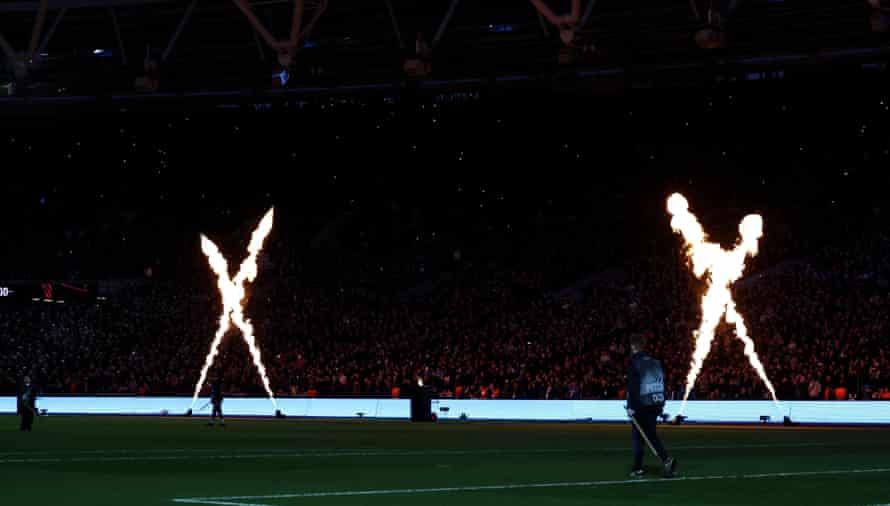 Bubbles are being blown. And sung.
David Moyes is talking to BT, sounding calm. "Slightly different game," he says, "It's the first leg. We'd like to win, but it's not settled tonight."
He says he picked Ryan Fredericks (over Ben Johnson) partly because of the pace of Karl Toko-Ekambi – who, as he doesn't add, is on the bench.
14:10
Teams: Lyon unchanged
Lyon (4-2-3-1?): Lopes; Gusto, Boateng, Lukeba, Emerson; Mendes, Ndombele; Faivre, Paqueta, Aouar; Dembele.
Subs: Pollersbeck, Da Silva, Denayer, Barcola, Henrique, Dubois, Reine-Adelaide, Barcola, Kadewere, Tete, Toko-Ekambi.
14:05
Teams: West Ham as expected
West Ham United (4-2-3-1): Areola; Fredericks, Dawson, Zouma, Cresswell; Soucek, Rice; Bowen, Benrahma, Fornals; Antonio.
Subs: Fabianski, Johnson, Coufal, Masuaku, Diop, Alese, Noble, Kral, Perkins, Randolph, Vlasic, Yarmolenko.
Evening everyone and welcome to West Ham's biggest European game since … well, I make it 1981. That one didn't go too well: after storming into the quarter-finals of the Cup-Winners' Cup, they went and lost 4-1 at home to Dinamo Tbilisi. But that was then, so long ago that one of their regulars was Frank Lampard (Senior). And this is now, when they've just seen off Sevilla, who pretty much own the Europa League.
Manchester United, eat your heart out. David Moyes is not only looking down on United in the league table: he's still in Europe and they're not. But he won't be allowing himself much of a gloat because his team face a tricky assignment here. At 538.com, Nate Silver's prediction machine, West Ham are favoured to make it through this round, but only by 55 per cent to 45.
Lyon waltzed through their group, winning five games and losing none. Last time they came to the UK, in September, they beat the mighty Rangers. They're erratic in Ligue 1, where they lie ninth, but efficient in the Europa: in the last round, against Porto, they won 1-0 away before drawing 1-1 at home. It could be the loudest night at the London Stadium since the win over Sevilla.
Kick-off is at 8pm, so I'll be back soon after 7 with the teams.